Not sure how to use all that summer squash? These easy zucchini recipes are here to help! They include tasty ideas for dinner, dessert, and more.
It's zucchini season! Bring on the zucchini recipes!
Partway through July every summer, I start to feel like I've cooked all the zucchini recipes out there. I've made zucchini bread and zucchini fritters, grilled zucchini and baked zucchini chips. This week, I looked at my market haul of summer squash and asked, "What next?". If you're in a similar spot right now, I have good news: zucchini is one versatile veggie. It tastes fantastic in pastas, tacos, salads, and even chocolate cake! You can grill it, bake it, sauté it, and also eat it raw. We might feel like we've cooked it in every way known to man, but there are always more zucchini recipes to try.
Below, you'll find 30 easy zucchini recipes that I turn to every summer. They include hearty main courses, fresh salads, decadent desserts, and everything in between. I hope they inspire you to try cooking zucchini in a new way. And if you have any favorite zucchini recipes to recommend, let me know in the comments!
Basic Zucchini Recipes
If you're looking for a quick and easy way to use an abundance of zucchini, you're about to become best friends with the recipes below. Each one will teach you a simple (and delicious!) way to prepare zucchini so that you can serve it as a side dish or add it to a main like a pasta or frittata.
Roasted Zucchini
Juicy, tender, and beautifully caramelized, this roasted zucchini is so tasty that you'll want to eat it straight off the sheet pan.
Grilled Zucchini
I make this side dish on repeat in the summer because it's flavorful, healthy, and ready in 10 minutes. Leftovers are rare, but when we have them, I love to add them to a sandwich or omelette the next day.
Zucchini Noodles
Learn how to make zucchini noodles in 5 fun shapes! They're a wonderful addition to salads (find a few of my favorites below!). I also like to use a 50/50 mix of zucchini noodles and regular noodles in summer pasta recipes.
Zucchini Recipes for Breakfast
Veggies for breakfast? Yes, please! These easy zucchini recipes will help you sneak some extra nutrients into your morning meal.
Zucchini Bread
This zucchini bread recipe is the best I've tried—it's moist, tender, and warmly spiced. I love folding walnuts into the batter for crunch, but a scoop of chocolate chips is fantastic too.
Zucchini Muffins
Almond flour and shredded zucchini make these cute little muffins insanely moist. Tip: keep a stash in your freezer for grab-and-go breakfasts.
Zucchini Smoothie
This zucchini smoothie tastes like a chocolate milkshake, but shhh! It's made with healthy ingredients like almond butter, dates, and zucchini.
Easy Zucchini Appetizers and Snacks
These tasty zucchini recipes will steal the spotlight at any summer gathering. But don't just save them for entertaining! These snackable squash dishes are so fun and flavorful that we should be making them all season long.
Zucchini Fritters
Loaded with scallions, garlic, and dill, these zucchini fritters are light and savory. Serve them with a creamy sauce like tartar sauce or tzatziki to complement their crispy texture.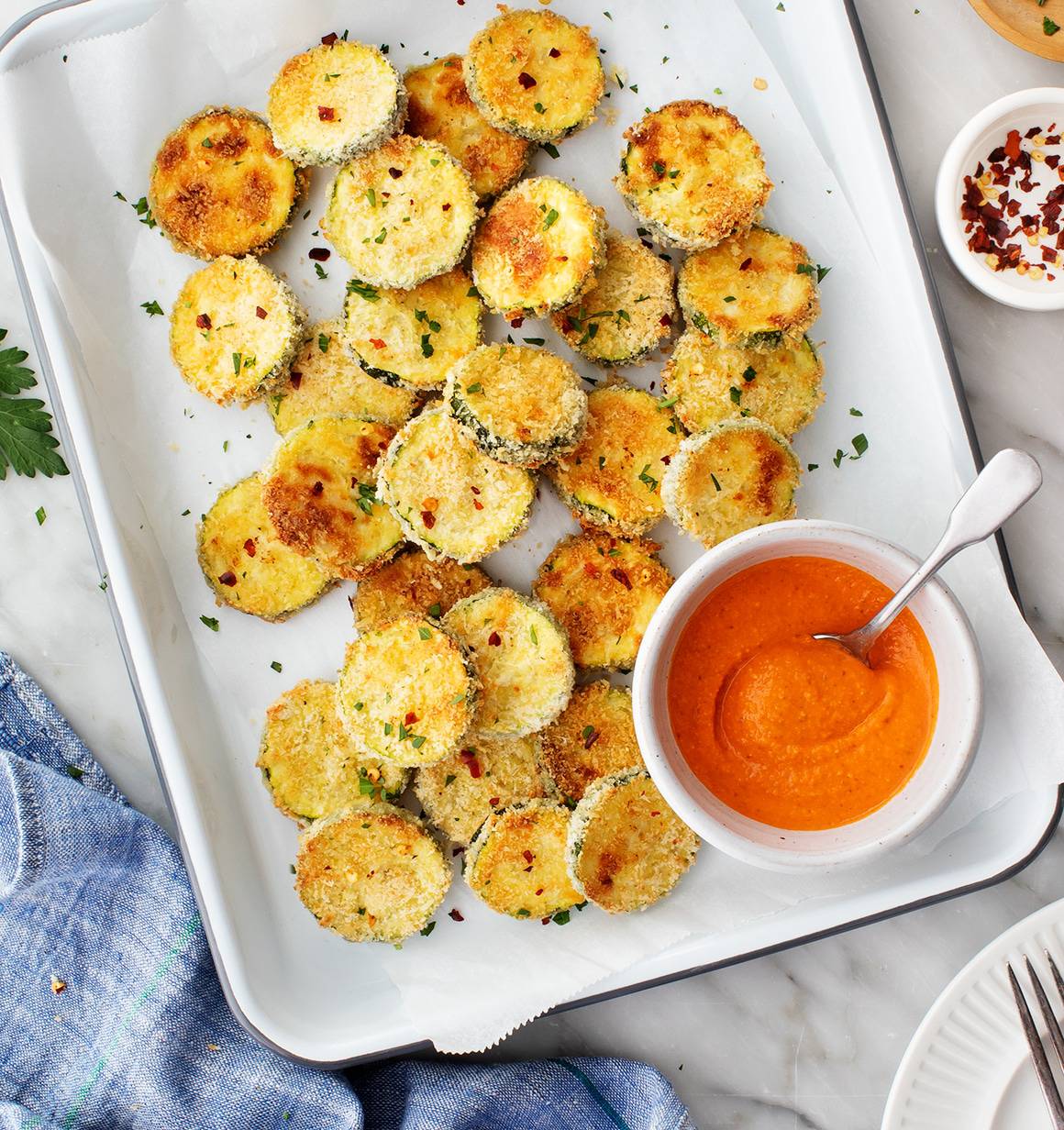 Baked Zucchini Chips
These crispy, cheesy chips are a fantastic snack on their own, but a little marinara sauce or romesco sauce for dipping certainly doesn't hurt. Don't feel like turning on the oven? Try these air fryer zucchini chips instead!
Grilled Ratatouille Tartines
These bite-sized starters are an elegant addition to a summer meal. I slather crostini with hummus or soft goat cheese and then pile on a jumble of grilled veggies tossed with sherry vinegar and fresh herbs. If you love the flavor of Provençal ratatouille, you'll love these.
Summer Squash Salad Recipes
If you ask me, raw zucchini recipes are seriously underrated. Thinly sliced, julienned, or cut into ribbons, the raw squash has a delightful crisp-tender texture, and it soaks up flavor like a sponge. I love to showcase it in vibrant summer salads like these.
Zucchini Salad
This gorgeous zucchini salad recipe comes from Simple Beautiful Food by Amanda Frederickson. Made with a handful of basic ingredients, it's an easy, elevated summer side dish. Pine nuts add crunch, basil and chives give it pops of fresh flavor, and a simple lemon vinaigrette makes it zippy and bright.
Pesto Pasta Salad
If you have an abundance of zucchini on hand, chances are you have a good amount of basil too. Blend up a batch of pesto, toss it with some curly pasta, and add thinly sliced summer squash for good measure. It's a lovely summer lunch!
Vegan Pasta Salad
This salad doesn't *technically* fall under the category of zucchini recipes. Oops! Instead of zucchini, it features spiralized yellow squash in addition to pasta. Feel free to swap in zucchini noodles if you prefer, or use a mix of zucchini and yellow squash for an extra-colorful twist.
Broccoli Pasta Salad
Zucchini noodles take the place of some of the regular noodles in this picnic-perfect dish. Eating it, you feel like you're filling up on pasta, but really, it's mostly veggies!
Zucchini Recipes on the Side
If you've been eating plain old roasted zucchini or grilled zucchini on repeat, it's time to change up your side dish rotation! Try one of these easy zucchini recipes instead.
Grilled Vegetables
Add a pop of color to your summer table with these vibrant grilled veggies! I love them with a flavorful sauce on the side. Tzatziki, pesto, and chimichurri are all fantastic.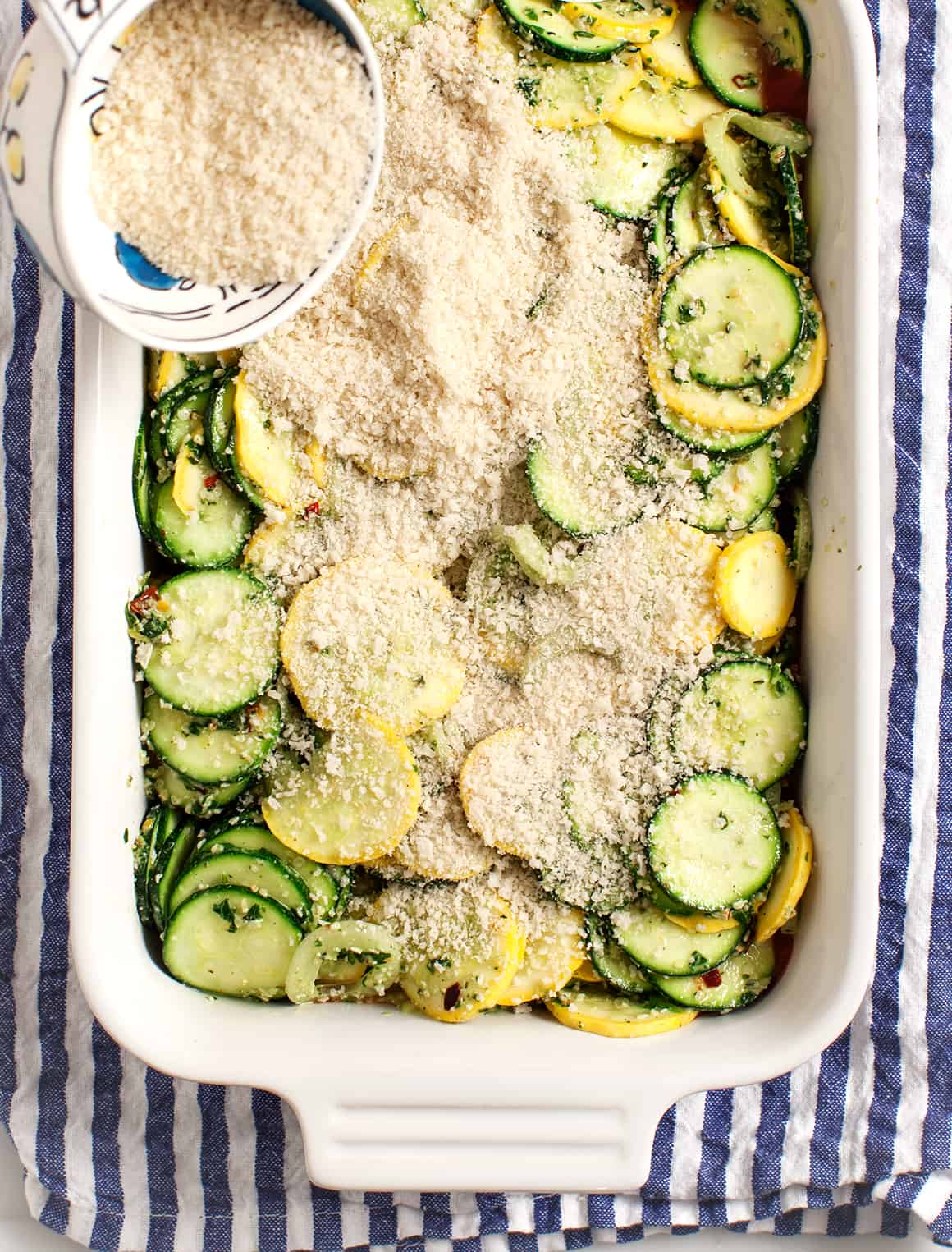 Crispy Zucchini Casserole
This simple casserole has a crispy panko and Parmesan topping and a saucy, pesto– and marinara-spiked middle. Yup, you're going to want seconds.
Main Dish Zucchini Recipes
I've shared plenty of side dish and appetizer zucchini recipes above, but sometimes, this summer veggie deserves to be at the center of the plate! Here are a few flavorful ways to make it a meal:
Stuffed Zucchini Boats
Waste not, want not! Instead of tossing the scooped-out squash in this zucchini boat recipe, you'll mix it into the zesty filling with breadcrumbs, Parmesan, tomatoes, lemon, and thyme. Dollops of pesto take it all over the top.
Ratatouille
This humble French stew is late summer in a bowl! For extra staying power, top it off with a poached egg and serve with crusty bread.

Herb Garden Zucchini Pizza
If you love zucchini, you'll go crazy for this raw and roasted summer squash pizza! Decked out with pesto, thyme, fresh basil, and a sprinkle of red pepper flakes, it makes for an unforgettable pizza night.
Vegetarian Tacos with Avocado Sauce
30 minute veggie tacos, coming right up! Roast up a medley of summer veggies like zucchini, eggplant, and bell peppers. Then, stuff them into tortillas with black beans, avocado, and a tangy tomatillo sauce.
Pasta Recipes with Zucchini
Whether roasted, grilled, or sautéed, zucchini is a perfect partner for pasta. Thin zucchini slices soften and become jammy, folding around the noodles, while bigger pieces retain a juicy bite. Each of these recipes is a staple in my kitchen throughout the summer and early fall.
Pasta Primavera
Worthy of a spot in any weeknight dinner rotation, this colorful pasta is simple, flavorful, and bursting with fresh vegetables.
Best Vegetarian Lasagna
A host of summer veggies makes this hearty lasagna fresh and flavorful. In addition to zucchini, you'll find fennel, carrots, cherry tomatoes, mushrooms, leeks, and kale.
Zucchini Lasagna with Zucchini "Ricotta"
In this very-veggie riff on classic lasagna, I replace half the regular noodles with thin planks of zucchini. Then, I blend more zucchini into a creamy vegan "ricotta" filling. Serve it with garlic bread for a fresh yet comforting meal.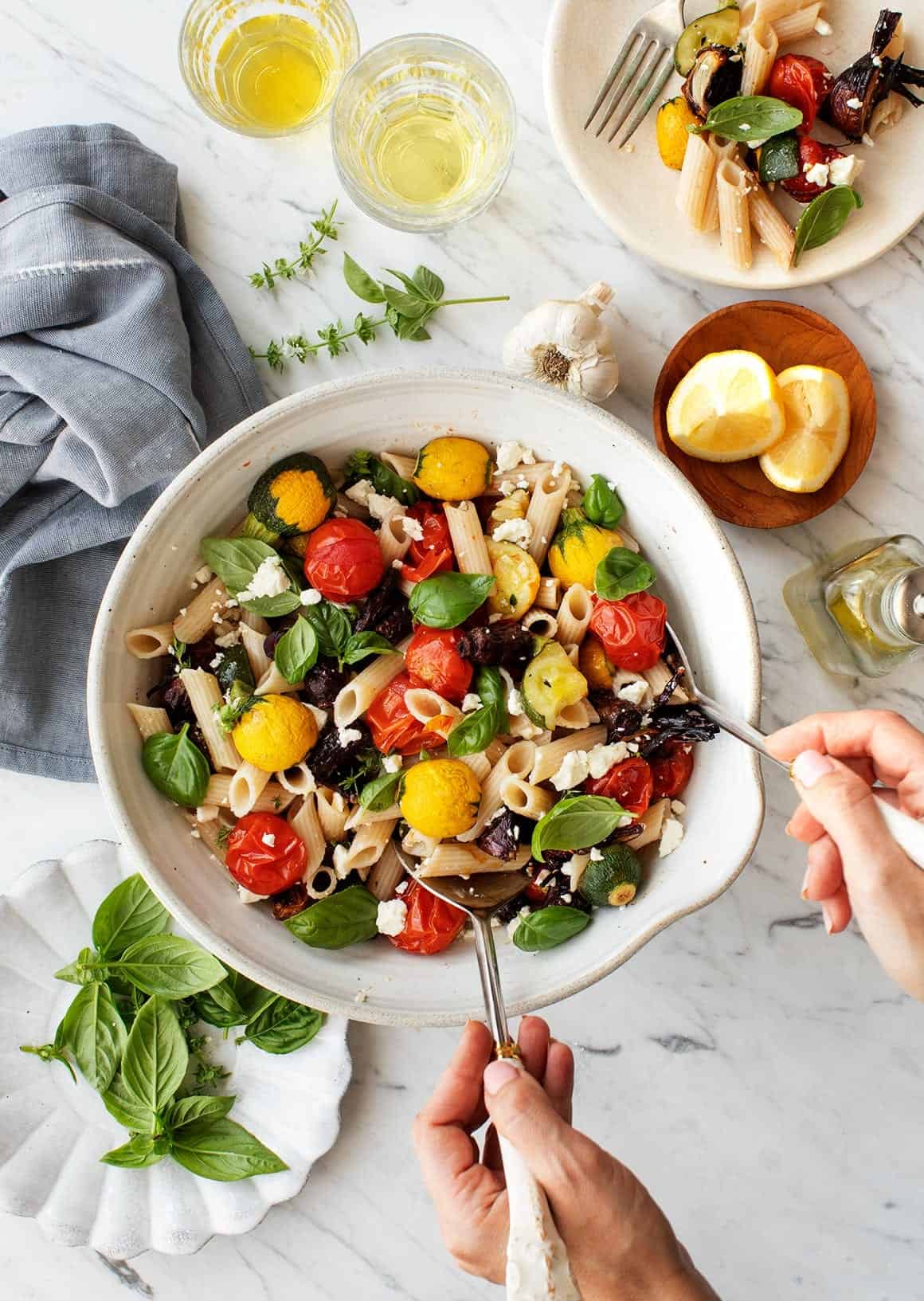 Roasted Vegetable Pasta
This flexible pasta is my go-to dinner after a trip to the farmers market! In the photo above, you'll see a version featuring cherry tomatoes, squash, onions, and carrots, but any mix of summer vegetables will work in this dish.
Creamy Pasta Pomodoro
I could eat this creamy vegan pasta every night of the week! A velvety tomato sauce coats chewy noodles and simple sautéed veggies like spinach, cherry tomatoes, and zucchini.
Soup Recipes with Summer Squash
An abundance of any vegetable can disappear into a big pot of soup. Zucchini is no exception!
Many Veggie Vegetable Soup
This soup is a great clean-out-the-fridge sort of recipe. It features odds and ends of all kinds of veggies—tomatoes, sweet potatoes, kale, carrots, and, of course, zucchini.
Basil Zucchini Soup
Blended raw zucchini—not nuts or dairy—gives this cool, refreshing soup its luscious creamy texture. It's the perfect light meal for a hot day.
Easy Zucchini Recipes for Dessert
You can barely detect the zucchini in these easy baked goods, but it gives them all a delectable moist texture.
Chocolate Zucchini Bread
This easy recipe yields two loaves of ultra-moist, ultra-chocolatey bread. Give one to a friend, or stash it in the freezer for a treat down the road. Your future self will thank you!
Zucchini Brownies
2 WHOLE CUPS of shredded zucchini vanish into these gooey brownies. Any chocolate lover would agree that vegetables have never tasted better.
Chocolate Zucchini Cake
You can decorate this vegan chocolate cake with any frosting you like, but I love the luscious matcha frosting pictured here. What's more fun than green frosting on zucchini cake?!
Zucchini Recipes: Roasted Zucchini
This oven roasted zucchini recipe is one of our one of my favorite summer zucchini recipes!
Ingredients
1

pound

zucchini

,

about 3 medium, cut into 1-inch half-moons

2

teaspoons

extra-virgin olive oil

1

teaspoon

Italian Seasoning

½

teaspoon

sea salt

¼

teaspoon

garlic powder

Lemon wedges

,

for squeezing

grated Parmesan cheese or crumbled feta cheese

Fresh herbs

,

optional, for serving
Instructions
Preheat the oven to 425°F and line a baking sheet with parchment paper.

In a large bowl, toss the zucchini with the olive oil, Italian seasoning, salt, garlic powder, and several grinds of pepper. Spread it evenly on the prepared baking sheet and roast for 15 to 20 minutes, or until golden brown around the edges.

Remove from the oven, transfer to a serving dish, and squeeze with lemon. Sprinkle with cheese and herbs, if desired.