Not sure how to use all that summer squash? These easy zucchini recipes are here to help! They include tasty ideas for dinner, dessert, and more.
At this time of year, do you start thinking that you've cooked all the zucchini recipes out there? This week, I looked at my market haul of summer squash and asked, "What next?". Well, luckily for us, zucchini is one versatile veggie. It tastes fantastic in pastas, tacos, salads, and even chocolate cake! You can grill it, bake it, sauté it, and also eat it raw. We might feel like we've cooked it in every way known to man, but there are always more zucchini recipes to try.
Below, you'll find 36 easy zucchini recipes that I turn to every summer. They include hearty main courses, fresh salads, decadent desserts, and everything in between. I hope they inspire you to try cooking zucchini in a new way. And if any of you have favorite zucchini recipes to recommend, let me know in the comments!
Easy Zucchini Appetizers
When dinner is running late, I often whip up a quick appetizer to tide Jack and me over. Sometimes it's as simple as cheese and crackers, but when I have abundant zucchini in the fridge, I almost always throw it into to the mix. These two easy zucchini recipes are light and flavorful. They won't fill you up before dinner, but you'll enjoy every bite.
Grilled Ratatouille Tartines
If zucchini is in season and you have it on hand, there's a good chance you also have tomatoes, eggplant, and peppers in the fridge. These veggies make up the classic Provençal dish ratatouille, and they taste wonderful together. I like to grill them until they're nice and charred and toss them with sherry vinegar and fresh herbs. Then, I pile them onto toast with a slather of hummus or soft goat cheese to make a fresh summer starter.
Zucchini & Radish Carpaccio Crostini, page 67 of Love & Lemons Every Day
Thin radish and zucchini slices take the place of meat in this plant-based riff on carpaccio. Top them onto crostini with soft goat cheese or labneh, or substitute the Almond Cheese on page 73 to make this recipe vegan.
Salad Zucchini and Squash Recipes
When was the last time you ate zucchini raw? In my opinion, raw zucchini is underrated. Its soft texture and mild flavor taste fantastic in all sorts of summer salads. Try adding spiralized zucchini to your next pasta salad or julienned zucchini to a green salad. Or, if you have lots of fresh zucchini to use up, make an all-zucchini salad with squash ribbons, lemon, and lots of fresh herbs.
Zucchini Salad
This gorgeous zucchini salad recipe comes from Simple Beautiful Food by Amanda Frederickson. Made with a handful of basic ingredients, it's an easy, elegant summer side dish. Pine nuts add crunch, basil and chives give it pops of fresh flavor, and a simple lemon vinaigrette makes it zippy and bright.
Broccoli Pasta Salad
Zucchini noodles take the place of some of the regular noodles in this picnic-perfect broccoli pasta salad. Eating it, you feel like you're filling up on pasta, but really, it's mostly veggies!
Vegan Pasta Salad
This recipe doesn't *technically* fall under the category of zucchini recipes. Oops! Instead of zucchini, it features spiralized yellow squash in addition to pasta. Feel free to swap in zucchini noodles if you prefer, or use a mix of zucchini and yellow squash for an extra-colorful version of this creamy vegan pasta salad.
Vegan Cobb Salad
This vegan Cobb salad includes some of my favorite summer bounty: zucchini, cherry tomatoes, corn, and fresh greens. Baked tofu steps in for the traditional chicken, coconut bacon adds essential smoky flavor, and a creamy cashew dressing ties it all together.
Soups and Chilis
Zucchini is one of my favorite vegetables to add to soup. I might dice it up with a mix of other veggies, blend it to create a luscious creamy texture, or even spiralize it! That way, I feel like I'm eating a big bowl of noodle soup, but most (or all) of the noodles are actually vegetables!
Golden Turmeric Noodle Miso Soup
This healing noodle soup is one of the best zucchini recipes to make near the end of the season, when the air starts to become crisp. The vibrant broth is chock-full of nourishing ingredients like turmeric, lemon, and ginger, so it's warming and energizing on cool fall nights.
Many Veggie Vegetable Soup
This soup is a great clean-out-the-fridge sort of recipe. It features odds and ends of all kinds of veggies – tomatoes, sweet potatoes, kale, carrots, and, of course, zucchini.
Basil Zucchini Soup
This cool soup is smooth and creamy, but you won't find any nuts or dairy here. Instead, the luscious texture comes from blended raw zucchini!
Spiralized Vegetable Noodle Soup
A lighter riff on minestrone soup, this recipe features spiralized sweet potato and zucchini instead of pasta!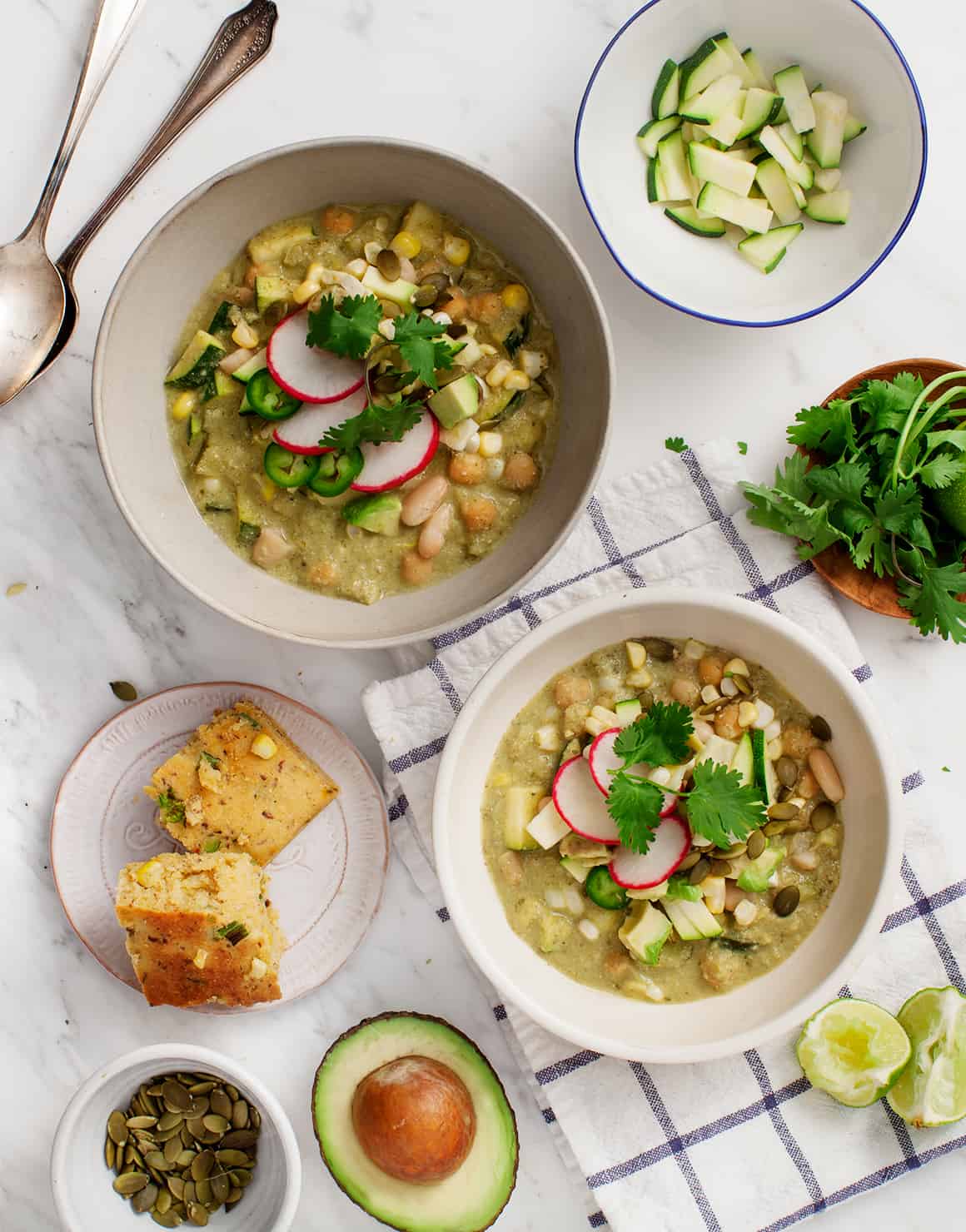 Tomatillo Zucchini White Bean Chili, page 99 of Love & Lemons Every Day
If you like tomatillo salsa, you'll love this white bean chili. Roasted and blended tomatillos, chiles, onions, and garlic fill the creamy broth with tangy, spicy flavor.
Easy Zucchini Recipes on the Side
If you have tons of summer squash on hand, a zucchini side dish is a great way to use it up. Cook it up on the grill or in the oven and serve it with a flavorful sauce. Even the biggest summer squash stockpile will disappear in no time!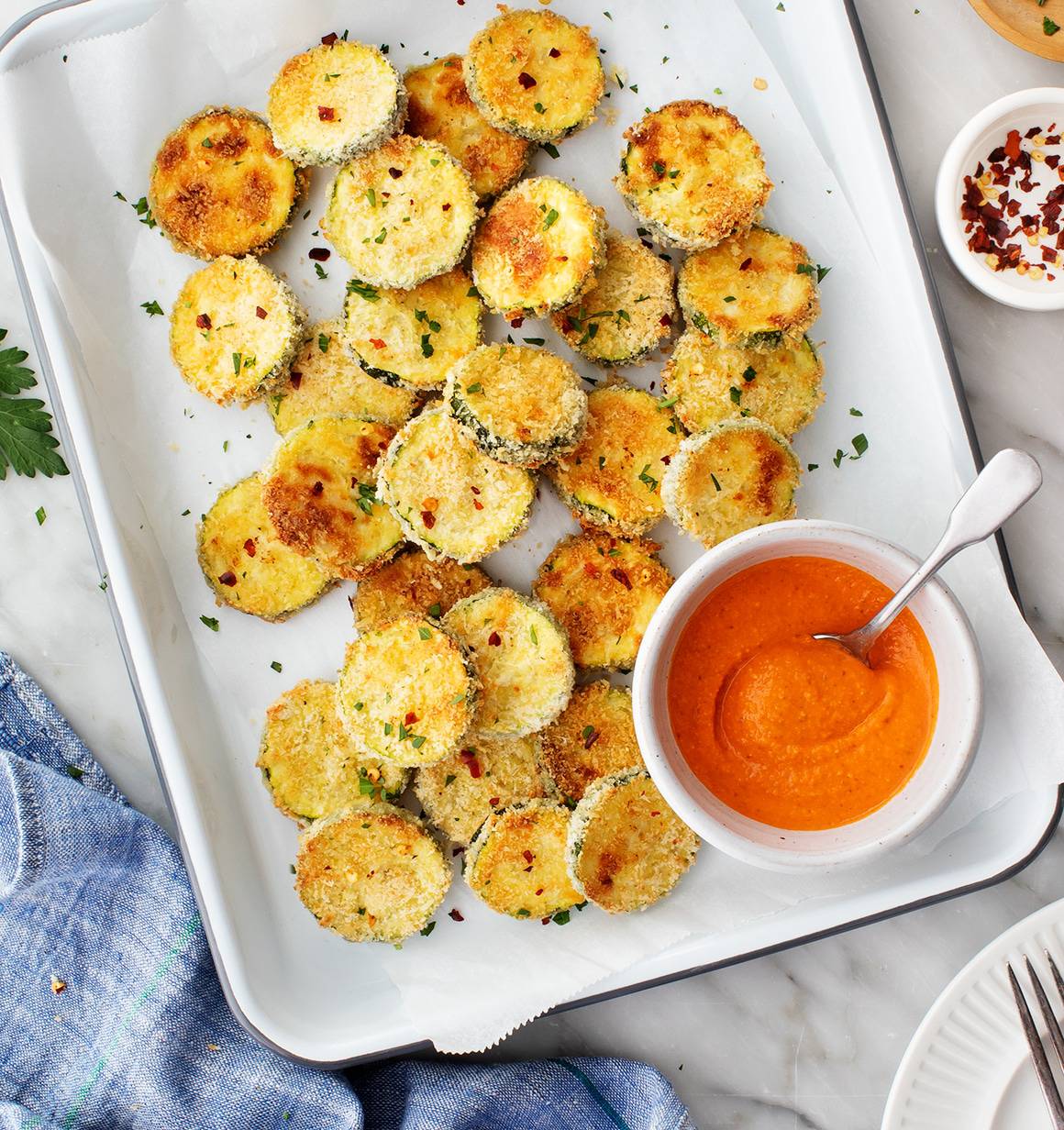 Baked Zucchini (recipe below)
My favorite way to eat these baked zucchini chips is straight off the sheet pan. I'll stand at the counter, popping one after another into my mouth while they're still crisp and piping hot. If you're more patient than I am, transfer them to a plate or tray and serve them with romesco sauce for a fun side dish or snack.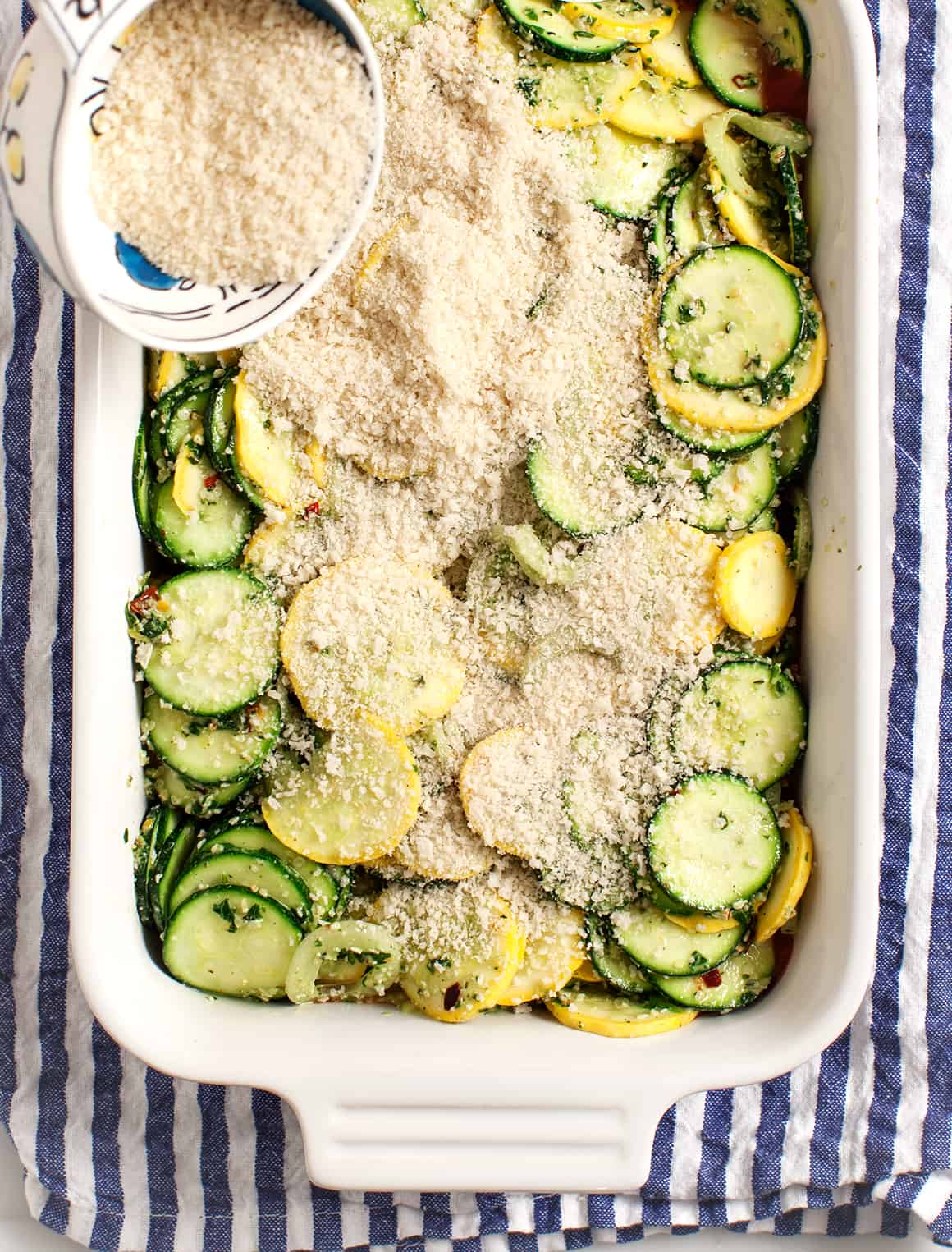 Crispy Zucchini Casserole
Pesto, marinara sauce, and a panko and Parmesan topping fill this zucchini casserole with rich, nutty flavor. I love how the top gets golden brown and crispy as it bakes, while the inside stays soft and saucy.
Grilled Vegetable Kabobs
Serve these colorful veggie skewers as a side dish, or pile them onto a bed of farro to make them a meal on their own. Top the veggies with cilantro lime dressing, chipotle sauce, green goddess dressing, or tzatziki to take the whole thing over the top.
Perfect Grilled Zucchini
These grilled zucchini wedges have a delicious charred flavor and al dente bite. I like to serve them over a bed of feta and lemony yogurt for a refreshing, elevated summer side dish.
Summer Squash Pastas
Roasted, grilled, boiled, or sautéed, zucchini is a perfect partner for pasta. Thin zucchini slices soften and become jammy, folding around the noodles, while bigger pieces retain a juicy bite. For a bright, summery finishing touch, toss your pasta with lots of lemon and fresh herbs.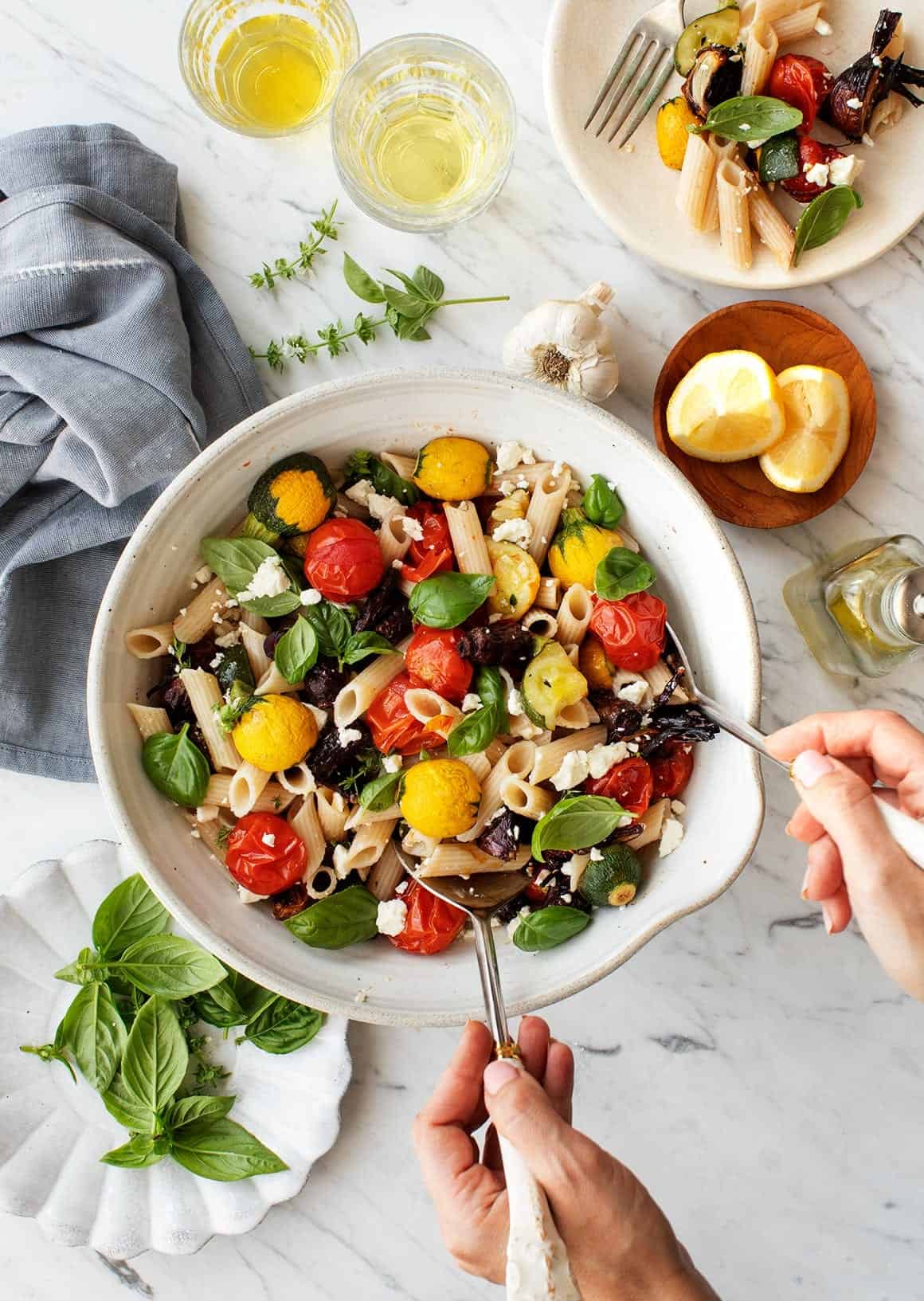 Roasted Vegetable Pasta
My go-to dinner after a trip to the farmers market! Pictured above, you'll see a version featuring cherry tomatoes, a variety of summer squash, onions, and carrots, but any summer vegetables will work in this flexible dish.
Creamy Pasta Pomodoro
I could eat this creamy vegan pasta every night of the week! A velvety tomato sauce coats floppy noodles and simple sautéed veggies like spinach, cherry tomatoes, and zucchini.
Zucchini Lemon Orzo
In this simple pasta recipe, grilling the eggplant and zucchini infuses them with charred, smoky flavor. I balance them out with bright lemon, pine nuts, feta, and big handfuls of basil and mint.
One-Pot Penne Pasta
Let the stove do the work for you! Here, colorful summer veggies cook right along with the pasta. It's bright and flavorful, and cleanup is a breeze.
Lemony Summer Squash Orecchiette
This simple pasta features jammy sautéed zucchini and yellow squash, tangy feta cheese, lemon, herbs, and red pepper flakes for heat. It's so easy and delicious!
Best Vegetarian Lasagna
A host of summer veggies makes this hearty lasagna fresh and flavorful. In addition to zucchini, you'll find fennel, carrots, cherry tomatoes, mushrooms, leeks, and kale.
Grilled Eggplant and Summer Veggie Pasta, page 139 of The Love & Lemons Cookbook
I often finish pasta recipes with a sprinkle of cheese, but here, pickled red onions add a bright pop of flavor instead. You could add Parmesan if you like, but I don't think it's necessary. This dish is delicious (and totally vegan) without it.
Best Zucchini Noodle Recipes
I love replacing grains with veggies by using cauliflower rice, broccoli rice, spaghetti squash, and, of course, the almighty zucchini noodle! Whether you're looking to eat lighter or just want to try something different, I highly recommend trying these fun, colorful "noodles."
Zucchini Lasagna with Zucchini "Ricotta"
When you think of zucchini noodles, I'm guessing that thin spaghetti-style strands are what come to mind. Well, guess what? Zucchini makes a great replacement for lasagna noodles too! In this lighter version of the classic comfort food, I use a 50/50 mix of thin zucchini planks and regular noodles. Then, I blend more zucchini into a creamy vegan "ricotta" filling.

Spiralized "Rice Noodle" Bowl
Most often, I make this all-veggie "noodle bowl" with spiralized daikon radish, but zucchini noodles work perfectly too. Baked tofu, toasted cashews, avocado, and two punchy sauces make this nourishing bowl pretty substantial, but if you want to make it heartier, use a mix of vermicelli noodles and veggie noodles.
Zucchini Noodle Puttanesca, page 177 of Love & Lemons Every Day
This recipe did the impossible: it got Jack and me to love olives! Here, the olives work alongside capers and sun-dried tomatoes to fill the pasta with briny, savory flavor. The zucchini noodles make it all feel really fresh and light – I always go back for seconds!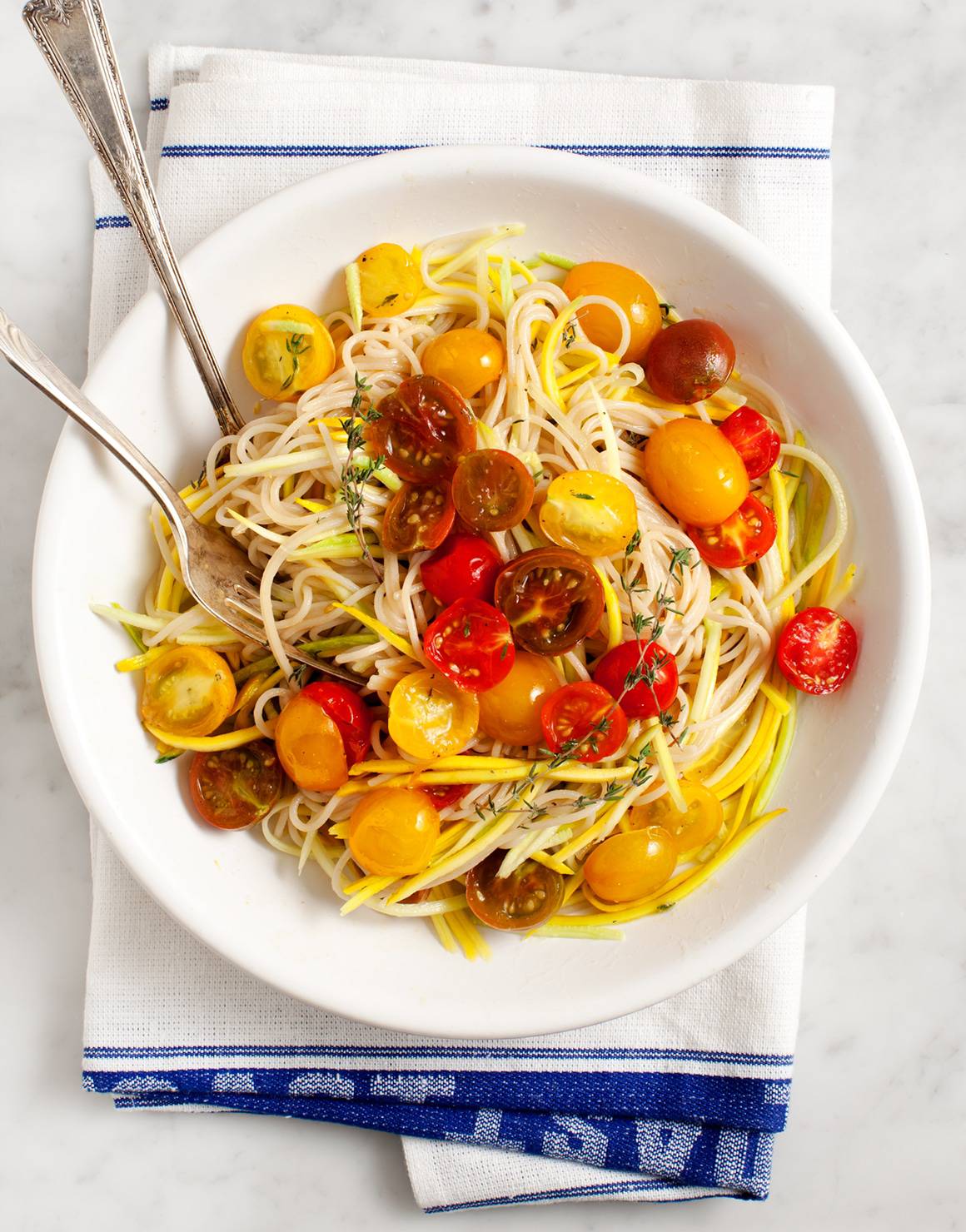 Summer Squash and Cherry Tomato Pasta, page 271 of The Love & Lemons Cookbook
Good cooking doesn't get simpler than this. Toss julienned summer squash with spaghetti, sautéed cherry tomatoes, garlic, and fresh thyme for a mouthwatering summer dinner. Round out the dish with shaved Parmesan cheese, or make it vegan by adding vegan Parmesan or dollops of vegan pesto.
More Main Dish Zucchini Recipes
Not in the mood for pasta? Good news! We have plenty of main dish zucchini recipes for enchiladas, tacos, pizza, and more. With all this variety, you're bound to find something you love.
Stuffed Zucchini Boats
I love entrees that focus on a whole vegetable – cauliflower steaks, mushroom burgers, baked potatoes, and now…stuffed zucchini! This recipe doesn't let any squash go to waste. You'll mix the scooped-out flesh into a flavorful filling made from bread crumbs, pine nuts, cherry tomatoes, lemon zest, and Parmesan cheese.
Summer Squash Succotash, page 273 of The Love & Lemons Cookbook
This veggie-packed version of succotash could easily pass as a side dish, but I often serve it over brown rice or quinoa and enjoy it as a meal on its own! Chickpeas add protein, while cherry tomatoes, summer squash, peppers, and basil make it nice and fresh.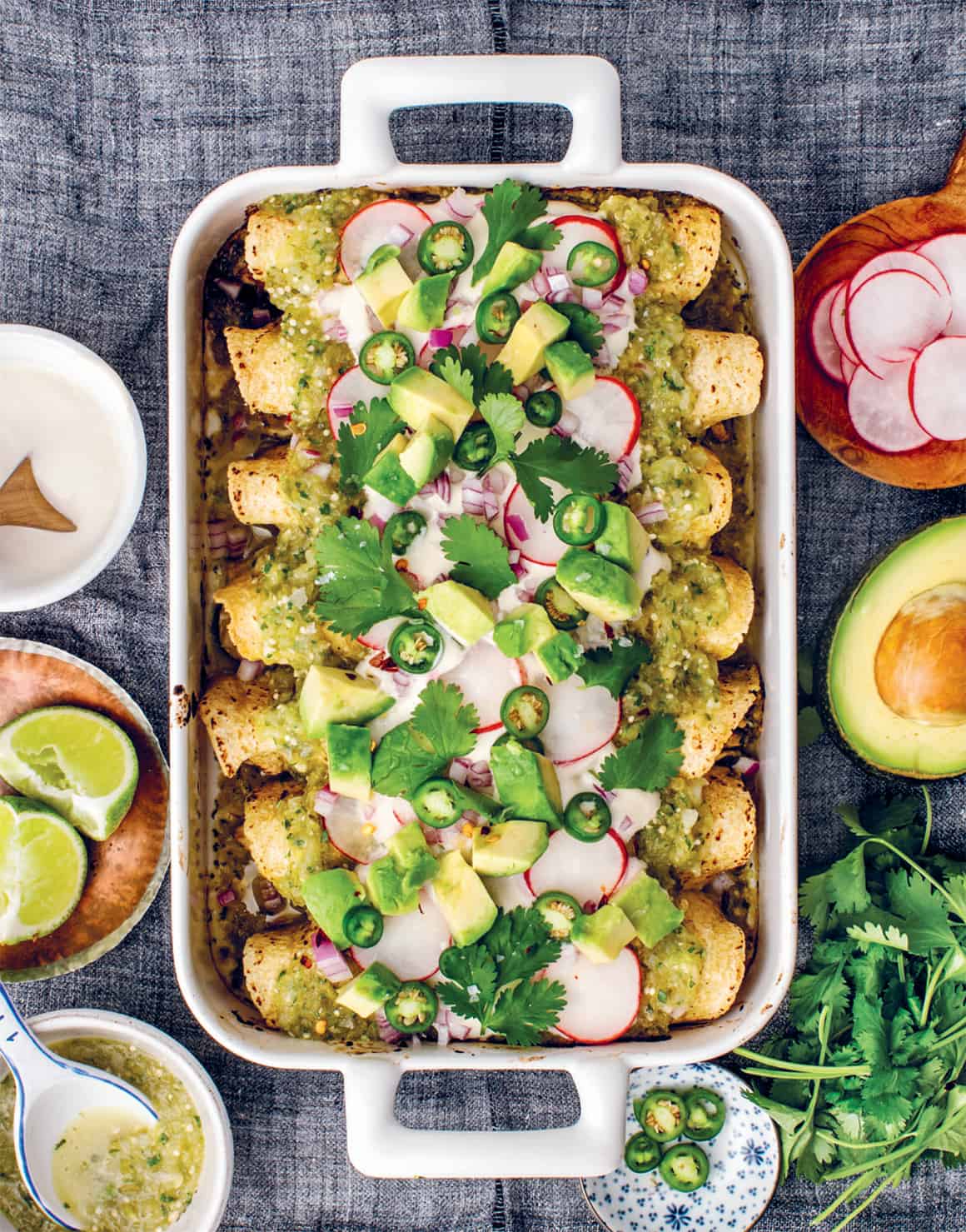 Zucchini Verde Vegan Enchiladas, page 157 of Love & Lemons Every Day
Crumbled tofu, black beans, poblanos, and sautéed zucchini make a hearty, flavorful filling for these vibrant vegan enchiladas. Thanks to tangy tomatillo salsa and spices like cumin and coriander, they taste great on their own, but they're even better with cashew sour cream drizzled on top.
Vegetarian Tacos with Avocado Sauce
Any roasted veggie medley would work in these zesty tacos, but in the summer, I especially love to fill them with eggplant, peppers, tomatoes, and summer squash.

Herb Garden Zucchini Pizza
If you love zucchini, you're going to go crazy for this pizza recipe! In it, I use zucchini two ways. First, I bake some on the pizza. When it comes out of the oven, I pile on raw marinated squash ribbons. Add pesto, thyme, and fresh basil to the mix, and you're heading for one unforgettable pizza night.
Easy Zucchini Recipes for Dessert
Of course, I couldn't round up my best zucchini recipes without including a section for sweets! You'll barely be able to detect the zucchini in these easy baked goods, but it gives them all a rich, moist texture. My advice? Pick one of the recipes below, and get cooking ASAP.
Chocolate Zucchini Bread
This moist, fudgy bread is one of my all-time favorite zucchini recipes. Made with whole wheat flour, maple syrup, and lots of zucchini, it's on the healthy side, but you'd never guess it from the taste.
Chocolate Zucchini Cake with Matcha Frosting
You can top this vegan chocolate cake with any frosting you like, but I love the luscious matcha frosting pictured here. What's more fun than green frosting on zucchini cake?!

Double Chocolate Zucchini Muffins, page 269 of The Love & Lemons Cookbook
These rich chocolate muffins make a delicious summer dessert, but they're healthy enough to pass as breakfast, too!
Best Zucchini Bread
Along with lots of zucchini, almond flour gives this zucchini bread a wonderful moist texture. This recipe makes two loaves, and trust me, you'll want both! I recommend slicing and freezing the second for anytime you need a quick breakfast or afternoon treat.
Zucchini Recipes: Baked Zucchini
This crispy baked zucchini is one of my favorite summer zucchini recipes!
Instructions
Preheat the oven to 425°F and line a baking sheet with parchment paper.

Slice the zucchini into 1/4 inch rounds.

In a small bowl, whisk the egg. In a medium bowl, combine the panko, almond flour, Parmesan, salt, and several grinds of pepper.

Dip the zucchini slices into the egg and then into the panko mixture. Place onto the baking sheet, drizzle with olive oil, and bake 17 to 20 minutes, flipping halfway, until golden brown.

Serve immediately while still hot (the zucchini will become less crispy as it sits) with a dipping sauce on the side, if desired.
Notes
*Make this recipe vegan by replacing the egg with ¼ cup nut milk mixed with 1 tablespoon ground flaxseed.