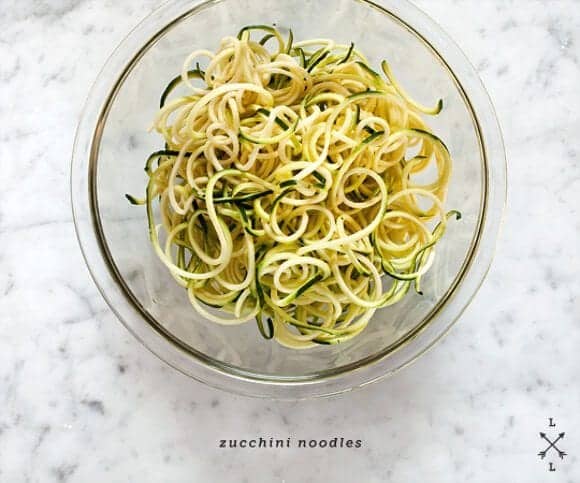 I was on a raw (well raw-ish) kick last week. Lately, I've been trying to eat lighter, and a bit healthier… less heavy starches, that sort of thing. I've been feeling really low-energy, so I'm trying to eat more veggie-focussed meals, and incorporate healing foods like miso and hemp seed and ginger.
I love zucchini noodles because they really trick the senses and make you feel like you're eating more than a bowl full of raw vegetables. Don't get me wrong – they're not pasta, but they have a nice tender bite that I find to be reminiscent of an al dente noodle.
Because they're on the lighter side, I prefer them with a with a really saucy sauce. They'd be great with a chunky tomato sauce or a light cream sauce, but I went for this cooling avocado miso sauce. I added ginger, cumin and cayenne to add a flavor punch.
I paired all this healthy-ness with a nice chilled glass of rose.

serves 2
portions may vary depending on the size of your zucchinis and avocado
ZUCCHINI NOODLE TOSS:
2 medium zucchinis
1/2 cup chopped mango
1/2 cup edamame (shelled and blanched)
1/4 cup toasted sliced almonds
extra squeezes of lime and extra salt, if necessary
AVOCADO MISO SAUCE:

1 avocado
1/4 cup hemp seeds
1 lime zest and juice
1 small zucchini (about 1/2 cup or so)
1/2 tablespoon miso
to that recipe, I added these things:
1 scallion, white and green parts, chopped
1 tablespoon minced ginger
1/4 teaspoon ground cumin
1/4 teaspoon ground cayenne
a little extra miso, add to taste (as you would salt)
METHOD:
I blended the dressing components together in the Vitamix until it was silky smooth. (If you're not using a vitamix (or similar), your sauce will be a bit more chunky than mine appears here).
I make my zucchini noodles with this device. I know, gadgets are a pain – and this one is kind of clunky to store, but I find it quite fun and easy to use. You could also use a julienne peeler, they will be less curly and more straight, but will still be nice little thin "noodle-like" strips.
Toss the noodles with as much or little sauce as you like. Taste and adjust seasonings (the sauce will become more diluted as you toss it with the noodles, so you'll likely have to add some salt and pepper).
Top the noodles with the rest of the components and serve right away, with extra sauce on the side.
This recipe made a good amount of extra sauce (I also had a pretty large avocado), and because avocados brown quickly, it only lasted an extra day in the fridge. I topped my leftover sauce on a kale salad the following afternoon.