Garden overflowing with zucchini? Make this zucchini muffins recipe to use it up! They're moist, puffy, and warmly spiced with nutmeg and cinnamon.
These zucchini muffins are the perfect way to use up (or at least make a dent in) a summer surplus of zucchini. A single batch uses 2 full cups of shredded squash…and if you're anything like me, you're going to make WAY MORE than a single batch. I'm on my third already this summer!
These zucchini muffins are moist, puffy, and warmly spiced with nutmeg and cinnamon. They're also fairly healthy. I make them with whole wheat flour, olive oil instead of melted butter, and, of course, lots of zucchini. Right now, my favorite breakfast is one of these zucchini muffins and a cup of coffee or tea. I hope you love them too!
Zucchini Muffin Recipe Ingredients
Here's what you'll need to make this zucchini muffins recipe:
Zucchini, of course! You'll need 2 cups of zucchini shredded on the large holes of a box grater, from about 2 small-medium squash.
All-purpose flour, whole wheat flour, and almond flour – I love this combination because it's wholesome, but it still yields fluffy, moist, and tender muffins.
Baking powder and eggs – To help the muffins rise as they bake.
Almond milk – For moisture. Feel free to swap in another milk if you prefer. My homemade oat milk would work nicely. If you don't need the muffins to be dairy-free, regular milk would also work.
Extra-virgin olive oil – It adds richness and enhances these muffins' amazing moist texture. If you don't like baking with olive oil, substitute a neutral-tasting oil, such as vegetable oil, canola oil, or melted coconut oil.
Cane sugar – For sweetness.
Cinnamon, nutmeg, and vanilla – They fill these zucchini bread muffins with warm, spiced flavor.
Walnuts – For crunch! They also add extra fiber, protein, and healthy fats.
And sea salt – To make all the flavors pop!
Find the complete recipe with measurements below.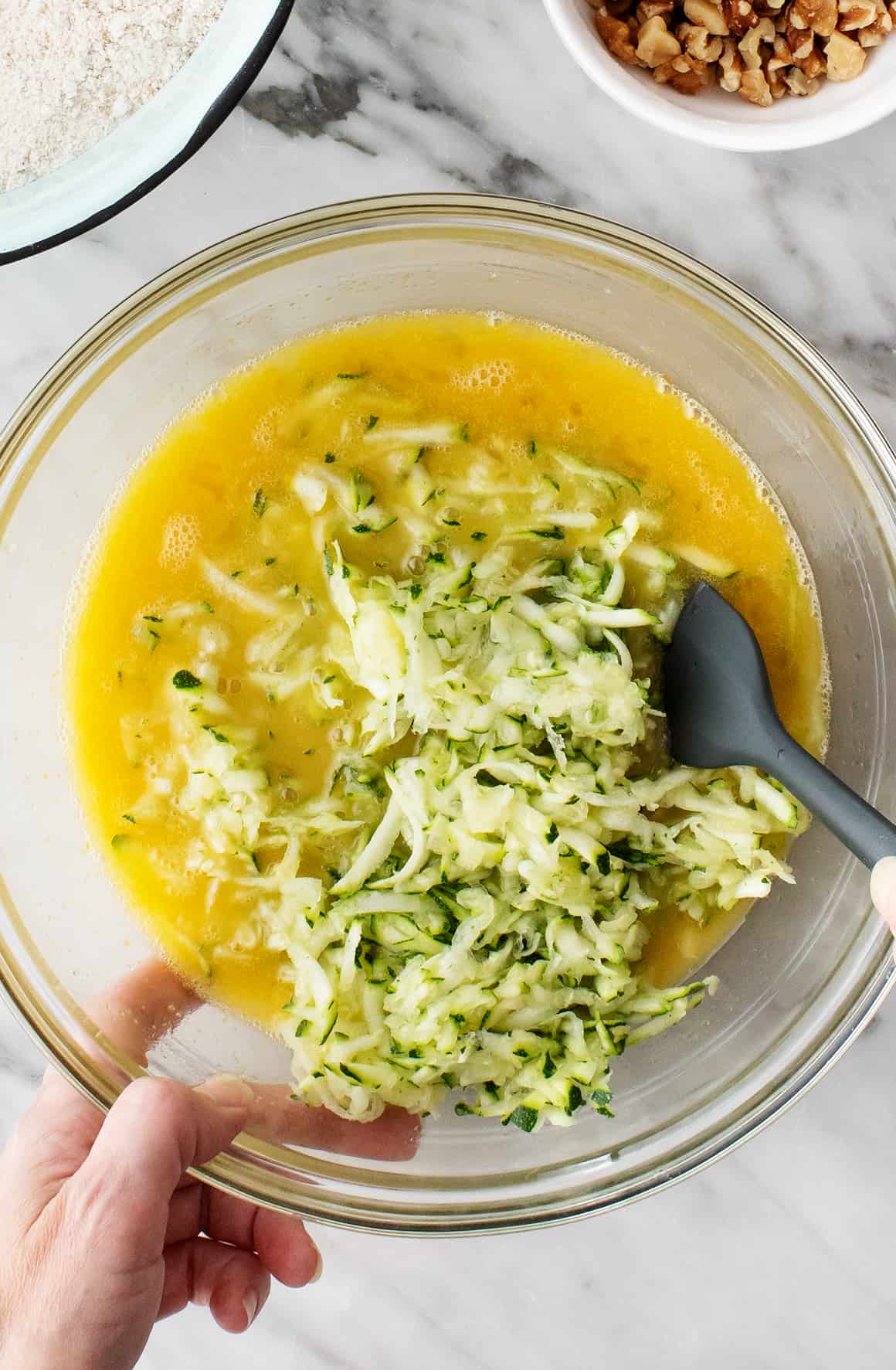 How to Make Zucchini Muffins
This zucchini muffin recipe is super easy to make! Here's how it goes:
First, whisk together the dry ingredients in one bowl and the wet ingredients in another. Add the grated zucchini to the bowl of wet ingredients.
Then, combine them. Pour the dry ingredients into the bowl of wet ingredients…
…and fold until just combined. Careful not to overmix!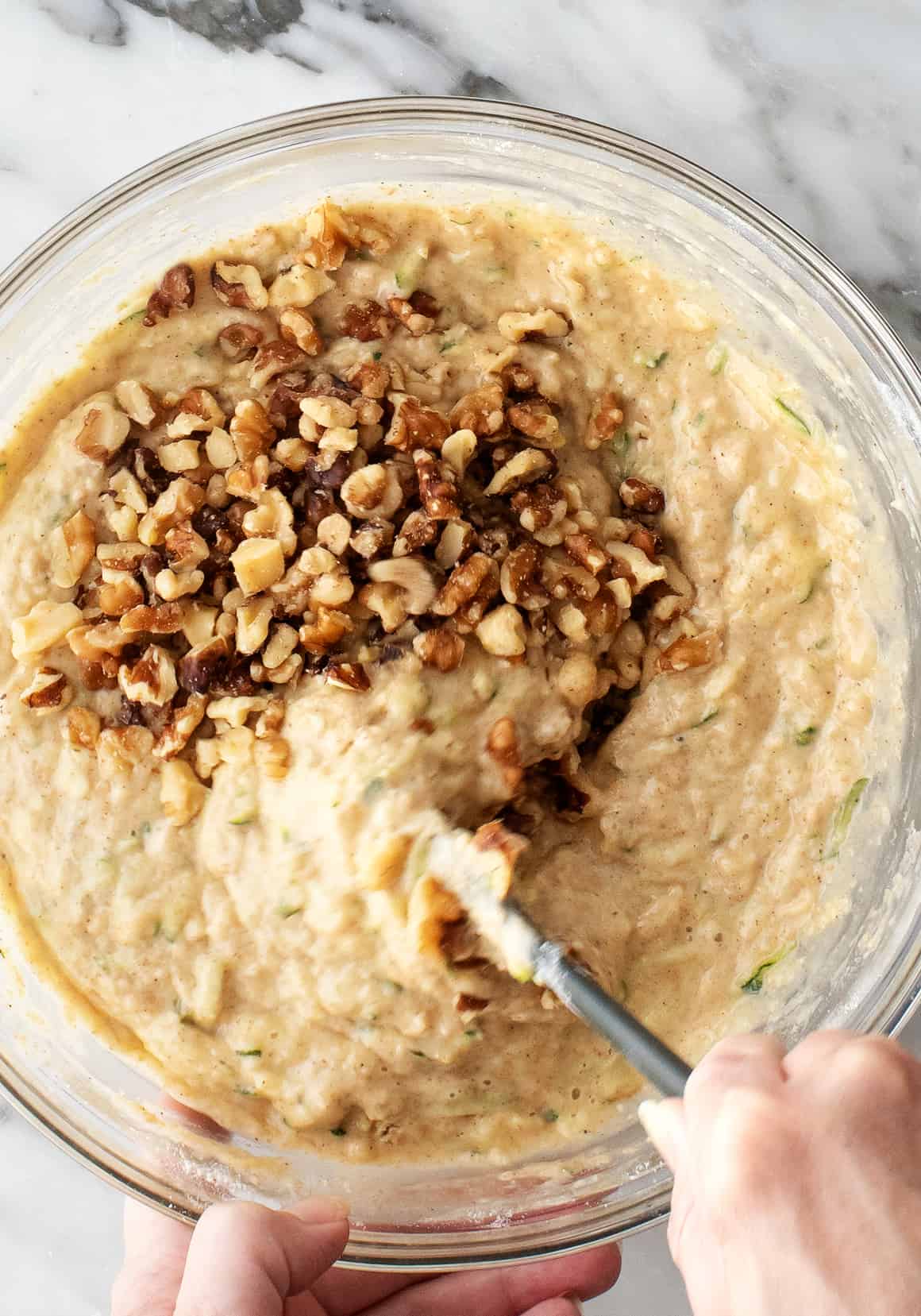 Finally, fold in the chopped nuts, and bake! Grease a 12-cup muffin pan, or place cupcake liners in the muffin cups. Evenly divide the batter among the cups and bake at 400°F for about 18 minutes, or until the tops of the muffins spring back to the touch and a toothpick inserted comes out clean.
Allow the muffins to cool in the pan for 10 minutes before transferring them to a wire rack to cool completely. Enjoy!
Best Zucchini Muffins Tips
Don't wring out the zucchini. Many zucchini bread and muffin recipes tell you to squeeze the moisture out of the zucchini. Not this one! Here, we want all that moisture to go into the muffins, making them really soft and tender. Yum!
Freeze some for later. Stored in an airtight container at room temperature, these zucchini muffins will keep well for about 3 days. If you want to have them around for longer than that, I recommend storing them in the freezer. Thaw frozen muffins overnight in the fridge, or pop them in the microwave for about 30 seconds. I love to keep a stash on hand for quick breakfasts on busy mornings!
Change up the mix-ins. Not a fan of walnuts? That's ok! Replace them with chopped pecans, dried cranberries, or chocolate chips.
More Favorite Quick Bread and Muffin Recipes
If you love these healthy zucchini muffins, try one of these quick bread or muffin recipes next:
Looking for more zucchini recipes? Find 35 of my favorites here!
Zucchini Muffins
Moist and flavorful, these healthy zucchini muffins are a delicious breakfast or snack! Make them when you have lots of garden zucchini on hand, or whenever you're craving a tasty, wholesome treat.
Instructions
Preheat the oven to 400°F and grease a 12-cup muffin tin with oil or cooking spray.

In a medium bowl, combine the flours, baking powder, cinnamon, nutmeg, and salt.

In a large bowl, vigorously whisk together the almond milk, olive oil, eggs, sugar, and vanilla. Stir in the zucchini.

Pour the dry ingredients into the bowl of wet ingredients and stir to combine. Fold in the walnuts. Use a ⅓ cup measuring cup to scoop the batter into the muffin cups. Bake for 16 to 20 minutes, or until the muffin tops spring back to the touch. Let cool for 10 minutes, and then transfer to a wire rack to cool completely.