Well, hello September! How did that happen?
It's back to school season and even though no one in our family is going back to school (although how cute would doggie lunchboxes be!?), I still wanted to share an easy recipe that would be great for a busy weeknight.
Everyone loves lasagna, so I put iton my "to make for September" list. My plan was to use the last-surviving summer vegetables, particularly zucchini since it's still growing rampant. Instead of using regular ricotta as the filling, I would make a healthier non-dairy ricotta. Maybe I'd even blend a vegetable to make the ricotta filling. And then I realized – oh wait, I have this Zucchini Lasagna in THE COOKBOOK that is already my favorite zucchini lasagna. So instead of reinventing the wheel, here's the wheel!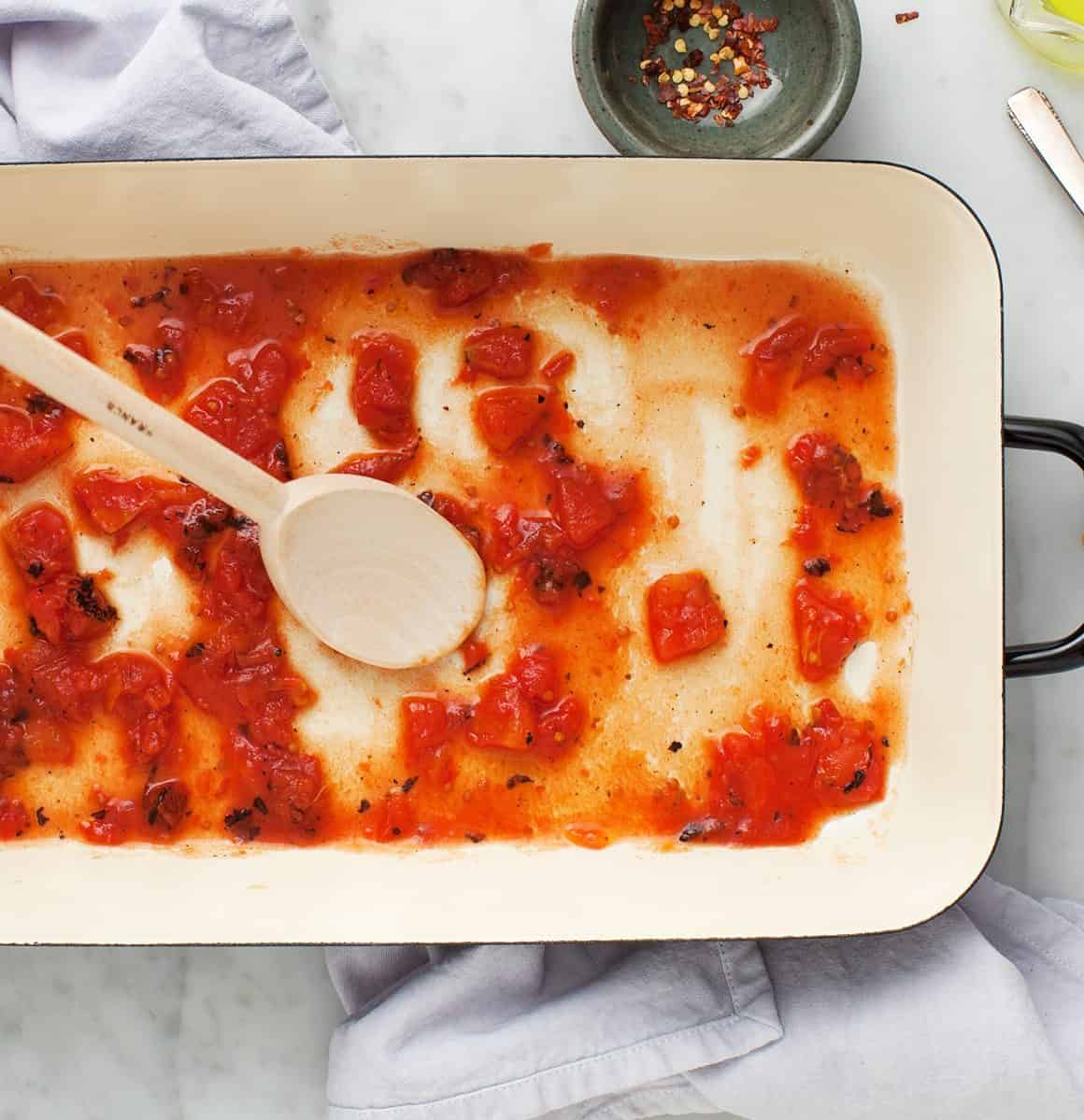 This is no ordinary lasagna recipe. What I love about this recipe is that it uses up a BUNCH of zucchini.

Planks of zucchini layer in to replace half of the noodles that you would normally need. That's the obvious move. But there is also zucchini blended up INTO the "ricotta" filling itself. You'll never notice it there, but the zucchini, along with blended walnuts, tofu, lemon juice, and spices creates a thick, creamy ricotta-like filling without using ricotta.

Yes, I put cheese on top of the lasagna, but I believe life is all about balance. Sub vegan cheese on top if you like!

And a shameless plug – check out The Love & Lemons Cookbook for more awesome veggie recipes 🙂

Zucchini Lasagna with Zucchini "Ricotta"
Ingredients
Zucchini Tofu Ricotta: (can be made ahead)
¼ cup chopped walnuts
2 garlic cloves
7 ounces extra-firm tofu
½ cup chopped zucchini
1 tablespoon fresh lemon juice
½ teaspoon dried oregano
¼ teaspoon red pepper flakes
½ cup chopped fresh basil
½ teaspoon sea salt, more to taste
freshly ground black pepper
For the Lasagna:
5 ounces brown rice lasagna noodles
Extra-virgin olive oil, for drizzling
1 (14.5 ounce) can diced fire-roasted tomatoes
2 zucchini, sliced into thin planks
1 cup grated pecorino cheese
Sea salt and freshly ground black pepper
Instructions
Preheat the oven to 375°F.
Make the Zucchini Tofu Ricotta: In a food processor, combine the walnuts, garlic, tofu, chopped zucchini, lemon juice, oregano, red pepper flakes, basil, salt and pepper and process to a spreadable consistency. Add more salt and pepper as desired.
Prepare the pasta according to the instructions on the package, cooking until al dente.
Assemble the lasagne: Drizzle a 9x13" pan with olive oil, then layer ingredients as follows:
st layer: ⅓ tomatoes, ½ noodles, ½ ricotta, ½ zucchini
nd layer: ⅓ tomatoes, ½ noodles, ½ ricotta, ½ zucchini
Top with the remaining ⅓ tomatoes. Sprinkle with the grated cheese and drizzle with olive oil.
Bake covered for 15 minutes. Uncover and bake 20-30 minutes more. or until the zucchini is tender, but still has a bite, and the tomatoes and cheese are bubbling. Let rest for 10 minutes before serving. Season with freshly cracked black pepper.
Notes
To make this vegan, use vegan cheese, or skip the cheese on top. If you skip the cheese, you may want to season the lasagna a bit more salt and pepper.