This summer salad bursts with flavor from a basil-parsley vinaigrette. Quick enough for weeknights or busy weekends, this gluten-free dish is a must-try.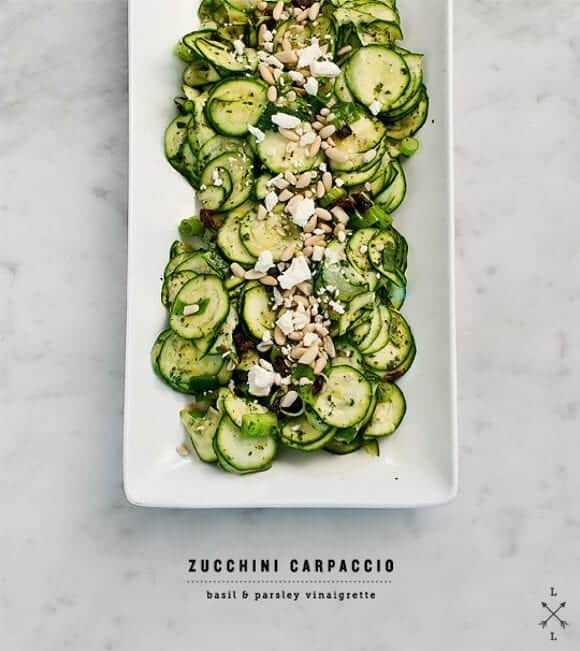 Growing up in the midwest, I thought it was just a cruel joke that spring and summer clothes would show up at the mall in February. Bright colors, shorts, flip flops…when there was still snow and slush on the ground. It didn't occur to me until I moved away that spring was actually starting to happen in other parts of the country.
Now that I'm trying to eat more seasonally, I'm realizing that our season in food is also ahead of the game. We had kale before everyone had kale, and now the first of our zucchini's have arrived. So if you live up north, consider this your summer preview.
This salad couldn't be easier. Thin zucchini coins are tossed in a bright basil-parsley sauce. I'm calling it a vinaigrette, but it's really something in between a pesto & chimichurri. There are no nuts so it's thinner than pesto, but the basil gives it an essence of pesto. I've put the leftover dressing over everything – drizzled it over eggs, sandwiches, over pizza right after it's come out of the oven…
Zucchini Carpaccio Salad
Ingredients
For the basil & parsley vinaigrette: (this will make extra)
1 cup flat-leaf parsley
1 cup basil
¼ cup extra-virgin olive oil
1 tablespoon champagne vinegar
Juice of ½ small lemon (about 2 tablespoons)
1 garlic clove, crushed
1 teaspoon honey or agave
Sea salt and fresh black pepper
For the salad:
3 medium zucchini
1-2 scallions, chopped
2 sun-dried tomatoes, chopped
¼ cup toasted pine nuts, chopped
¼ cup crumbled feta
Pinch red pepper flakes (optional)
Instructions
Make the vinaigrette: Combine the parsley, basil, olive oil, vinegar, lemon juice, garlic, honey, and pinches of salt and pepper in a food processor and blend until ingredients are combined, but not pureed. You want to still see green flecks. Taste and adjust seasonings. Set aside.
Using a mandolin, shave the un-peeled zucchini into thin coins.
Toss the zucchini, scallions, and some of the vinaigrette together (use as much or little of the dressing as you wish – start with less and taste as you go – I used between a quarter to a half cup). Adjust seasonings again if necessary.
Arrange on a platter and top with the sun-dried tomatoes, pine nuts, feta and a pinch of red pepper flakes.
Cover leftover dressing and store it at room temperature.