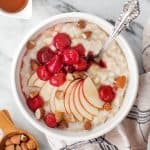 How to Make Oatmeal
This is my go-to healthy oatmeal recipe. It's creamy, nourishing, and delicious with all sorts of seasonal toppings! Find a few of my favorite combinations below.
Variation 1: Apple & Tart Cherry
Thinly sliced apple

Frozen

,

and thawed tart cherries

Chopped almonds
Variation 2: Blueberries & Coconut
Frozen

,

and thawed blueberries

Orange zest

Scoop of Greek yogurt

Chia seeds

Coconut flakes
Bring the water to a boil in a medium pot. Add the oats and salt and reduce heat to medium-low. Cook, stirring occasionally, for 15 to 20 minutes, or until thickened. Stir in cinnamon, nutmeg, or cardamom, if desired. Remove from heat and let stand for two minutes. Serve hot with desired toppings and honey or maple syrup, if desired.