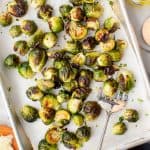 Roasted Brussels Sprouts
Learn how to cook Brussels sprouts with this easy recipe! Bright, fresh, and delicious, it's the perfect holiday side dish.
Lemon Parmesan seasoning, optional
Preheat the oven to 425° and line a baking sheet with parchment paper. Slice the Brussels sprouts in half, toss with drizzles of olive oil and pinches of salt and pepper, and spread on the baking sheet. Roast 30 to 40 minutes or until tender and golden brown around the edges.

If desired, toss the roasted Brussels sprouts with the lemon juice, zest, Parmesan, and thyme leaves. Garnish with parsley and red pepper flakes.