Ward off cold weather with these vibrant winter salad recipes! Flavorful and fresh, they use seasonal produce like citrus, root veggies, and hardy greens.
Let's hear it for winter salad recipes! In a season that's packed with cozy soups and comfort food, they're a reminder that fresh, seasonal produce is still out there. Yes, asparagus and sweet corn are still months away, but winter greens, root veggies, squash, and citrus are here in full force. A winter salad is the perfect way to show them off.
Below, you'll find 19 of my favorite winter salad recipes. They include something to satisfy any and every salad craving – sweet and savory salads studded with citrus and pears, refreshing green salads, quick slaws, grain salads, lentil salads, and more. Whether you're looking for a light side dish or a hearty lunch, you're bound to find something you love.
Citrusy Winter Salad Recipes
If tomatoes are the darling of summer salads, citrus fruit is surely their winter counterpart! Oranges, grapefruits, mandarins, and more brighten all kinds of winter salad recipes.
Citrus Salad with Fennel and Avocado
This gorgeous salad is worthy of any special occasion meal, but it's so bright and flavorful that you'll want to serve it all winter long.
Beet & Carrot Salad with Sweet Citrus Vinaigrette, page 115 of The Love & Lemons Cookbook
In this colorful winter salad, a zingy citrus vinaigrette elevates humble root veggies like carrots, radishes, and raw and roasted beets.
Citrus Cabbage Salad
Who else always has a bag of clementines on hand in the winter? This recipe will put it to good use. You'll whisk clementine juice into the dressing and toss sliced clementines into the salad itself!
Grapefruit, Quinoa & Fennel Salad with Mint, page 109 of The Love & Lemons Cookbook
This quinoa salad shows off one of my favorite flavor combinations: grapefruit + mint. I round it out with tender greens, shaved fennel, radishes, and a sprinkle of salty feta cheese.
Pomegranate Rice Salad
Where's the citrus, you ask? In the dressing! A blend of fresh orange juice, lemon juice, maple syrup, and spices infuses this salad with aromatic flavor.
Beet Salad with Pistachio Beet Green Gremolata, page 127 of Love & Lemons Every Day
Welcome to my pink party! I love this winter salad because a) it's colorful, b) it's delicious, and c) it uses beets and their greens. You'll add roasted beets to the base of the salad and dollop a nutty, lemony beet green gremolata on top.
Asian Chopped Cabbage Salad, page 77 of The Love & Lemons Cookbook
In this salad, succulent satsuma segments play off creamy avocado and crunchy veggies, and satsuma juice sweetens the yummy peanut dressing.
Green Winter Salad Recipes
If you're anything like me, you crave nourishing, refreshing green salads all year long. Instead of topping them with tomatoes or peppers, like I would in the summertime, I load up winter green salads with crisp root veggies, seasonal fruit, and hearty roasted vegetables like squash and sweet potato.
Kale Salad with Carrot-Ginger Dressing
If you're the kind of person who loves eating a big, bountiful salad for lunch, you need this recipe in your back pocket! It's packed with a rainbow of root veggies, toasted seeds, avocado, and crispy roasted chickpeas. Doused in an electric carrot-ginger dressing, it's energizing, satisfying, and delicious.
Sweet Potato Salad
This salad is one of my favorite recipes for a quick and easy lunch. Roasted sweet potatoes and avocado make it nice and hearty, pepitas add crunch, and a nutty tahini dressing ties it all together.
Wheat Berry Salad
Roasted shallots and sage fill this winter salad with savory, aromatic flavor. It's a stunning side dish, but thanks to chewy wheat berries and creamy roasted squash, it could also pass as a meal on its own.
Pear Salad with Balsamic and Walnuts
Pass this simple, elegant salad as a side dish with dinner, or pair it with butternut squash soup for a light and healthy lunch.
Butternut Squash Salad
Goat cheese + pomegranate seeds + roasted butternut squash? Uhhhh….yes, please! But wait – there's even more to love about this winter salad. It's got crunchy toasted pistachios, sweet Medjool dates, and a lightly creamy, aromatic dressing. Trust me, you don't want to miss it!
Slaws
These winter salad recipes all use minimal ingredients and come together in minutes. Make one whenever you need an easy, last-minute side dish!
Shaved Brussels Sprout Salad
Love roasted Brussels sprouts? Try eating them raw! In this recipe, I toss finely shaved sprouts with lemon juice, olive oil, toasted pine nuts, dried cranberries, and grated pecorino cheese. Seriously, that's it. Simple and flavorful, this salad is one you'll make again and again.
Kohlrabi Slaw
Apples offer a sweet contrast to the peppery kohlrabi and tangy mustard dressing in this refreshing, 5-minute slaw.
Creamy Coleslaw
Creamy coleslaw may be a summer picnic staple, but there's no reason you shouldn't make it in the winter, too! It's filled with all-season veggies like cabbage and carrots and doused in a tangy homemade dressing. Pair it with game day fare like veggie burgers or BBQ jackfruit, or pack it for lunch with a veggie sandwich.
Best Broccoli Salad
I'm not usually a raw broccoli person, but I love it in this crunchy slaw. I chop it really finely, so it softens and soaks up the lightly creamy, tangy dressing. To take it over the top, I toss it with sharp red onion, dried cranberries, and smoky roasted nuts.
Lentil Winter Salad Recipes
These winter salad recipes are some of my go-to lunches. Because they're made with lentils in addition to fresh produce, they have enough staying power to keep me full till dinnertime.
Curried Lentil Salad
Jack is CRAZY for paneer, so we have this hearty salad on repeat during the winter months. The cheese adds richness to a flavorful blend of turmeric roasted cauliflower, spiced lentils, and cilantro lime dressing.
Moroccan-Spiced Carrot Salad with Lentils, page 121 of Love & Lemons Every Day
I love the way the sweet carrots play off the earthy lentils in this refreshing winter salad. It still tastes great on days 2 and 3, so it's a perfect recipe to meal prep for lunches throughout the week.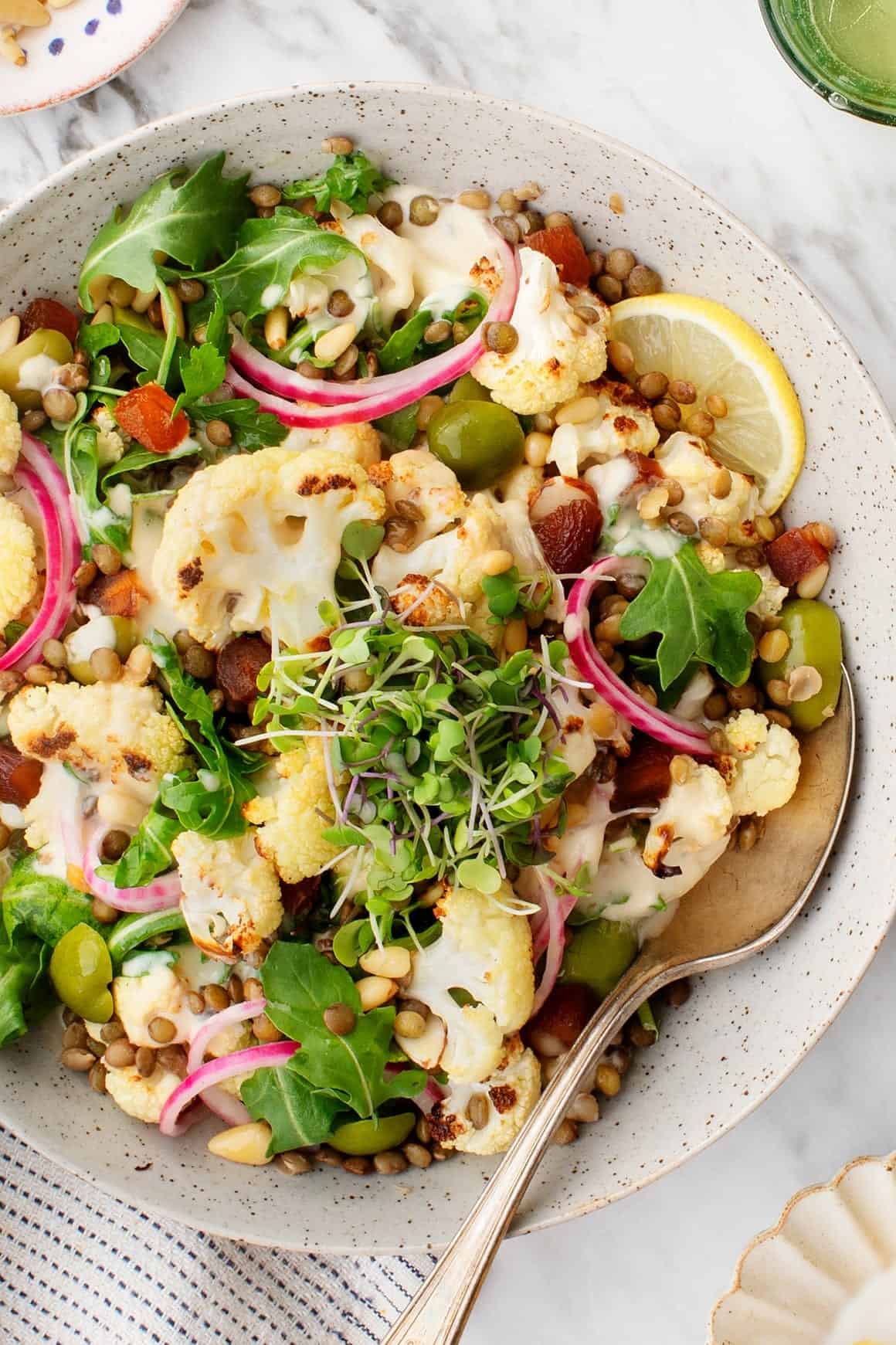 Roasted Cauliflower Salad
Filled with sweet dried apricots, briny olives, toasted nuts, and poppy pickled onions, this winter salad checks all the flavor boxes. A creamy lemon tahini sauce ties it all together.
More Favorite Salad Recipes
If you love these winter salad recipes, find over 35 more of my best salad recipes here!
Winter Salad Recipes: Pear Salad with Balsamic & Walnuts
This quick & easy pear salad is one of our favorite winter salad recipes!
Ingredients
4

cups

mixed salad greens

2

ripe pears

,

sliced

1

fennel bulb

,

sliced paper thin*

Lemon wedge

2

tablespoons

dried cranberries

1

tablespoon

chopped pecans

1

tablespoon

chopped walnuts

1

tablespoon

chopped hazelnuts

,

or more pecans or walnuts

⅓

cup

shaved pecorino

Balsamic vinaigrette

,

(store bought, or a 50/50 mix of olive oil & balsamic vinegar)

Sea salt and freshly ground black pepper
Instructions
Assemble the salad with the mixed greens and top with the pears and fennel. Squeeze a little lemon over the pears and fennel and toss.

Top with the cranberries, pecans, walnuts, hazelnuts, and pecorino. Drizzle with balsamic vinaigrette. Season to taste with salt and pepper.
Notes
*I like to use a mandolin slicer for this.