A squeeze of lemon gives these whole wheat vegan waffles a lovely buttermilk flavor and light texture. A great healthy weekend brunch!
Fall happened for me last night. I stepped off the plane at Midway Airport (in shorts) and immediately thought "they really have the AC blasting here." Until I realized, oh wait, that's just Chicago.
As I write this, I'm sitting in the kitchen I grew up in (with a few sweaters on), thinking about some of my warmest fall memories… Saturday mornings with pancakes and waffles are definitely at the top the list. Crisp, cool air, hot waffles… and most likely the Muppet Babies on TV in the background.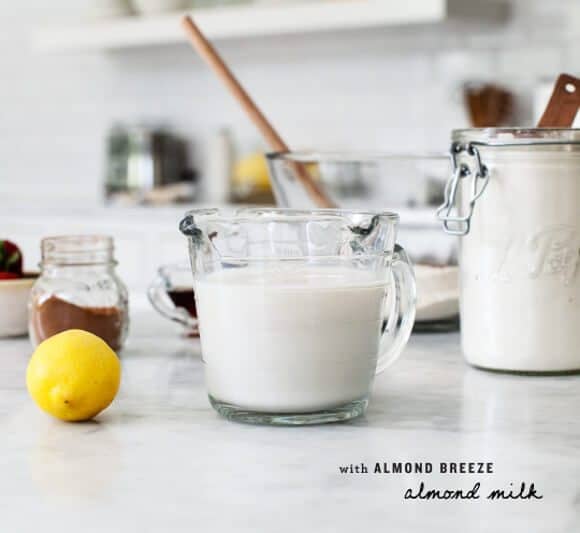 Make-Ahead Vegan Waffles
These vegan waffles are great right off the waffle iron, but lately (especially because I've made so many test batches), I've been freezing the extras for easy-waffling any day of the week. Let them thaw just slightly and then pop them in the toaster. Because sometimes you want a waffle on a Wednesday.
What's in these vegan waffles?
This vegan waffle recipe uses whole wheat pastry flour, which I love because it's whole grain but not too dense. I used my non-dairy milk of choice – Almond Breeze – with a squeeze of lemon to create a vegan "buttermilk" flavor. A dash of cinnamon and a splash of vanilla give them warm depth of flavor, while coconut oil adds richness and flax and baking powder make them nice & puffy.
These vegan waffles are soft on the inside, crisp on the outside, and best with maple syrup and tons of fruit!
If you love these vegan waffles…
Try these pumpkin waffles, banana pancakes, or zucchini bread next!
Whole Wheat Vegan Waffles
Whole wheat pastry flour and a squeeze of lemon give these vegan waffles a light texture and slight buttermilk flavor. We love these on the weekends, but extras freeze well for breakfasts during the week!
Ingredients
1½ cups Original Almond Breeze Almond Milk, at room temp
1½ tablespoons lemon juice
2 cups loose-packed whole wheat pastry flour (or white/wheat mix)
2½ teaspoons baking powder
2 tablespoons ground flax meal
½ teaspoon cinnamon
2 tablespoons cane sugar
Teeny pinch of sea salt
¼ cup melted coconut oil
½ teaspoon vanilla
Serve with:
Maple syrup & butter (vegan butter)
Seasonal fruit
Instructions
Preheat your waffle iron (I use setting #5 on mine - the second to highest setting)
In a small bowl, combine Almond Breeze and lemon juice. Set aside.
In a medium bowl, combine all dry ingredients (flour, baking powder, flax meal, cinnamon, sugar, and salt).
To your small bowl (with the almond milk), add the melted coconut oil and vanilla and whisk together. Then pour your wet ingredients into the dry ingredients and mix until just combined (don't over mix).
Spray your waffle iron with a little cooking spray and scoop in the batter. I let my waffles cook for about a minute after the beep for an ideal crispy-on-the-outside texture.
Serve waffles immediately (while they're piping hot!), with butter, maple syrup and fruit.
Let leftover waffles cool and freeze for easy weekday waffles later.
Notes
These freeze and toast well - if you have a Belgian waffle maker with deep squares, you may want to let them thaw a bit before toasting so they toast evenly.