Hot days call for hot food, and this spicy watermelon tomato salad is the perfect grilling side! A punchy ginger dressing ties it all together.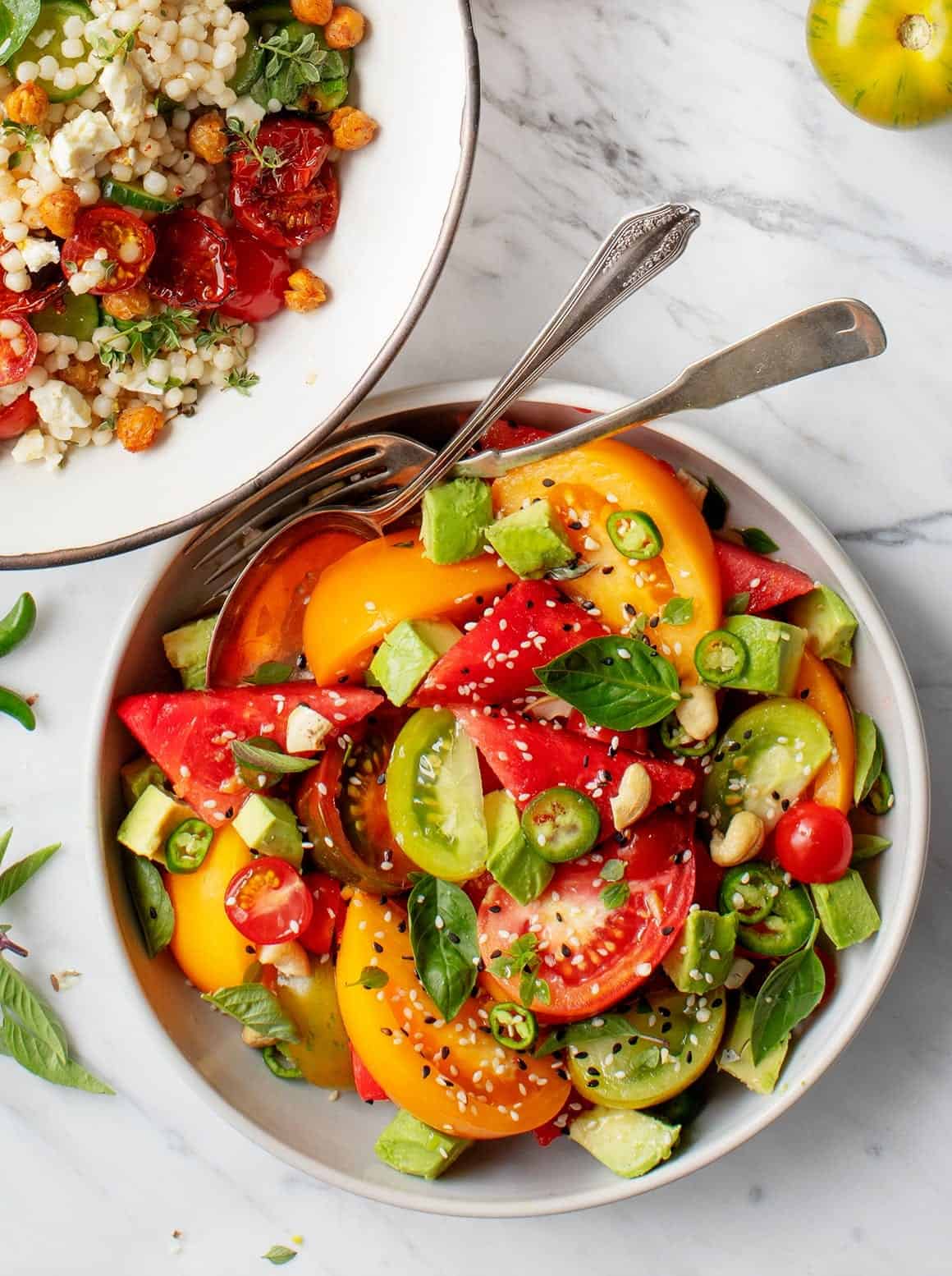 I hope you have lots of tomatoes. Why? Because I have a really great watermelon tomato salad for you! This one is completely different from Tuesday's tomato salad – it's really quick and full of spicy/sweet/savory/tangy flavor. You may recognize the gingery tamari-lime dressing from the cookbook and also from these rice bowls. It's so perfect here because the contrasting flavors really make the sweetness of the watermelon pop. This is the salad that I'll be eating until summer is over because it's just so delicious and refreshing.
Watermelon Tomato Salad Ingredients
And speaking of pop – this one is a little spicy because, in my opinion, hot days call for hot food. I use jalapeño to spice this salad up, but you can add more or less jalapeño depending on your spice preference. I recommend not skimping too much because the cool watermelon and the creamy avocado help chill down the spice. Somewhat 🙂
I finish the avocado, jalapeño, juicy watermelon & tomato combination with plenty of fresh basil and cashews for crunch. The tangy dressing mingles with the watermelon and tomato juices and really ties it all together.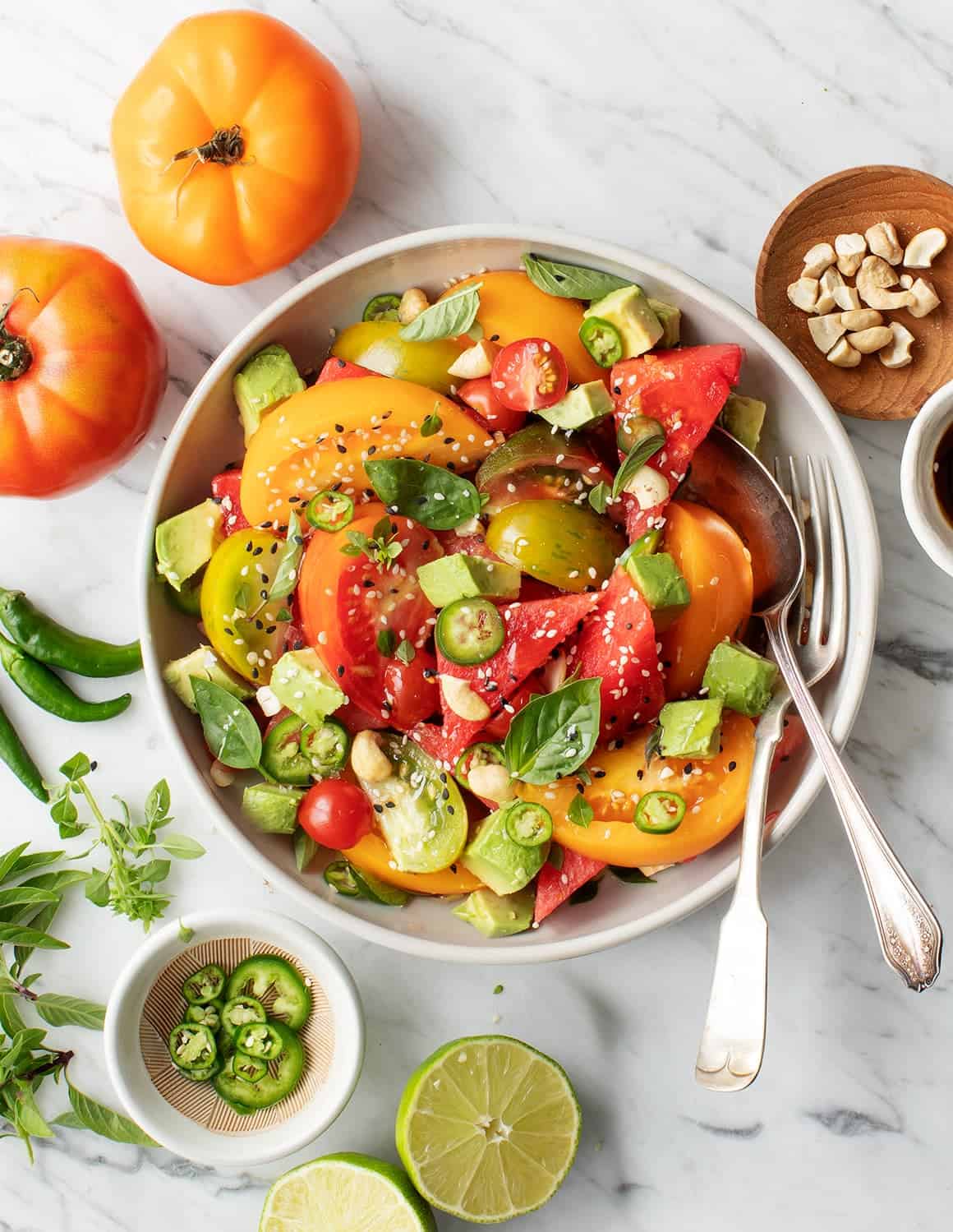 Watermelon Tomato Salad Serving Suggestions
I love to serve this salad as a side dish with whatever I'm grilling, whether that be veggie burgers, black bean burgers, or corn on the cob. It would also be delicious with these stuffed peppers, stuffed poblanos, or jackfruit sandwiches!
Watermelon Tomato Salad
This spicy watermelon tomato salad is delicious & refreshing - the perfect summer side dish! If you're sensitive to spice, start with less jalapeño and add more to your taste.
Recipe type:
Salad, side dish
Ingredients
dressing:
1 tablespoon tamari
2 teaspoons fresh lime juice
2 teaspoons rice vinegar
1 small garlic clove, minced
½ teaspoon minced ginger
salad:
3 heirloom tomatoes, sliced into wedges
5 cups cut watermelon (about 2-inch triangles)
1 thinly sliced jalapeño and/or a few Thai chiles
2 tablespoons Thai basil or regular basil
2 tablespoons toasted cashews
½ avocado, diced
Sea salt, to taste, if desired
Lime wedges, for serving
Instructions
Make the dressing: In a small bowl, combine the tamari, lime juice, vinegar, garlic, and ginger.
Arrange the tomatoes, watermelon, and jalapeños on a platter or in a shallow bowl. (This salad should not be served in a deep bowl because the flavorful juices will sink to the bottom.) Drizzle with the dressing and top with the basil, cashews, and avocado. Season to taste and serve with lime wedges.