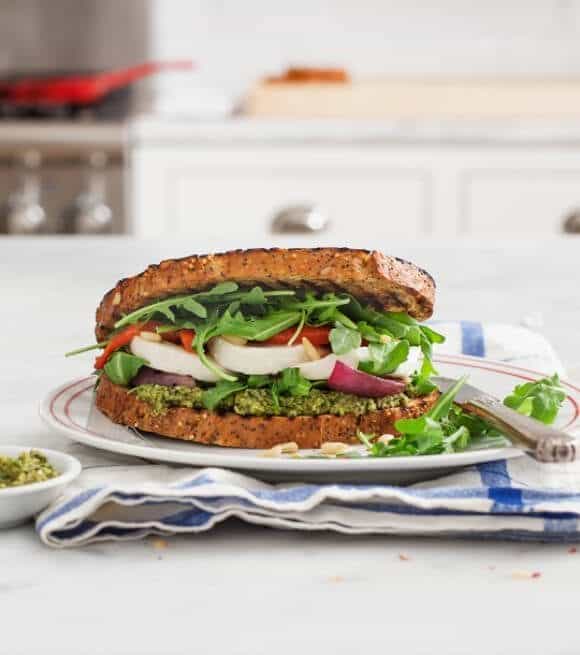 I'm in the process of learning to like olives… little by little I'm getting closer. I figure there are so many tangy, briny foods that I love – capers, pickles, sundried tomatoes – it's time for this olive hangup to end. So when the folks from Mezzetta contacted me to make a sandwich using any of their products, I went straight for the olives.
I set out to make a tasty tapenade – similar to one Jack and I shared (and loved) at a bar in Rome. A handful of basil and a few toasted almonds later, my tapenade had turned into pesto. However, the underlying briny tang was exactly what I was going for. Depending on where you are on your personal olive scale, you could add more or less olives to suit your taste.
The olive spread became the base for this massive grilled veggie sandwich with fresh mozzarella, arugula, and roasted red peppers.

A giveaway: To help one of you get started on your prize winning sandwich, we're giving away some Mezzetta goodies – a box full of delicious peppers, olives & spreads.
This giveaway is now closed.
veggie caprese with olive pesto
Ingredients
grainy bread, toasted or grilled
olive & almond pesto
arugula
basil leaves
grilled veggies (your favorites, or see below)
fresh mozzarella (vegan sub: sliced avocado)
olive & almond pesto
¼ cup mezzetta green olives
½ cup slivered or chopped almonds, toasted
2 big handfuls of basil (about 1 packed cup)
juice of ½ a lemon, plus some zest
splash of balsamic vinegar
salt & pepper
pinches of crushed red pepper flakes
Instructions
Make the pesto by blending all ingredients in a food processor. Taste and adjust seasonings. Set aside in the fridge while you grill your bread and veggies. (pesto can be made ahead and stored for a few days).
Assemble sandwiches with bread, a spread of pesto, arugula, basil leaves, grilled veggies, slices of mozzarella, and roasted red peppers. Top with a pinch of salt and red pepper flakes.
simple grilled veggies
Ingredients
zucchini, sliced ¼ inch thick
red onion, sliced about ¼ inch thick
portobello mushrooms, sliced about ½ inch thick
drizzle of olive oil
drizzle of balsamic vinegar (optional)
salt & pepper
Instructions
Slice veggies and toss them with a bit of olive oil, balsamic, salt and pepper.
Heat your grill or grill pan pretty high. (I prefer a cast iron grill pan).
I like to grill my veggies in order of most to least delicate because the pan holds more and more heat as I go. Here, I started with the zucchini (a few minutes per side, just until grill marks form), then the onions (grill a little longer than the zucchini), and lastly the mushrooms (I grill these until they're tender and nearly falling apart - 8-12 minutes total depending on the heat).
This post is sponsored by Mezzetta, thanks for supporting the sponsors that support Love & Lemons.