Here's a round-up of the best vegan & vegetarian grilling recipes, plus a recipe for balsamic-marinated portobello sliders with bright pepita pesto!
When I first became vegetarian, grilling holidays were the hardest. Back then, packaged veggie burgers tasted like cardboard and the only solution I had was: please, please pass the ketchup… and the pickles, and the mustard, and anything and everything else that could make my "meal" taste edible.
What I know now that I wished I'd known then is that it's fun to grill vegetables! This group of recipes is all about celebrating the almighty charred vegetable. I hope these ideas bring a little veggie happiness to your weekend BBQ:
Portobello Sliders with Pepita Pesto (pictured above)
This recipe is listed at the bottom of this post and it's also in our Cookbook. I love it because it's quick to make and the mushroom marinade – a combination of balsamic vinegar and tamari – brings such a wonderful salty/tangy flavor to the grilled mushrooms. Plus, it makes me so happy to slather these little guys with creamy pepita pesto instead of ketchup 🙂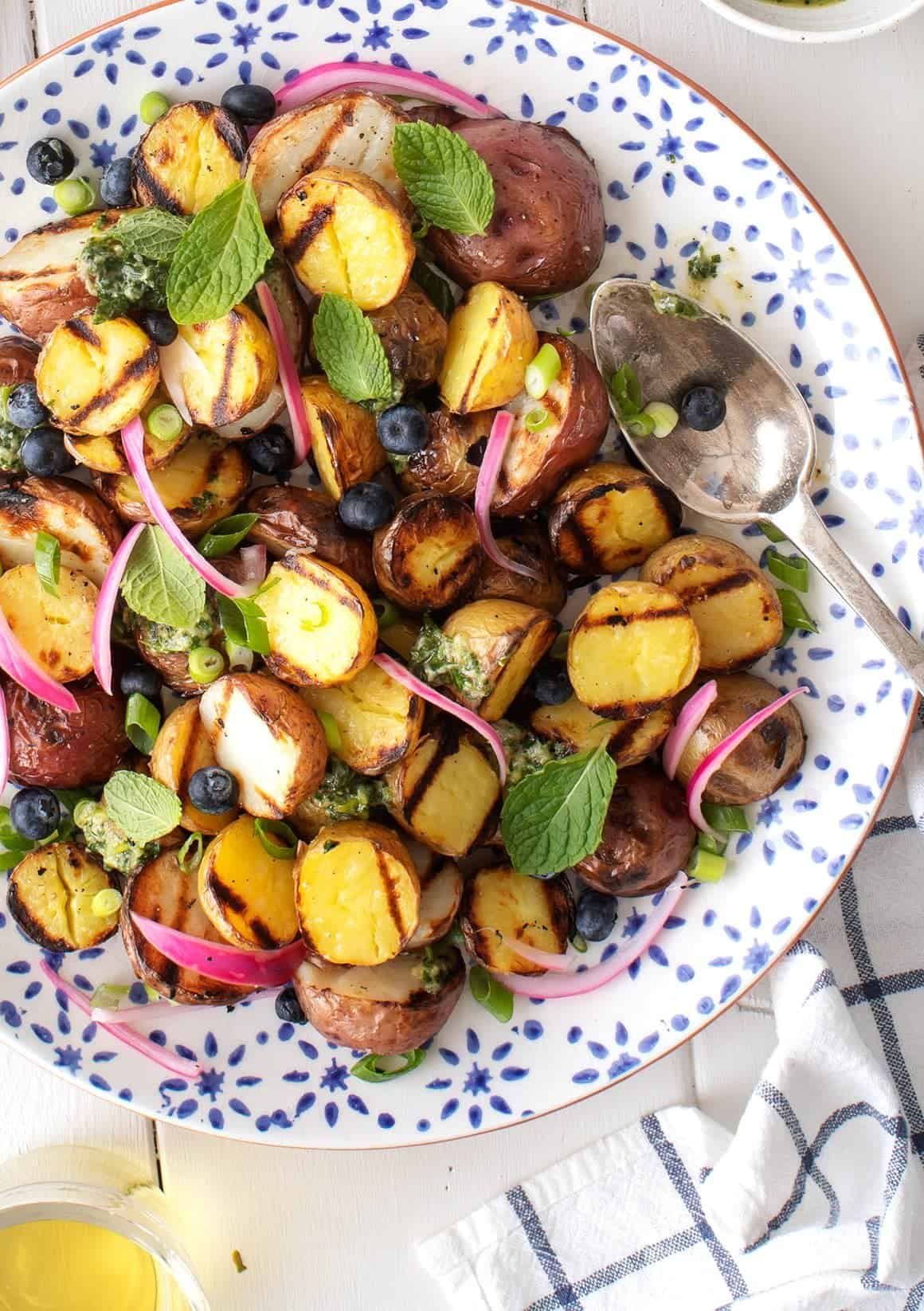 Every good BBQ needs a potato salad, but that doesn't mean that our potatoes have to be full of mayonnaise. Try this grilled potato salad with grilled scallion vinaigrette and grilled blueberries. You'll want to make it for your friends all summer long.
I posted this one a few weeks ago and so many of you have loved it! This was my first time grilling avocados. At first, I wasn't sure if I'd love cooked avocado, but the char really brings out the creaminess of the avocado and the cool, tangy filling balances it perfectly.
I'm sure you've noticed by now that Jack and I love mushrooms. I think mushrooms sometimes get a bad rep because they're often not prepared well. These mushrooms also get coated in the go-to marinade that I mentioned above. The strips then get stuffed into tortillas with creamy (vegan) cashew jalapeño sauce. This is by far one of my favorite ways to eat mushrooms.
Grilled Asparagus Lemon-Thyme Farro Salad
Asparagus is at peak season right now, so head to your farmers market and grab some! Make this salad as a side dish for your gathering and save the leftovers for lunch!
I love corn so many ways and this is one of the simplest. 1. Make a quick sauce with avocado oil mayo, cilantro, lime, serrano pepper, and other seasonings. 2. Slather on grilled corn. (Use vegan mayo if you're vegan).
If you love corn, but don't love eating it straight off the cob, this taco recipe is for you. Grilled corn, grilled green beans, and grilled tomatillo salsa are stuffed into (you guessed it!) grilled tortillas. We might never cook on the actual indoor stove again.
This is a quick cheater's version of ratatouille but the flavors are all still here thanks to a pop of vinegar and a shake of herbes de Provence. A fun spin on tomato toast.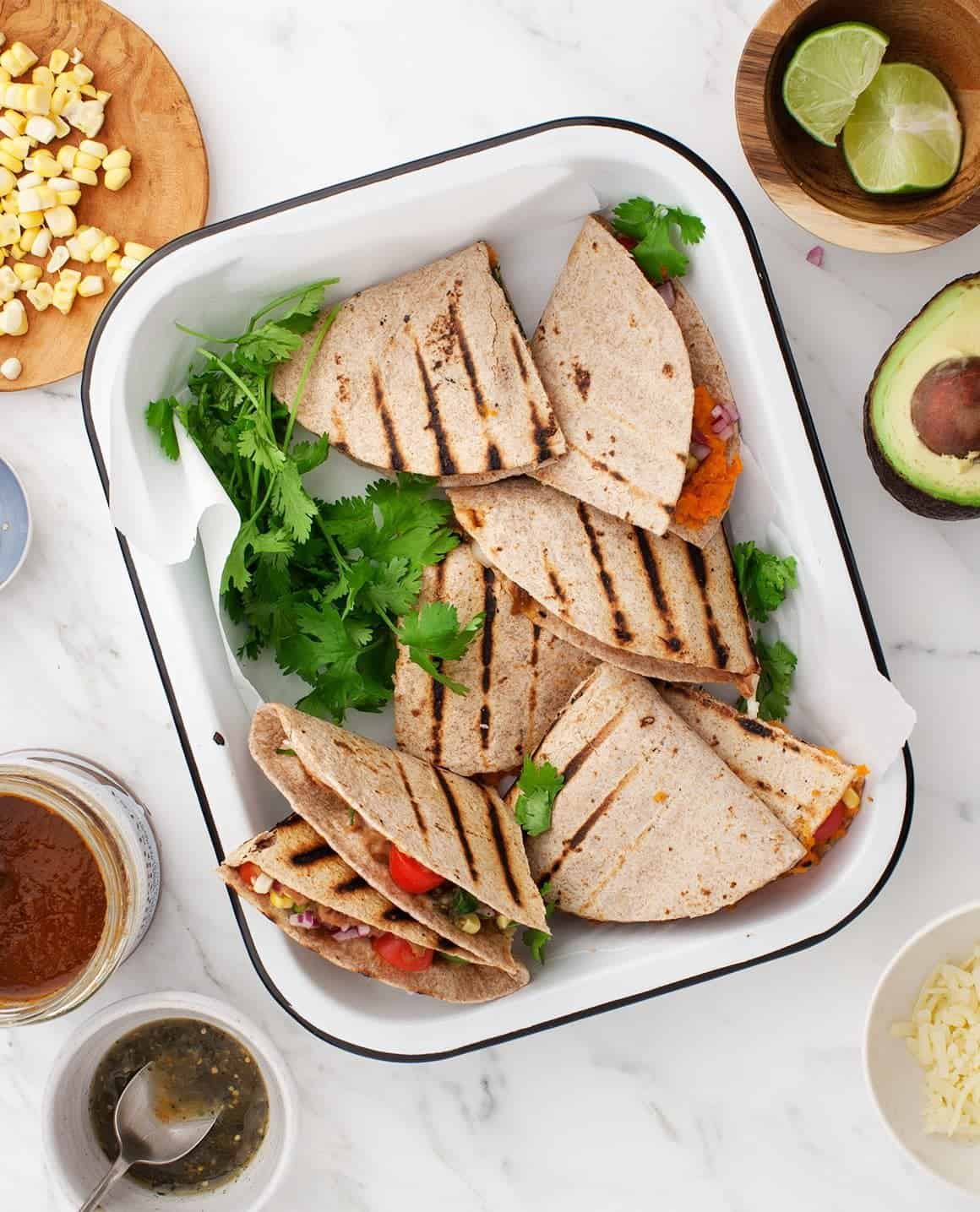 If you have picky eaters or you don't know what to make for guests, make mix and match quesadillas! Everyone can assemble their own, grill, and eat.
Cookouts aside, if you need a delicious, simple, summer dinner tonight – make this! This meal is a regular for me – grilled zucchini and eggplant are tossed with soft feta cheese and a lemony, herby orzo with a few breadcrumbs for crunch. I'm drooling just thinking about this one!
Vegetarian & Vegan Grilling Recipes
Recipe from the Love & Lemons Cookbook! Great for summer cookouts, these yummy sliders are vegan & gluten-free with gluten-free buns.
Ingredients
Pepita Pesto:
½ cup pepitas
1 garlic clove
2 cups cilantro
2 tablespoons fresh lemon juice
½ teaspoon ground cumin
¼ teaspoon sea salt, more to taste
drizzle of honey or pure maple syrup
¼ cup extra-virgin olive oil
Freshly ground black pepper
For the Sliders:
8 small portobello mushrooms
Extra-virgin olive oil, for drizzling
Balsamic vinegar, for drizzling
Tamari, for drizzling
8 slider buns, toasted
1 tomato, sliced
½ cup microgreens or lettuce of your choice
Sea salt and freshly ground black pepper
Instructions
Make the pesto by combining the pepitas, garlic, cilantro, lemon juice, cumin, salt, honey (or maple) in a food processor. Pulse until combined. Drizzle in the olive oil and pulse until smooth. For a smoother pesto, you could add more olive oil, but I prefer a thicker consistency for these sliders.
Heat a grill or grill pan over medium heat.
Prepare the mushrooms by removing the stems and cleaning the caps with a damp cloth or paper towel. Place the mushrooms in a rimmed plate and drizzle with olive oil, balsamic vinegar, tamari, and pepper. Use your hands to help coat the mushrooms on both sides.
Place the mushrooms, gill side down onto the grill pan. Cook 5 to 7 minutes per side, or until mushrooms are tender.
Place the mushrooms on the toasted buns and top each with a tomato slice, microgreens, and a generous slather of Pepita Pesto.