Vegetarian Thanksgiving Side dishes! Vegan and gluten free options too.
It's Thanksgiving week! I think we're up to 17 people that are coming over on Thursday, so, um, yikes! Thankfully, everyone is bringing something so the cooking won't be so difficult. Like always, I'll be making the salad and a vegetable side dish or two. In case you're like me – still deciding what to make – here are some of my favorite vegetarian starters and side dishes!
Click on the images to go directly to each recipe!
A gorgeous seasonal salad that's a great light way to start off the meal.
Simple Roasted Beets with Citrus
A simple, bright, and tangy side dish that can be made a day (or two) ahead and  assembled when you're ready to serve.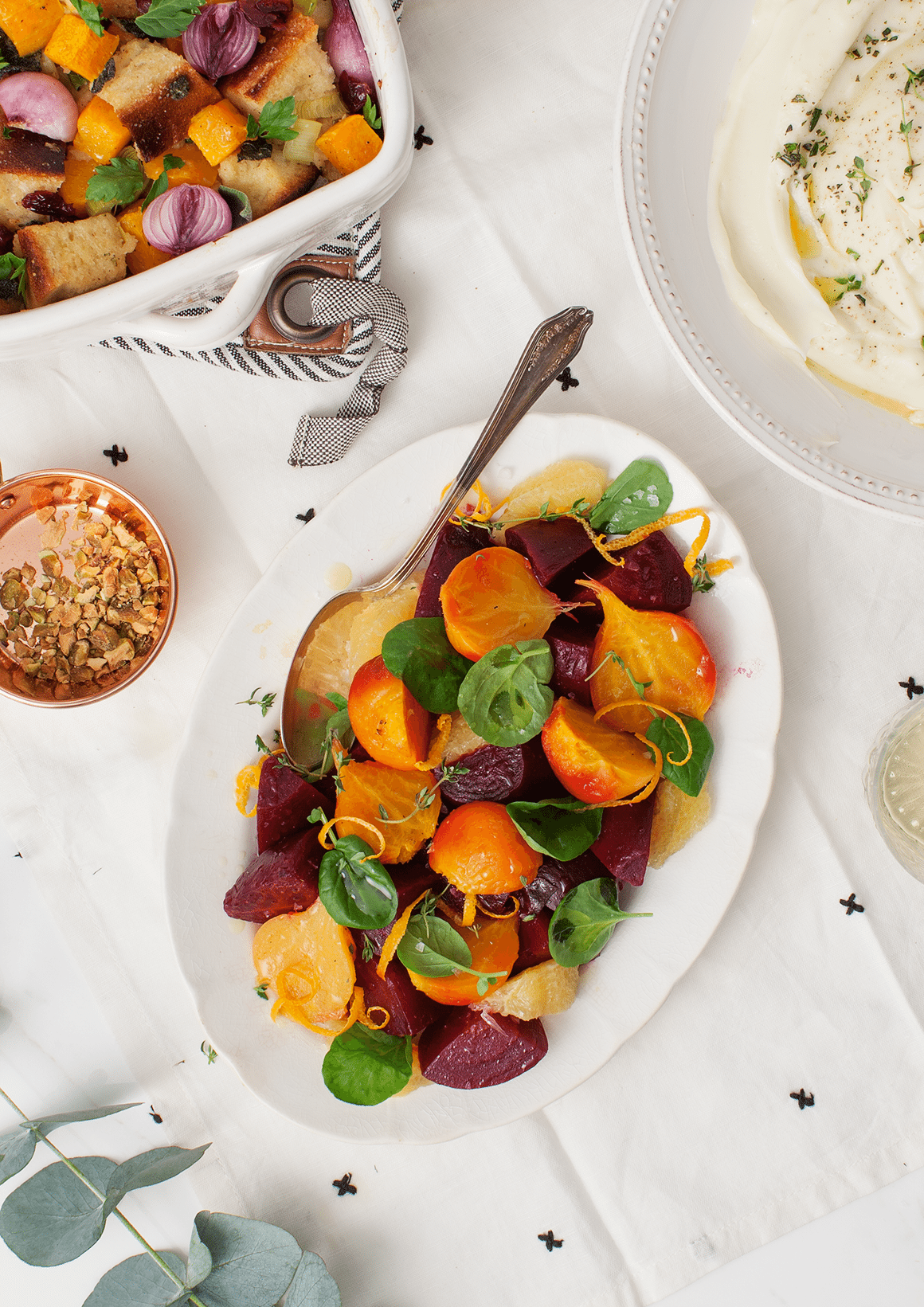 Cauliflower Parsnip Mash with Roasted Garlic
We've really enjoyed this spin on mashed potatoes – make this if you love the earthy flavor of parsnips and if you're looking for something a little bit different than your regular mash.
Butternut Squash & Leek Stuffing
a.k.a, the most colorful stuffing. This recipe is great if you've had as much butternut squash as I've had lately (that is to say – a lot). It also reheats well, so it's great for the holiday.
An old favorite – these crumbly vegan muffins are lightly sweet with a nice flavor from the rosemary. Perfect for the meal, or if you have family staying with you and you need a quite bite the next morning.
Wheatberry Delicata Squash Salad
A hearty fall salad packed with dark leafy greens, squash, apples, cranberries, and wheat berries. This one is on page 255 of our cookbook which (shameless plug) makes a great gift for the holidays!
Maple Balsamic Roasted Brussels Sprouts 
Sweet, tangy, roasted brussels sprouts – I love the pop of red onion and the crunch from the pecans.
Since this roundup is a little squashy (what can I say, I love squash!), I love the idea of serving this sweet little fig appetizer before the big meal!
If you can't find a red kuri squash, use butternut squash instead. Make this soup if you're looking to spice up your dinner table 🙂
Kale and Shiitake Mushroom Stuffing
It's a toss up whether I love this stuffing more than the butternut squash stuffing that's pictured higher in this post. Mushrooms, sage, bread… mmm.
This one is great if you need just one more vegetable to round out your meal. These green beans are tossed with garlic, olive oil, and lots of lemon. A great green vegetable next to the stuffing and mashed potatoes.
Roasted Delicata Squash with Apples and Sage
If you haven't given delicata squash a try – give this recipe a go. I love delicata because the skins don't have to be peeled, which makes this recipe so easy to put together.
Avocado & Quinoa Stuffed Acorn Squash
A great main course if you're doing an all-veggie Thanksgiving. Or get small acorn squash and serve these as a side. This dish definitely has a southwestern flair – filled with green chiles, black beans, spices, and avocado.
Creamy Roasted Cauliflower Soup
One of my favorite soups and there's no actual cream involved because the cauliflower itself blends up so nicely.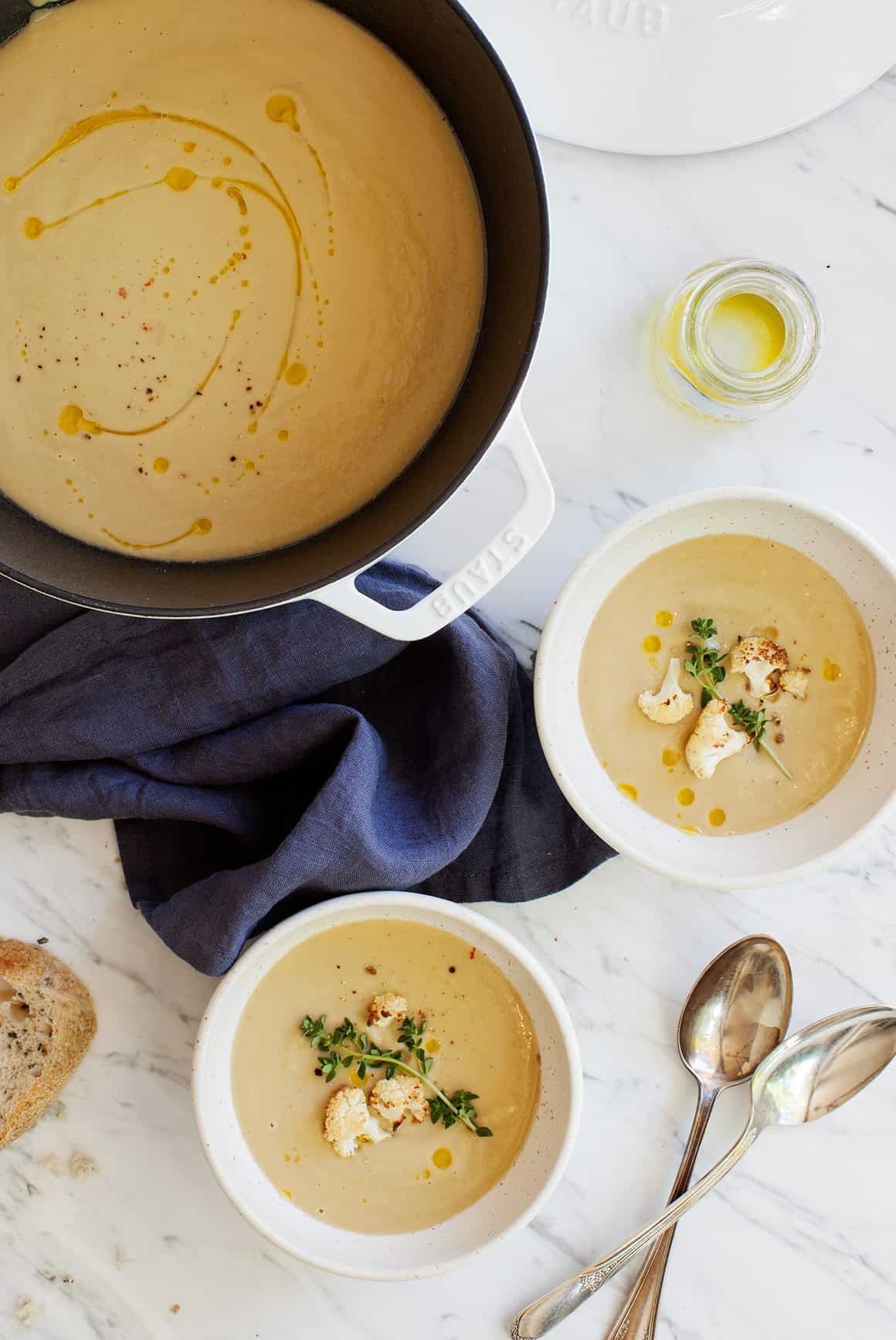 Vegan Cauliflower Mashed Potatoes
These are half potato half cauliflower, not half butter like most mashed potatoes, but your guests won't know it!
Happy Thanksgiving everyone!