Loaded with simple roasted veggies and a tangy avocado-tomatillo sauce, these vegetarian tacos are a weeknight dinner that doesn't skimp on flavor.
I know – another taco recipe already? Well, I like tacos. I'm sure you do too, because you are here after all. In all honesty, these vegetarian tacos were originally going to become enchiladas until I stopped short, which is why they're in a baking pan. Plus, it was a convenient way to get floppy tacos to stand up for the photo.
Here's what happened: the plan was to make something similar to this creamy poblano enchilada sauce, but using avocados, pepitas, spinach, and tomatillo salsa instead. The end result? The sauce became a tangy, creamy pesto, and I couldn't stop eating it straight from the food processor with a spoon.
Because this sauce is so fresh and bright, I knew I'd wreck it if I tried to cook it. So taco night it was – with extra green sauce on the side.
Vegetarian Tacos Variations
To make these tacos, I simply roasted veggies and finished them with black beans, serrano slices, and a little cotija cheese. I roasted patty pan squash, eggplant, a red pepper, and cherry tomatoes, but anything goes here. You can roast whatever vegetables you have. If you're craving fall foods, roasted sweet potatoes would be delicious. Cauliflower, corn, and green beans would be good choices as well.
You can also play with the other components of these veggie tacos. Skip the cheese if you're vegan, as it's not all that necessary. Add chunks of diced mango or pineapple for a fruity twist, or change up the sauce. I love using my go-to chipotle sauce on any and all taco recipes.
Vegetarian Tacos Serving Suggestions
Like all taco recipes, these veggie tacos are best served with margaritas, chips, salsa, and guac. For a bigger meal, serve them with a side of Chipotle-style cilantro lime rice.
This recipe serves about two with lots of extra sauce. If you want to serve more, make the same amount of sauce and double the other components. Otherwise, save the leftover sauce, and eat it yourself the next day.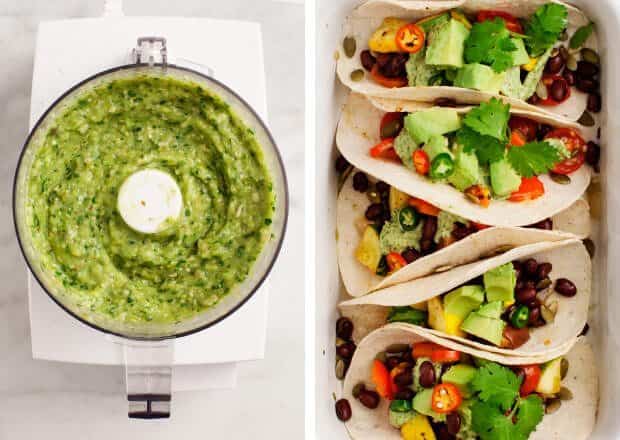 Want more ideas for vegetarian tacos?
Make these ones with portobellos, these ones with mango & black beans, or these ones with tofu! Or, make tacos for breakfast with this recipe.
Vegetarian Tacos with Avocado Sauce
These easy vegetarian tacos are filled with black beans and roasted vegetables. They're topped with an insanely delicious creamy avocado tomatillo sauce.
Ingredients
1

small Japanese eggplant

,

chopped into 1-inch pieces

1

cup

chopped summer squash

1

red bell pepper

,

chopped into 1-inch pieces

1

cup

cherry tomatoes

,

sliced

extra-virgin olive oil

,

for drizzling

6

corn or flour tortillas

1

cup

cooked black beans

,

drained and rinsed

1/2

avocado

,

diced

handful of cilantro

1

serrano pepper

,

sliced, optional

crumbled cotija cheese

,

optional

sea salt and freshly ground black pepper
Avocado Tomatillo Sauce
1/3

cup

tomatillo salsa

1/4

cup

pepitas

1/2

avocado

handful of spinach

2

tablespoons

extra-virgin olive oil

lime juice

,

to taste

sea salt and freshly ground black pepper
Instructions
Preheat the oven to 400° F and line a baking sheet with parchment paper. Place the chopped eggplant, squash, red pepper and tomatoes onto the baking sheet. Drizzle with olive oil and pinches of salt and pepper and roast until golden brown around the edges 25-30 minutes.

Meanwhile, make the sauce. In a food processor, blend together the tomatillo salsa, pepitas, avocado, spinach, olive oil, lime juice and pinches of salt and pepper, to taste. Chill until ready to use.

Assemble the tacos with the black beans, roasted vegetables, diced avocado, cilantro, serrano, and cotija, if using, and generous scoops of sauce. Serve with extra sauce on the side.
Notes
Store extra sauce in the fridge for 2 to 3 days.