Looking for a fun dinner? Make vegetarian tacos! Read on to find some of my favorite veggie taco recipes, as well as a guide to making your own.
When I'm in the mood for a fun dinner, I make vegetarian tacos. Jack mixes up margaritas, I set out a taco bar for two, and we each fill our tortillas just the way we like them. The process is quick and easy, and at the end, we get to dig in to flavorful veggie tacos. To me, it's a pretty perfect night.
In case you're looking for a fun way to change up your dinner routine, I'm sharing 11 of my favorite vegetarian taco recipes below. They'd be perfect for Cinco de Mayo this week, but honestly, we make them all year-round! If you don't have the exact ingredients to a recipe on hand, swap in what you do have, or check out the bottom of this post. There, you'll find my guide on how to make vegetarian tacos without a recipe. One of the best things about taco night is that it feels creative, so mix and match what's in your kitchen to make veggie tacos you love.
Roasted Veggie Tacos
Avocado Sweet Potato Tacos
Readers LOVE these tacos, and I do too! Black beans and chili-spiced roasted sweet potatoes make them nice and hearty, a creamy avocado yogurt sauce fills them with zesty flavor, and pickled red onions add a sweet and tangy finishing touch.
Vegetarian Tacos with Avocado-Tomatillo Sauce (recipe below)
The most important part of this recipe is the bright, creamy avocado-tomatillo sauce. Beyond that, make it your own! Swap your favorite roasted veggies for the bell pepper, summer squash, and eggplant, or use pinto beans instead of black. It's a fun, flexible taco template for whatever you have on hand.
Breaded and Baked Artichoke "Fish" Tacos,
page 155 of Love and Lemons Every Day
My vegetarian riff on a classic fish taco, these guys feature crispy, smoky breaded artichoke hearts, briny Greek yogurt tartar sauce, and a zesty cabbage slaw. If you want to change up the filling, swap butternut squash, cauliflower, or oyster mushrooms for the artichokes!
Roasted Cauliflower Tacos with Chipotle Cream
page 99 of The Love and Lemons Cookbook
So many of you have made and loved these tacos! Filled with smoky chipotle-roasted cauliflower, avocado, and a tangy chipotle yogurt sauce, they're super simple and super flavorful, too.
Crispy Butternut Squash and Poblano Tacos
This recipe has three key components: crunchy cubes of breaded and baked butternut squash, a creamy roasted poblano sauce, and a crispy cabbage slaw. Wrap them all up inside a tortilla, and you won't be able to get enough!
Fruity Vegetarian Tacos
Jerk-Spiced Jackfruit Vegan Tacos
If you've never cooked with jackfruit, you won't believe how meaty this taco filling is! Thanks to a homemade jerk seasoning blend, the jackfruit tastes pretty spicy on its own. Add a scoop of refreshing mango-avocado salsa to tame the heat!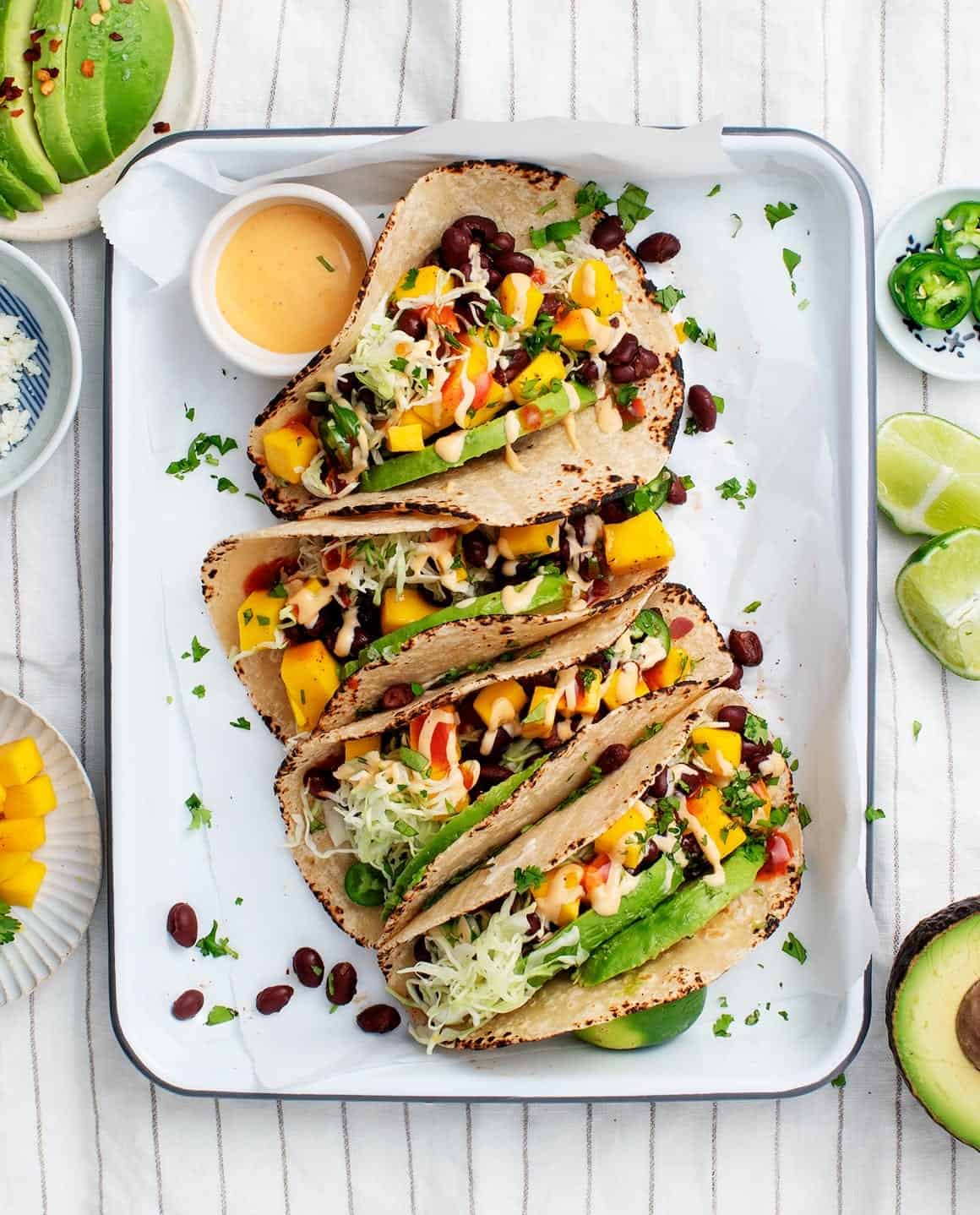 Spicy Mango Black Bean Avocado Tacos
They're sweet, they're spicy, and they're so darn simple. What more could you want on a weeknight?
Grilled Veggie Tacos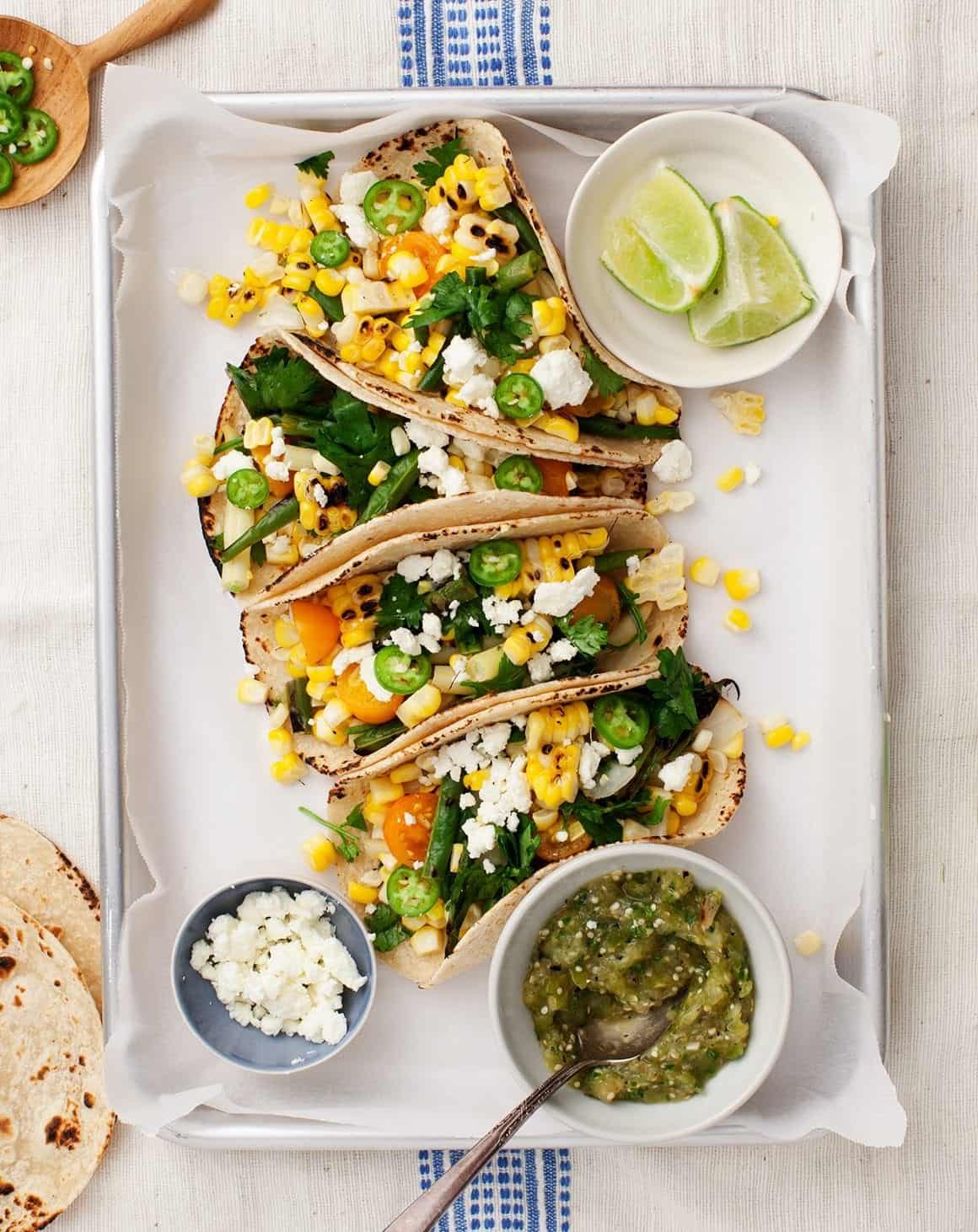 Grilled Corn Tacos
If you're lucky enough to get your hands on peak-season sweet corn, make this recipe ASAP. Along with grilled green beans, cherry tomatoes, and tangy feta cheese, the crisp, charred corn makes a taco filling so good that I could eat it on its own – no tortillas necessary!
Portobello Mushroom Tacos with Jalapeño Sauce
These veggie tacos are all about the sauce! Made with cashews, jalapeño, cucumber, and chives, it's a creamy, cool vegan riff on ranch dressing. Save any leftovers for salads, bowls, or more tacos the next day!
Protein-Packed Vegetarian Tacos
Quinoa Tacos with Quick Pickled Onions
page 183 of The Love and Lemons Cookbook
If you're craving vegetarian tacos that are packed with plant-based protein, these quinoa and black bean tacos are the ones for you! Often, onions play a supporting role in my cooking, but they really make this recipe. I sauté the quinoa with yellow onion to amp up its flavor and assemble the tacos with a pop of pickled red onions on top.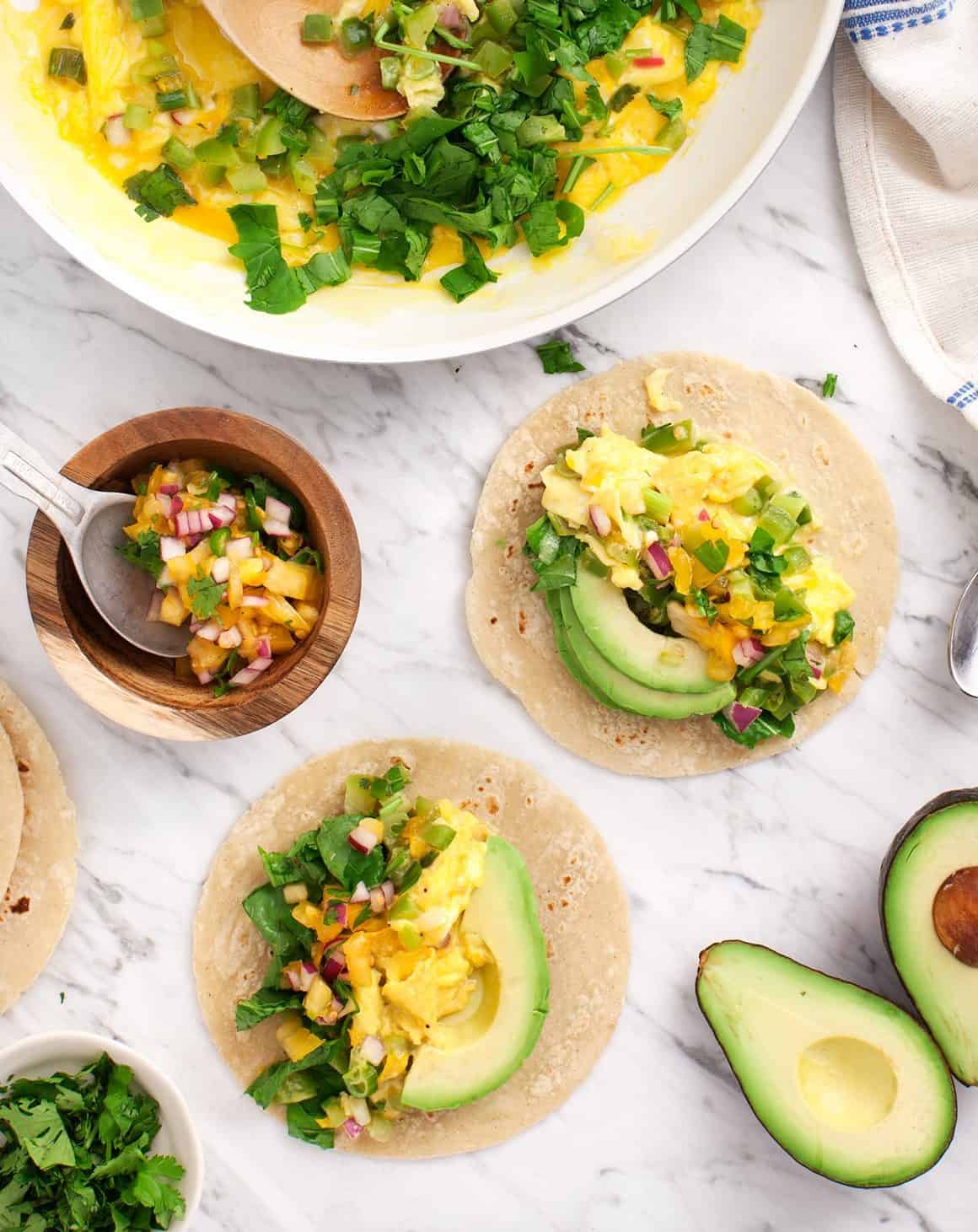 Healthy Breakfast Tacos
We all love tacos for dinner, but if living in Austin taught me anything, it's that they're great for breakfast, too! I load up corn tortillas with soft scrambled eggs, creamy avocado, a scoop of salsa or pico de gallo, and as many green veggies as can fit.
Build Your Own Vegetarian Tacos!
I hope you love all of these vegetarian taco recipes, but I also encourage you to try making your own veggie tacos. As long as you have tortillas on hand, you can mix and match almost any ingredients into something delicious! Use these categories as building blocks to create veggie tacos with an interesting mix of flavors and textures:
1. Tortillas – I like to make soft tacos, so I start with corn tortillas, flour tortillas, or a corn and flour blend. If I'm lucky, I have a batch of freshly-cooked homemade tortillas on hand! Always char your tortillas on the stove or warm them in the oven before you fill them.
2. A base – Choose roasted or grilled veggies, a protein, or a grain. Some of my favorites include baked tofu, cooked black beans, cilantro lime rice or quinoa, or the veggie taco "meat" from this taco salad recipe. No matter what you pick, make sure to season it! Chili powder and/or cumin, salt, lime juice, and olive oil are a great place to start.
3. A sauce: No good vegetarian tacos are complete without a yummy sauce! Here are a few of my favorites:
4. Flavorful extras: Pick garnishes that will contrast with your taco filling – something creamy, something fresh, something tangy, or something for crunch. My go-tos include sliced avocado, shredded cabbage, cilantro, crumbed Cotija or feta cheese, pickled jalapeños, pickled red onions, scallions, and cashew sour cream.
Serve your tacos with lime wedges for squeezing, pour a margarita or paloma, and enjoy!
Vegetarian Tacos with Avocado Sauce
These easy vegetarian tacos are filled with black beans, roasted vegetables, and a delicious creamy avocado tomatillo sauce. Feel free to use any roasted vegetables you like here. Sweet potatoes, winter squash, poblano peppers, and/or roasted onions would all be great.
Ingredients
1

small Japanese eggplant

,

chopped into 1-inch pieces

1

cup

chopped summer squash

1

red bell pepper

,

chopped into 1-inch pieces

1

cup

cherry tomatoes

,

sliced

extra-virgin olive oil

,

for drizzling

1

cup

cooked black beans,

drained and rinsed

1

avocados

,

diced

chopped cilantro

1

serrano pepper

,

sliced, optional

crumbled cotija cheese

,

optional

sea salt and freshly ground black pepper
Avocado Tomatillo Sauce
1/3

cup

tomatillo salsa

1/4

cup

pepitas

1/2

avocado

handful of spinach

2

tablespoons

extra-virgin olive oil

lime juice

,

to taste

sea salt and freshly ground black pepper
Instructions
Preheat the oven to 400° F and line a baking sheet with parchment paper. Place the chopped eggplant, squash, red pepper and tomatoes onto the baking sheet. Drizzle with olive oil and pinches of salt and pepper and roast until golden brown around the edges 25-30 minutes.

Meanwhile, make the sauce. In a food processor, blend together the tomatillo salsa, pepitas, avocado, spinach, olive oil, lime juice and pinches of salt and pepper, to taste. Chill until ready to use.

Assemble the tacos with the black beans, roasted vegetables, diced avocado, cilantro, serrano, and cotija, if using, and generous scoops of sauce. Serve with extra sauce on the side.
Notes
Store extra sauce in the fridge for 2 to 3 days.