No Parmesan? No problem. This easy vegan pesto recipe is a breeze to make, and it's every bit as bright, nutty, and delicious as the traditional version.
When I make pesto, I almost always make this vegan pesto recipe. Don't get me wrong, I love traditional basil pesto, but this vegan version is just as good.
Classic pesto is made with fresh basil, pine nuts, garlic, olive oil, salt, pepper, and Parmesan cheese. But my recipe calls for one extra ingredient: lemon juice. The lemon's bright flavor perfectly balances the richness of the olive oil and elevates the fresh, garlicky, and nutty flavors of the other ingredients. Once you add it, the pesto has enough complexity to make the Parmesan cheese optional, and more often than not, I end up leaving it out. This vegan pesto recipe is a streamlined version of my regular recipe, without the Parmesan cheese. It's lighter than traditional pesto, it comes together in minutes, and it's totally delicious. Whether you're vegan or not, I think you're going to love it.
Vegan Pesto Recipe Variations
You'll find my go-to vegan pesto recipe at the bottom of this post. It's delicious as written, but there are all sorts of tasty ways to change it up. Here are a few of my favorites:
Switch the greens. When I have an abundance of fresh basil in the summertime, this vegan pesto recipe is my favorite way to use it. However, I love making this recipe with different herbs and greens too. Try replacing half the basil with arugula, kale, radish greens, parsley, or spinach. You could also skip the basil entirely and use a mix of parsley and cilantro or a 50/50 blend of fresh mint and spinach.
Swap the nuts. Almost any nut or seed works well in this vegan pesto recipe! I most often use pepitas or pine nuts, but almonds, cashews, walnuts, and sunflower seeds are great here too.
Make it cheesier. If you like your vegan pesto sauce to have a really cheesy flavor, blend in a tablespoon of nutritional yeast. Then, taste and adjust, adding more nutritional yeast if desired.
Or amp up the umami. If you don't have nutritional yeast on hand, add 2 teaspoons of capers or 2 oil-packed sun-dried tomatoes to give your pesto a rich, savory flavor. Again, taste and adjust, and add more capers or sun-dried tomatoes to suit your tastes.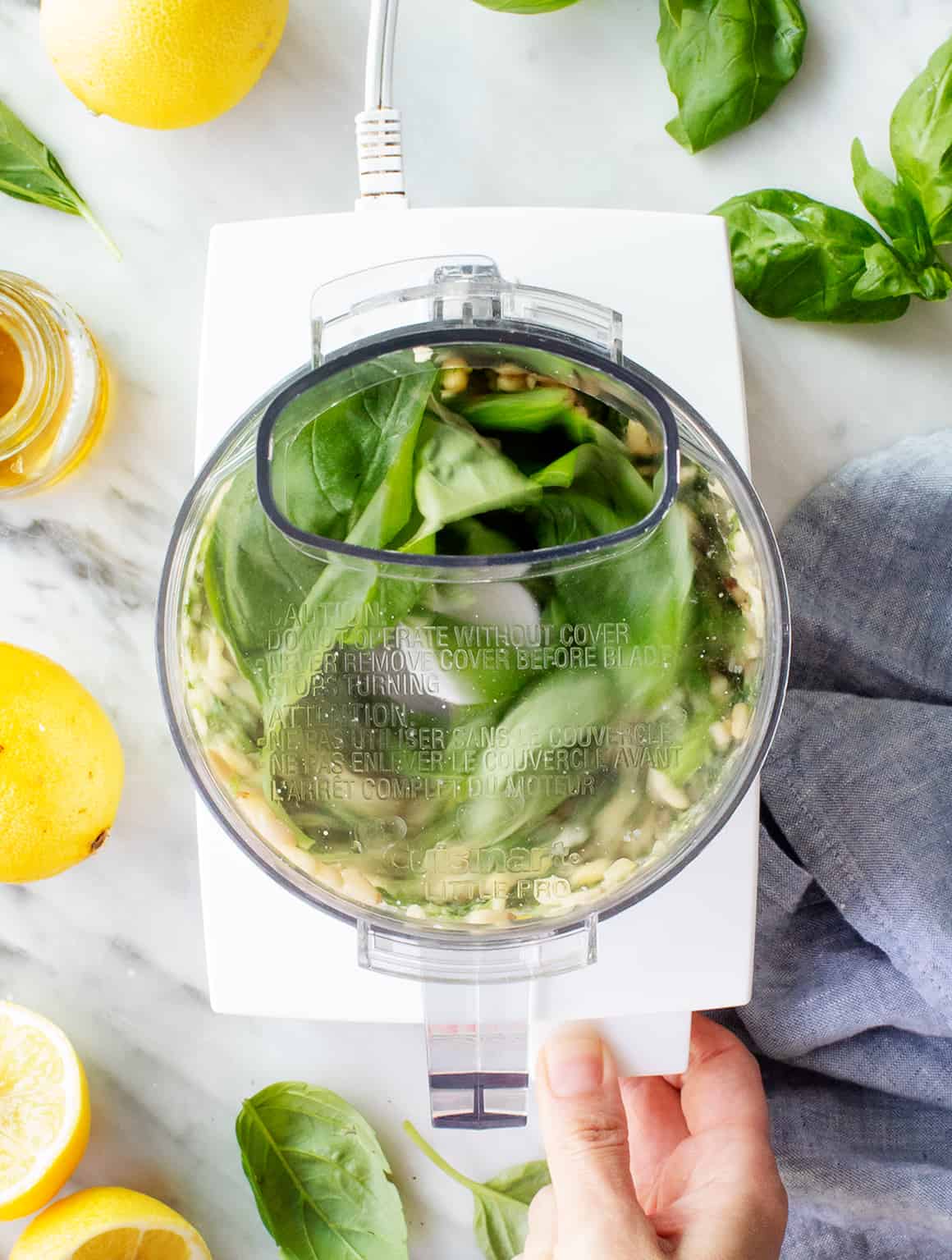 How to Use Vegan Pesto
There are SO many ways to use this vegan pesto! These ideas are a great place to start:
How do you like to use vegan pesto? Let me know in the comments!
More Favorite Spreads and Sauces
If you love this vegan pesto recipe, try one of these spreads, sauces, or salad dressings next:
For more delicious vegan recipes, check out this post!
Vegan Pesto
This gluten-free, vegan pesto recipe is just as good as traditional pesto, even without the cheese! It's delicious on pasta, pizza, crusty bread, and more. See the post above for additional serving suggestions.
Ingredients
1/2

cup

toasted pine nuts or pepitas

2

tablespoons

lemon juice

1

small garlic clove

1/4

teaspoon

sea salt

2

cups

basil leaves

1/4

cup

extra-virgin olive oil,

more for a smoother pesto

Optional: nutritional yeast, capers, or oil-packed sun dried tomatoes
Instructions
In a food processor, combine the pine nuts, lemon juice, garlic, salt, pepper, and pulse until well chopped.

Add the basil and pulse until combined.

With the food processor running, drizzle in the olive oil and pulse until combined.

For extra cheesy flavor, add 1 tablespoon nutritional yeast. For brinier flavor, add 2 teaspoons capers. For more umami, add 2 oil-packed sun-dried tomatoes. Briefly pulse to combine. Taste and adjust, adding more nutritional yeast, capers, or sun-dried tomatoes, as desired. For a smoother pesto, add more olive oil.
Notes
Store any leftover pesto in an airtight container in the fridge for up to 2 days. For longer storage, freeze the pesto in ice cube trays. Then, transfer the pesto cubes to an airtight container or freezer bag and freeze for up to 2 months.