The BEST vegan mac and cheese recipe! With a creamy, cheesy sauce made from sweet potatoes and nutritional yeast, it's just as good as the real thing.
When I'm craving comfort food, this vegan mac and cheese recipe is the first thing I make. It calls for a handful of ingredients that I almost always have on hand, it's quick and easy, and it's absolutely delicious. The creamy sauce is rich, luscious, and filled with nutty, tangy cheddar cheese flavor. Even Jack, who LOVES classic mac and cheese, will happily devour a bowl (or two) of this plant-based pasta any day.
In the past, I've made dairy-free mac and cheese with coconut milk, cauliflower, or a big scoop of cashews, but this recipe is my favorite by far. The super creamy sauce still contains a small amount of cashews, but its base is blended yellow potato and sweet potato. The yellow potato gives it a delightful gooey texture, and the sweet potato makes it vibrant orange. Apple cider vinegar, garlic, onion powder, and nutritional yeast perfect its cheesy taste. It's fun, yummy, and even healthy too! I think you're going to love it.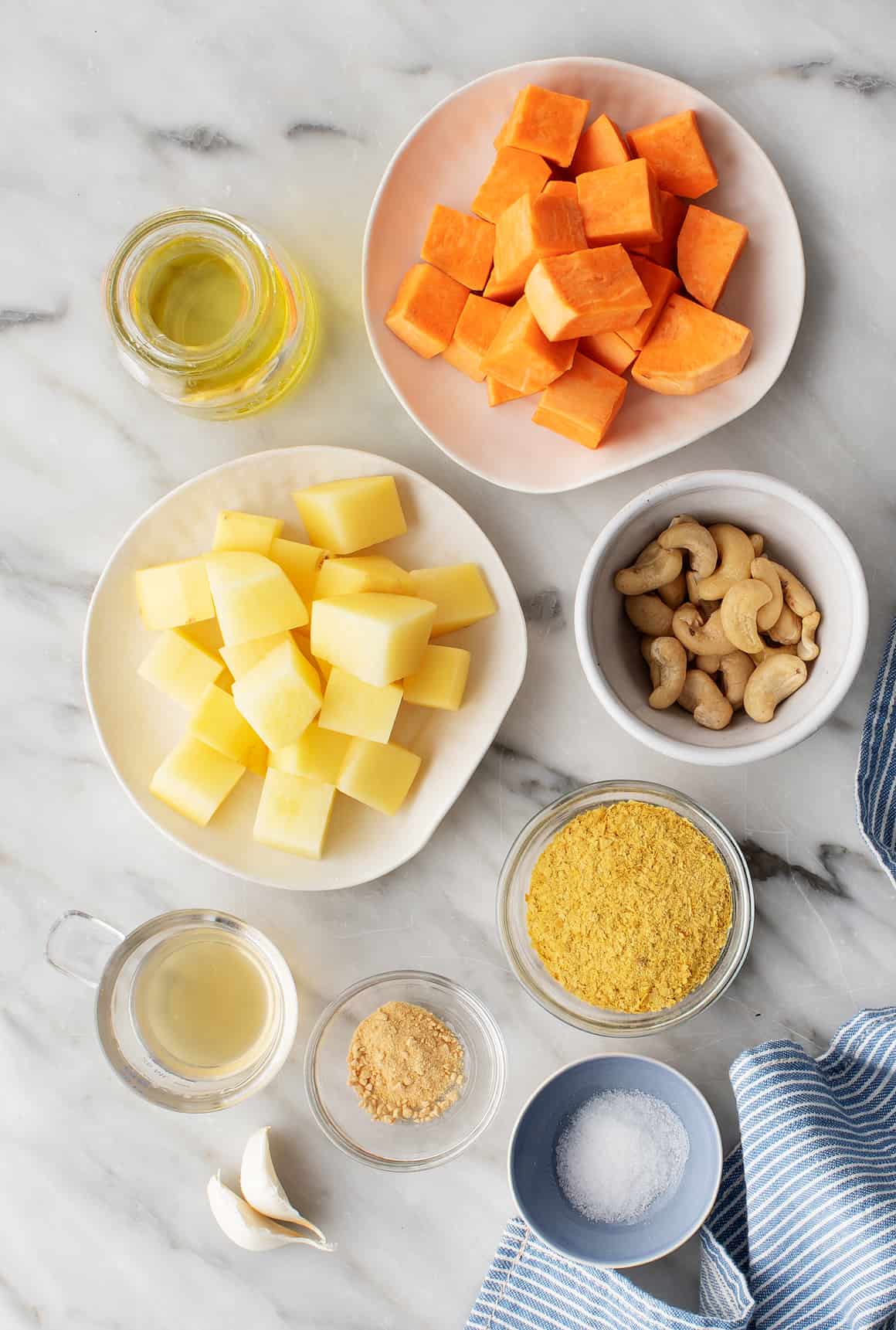 How to Make Vegan Mac and Cheese
First, make the vegan cheese sauce. Simmer sweet potatoes and potatoes until tender. Then, drain them, and add them to a blender with raw cashews, nutritional yeast, garlic, onion powder, apple cider vinegar, sea salt, water, and olive oil. Puree until smooth.
Next, cook the pasta. Bring a large pot of salted water to a boil and add the pasta. Cook it according to the package directions, until al dente. Before you drain the pasta, set aside 1/2 cup of the starchy pasta water.
Finally, toss it all together! Return the cooked macaroni to the pot and add the cashew cheese. Stir to combine, adding the reserved pasta water, as needed, to loosen the sauce. Season to taste with salt and pepper.
Serve the vegan mac and cheese with a simple veggie side dish like roasted broccoli, roasted Brussels sprouts, lemony green beans, or roasted cauliflower. Enjoy!
Vegan Mac and Cheese Recipe Variations
Swap the sweet potato. If you don't have sweet potato on hand but you still want to try this recipe, don't worry. An equal amount of diced carrot or butternut squash would work just as well.
Make it smoky. Blend 1/4 to 1/2 teaspoon smoked paprika, to taste, into the vegan cheese sauce for a smoky twist. Or, for texture, stir in a handful of crumbled tempeh bacon bits!
Spice it up. Make spicy vegan mac and cheese by pureeing the sauce with 1 tablespoon pickled jalapeños or a chipotle pepper from a can of chipotles in adobo.
Go gluten-free. Use your favorite gluten-free pasta! I like to use brown rice elbow macaroni.
Add extra veggies. Of course, this vegan mac and cheese tastes good on its own, but adding extra veggies certainly doesn't hurt. Stir in thawed frozen peas, spinach, or steamed broccoli for a bright pop of green.
How do you like to make your vegan mac and cheese? Let me know in the comments!
More Favorite Pasta Recipes
If you love this recipe, try one of these yummy pasta recipes next:
Vegan Mac and Cheese
The BEST vegan mac and cheese recipe! Sweet potatoes, potatoes, and cashews blend into a luscious, creamy sauce with a crave-worthy cheesy flavor.
Ingredients
For the vegan cheese sauce
For the mac and cheese
12

ounces

elbow macaroni

sea salt,

to taste
Instructions
Make the vegan cheese: Place the Yukon Gold potatoes and sweet potatoes in a saucepan and cover with cold water by 1 inch. Add a few pinches of salt. Bring to a boil, then reduce the heat and simmer, uncovered, until fork-tender, 8 to 12 minutes.

Drain the potatoes and transfer to a high-speed blender with the garlic, cashews, apple cider vinegar, nutritional yeast, onion powder, salt, olive oil, and water. Blend until smooth.

Make the mac and cheese: Bring a large pot of salted water to a boil. Prepare the pasta according to the package instructions, cooking until al dente. Reserve ½ cup of the pasta cooking water before draining.

Drain and transfer the pasta back to the pot. Stir in the vegan cheese sauce, adding up to ½ cup pasta water to loosen the sauce, as necessary. Season to taste and serve.