Vegan Gingerbread Cookies are a healthy spin on a Christmas holiday classic! Made with ginger, cinnamon, cardamom, and almond butter.
It's Christmas week! Yay!
So… we still haven't put up that tree, but I've been doing a whole bunch of baking to make up for it (for Christmas and also for other upcoming holidays).
These cookies are so good that I've made them quite a few times this month. We (ahem, Jack) kept eating them before actually getting around to taking photos of them. Since no one needs a January gingerbread cookie, we made them again this past weekend. Better late than never! Here we go – these spicy little guys are ready to share:
The cookies are naturally sweetened with coconut sugar and molasses which makes them sweet but not too sweet. They're spiced with ginger, cinnamon and (a surprise spice) cardamom, which gives a nice warm flavor. I mixed in a little almond butter, which makes these so delicious that I couldn't stop eating little pieces of the dough while I was mixing it together.
You could definitely decorate these gingerbread cookies if you like – I took a more minimal approach because they're really tasty on their own, and also my decorating skills aren't really so hot. (Remember these?)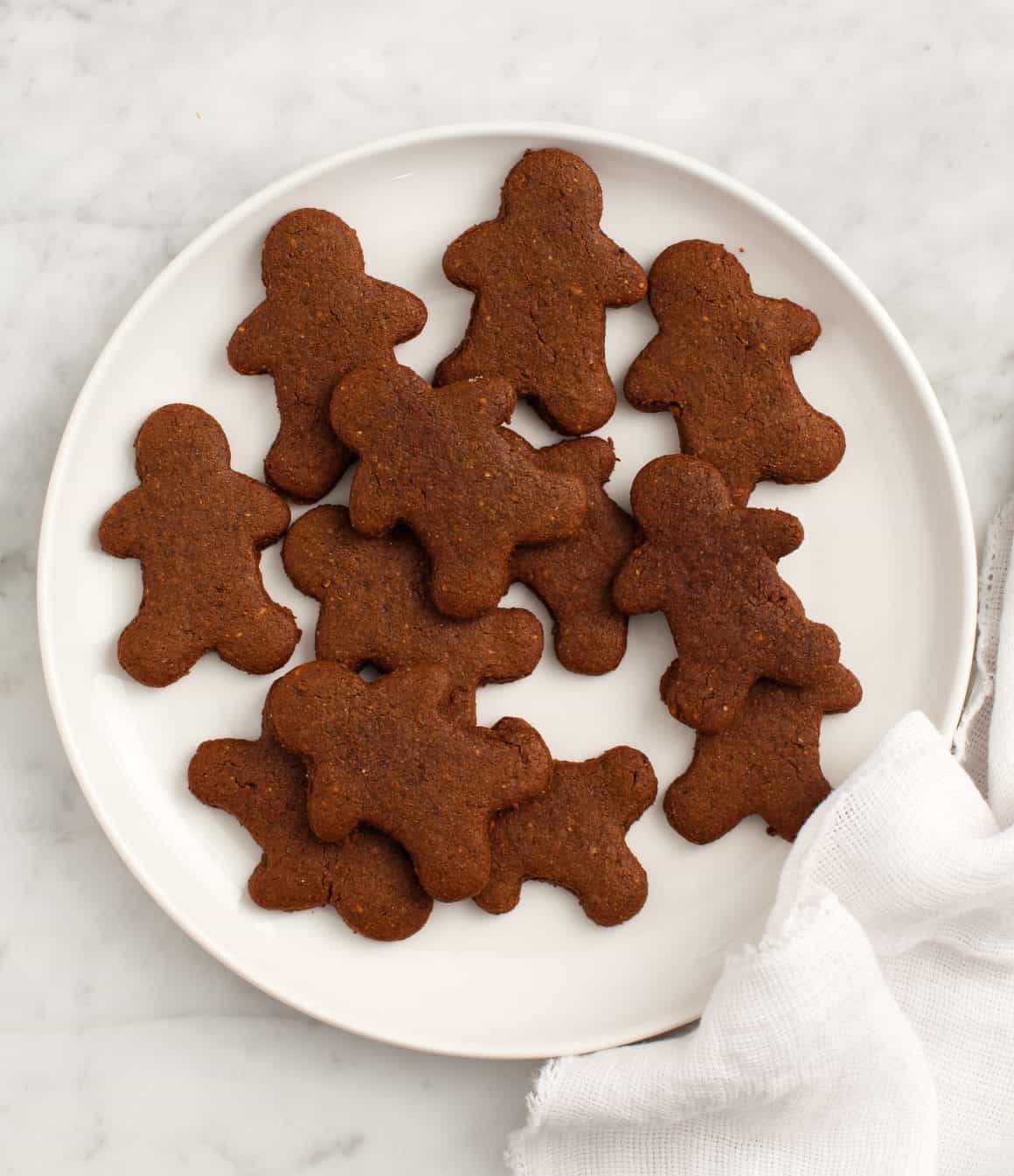 Make these vegan gingerbread cookies into your favorite cut-out shapes, OR take the easy (but still very delicious) way out and roll them into balls to make soft, chewy ginger cookies like these:
Vegan Gingerbread Cookies
These Vegan Gingerbread Cookies are a healthy spin on a holiday classic! Delicious as cut-outs or rolled into balls to make soft, chewy ginger cookies.
Ingredients
1 tablespoon ground flaxseed meal
3 tablespoons warm water
2¼ cups spelt flour (or white/wheat mix)
2 teaspoons ground ginger (3 for a stronger ginger flavor)
2 teaspoons cinnamon
½ teaspoon cardamom
½ teaspoon baking soda
¼ teaspoon sea salt
½ cup melted coconut oil
¾ cup coconut sugar
¼ cup almond butter
¼ cup unsulphured molasses (I used this one from Wholesome)
Instructions
In a large bowl, combine the flaxseed and water. Stir and set aside to thicken.
In a medium bowl, combine the flour, ginger, cinnamon, cardamom, baking soda and salt.
Give the flax mixture another stir, and then add the melted coconut oil, coconut sugar, almond butter and molasses. Whisk until smooth. Add the dry mixture and stir to combine. When the dough gets thick, use your hands to lightly knead the dough to form a thick disk. Wrap it in plastic wrap and chill for 30 minutes.
Preheat the oven to 325°F and line a large baking sheet with parchment paper.
Remove the disk from the fridge. Place it between 2 sheets of parchment paper and roll the dough until ¼" thick. (If your dough is too sticky, you can add a little bit of flour). Use cookie cutters to cut out desired shapes and carefully place them on the baking sheet. Re-roll any remaining dough.*
Bake for 10 to 12 minutes or until the edges are lightly browned (although this is hard to see since the cookies are dark). Remove from the oven and let sit for 10 minutes on the hot baking sheet without touching them before transferring to a wire rack to cool.
*Optional: Instead of re-rolling any extra dough, form the remainder into soft ginger cookies. Place ¼ cup cane sugar into a small bowl. Roll the dough into 1½" balls, and then roll them in the cane sugar. Place the balls on a cookie sheet and press down on them lightly to flatten. Bake 10 to 12 minutes.
Notes
Note: do not cut back on the amount of coconut oil or your cookies will be dry.