A tart raspberry layer, a creamy "cheesecake" layer, and a gluten-free walnut crust make this easy vegan cheesecake recipe tangy, rich & delicious.
Happy early Valentine's day… or Galentines Day… or whatever holiday you like to celebrate with heart-shaped treats and little paper cards. As I've written about many times before, Jack and I have this Chocolate Molten Cake Valentine's tradition. This year I switched things up a bit and made this decadent yet mostly raw raspberry vegan cheesecake. How cute are those layers!?
Vegan Cheesecake Recipe Variations
I have two versions below – one version uses raw cashews for the white "cheesecake" layer and the other version uses vegan cream cheese. I wanted to offer these two options because one requires a fancy high powered blender to really cream the nuts out of those cashews, and the second option will work with any blender.
Both versions also taste different – if you're used to eating "raw" desserts you will love the cashew version. It has a fresh taste that I really like. Jack preferred option 2, which tastes a little more authentically like cheesecake.
I top both variations with a fresh raspberry layer inspired by the raspberry chia jam I make all the time. This time, instead of jamming it, I blended the raspberries with chia seeds to create that bright pink topping.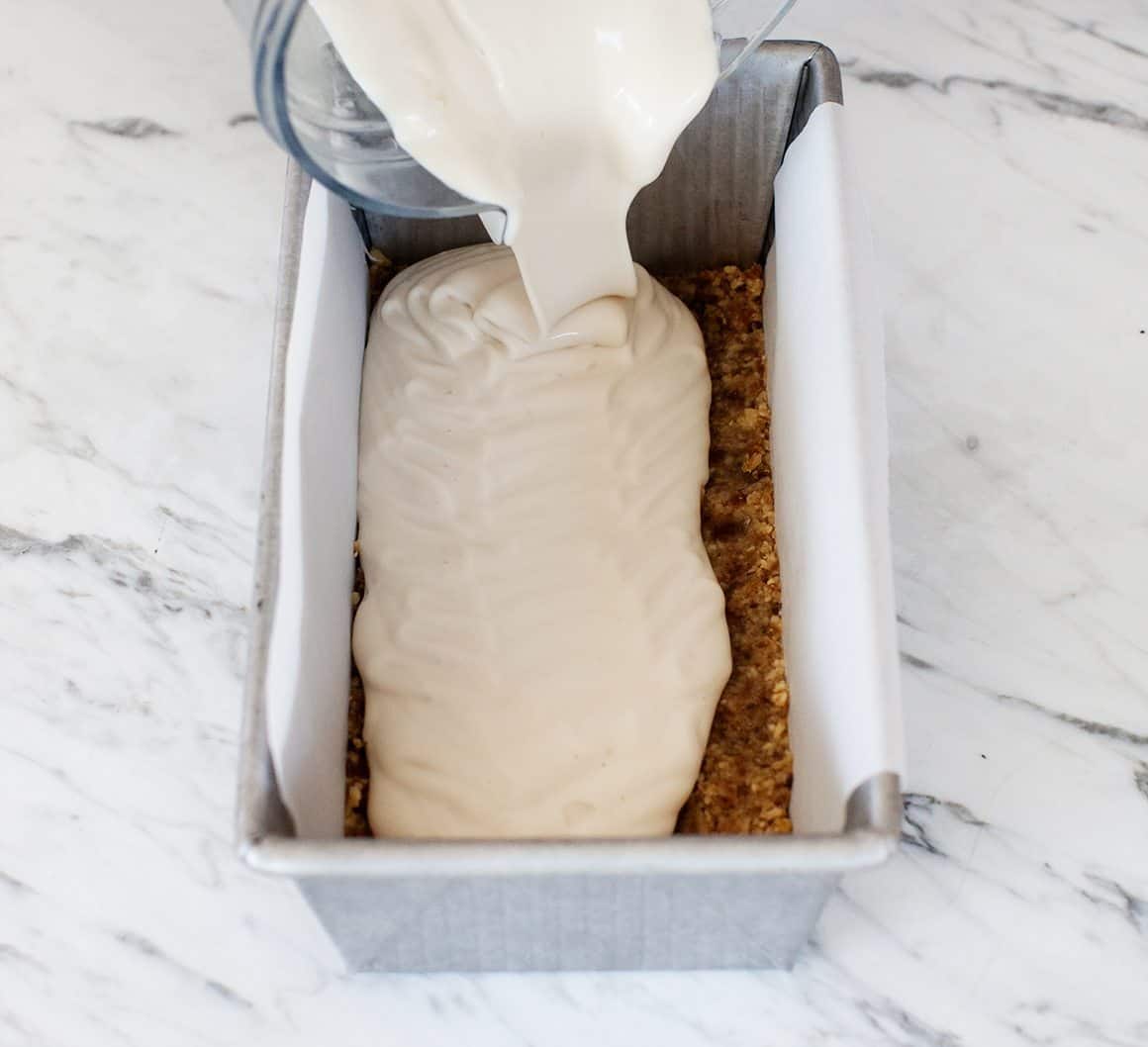 How to Make Vegan Cheesecake
A few notes about this recipe – it takes a little time for each layer to freeze before you add the next, so be sure to make this either the morning of, or the day before, you're going to eat it. Other than the time it takes to freeze, this is a piece of cake to make:
Start by making the gluten-free crust by pulsing together walnuts, dates, coconut oil, and salt in a food processor. Press the sticky mixture into the bottom of a parchment-lined loaf pan, and pop it in the freezer for 15 minutes.
Blend together the ingredients for the creamy "cheesecake" layer. Then, pour them over the frozen crust, and slide the pan back into the freezer for another 2 hours.
Finally, blend up the vibrant pink raspberry layer. Pour it over the frozen cheesecake and freeze overnight!
Then, it's time to eat! Let the vegan cheesecake thaw slightly before slicing and serving.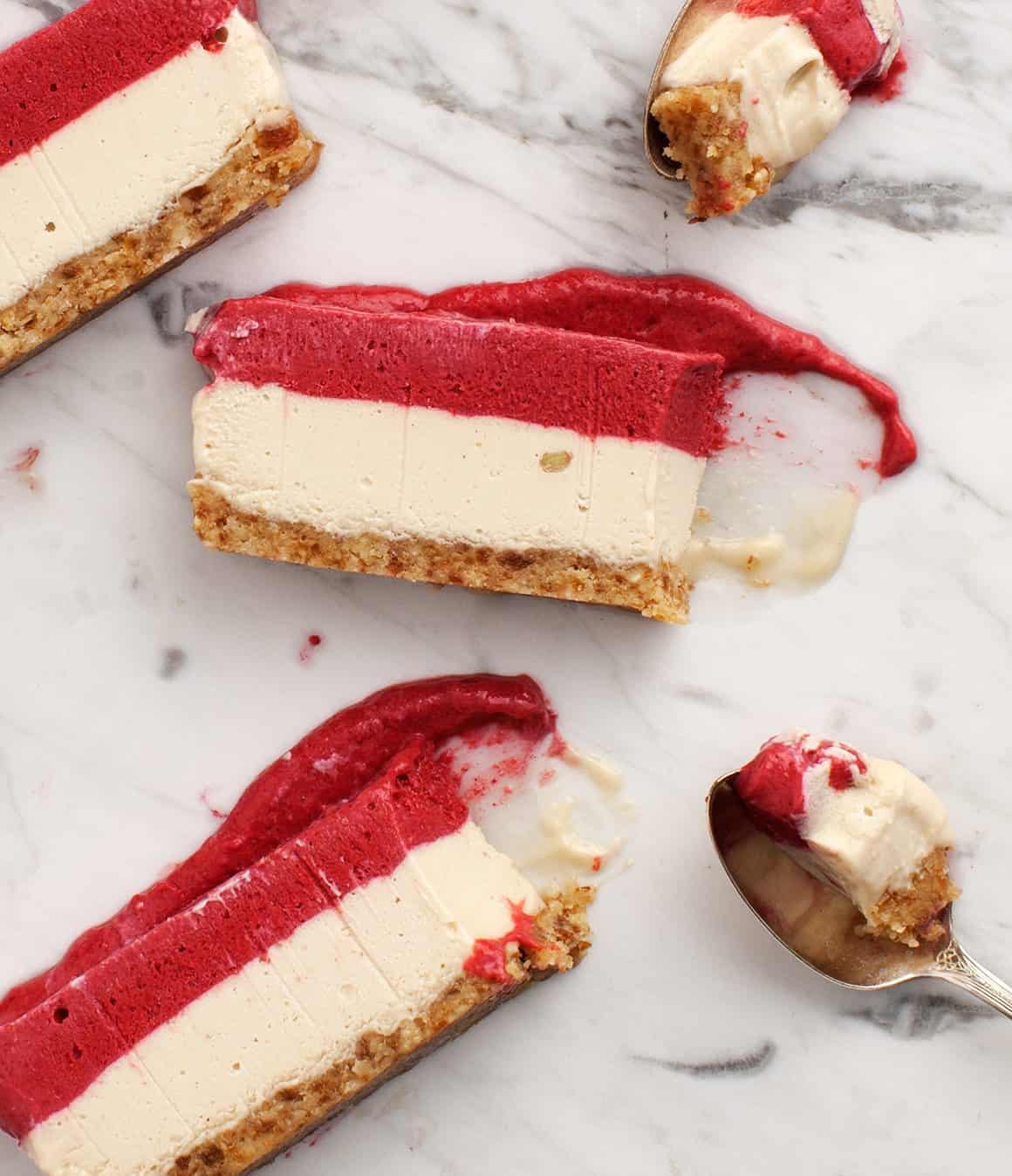 If you love this vegan cheesecake recipe…
Try more of my favorite vegan desserts:
Raspberry Vegan Cheesecake
Note: This vegan cheesecake recipe requires each layer to be frozen before adding the next, so it's best to prep this at least one day before you would like to serve it.
Ingredients
Instructions
In a food processor, pulse the walnuts, dates, coconut oil and salt together until crumbly. Line an 8x4" loaf pan with parchment paper allowing 1 inch of overhang on each side. Press the crust into the bottom of the pan. Freeze for at least 15 minutes or as long as it takes to get the next layer ready.

In a high-powered blender, blend the cashews, coconut milk, maple syrup, lemon juice, zest, vanilla and salt until completely creamy (about 1 minute). Pour the filling over the crust and smooth until even. Freeze until this layer is completely firm, at least 2 hours. (Alternatively, use a regular blender and blend the ingredients from Cheesecake Option 2, above)

In the blender, combine the raspberries, lemon juice, maple syrup and chia seeds. Blend until smooth. Pour the raspberry mixture on top of the frozen cheesecake layer and smooth until even. Freeze for 4 hours or overnight.

When ready to serve, remove the cake from the freezer and let it thaw for at least 20 minutes. Using the sides of the parchment paper, carefully lift the cheesecake out of the pan. Use a sharp chef's knife to slice it into 8 to 10 slices. Let the individual slices thaw for an additional 15 to 20 minutes, until fully thawed so that the middle layer is creamy and the raspberry layer is less icy. Re-freeze any remaining slices.
Notes
*A high powered blender, such as a Vitamix, is recommended for this option in order for the cashews to get really creamy.