Move over, Chipotle! This vegan burrito bowl recipe is super flavorful and easy to make. Kick it up a notch with pineapple salsa and plenty of guac.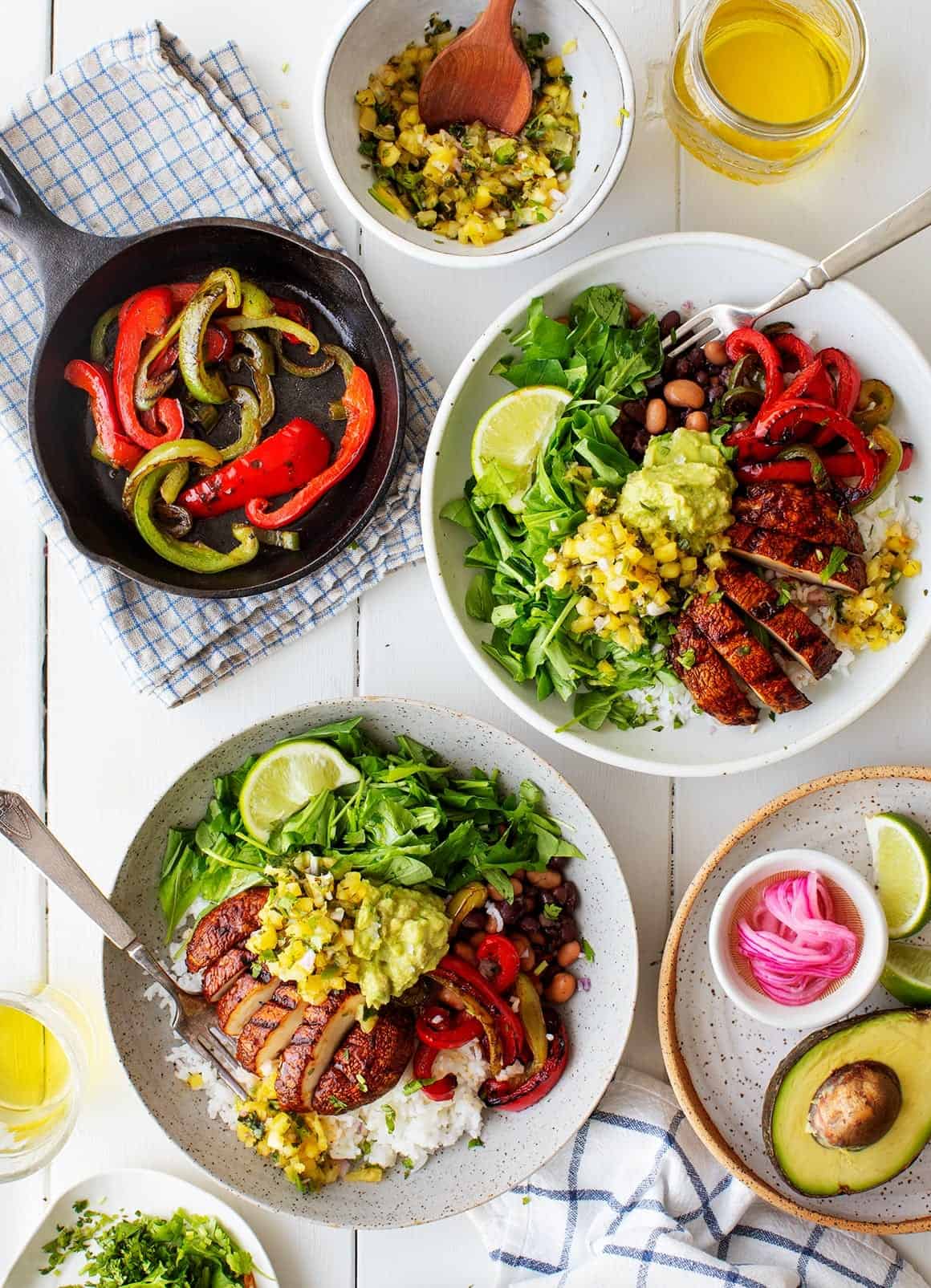 I love a Chipotle burrito bowl as much as the next person, but for my money, this sweet and spicy vegan burrito bowl recipe is just as good. While making it may not be quite as quick as grabbing lunch to-go, it's still pretty easy to make, thanks to a secret ingredient: chipotles in adobo sauce! The sauce acts as a 1-ingredient marinade for meaty portobello mushroom caps, and I mix pinto and black beans with the chopped peppers to infuse them with some heat. A scoop of pineapple salsa adds a delicious sweet contrast, while burrito bowl essentials – fajita veggies, rice, guac, and greens – round the whole thing out.
This vegan burrito bowl recipe is a great make-ahead lunch or weeknight dinner. Serve it with margaritas, tortilla chips, and (of course) extra guac, and dig in!
Vegan Burrito Bowl Components
When you order a burrito bowl at Chipotle, you answer one key question: what's your protein? Instead of using meat, I pile this plant-based bowl with grilled portobello mushrooms. They're smoky, juicy, and super easy to make on the grill! If you don't have a grill, cook them on the stove on a cast iron grill pan, or under the broiler in your oven.
Char the fajita veggies in this cast iron skillet on the grill while you cook the mushrooms. In order for the peppers to really char, make sure the pan is sizzling hot. If you don't have a grill, cook them in a cast iron skillet on the stovetop. Season the charred peppers simply with salt and pepper when they come off the heat, or spice them up with 1/2 teaspoon chili powder or taco seasoning!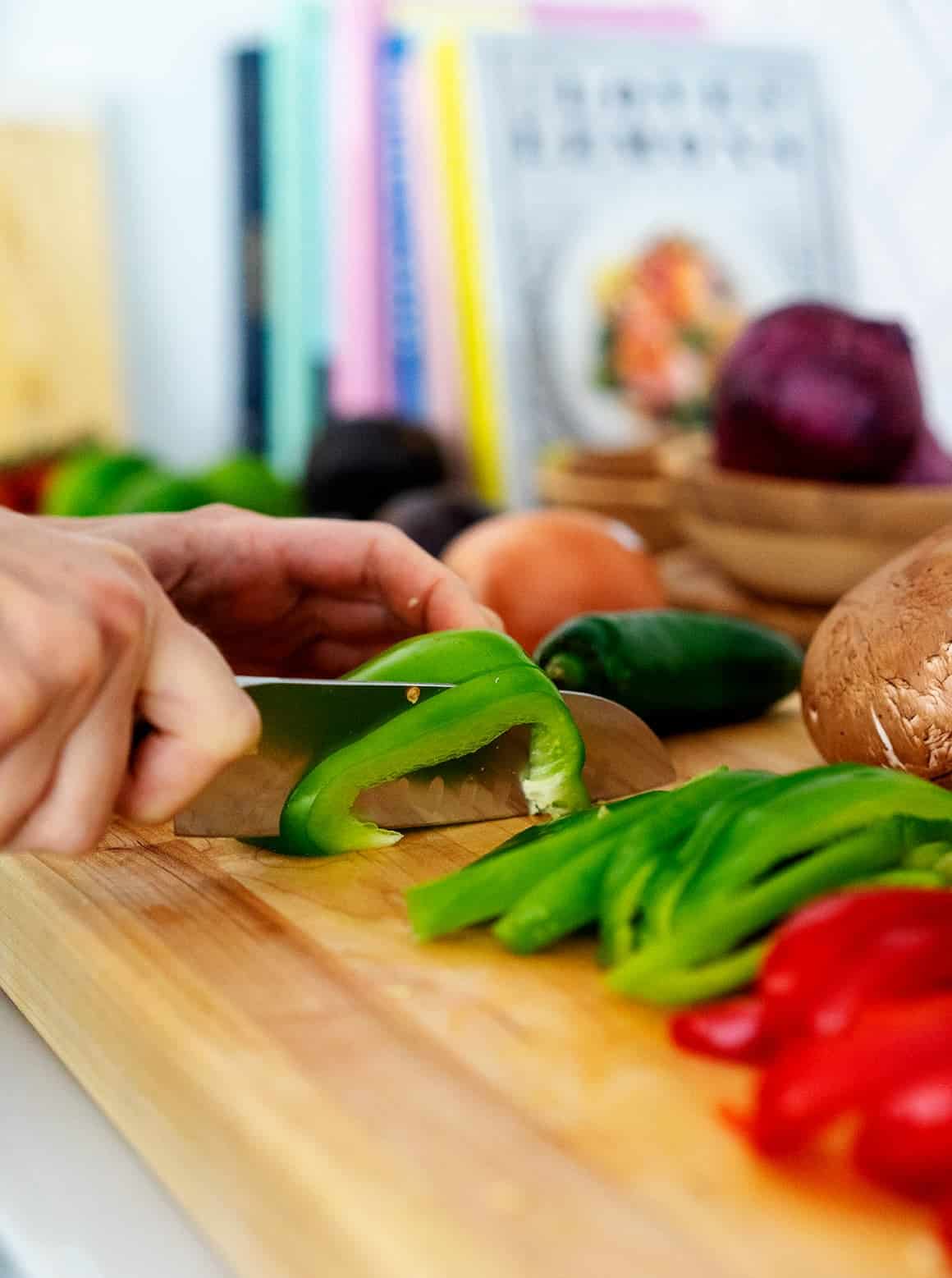 Once your veggies are ready, assemble your bowl with these components:
If you want to load up your bowl even more, finish it with a dollop of vegan sour cream or creamy chipotle sauce and pickled red onion. Then, garnish it all with chopped cilantro, and serve with lime wedges for squeezing. Enjoy!
Burrito Bowl Meal Prep Tips
Like many rice bowl recipes, this vegan burrito bowl is delicious warm or cold, and the components keep well in the fridge for up to 4 days. As a result, it's perfect for meal prep. If you make it ahead of time, follow these easy tips to keep the components fresh:
Keep things separate. If your bowls are going to sit in the fridge for a few days, I recommend storing components separately. Keeping the greens away from the moist salsa and fajita veggies will help them stay nice and crisp.
Swap the grain. Leftover rice can dry out in the fridge, so if you're making this burrito bowl recipe in advance, try using a different grain. Quinoa would be a great choice!
Save the guac for the last minute. We all love guac, but it has one failing: it doesn't keep well! If you're meal prepping these bowls, skip the guac, and top them with avocado slices and a squeeze of lime juice at the last minute.
Check out this post for more healthy lunch ideas and this one for more meal prep tips!
More Meatless Mexican-Inspired Recipes
If you love this burrito bowl recipe, try one of these Mexican-inspired recipes next: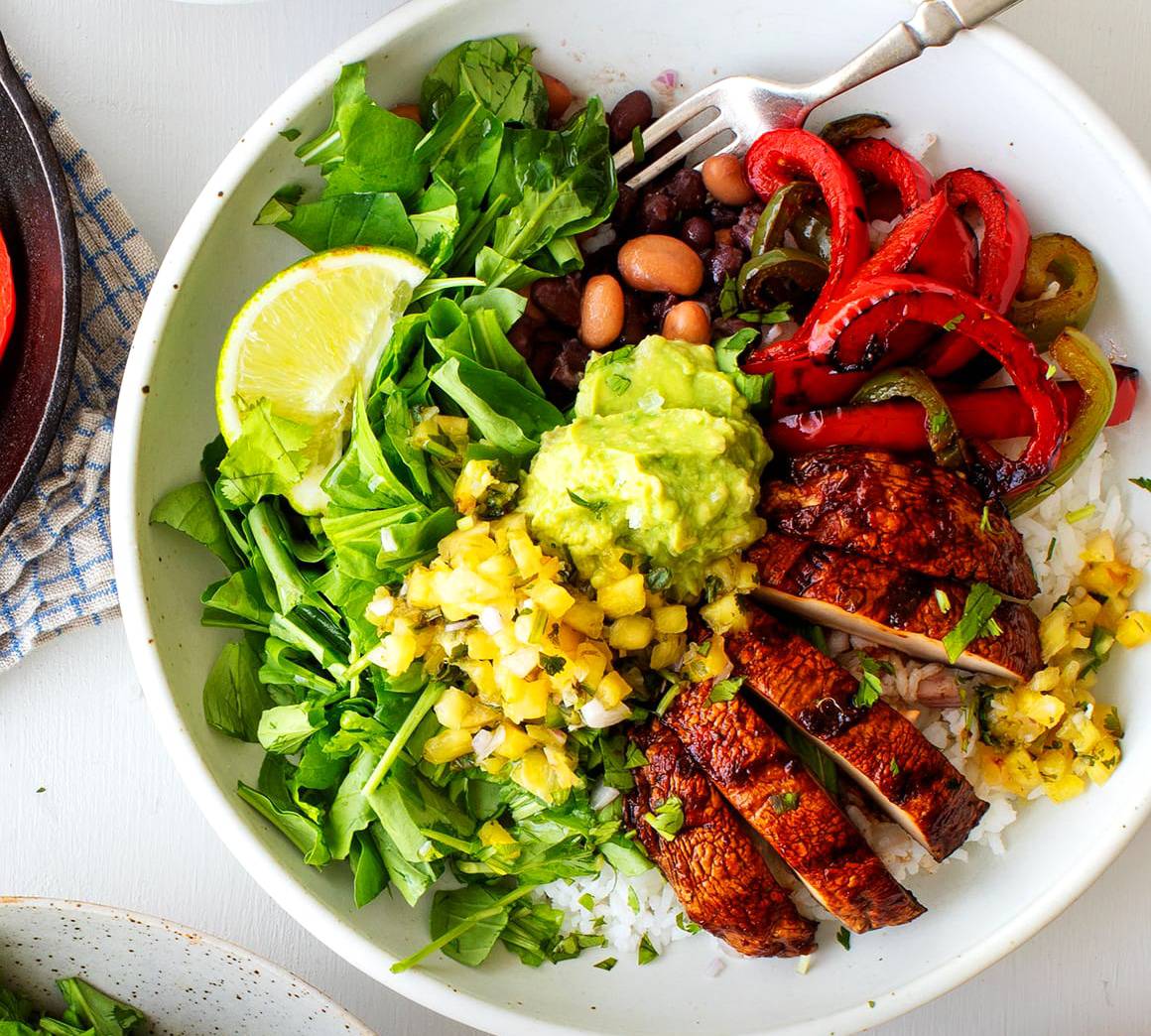 Vegan Burrito Bowl
You'll LOVE this vegan burrito bowl recipe! Instead of meat, it's loaded with chipotle-marinated mushrooms, black beans, and grilled fajita veggies. Great for meal prep!
Ingredients
Bowls
Veggies
2 portobello mushroom caps
Extra-virgin olive oil, for drizzling
Adobo sauce from the can of chipotles used above
Sea salt and freshly ground black pepper
1 red bell pepper, stem, ribbing and seeds removed, sliced into strips
1 green pepper, stem, ribbing and seeds removed, sliced into strips
1 jalapeño pepper, ribbing and seeds removed, sliced into thin strips, optional
Instructions
In a small bowl, combine the beans with the chipotle peppers, olive oil, lime juice, ¼ teaspoon salt, and several grinds of pepper.
Prepare the veggies: Preheat a grill to medium heat with a cast iron pan inside. You'll grill the mushrooms directly on the grill, and the sliced peppers in the cast iron pan.
Rub the whole mushroom caps with a drizzle of olive oil and a few spoonfuls of adobo sauce. Use enough sauce to coat the mushrooms well on each side. Sprinkle with salt and pepper. Grill the portobellos (directly on the grill grate) 4 to 5 minutes per side or until charred and tender. Slice just before assembling the bowls.
Toss the pepper strips with a drizzle of olive oil and pinches of salt and pepper. Grill in the cast iron pan or grill pan for 8 to 10 minutes, tossing occasionally, until charred and soft.
Assemble the bowls with the rice, beans, arugula, sliced mushrooms, peppers, guacamole, scoops of pineapple salsa, and cilantro. Serve with extra salsa and extra lime wedges on the side. (Note: If you would like your arugula and rice seasoned/dressed more, drizzle with olive oil, squeezes of lime and pinches of salt and pepper).