Who says you need meat or dairy to have a good time? These easy vegan appetizers are fun and flavorful. You won't be able to get enough of them!
These easy vegan appetizers prove how fun plant-based eating can be! As I compiled this list over the weekend, I found myself itching to make each one of these vegan appetizer recipes. They're colorful, bold, and bright, the kind of food that makes you want to reach out and try it…and then go back for another bite.
Whether you're vegan, vegetarian, or someone who eats everything, you're going to love these vegan appetizers! They range from creamy dips to refreshing salsas, from pretzels to spring rolls to bruschetta and beyond. Over the years, we've made them for parties, date nights, cookouts, and late night snacks. Try one, or try them all, but most importantly, have fun. Who says you need meat or dairy to have a good time?
Vegan Appetizers for a Crudité Platter
A classic crudité platter will always be one of my favorite appetizers! Set out a flavorful dip or two, and you'll fill up on veggies before you know it.
Almond Cheese with Herbes de Provence, page 73 of Love & Lemons Every Day
If you're looking for classy, wine-and-cheese-night-worthy vegan appetizers, this recipe is for you. I love to top the almond cheese with herbes de Provence and mint leaves for a burst of fresh flavor.
French Onion Dip
Try this French onion dip recipe once, and you'll never get the store bought kind again! Caramelized onions infuse creamy cashew sour cream with rich umami flavor.
Vegan Ranch Dressing
If you want to start eating more veggies, make this vegan ranch! It's creamy, tangy, cool, and addictive. Seriously, carrot sticks have never tasted this good.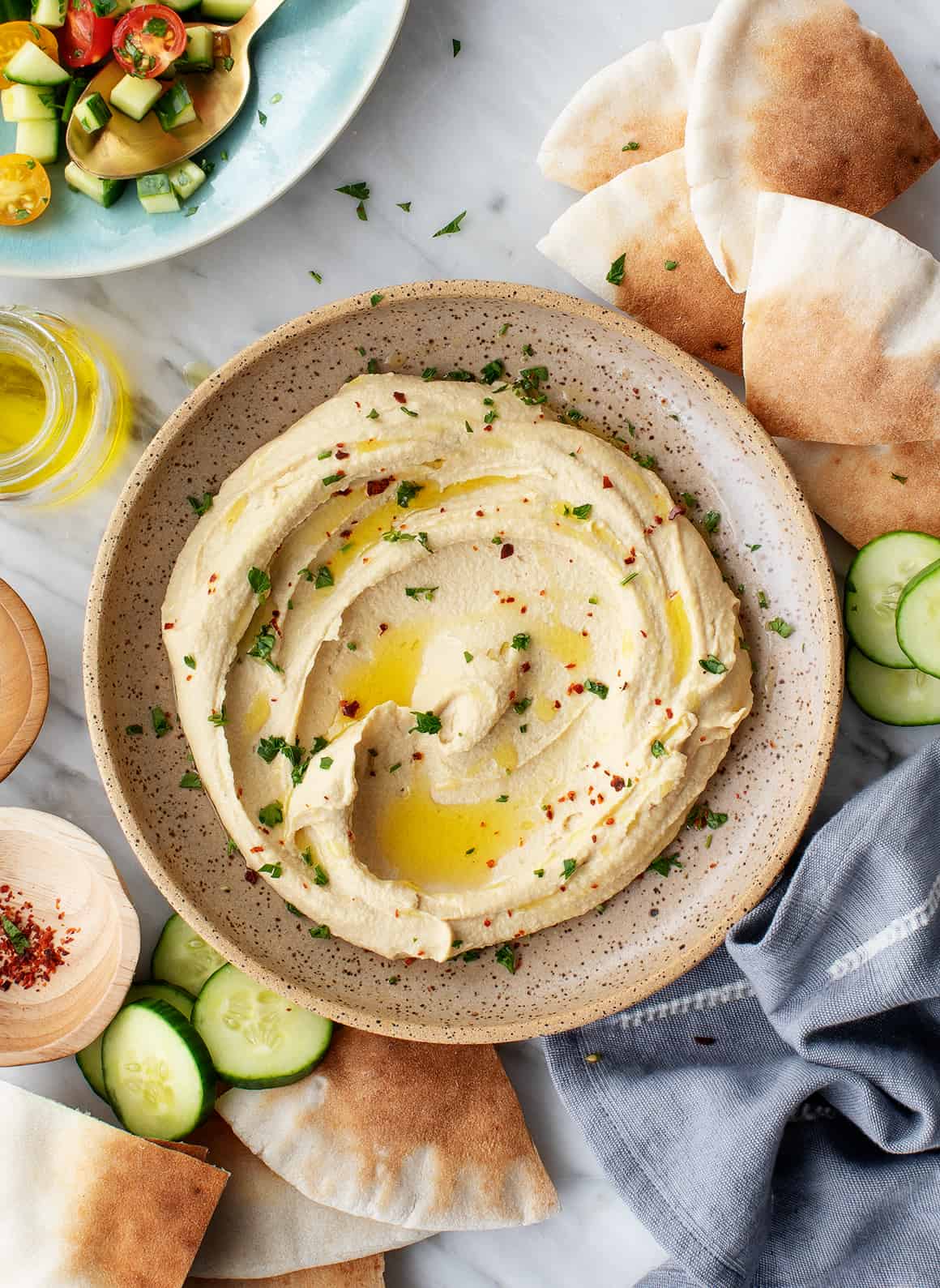 Best Hummus
I couldn't make a list of vegan appetizers without including hummus! This Mediterranean dip is creamy, bright, and blissfully easy to make. Serve it with fresh pita and veggies, and it'll vanish in minutes.
Baba Ganoush
Tahini, smoked paprika, and charred eggplant give this dip its rich, smoky flavor and silky texture.
Beet Muhammara, page 71 of Love & Lemons Every Day
This vibrant recipe is my unconventional take on muhammara, a Syrian red pepper and walnut spread. Roasted beets step in for the peppers, adding an earthy sweetness to this smooth, spiced dip.
White Bean Dip
There are so many fun ways to vary this lemony white bean dip! Blend in roasted garlic for rich, nutty flavor, or add a big handful of basil for a delightful fresh twist.
Vegan Pimento Cheese Dip
Even Jack – a devout lover of actual pimento cheese – will devour this dairy-free dip. Made with cashews, Dijon mustard, and jarred pimento peppers, it tastes shockingly close to the real thing!
Pass the tortilla chips!
Who doesn't love salsa and guac? Luckily, these tasty appetizers are naturally vegan. Pass the tortilla chips, please!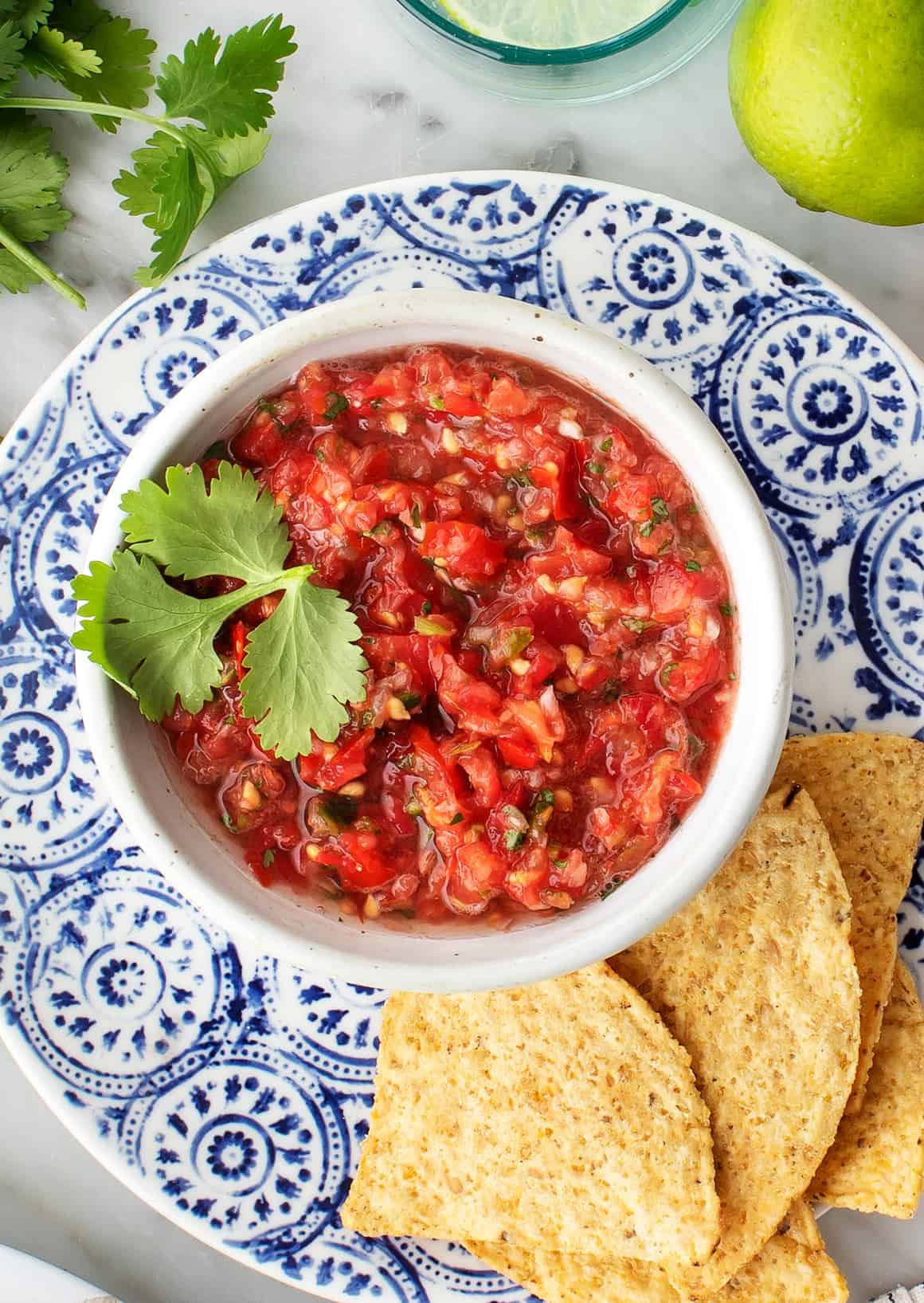 Homemade Salsa
Move over, jarred salsa! This homemade kind is fresher, brighter, and more flavorful by far.
Tomatillo Salsa Verde
We love this zesty salsa verde with tortilla chips, but it's fantastic with tacos, taquitos, and enchiladas too.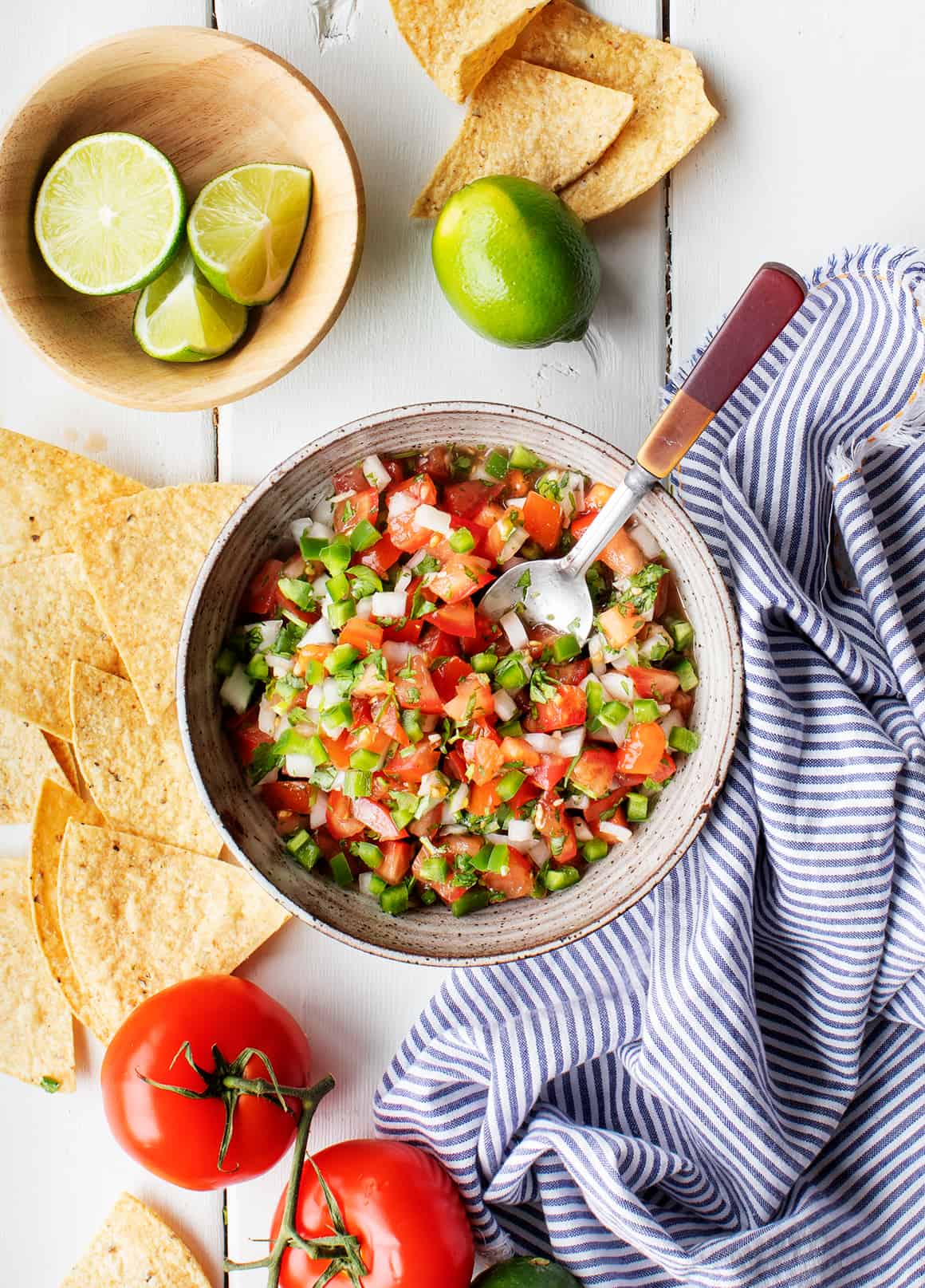 Pico de Gallo
If you're looking for quick and easy vegan appetizers, make pico de gallo! This fresh salsa is unbelievably simple to make – dice up tomatoes, onions, cilantro, and jalapeño, add a squeeze of lime, and season to taste.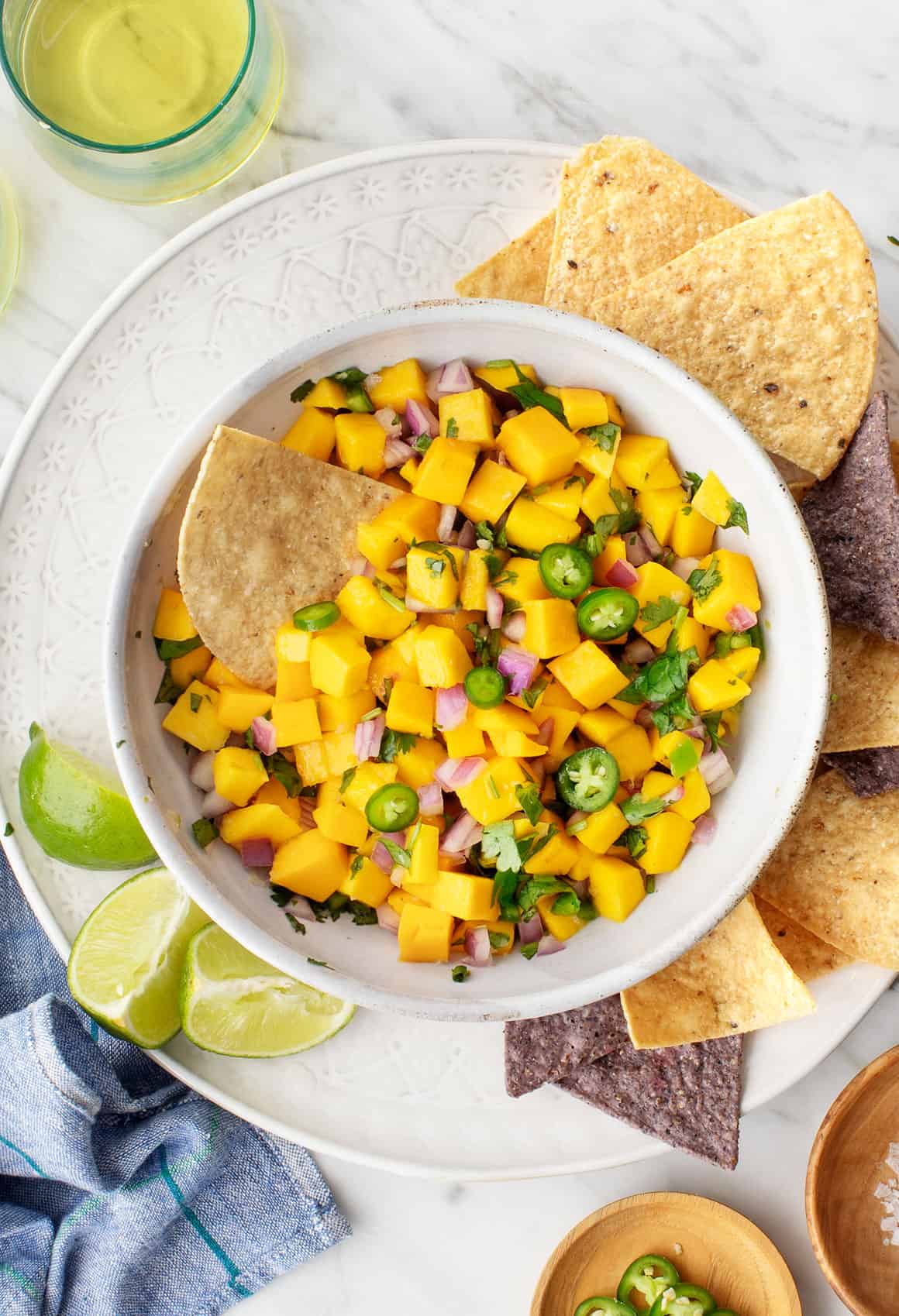 Easy Mango Salsa
This sweet and spicy salsa recipe is fantastic as-written, but feel free to get creative here. Bulk it up with black beans, or add pickled jalapeños for a tangy pop of flavor.
Best Guacamole
100% vegan. 100% delicious.
Cowboy Caviar
This bean and corn dip is a perfect party appetizer because you can make it hours (or even a day!) in advance. Just wait to stir in the avocado until right before you eat. That way, it'll stay nice and green!
Sheet Pan Nachos
Nope, there's no meat or cheese on that mouthwatering nacho tray. Instead, it's topped with an ooey gooey vegan cheese sauce made from sweet potato and nutritional yeast, hearty plant-based taco meat, and pickled onions for pop!
Vegan Seven Layer Dip
This recipe is a plant-based riff on my mom's classic Tex Mex Dip. Cashew cream and seasoned quinoa replace the traditional meat, cheese, and sour cream, but, trust me, you won't miss them one bit.
Roll and Wrap Vegan Appetizers
These refreshing vegan appetizers are finger food at its finest! Colorful fruits and veggies make them just as pleasing to look at as they are to eat.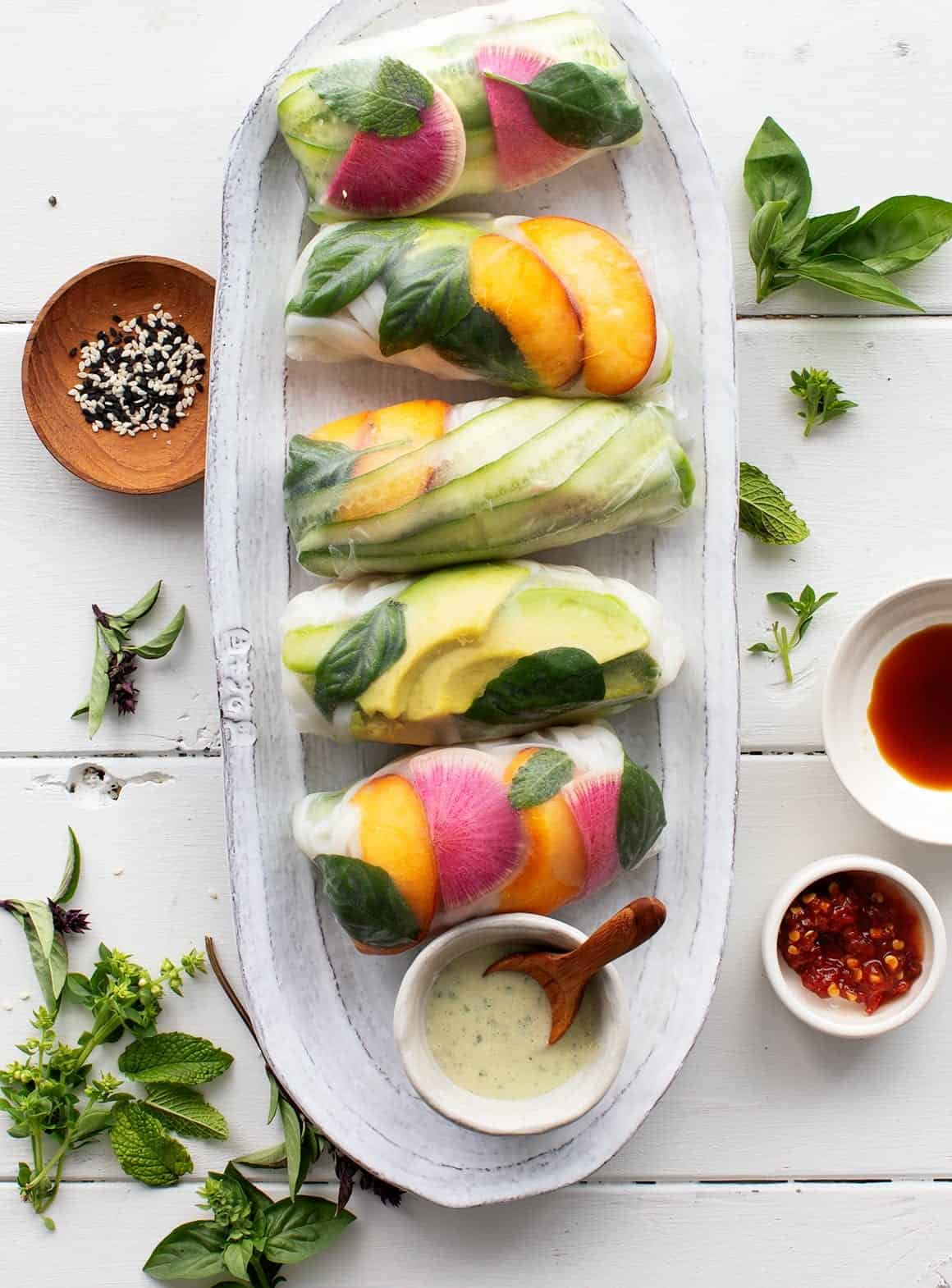 Avocado Summer Rolls
Peaches add a surprising sweetness to these eye-catching summer rolls. If peaches aren't in season, substitute fresh mango. It's equally delicious with the crisp veggies, fresh herbs, and coconut-basil dipping sauce in this recipe.
Fresh Spring Rolls
Savory sautéed mushrooms and gooey peanut noodles make these fresh spring rolls flavorful and fun to eat. I like to serve them with extra peanut sauce for dipping!
Maki Sushi
If you've never made sushi at home, you have to try it! It's super fun, and even if your rolls don't look perfect, they'll still taste great (I speak from experience!). Paired with an electric carrot-ginger dipping sauce, this savory shiitake roll makes a stunning vegan appetizer.
Mango Nori Wraps
I make these adorable nori wraps when I feel like sushi, but I don't feel like rolling it. The filling is a super-refreshing mix of mango, basil, and pickled ginger. A squirt of sriracha mayo takes it over the top!
Chickpea Salad Wraps
These lettuce cups are one of my favorite vegan appetizers in the spring, but you could certainly enjoy them at any time of year. I accent the creamy chickpea filling with crisp radishes, pickled onions, and a dollop of lemony avocado-dill sauce.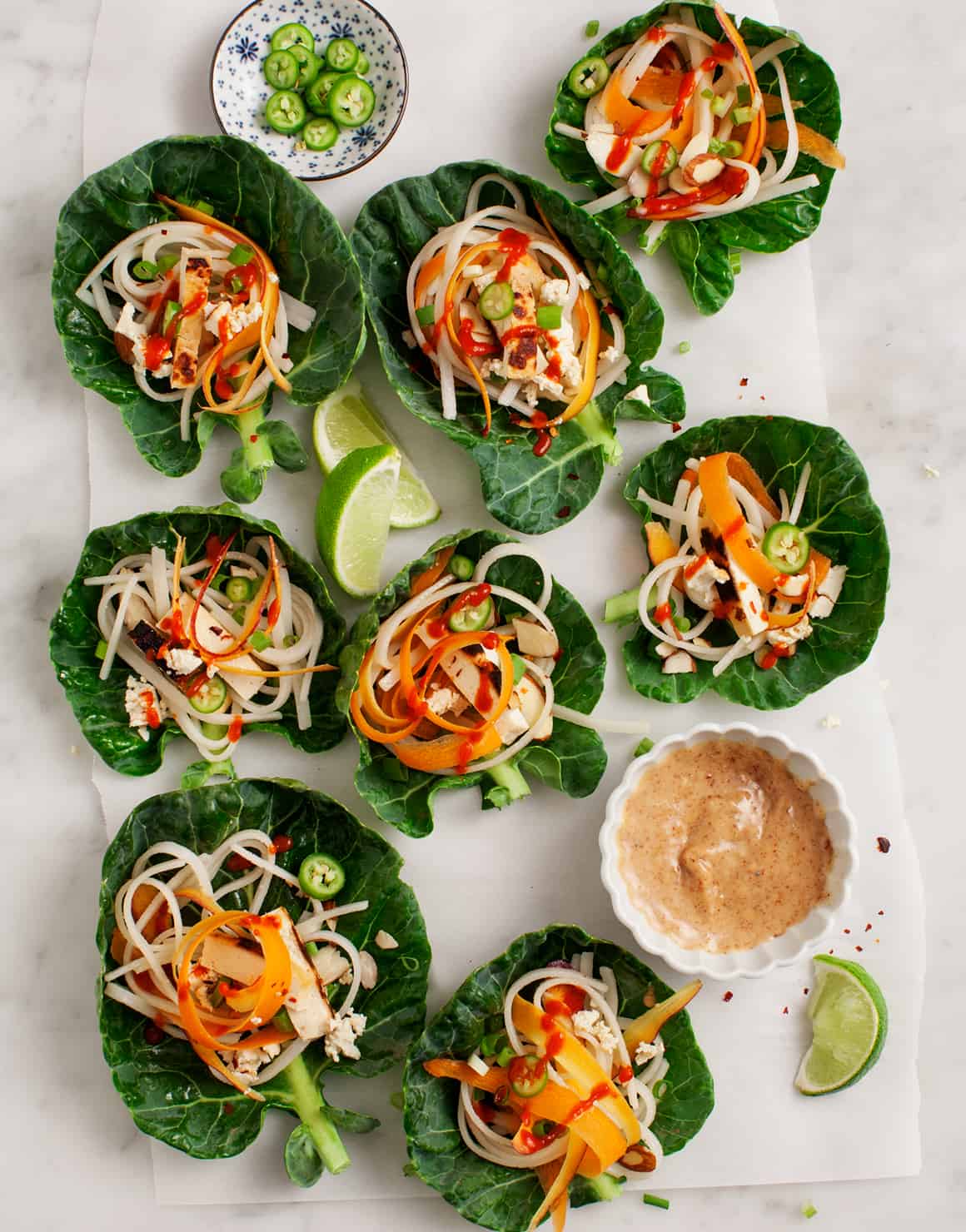 Brussels Sprout Wraps with Almond Sauce, page 71 of The Love & Lemons Cookbook
I love to make these Asian-inspired wraps with the large leaves from a stalk of Brussels sprouts. If you can't find one though, don't worry. The bright and spicy filling tastes just as good inside Bibb or butter lettuce.
Dumplings and Buns
Jack and I love to make these easy vegan appetizers for a date night-in. I prepare a fresh filling while he makes the buns or seals the dumplings. Then, we eat!
Steamed Dumplings
Kimchi and shiitake mushrooms give these dumplings their irresistible funky, spicy flavor.
Carrot Ginger Gyoza Dumplings, page 69 of Love & Lemons Every Day
Roasted carrots add a hint of sweetness to these bright veggie gyoza. I often make a special dipping sauce to serve with dumplings, but this recipe doesn't need one. The filling is so flavorful that a little tamari is all it takes to put these dumplings over the top!
Steamed Bao Buns
I love how the nutty tempeh filling contrasts with the tender bao buns in this recipe. Make sure to eat them as soon as they come off the heat, when they're warm, soft, and pillowy.
Crostini, Bruschetta, and Toasts
Crostini, bruschetta, and toasts are the vegan appetizers I make most often. They're super simple and endlessly versatile. Take whatever fresh produce is at its peak, season it up, and top it onto toast. Could anything be more easy or delicious?
Tomato Bruschetta
I lovingly call this recipe "Puttanesca Bruschetta" because olives and capers add briny flavor to the tomato topping. Spoon it over grilled bread for an elegant, easy vegan appetizer.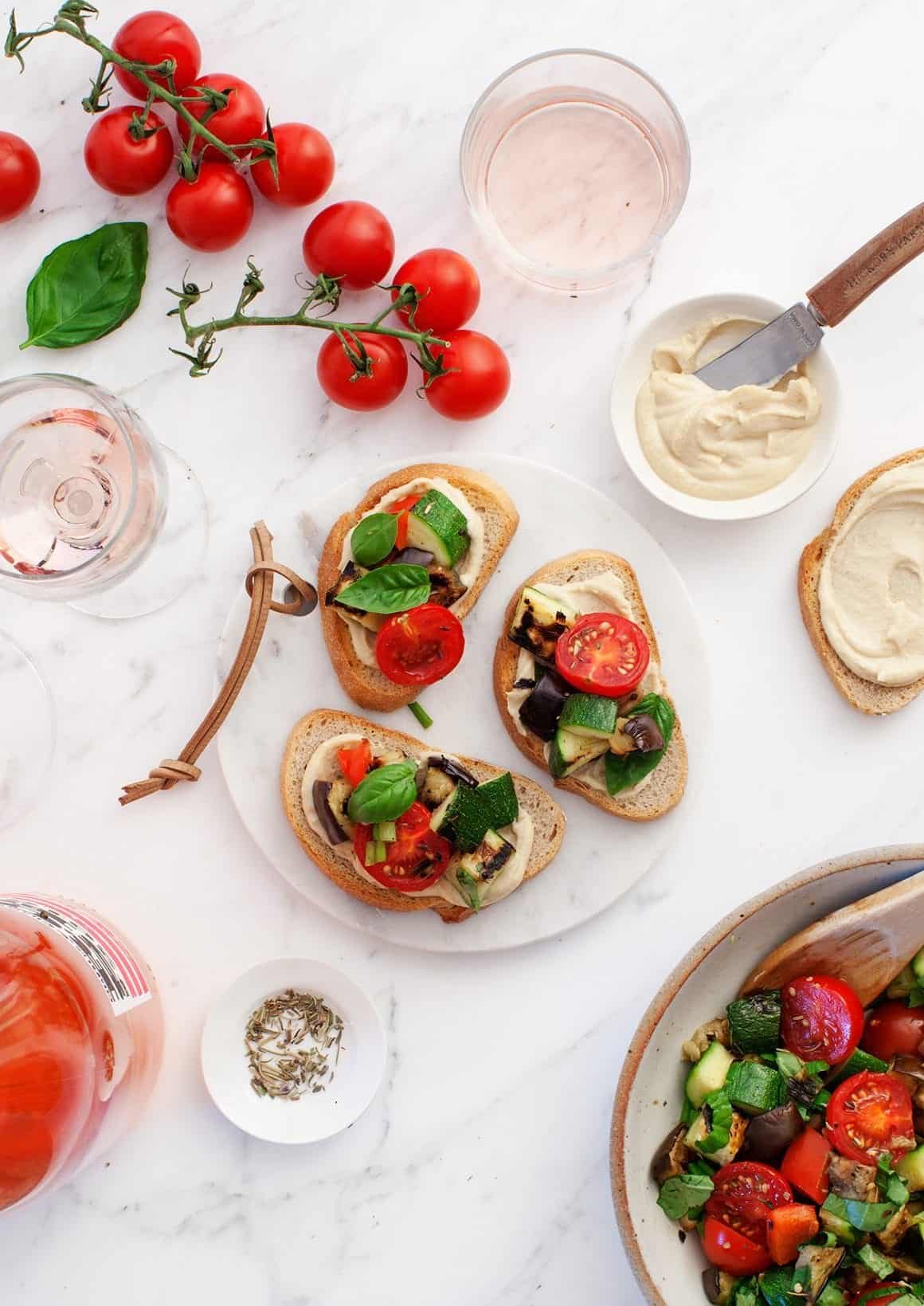 Grilled Ratatouille Tartines
If you love ratatouille, you're going to flip for these tartines! I grill up late summer veggies, toss them with fresh basil, and pile them onto toast with a big slather of hummus.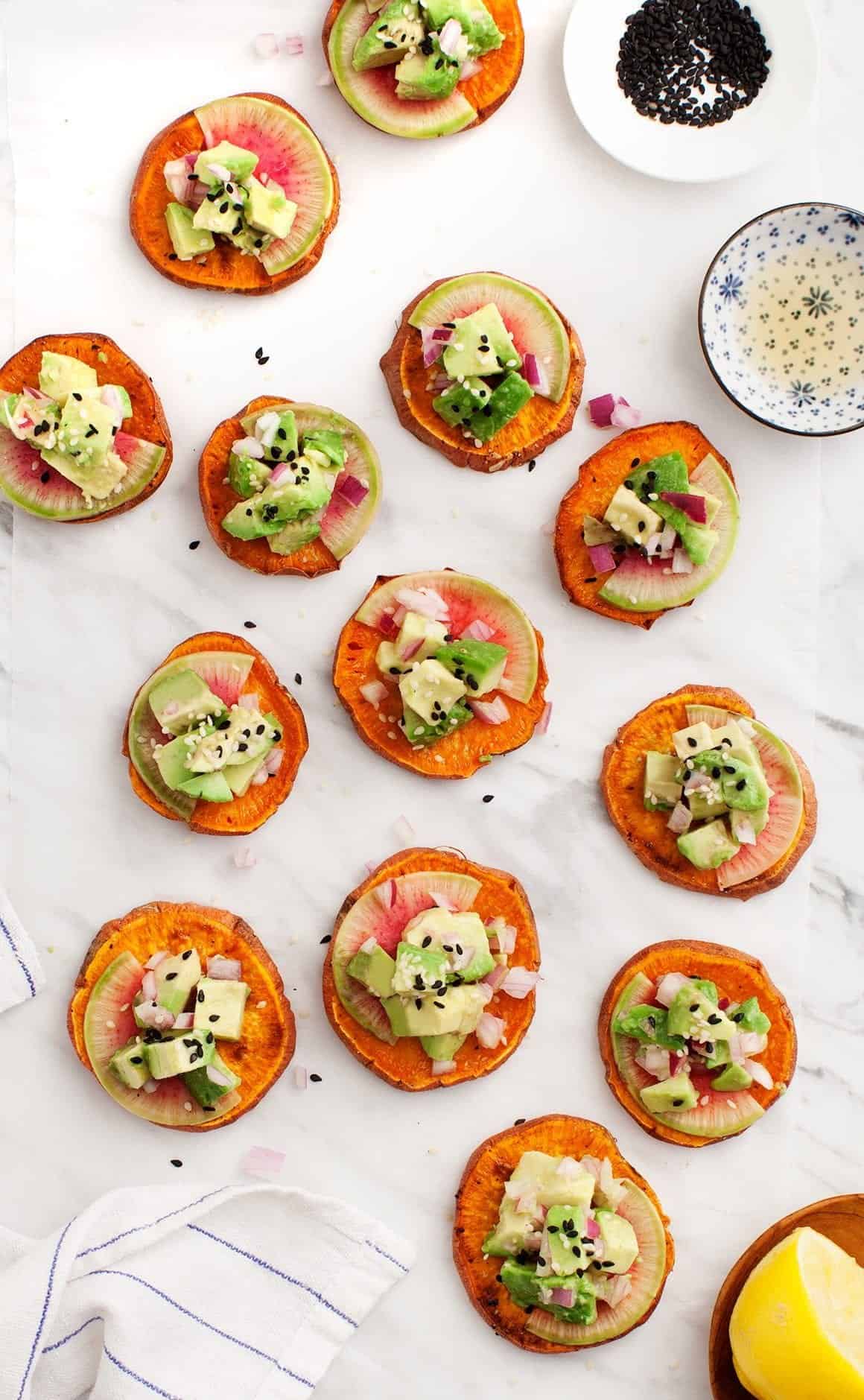 Sweet Potato Appetizer Bites
Roasted sweet potato rounds step in for bread in these gluten-free "crostini." The topping here is an all-veggie riff on tuna tartare, made with creamy avocado instead of fish.
Cashew & Caper Dill Spread, page 161 of The Love & Lemons Cookbook
This creamy, savory dip is a divine topping for slices of warm baguette. For a nut-free variation, replace the cashews with sunflower seeds.
Bread Vegan Appetizer Recipes
For many people, baking bread can seem daunting. But don't let these vegan appetizer recipes intimidate you. They're all straightforward and super fun to make. Oh, and they taste great too!
Homemade Soft Pretzels
Would you believe that soft and chewy pretzels are easy to make at home? Well, it's true! Pair them with spicy mustard or vegan cheese for a 10/10 party appetizer.
Socca
This gluten-free chickpea flatbread hails from Nice, and it's a delicious, satiating vegan appetizer. Enjoy it plain, with a sprinkle of fresh herbs and red pepper flakes, or with a sauce like green goddess dressing or romesco.
Rosemary Focaccia Bread
We love finishing this rich, savory focaccia with roasted garlic and rosemary, but all sorts of toppings would be lovely here. Experiment with roasted tomatoes, olives, thinly sliced Meyer lemon, or another fresh herb like thyme!
Easy Vegan Appetizers for Potato Lovers
These easy vegan appetizers will satisfy any crispy, salty, potato-y craving!
Air Fryer French Fries
You won't believe how close these air fryer French fries come to the real thing! They use waaaayyy less oil, but they're still super crispy and delicious. Serve them with vegan mayo or good ol' ketchup for a yummy vegan appetizer.
Baked Sweet Potato Fries
Dunk these guys in chipotle sauce, and you've got an unbeatable healthy snack, side dish, appetizer… Whatever you call it, this combination is ridiculously tasty and guaranteed to please.
Loaded Potato Skins
Crispy coconut bacon adds smoky flavor to these vegan loaded potato skins. I say they're an appetizer, but Jack and I like them so much that we've been known to eat them for dinner!
Vegan Appetizers: Baba Ganoush
This creamy baba ganoush is one of our favorite easy vegan appetizers!
Instructions
Preheat the oven to 400°F and wrap the eggplant in foil. Roast the eggplant for 50 to 60 minutes, or until it is soft and collapses to the touch. Remove from the oven and set aside.

Once cool to the touch, peel the skin from the eggplant, removing any big clumps of seeds. Place the flesh in a strainer over a bowl and let stand for 20 minutes to remove excess water.

Place the eggplant flesh, tahini, lemon juice, olive oil, garlic, and salt in a food processor and pulse until smooth. Transfer to a serving dish, sprinkle with chopped parsley, smoked paprika, and red pepper flakes, if using. Serve with pita and veggies.