Happy new year! I hope you're all having a lovely holiday weekend.
I have some exciting things planned for 2016 (like our book! more on that soon). But first, I thought it would be fun to share what all of your favorite recipes were over the past year. These 10 recipes topped the analytics, but also ranked high in "I made this and loved it!" comments that were either made here on the blog, in social media, or told to me in person. And always – let me know if there's anything you would especially like to see in 2016!
#1: Spaghetti Squash with Kale & Chickpeas (pictured above)
Even though spaghetti squash is decidedly not spaghetti, this is a delicious go-to winter recipe, especially if you're trying to eat a little lighter in the new year.
#2: Butternut Squash, Kale & Quinoa Stew
A one-pot hearty dinner for a cold night – even better for lunch the next day.
#3: Seared Tofu Banh Mi's
And here I was thinking you didn't like tofu but this made it to #3! Do you want more tofu recipes?
#4: Sweet Potato Avocado Tacos
All my favorite things – wrapped in a tortilla.
#5: Kale Salad with Avocado Tahini Sauce
Dark leafy greens + a creamy tangy dressing. A perfect way to start 2016.
#6: Creamy Vegan Corn Chowder
A hearty & spicy stew, made of sweet corn & thickened with potatoes. No one will know this one's vegan.
#7: Jalapeño Cauliflower Shells & Cheese
This one started as an instagram and soon became an insta-favorite.
#8: Spicy Mango Avocado Rice Bowl
A light and bright bowl with black forbidden rice – I could go for this one for lunch right now…. mmm.
#9: Vegan Chocolate Chip Cookies with Coconut Oil
A sweet little treat – although I also really love these cookies too.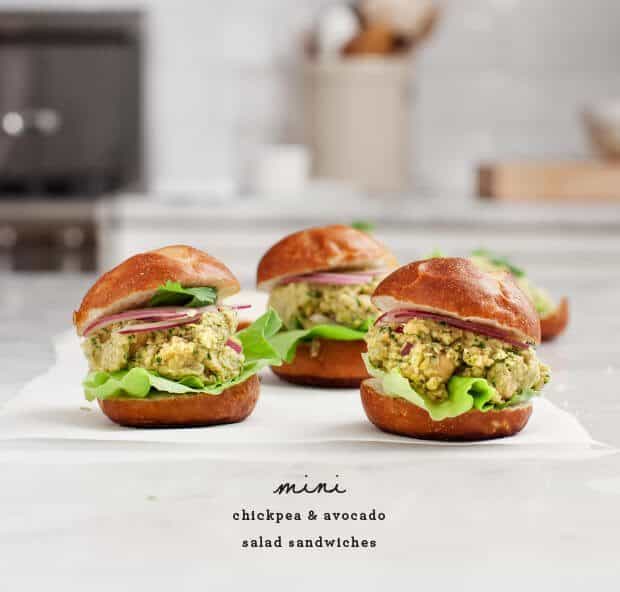 #10: Curried Avocado Chickpea Salad Sliders
Is it picnic weather yet?