I love to make this zucchini frittata when I have an abundance of summer vegetables on hand. Serve it for an easy, delicious brunch or dinner!
The frittata is one of my favorite things to throw together because, really, anything you need to use up can go into a frittata. Last week, I had a variety of tomatoes, zucchini, and some really lovely sweet potato greens on hand, so I made this simple zucchini frittata. Use this recipe as a guide to use up whatever you happen to have in your refrigerator – for example, spinach or kale would be easy substitutes for the sweet potato greens.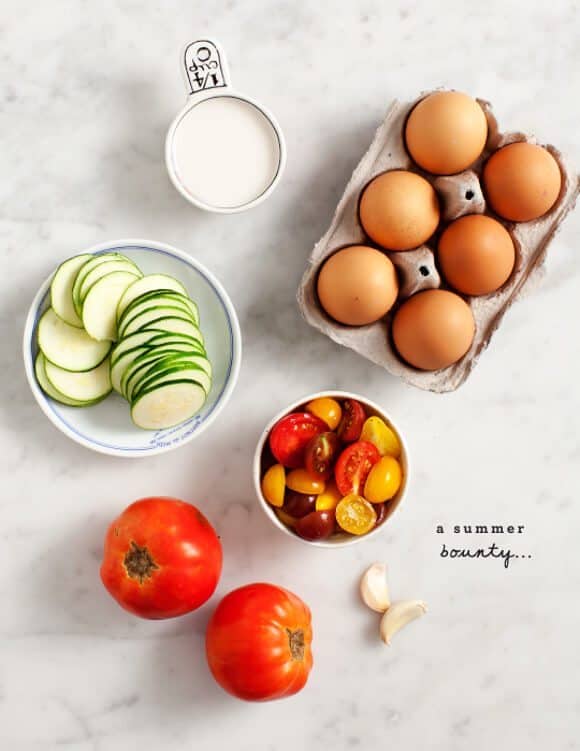 This Zucchini Frittata is Healthy!
A while back, I used to shy away from frittatas because I thought they required lots of butter and cream. (I used to be entirely non-dairy). While I do eat small amounts of high quality cheese pretty often these days, I still don't do milk. Turns out, you need neither cream nor butter to make a delicious frittata. I use olive oil here, and since almond milk is what I keep on hand, almond milk is what goes into my frittata. It works perfectly to make the eggs nice and fluffy.
As I said before, I loaded this recipe with veggies, which makes for a flavor and nutrient-packed meal. I highly encourage you to do the same, though you might not be able to find sweet potato greens. If you do see them at your local farmers market – grab them. They're so soft and delicious – like spinach but with a milder flavor.
So pile in the veggies and serve this for brunch, or better yet – breakfast for dinner!
For more frittata ideas, check out this post, or for more zucchini recipes, try my zucchini bread, baked zucchini, or zucchini lasagna!
Tomato & Zucchini Frittata
Serve this healthy zucchini frittata for a delicious summer brunch! I used sweet potato greens in this recipe, but if you're not able to find them, spinach or chard would be good substitutes.
Recipe type:
Breakfast, main dish
Ingredients
6 eggs
1 teaspoon extra-virgin olive oil
Handful of chopped leafy greens (sweet potato greens, or spinach)
1 small zucchini, sliced into thin coins
1 garlic clove, minced
Pinch of smoked paprika
2 medium tomatoes, sliced
Handful of cherry tomatoes, halved
Fresh herbs - sage, thyme or basil
Sea salt & fresh black pepper
Instructions
Preheat oven to 375 degrees.
Whisk together eggs and almond milk with a pinch of salt. (For a fluffier frittata, I like to do this in a blender). Set aside.
Heat an 8 or 10 inch skillet on the stove. Add a bit of olive oil, then add the chopped greens, zucchini, minced garlic, and a few pinches of salt and pepper. Cook for just a minute or so - until the greens wilt and the zucchini starts to soften. Add a pinch of paprika, stir, then add the eggs.
Add the tomatoes, more salt & pepper. Turn the stove off and slide your pan into the oven.
Bake for 20-30 minutes, or until eggs are just set.
During the last 5-ish minutes of cooking time add sage and thyme on top. (If you're using basil, add it just as the frittata comes out of the oven).
Remove from oven, let cool for 15 minutes (or more), then slice and serve. Add more salt & pepper to taste.
Notes
If you're using a skillet larger than 10 inches, use 8 eggs instead of 6.

For a prettier frittata, add all of your veggies in 2 layers. Add the first half as written, then add the rest after your eggs have partially set in the oven. Continue cooking until eggs are fully set. (Note: this step is entirely not necessary for the actual taste).