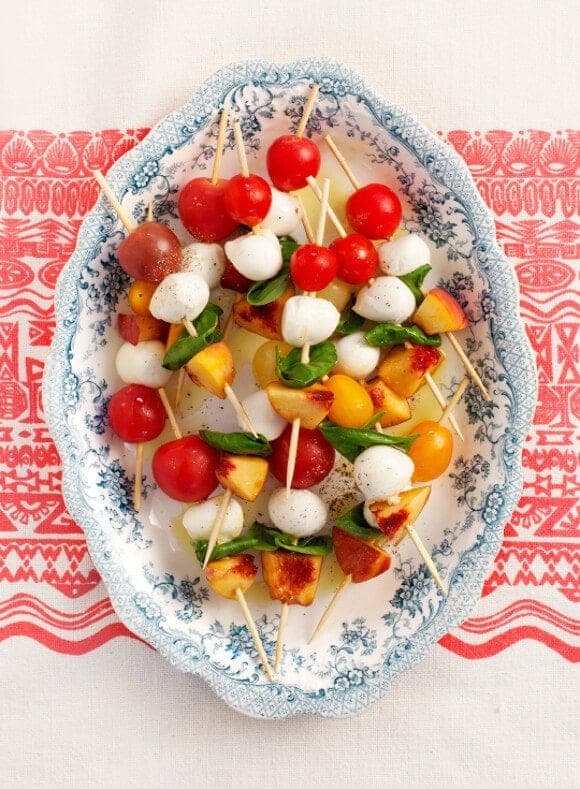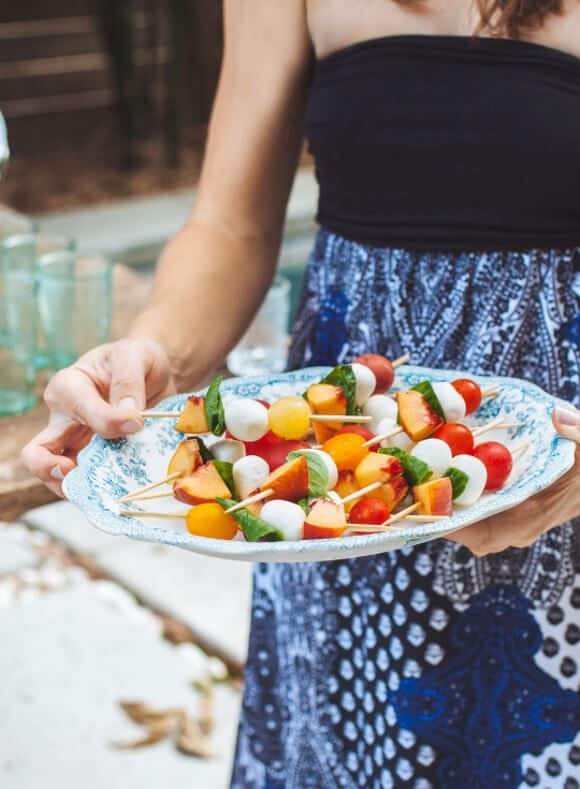 Last weekend, I had a little cocktail party and this is one of the appetizers I served. They fit all my party criteria… seasonal simple bites that could be made at least a few hours ahead of time. Right before serving, I drizzled on some jalapeño lime oil (also made in advance).
The trick to these is that they're best eaten in one bite, so try to get cherry tomatoes that are on the smaller side. A couple of other notes: don't forget the basil like I did the first time, (a.k.a. the actual party time)… it really makes this. And be pretty generous with the oil and seasonings because a good amount of it will slide off.
tomato basil & peach skewers
Ingredients
one each per skewer:
cherry tomatoes
mozzarella balls
chopped peaches
basil leaves
jalapeno-lime oil:
⅓ cup olive oil
1 roasted jalapeno, sliced in half
1 garlic clove smashed
2 tablespoon lime juice
1 teaspoons orange juice or agave syrup
salt, pepper
Instructions
Mix the oil together and let it sit at room temp for 30 minutes or up to a couple of days. Remove the jalapeno and garlic clove just before using.
Assemble skewers and drizzle with a generous amount of oil, salt, and pepper.
Notes
for a vegan variation: sub diced avocado (that isn't too ripe so that it'll stay on the skewer). This could also be served as a salad in a bowl.

these can be made an hour or two in advance. Chill until ready to serve.