Brighten your holiday table with these Thanksgiving salad recipes! With grain salads, green salads, and more, you're sure to find one you love.
By now, you probably have a good idea of your Thanksgiving menu. Maybe you're sticking to classics like turkey, sweet potato casserole, and cranberry sauce, or maybe you're trying something new. Mashed cauliflower? Mac and cheese? No matter what you're serving, I hope you're including a Thanksgiving salad.
Why? For one, color! If you've been following Love & Lemons for a while, you know that I love highlighting the colors of every season. In the fall, so much colorful produce is at its peak, but it doesn't always make its way onto our Thanksgiving tables, where mashed potatoes and gravy take center stage. A Thanksgiving salad is a great way to add color to your holiday plate. Plus, who doesn't appreciate a few bites of something light and refreshing between forkfuls of stuffing?
You'll find 20 of my favorite Thanksgiving salad recipes below. Some are super simple, the kind of thing that's easy to toss together before your meal. Others include roasted vegetables or grains for extra texture and depth of flavor. All of them are colorful and delicious. I hope you find one you love!
Classic Thanksgiving Salad Recipes
If you love traditional Thanksgiving foods and flavors, then any of these recipes would fit right in on your holiday menu!
Pomegranate Salad with Cider Dressing
When I think of the quintessential Thanksgiving salad, this recipe is what I imagine. It boasts a cornucopia of autumn produce–bursty pomegranates, crisp apples, roasted acorn squash, carrots, kohlrabi, and more! Halloumi cheese adds complexity and richness, and a tangy apple cider vinaigrette ties it all together. It would make a stunning centerpiece for your Thanksgiving table.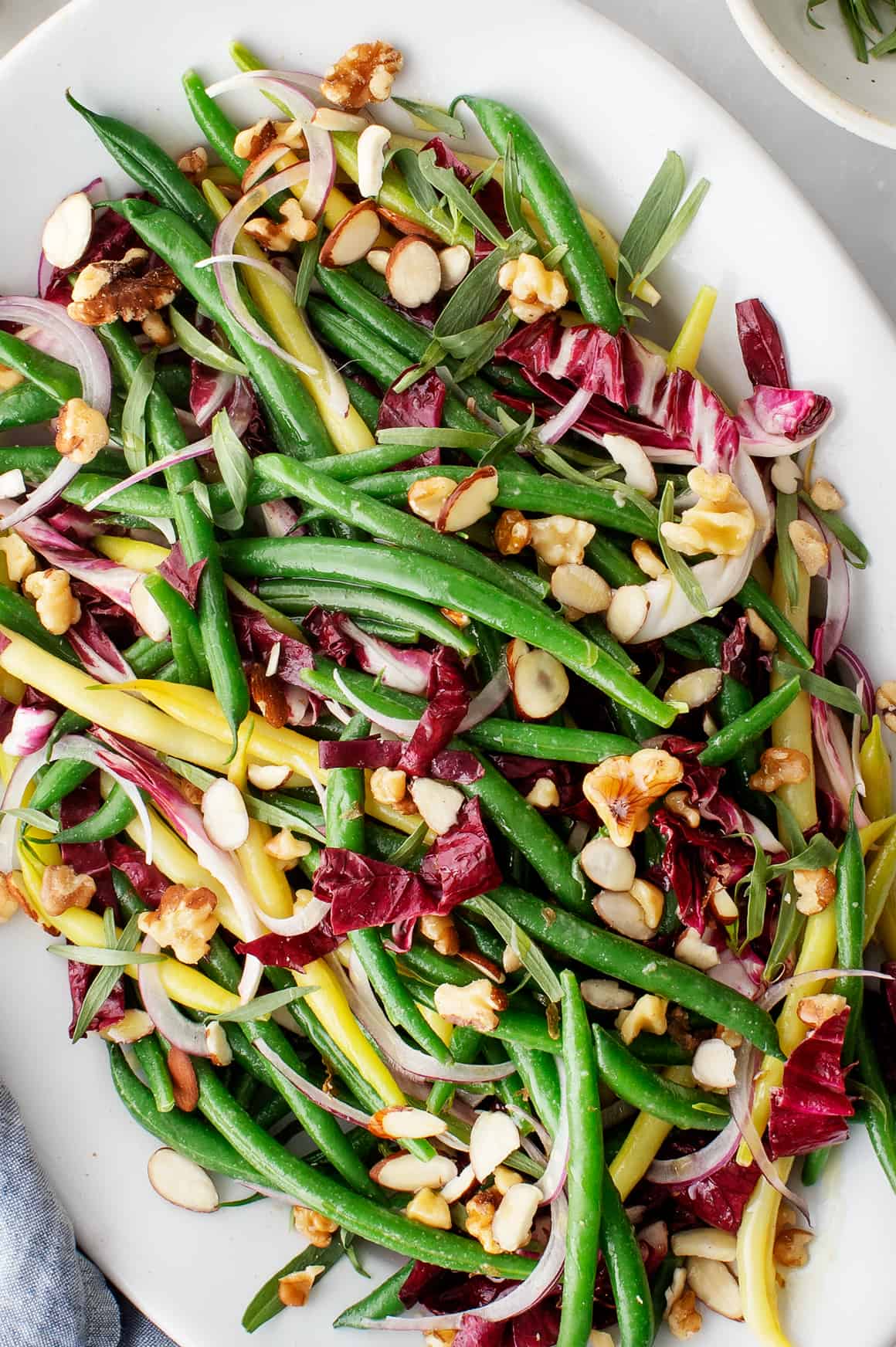 Green Bean Salad
This green bean salad features one of my favorite flavor combinations: green beans + Dijon mustard + tarragon. It's a fresh, delicious alternative to classic green bean casserole.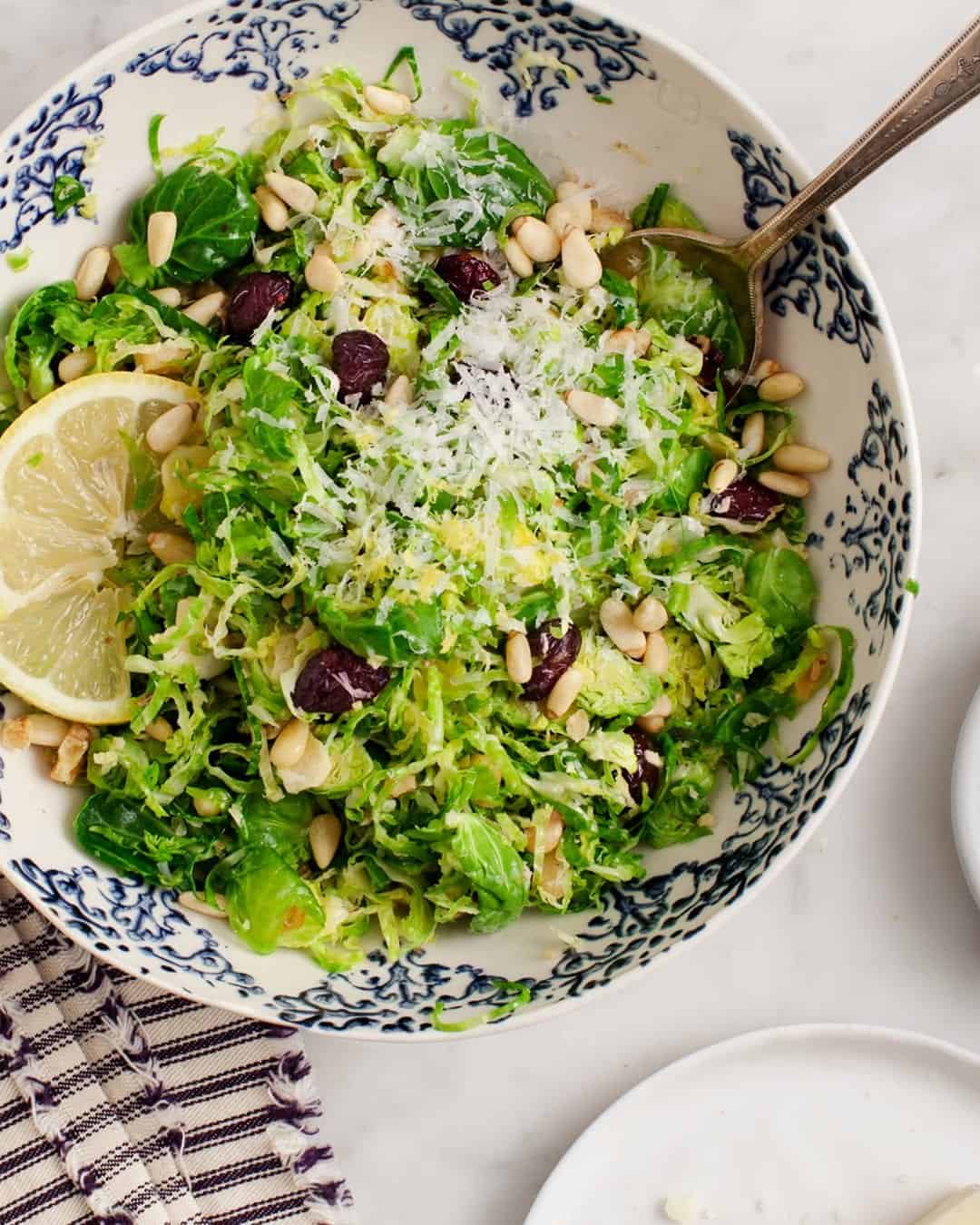 Shaved Brussels Sprouts Salad
My mom asks me to bring this salad to our Thanksgiving dinner every year. Made with just 7 ingredients, it's simple and refreshing. It contrasts perfectly with comforting Thanksgiving side dishes like mashed potatoes and gravy.
Green Salad Recipes for Thanksgiving
Approachable and easy to make, a green salad is always a nice addition to a Thanksgiving feast. If you really want to keep things simple, you can't go wrong with mixed greens and a good dressing, but with just a touch more effort, you can make one of the recipes below. Small additions, such as toasted nuts or shaved Parmesan cheese, make them extra-flavorful and fun to eat.
Simple Green Salad
This recipe looks like a plain old green salad, but it has a few unexpected tricks up its sleeve. Creamy avocado and crisp cucumbers nestle in the tender greens, and tamari-roasted almonds and pumpkin seeds add delectable crunch.
Caesar Salad
Crunchy homemade croutons and a tangy Greek yogurt dressing make this classic salad absolutely irresistible.
Arugula Salad with Lemon Vinaigrette
Sweet, juicy roasted grapes mellow the bitter greens in this memorable arugula salad. I round it out with tamari almonds, a zesty lemon dressing, and shaved Parmesan cheese.
Kale Salad with Carrot Ginger Dressing
There's a lot to love about this colorful kale salad. It's got crispy chickpeas, creamy avocado, shaved root veggies, and more. But the best part is the dressing. It's a vibrant roasted carrot and ginger number that will add so much zing to your Thanksgiving table!
Roasted Vegetable Thanksgiving Salad Recipes
Roasted vegetables add extra dimension to these hearty fall salads.
Beet Salad with Goat Cheese and Balsamic
Want my biggest tip for making this Thanksgiving salad? Choose a variety of beets! Made with a medley of pink, red, and golden ones, it's a gorgeous addition to a holiday table.
Avocado Salad
If you're looking for out-of-the-box Thanksgiving salad recipes, this one is for you. Creamy avocado slices play off sweet, earthy roasted root veggies, peppery watercress, and a nutty sesame ginger dressing. It may not have classic fall flavors, but you and your guests will love it!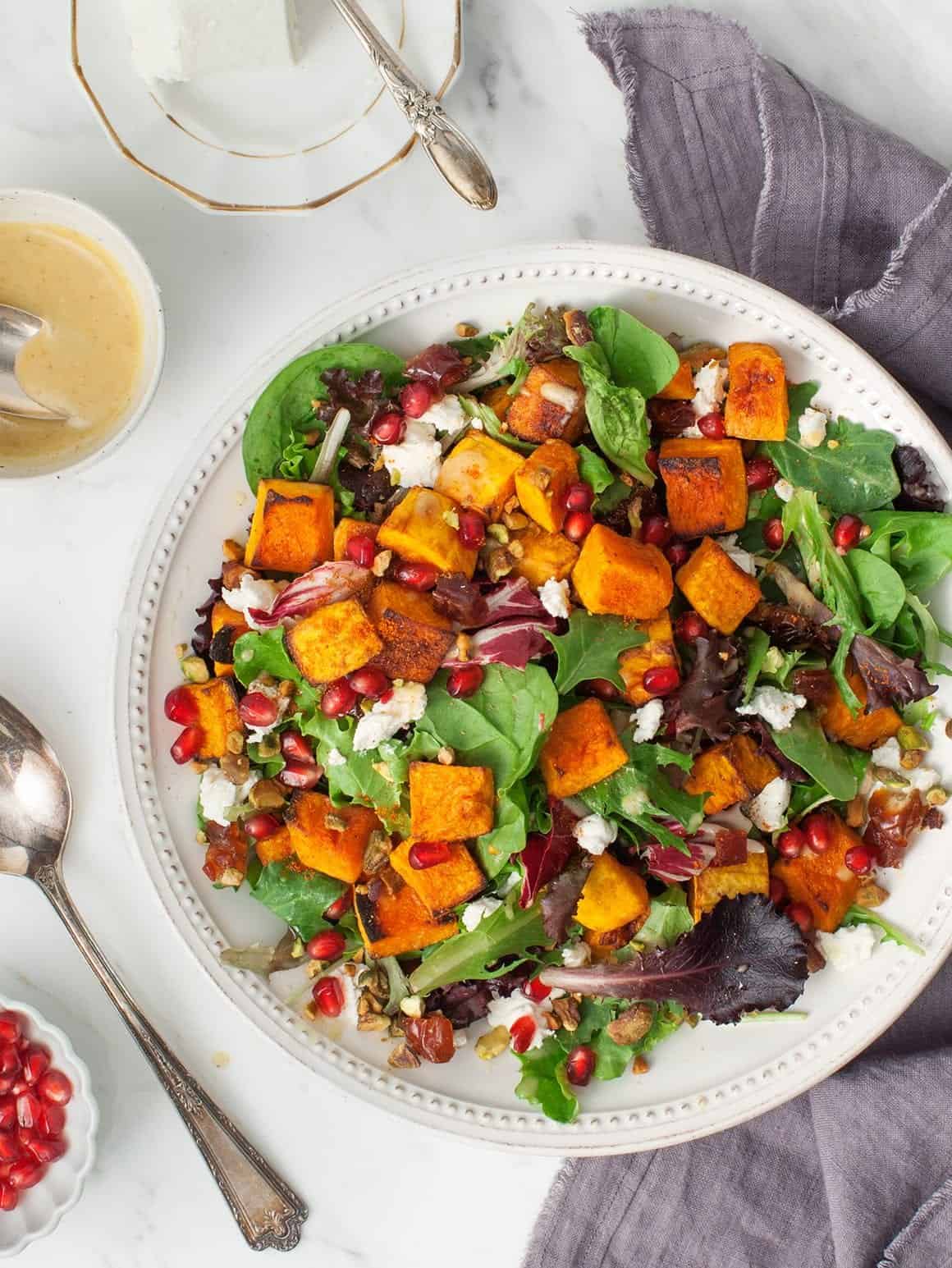 Butternut Squash Salad
We've all had a mixed greens salad with roasted butternut squash and goat cheese, right? This recipe is a spiced-up version of that classic combination. Thanks to aromatic spices like cumin, coriander, and cinnamon, it's flavorful and surprising. Every time I make it, Jack and I keep going back for more!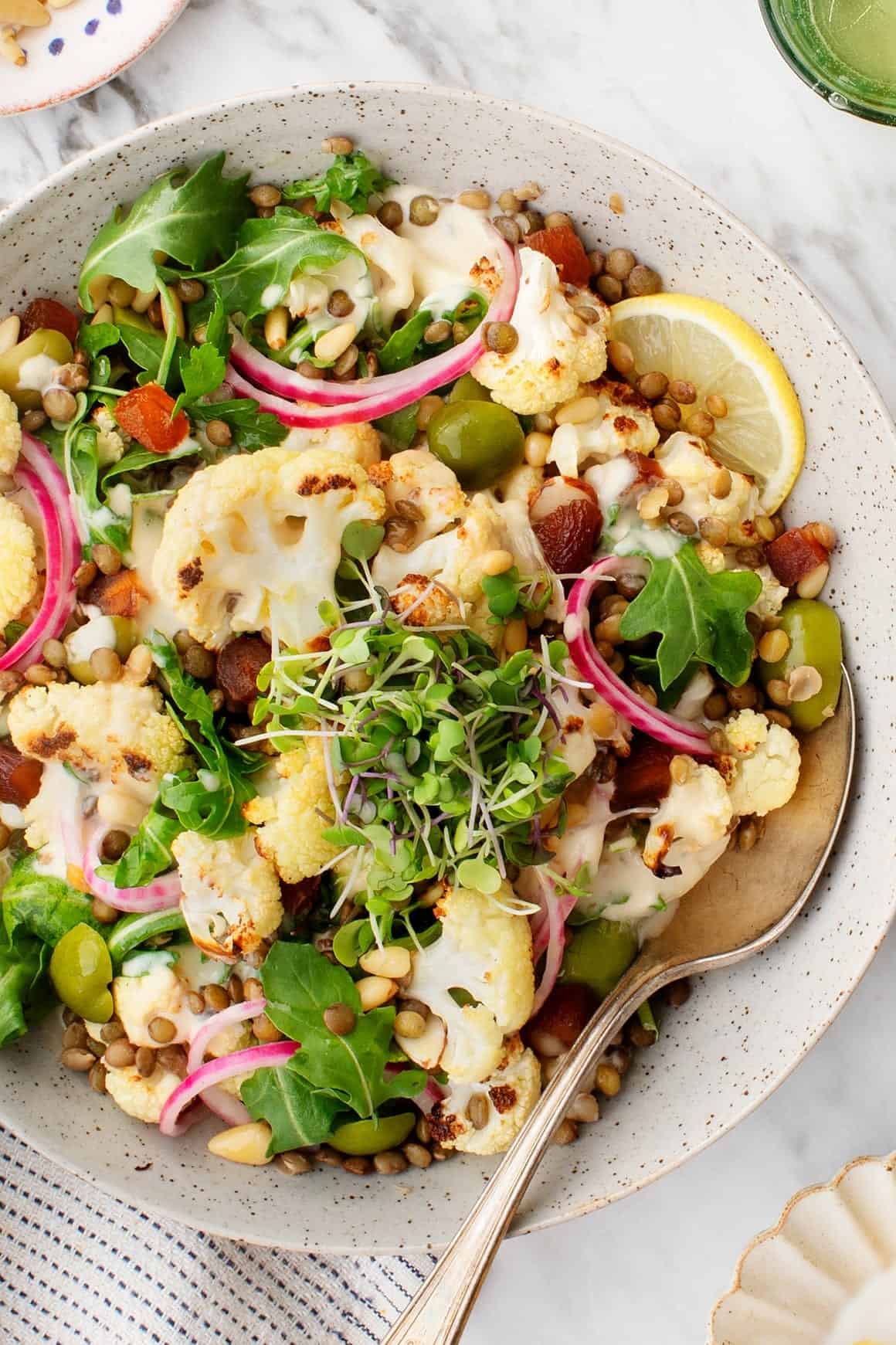 Roasted Cauliflower Salad
I love this roasted vegetable salad so much that I'd be happy eating it as a main dish! It's chock-full of exciting textures and flavors. Tangy pickled red onions mingle with sweet dried apricots and briny olives, and roasted cauliflower and lentils make it nice and hearty. A bright tahini dressing takes it over the top!
Sweet Potato Salad
This arugula salad combines some of my favorite fall ingredients: cozy roasted sweet potatoes, tangy feta, avocado, tahini dressing, and crunchy pepitas. Add it to your holiday table, and it'll vanish in a snap.
Grain Salads
I'm all about the stuffing at Thanksgiving, but if it's not your thing, any of these grain salads would be a great alternative.
Farro Salad
Cook the farro and make the dressing a day or two in advance, and this grain and apple salad will be a breeze to assemble at the last minute.
Wheat Berry Salad
I try not to play favorites when it comes to recipes, but this one is something special. I love the way the chewy, nutty wheat berries play off the creamy roasted squash, sweet shallots, and earthy sage.
Pomegranate Rice Salad
Ruby red pomegranate seeds add bright pops of color and sweet/tart flavor to this aromatic rice salad. Make it with any long-grain rice you like–white rice, brown rice, and wild rice all work here.
Fruit-Focused Thanksgiving Salad Recipes
I adore fall veggies like squash, Brussels sprouts, and beets, but so many delicious fruits are in season now too! Show them off in these sweet and savory Thanksgiving salad recipes.
Citrus Salad with Fennel and Avocado
Roasted fennel and bitter radicchio add complexity to this gorgeous mix of fresh herbs, avocado, and citrus fruits.
Pear Salad with Balsamic and Walnuts
This simple salad is a fresh, easy way to round out any Thanksgiving menu. I love the way the salty pecorino cheese and nutty pecans contrast with the sweet pears and dried cranberries.
Citrus Cabbage Salad
This crunchy, colorful salad gets better as it sits, so it's a perfect make-ahead Thanksgiving side dish. Toss the crisp veggies with the dressing up to a day in advance, and add the clementines, avocado, herbs, and seeds at the last minute.
Refreshing Thanksgiving Slaws
Who says you need something leafy to make a great salad? In my opinion, some of the best Thanksgiving salad recipes are simple slaws like these. They're bright, crisp, and refreshing, the perfect complement to comforting holiday fare.
Carrot Salad
A lemony, cumin-spiced dressing coats a delicious jumble of crispy carrots, crunchy pistachios, and chewy Medjool dates. You can make this recipe up to a day in advance, but wait to add the fresh herbs and nuts until right before you eat.
Kohlrabi Slaw
This sweet and tangy slaw takes minutes to assemble, so it's easy to toss together just before the big meal.
More Favorite Thanksgiving Recipes
Looking for more holiday recipe inspiration? Check out this post for my 50 Best Thanksgiving Side Dishes and this one for everything you need to plan a perfect Vegan Thanksgiving.
Thanksgiving Salad with Butternut Squash & Wheat Berries
Ingredients
3

cups

cooked wheat berries
Roasted butternut squash cubes,

from 1 small squash

3

medium shallots

,

chopped into ½-inch pieces (1 cup)

⅓

cup

fresh sage leaves

Extra-virgin olive oil

,

for drizzling

1

bunch lacinato kale

,

stemmed

⅓

cup

toasted walnuts

,

chopped

⅓

cup

dried cranberries

⅓

cup

chopped parsley

1

tablespoons

fresh thyme

⅓

cup

shaved pecorino cheese

Sea salt and freshly ground black pepper
Instructions
Cook the wheat berries according to the directions in this recipe.

Preheat the oven to 400°F and line a large baking sheet with parchment paper. Roast the butternut squash for 30 to 35 minutes. Add the shallots onto the baking sheet with the squash and roast for 20 to 25 minutes. Wrap the sage leaves in foil with a drizzle of olive oil and place on the baking sheet for the last 2 minutes. Unwrap and chop.

Prepare the Apple Cider Vinegar Dressing according to this recipe.

In a large bowl, massage the kale with a bit of the dressing. Add the wheat berries, squash, shallots, sage, walnuts, cranberries, parsley, thyme, ½ teaspoon salt, lots of pepper, and toss. Transfer to a platter, drizzle with more dressing and more freshly ground black pepper. Top with the pecorino cheese and serve.