It's impossible to eat one of these tahini cookies without reaching for a second. They're lightly sweet, chewy, and filled with spiced, nutty flavor.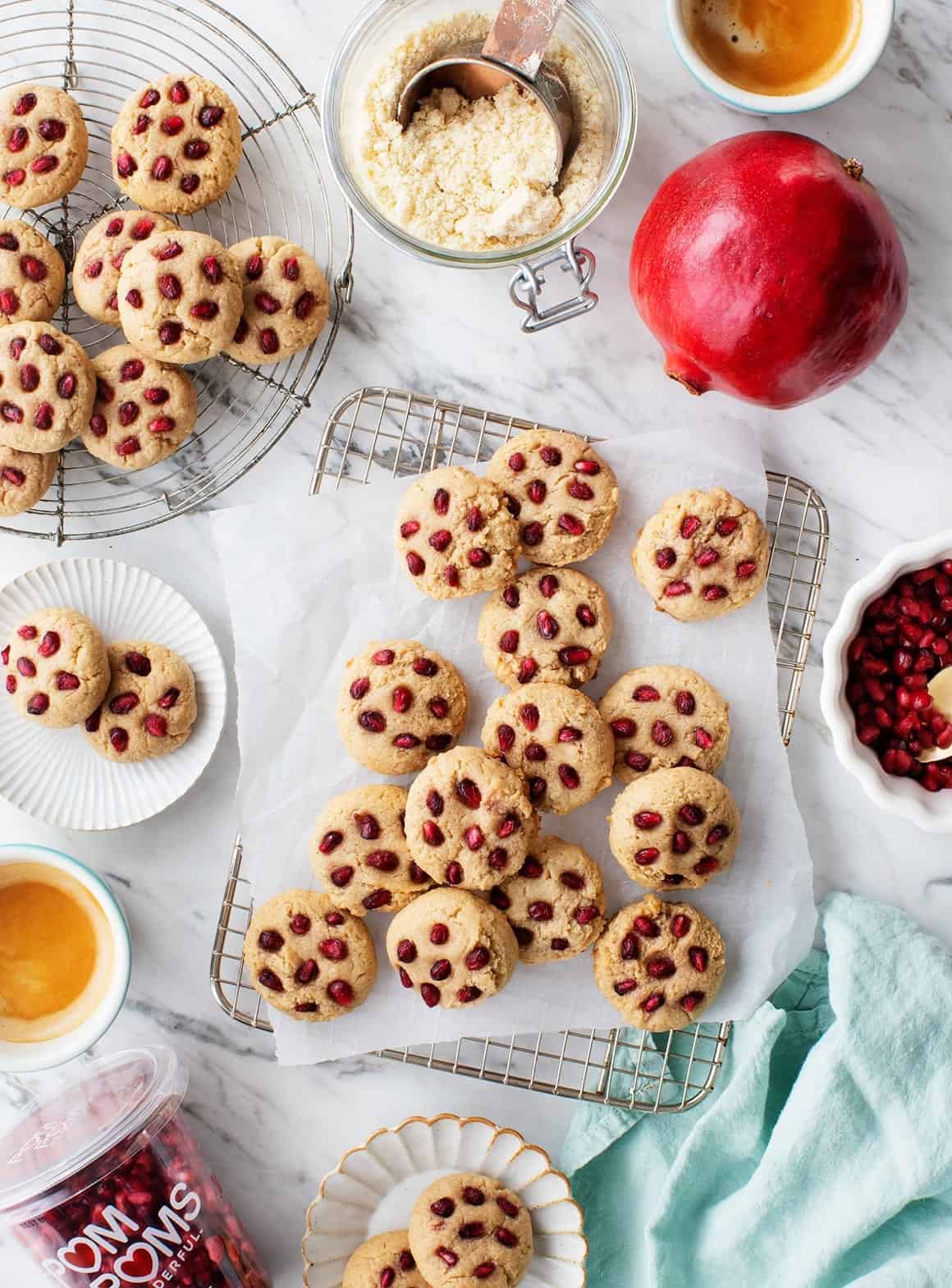 These tahini cookies have become one of my favorite afternoon treats. They're soft and chewy, with a lightly sweet, spiced flavor. If you're anything like me, you'll be reaching for a second before you've even finished the first. Luckily, there's no need to hold back here, as these tahini cookies are actually on the healthy side. They're vegan, gluten-free, and naturally sweetened, and the pomegranates on top add a pop of antioxidants! I mean…why not have three?
Tahini Cookies Ingredients
These vegan tahini cookies are SO easy to make, and they only require a handful of ingredients. Here's what you'll need:
Tahini – The main event! It binds the cookie dough together, and it fills the cookies with nutty, buttery flavor.
Almond flour – Like in my blueberry muffin and banana bread recipes, almond flour gives these cookies an amazing moist texture. It also plays nicely off the nutty flavor of the tahini, and it's totally gluten-free!
Pure maple syrup – I love its complex sweetness in these cookies. No refined sugar here!
Spices – Cinnamon, cardamom, and ginger fill these cookies with warm, spiced flavor that tastes lovely with the nutty tahini.
Almond extract – It highlights the rich flavor of the almond flour. If you don't have almond extract, use double the amount of vanilla extract in its place.
Baking powder – It makes them tender and puffy.
Pomegranate arils – They make these tahini cookies pretty and festive, and they add bursts of sweet/tart flavor (and antioxidants, too!).
Find the complete recipe with measurements below.
This is a super easy one-bowl recipe. Just mix the dough (no fancy electric mixer required!), scoop them, and lightly flatten them (they won't spread too much in the oven).
And decorate them! I can't get over the little ruby red gems. These make me so happy!
Pop them in the oven, and bake until they're lightly golden brown. Enjoy!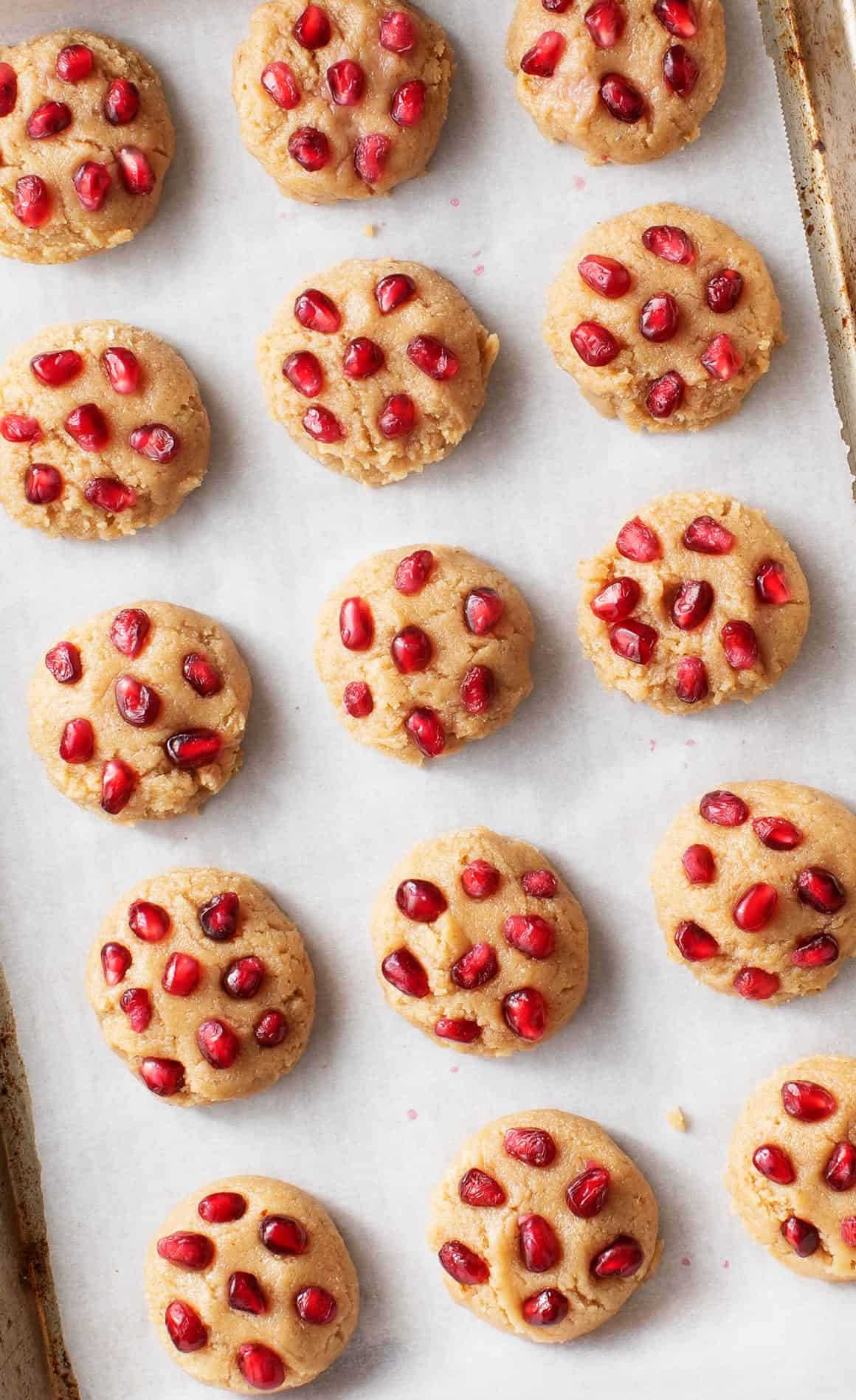 Tahini Cookies Variations
I especially love to make these cookies around the holidays, when pomegranates are in season. But of course, they're also delicious year-round. If you can't find fresh pomegranate arils, feel free to top the cookies with dried currants, cherries, or cranberries or chocolate chips instead.
Tahini Cookies Tips
Runny tahini is key. This recipe works best with runny tahini that will easily mix with the other ingredients. Tahini brands vary widely in consistency, so look for one with a smooth, pourable texture. (I like Cedar's, Trader Joe's, and Seed+Mill.) Avoid using dry or chunky tahini that you might find at the bottom of a jar.
Pile on the pomegranates. The pomegranate arils add nice moisture and pops of juicy, tangy flavor to these cookies, so don't skimp on them! You want to get at as many as you can in every bite.
Don't reach for one right away. It's tempting to eat these cookies as soon as they come out of the oven, but they need to cool for at least 10 minutes on the baking sheet in order to firm up and hold their shape. As an added bonus, they become even more nutty and flavorful as they cool.
Make a double batch! These cookies freeze well, so this is a great recipe to double. I usually start eating one batch the day it's made and freeze the other to have on hand for treats down the road. Check out this post for my best tips on freezing baked goods.
More Favorite Cookie Recipes
If you love these tahini cookies, try my 3-ingredient tahini ice cream or one of these favorite cookie recipes next:
Then, check out this post for 30+ of my favorite vegan desserts!
Tahini Cookies
With a nutty, spiced flavor and moist texture, these tahini cookies are totally irresistible! If pomegranates aren't in season, feel free to replace them with dried cranberries or chocolate chips. Vegan and gluten-free.
Ingredients
¾ cup tahini*
½ cup maple syrup
½ teaspoon almond extract or 1 teaspoon vanilla extract
2 cups almond flour
½ teaspoon cinnamon
¼ teaspoon ground cardamom
¼ teaspoon ground ginger
½ teaspoon baking powder
½ teaspoon sea salt
½ cup pomegranate arils
Instructions
Preheat the oven to 350°F and line a large baking sheet with parchment paper.
In a large bowl, whisk together the tahini, maple syrup, and almond extract until smooth. Add the almond flour and sprinkle the cinnamon, cardamom, ginger, baking powder, and salt evenly over the mixture. Use a spatula or wood spoon to stir until well combined.
Use a 2-tablespoon cookie scoop to scoop the dough and use your hands to roll it into balls. Place them on the baking sheet and press down to flatten slightly. Sprinkle with pomegranates and bake for 15 to 17 minutes or until lightly browned around the edges. Cool on the pan for 10 minutes, then transfer to a wire rack to finish cooling.
Notes
*Make sure your tahini is smooth (as pictured), and not dry or chunky.

I made two batches of cookies for these photos - they freeze well so I love having extra around!
Special thanks to POM Wonderful for partnering on this post!