The first snow came early in Chicago this year. It was barely November and we were driving to an appointment. It was snowing, and then all of the sudden it went from "really charming" to "wow it's really coming down!" Now I learned to drive in snow, so I know how to pump the brakes (before anti-lock brakes existed) and to turn into the slide. But after living in Austin for so many years, I got soft. It was always funny to me how the slightest hint of snow in Texas meant that schools were closed and roads were abandoned, but when our first real snow day happened here in Chicago, my first though was "how many people are really going to be on the road?" Well, the answer ended up being way too many – we sat in the cold car way too long, wearing way too-light coats, staring at brake lights and a grey sky. I thought – really – what have we done?? I write a blog about vegetables, I'm shooting a book that's due before May (when the spring farmers markets open) and we've moved so far from the sun!
We got to where we were going – an industrial area in the Pullman neighborhood where, situated on the roof of the Method production facility, is Gotham Greens. I've been obsessed with their locally grown greens the moment I came across their deliciously spicy arugula (among other greens) earlier this year at Whole Foods. We got a tour of their rooftop greenhouse and even though it was cold and miserable outside, it was so warm and sunny up there. There was a sea of the softest butter lettuces, my favorite spicy arugula, and the loveliest scent of fresh basil. My first two thoughts were: 1. Could I just hang out up here all winter? I could bring my laptop and maybe they could put a desk in a sunny corner for me? and 2. How hard would it be to build a greenhouse on our rooftop so that I could go up and pick local fresh produce (and hang out in the warmth) all winter?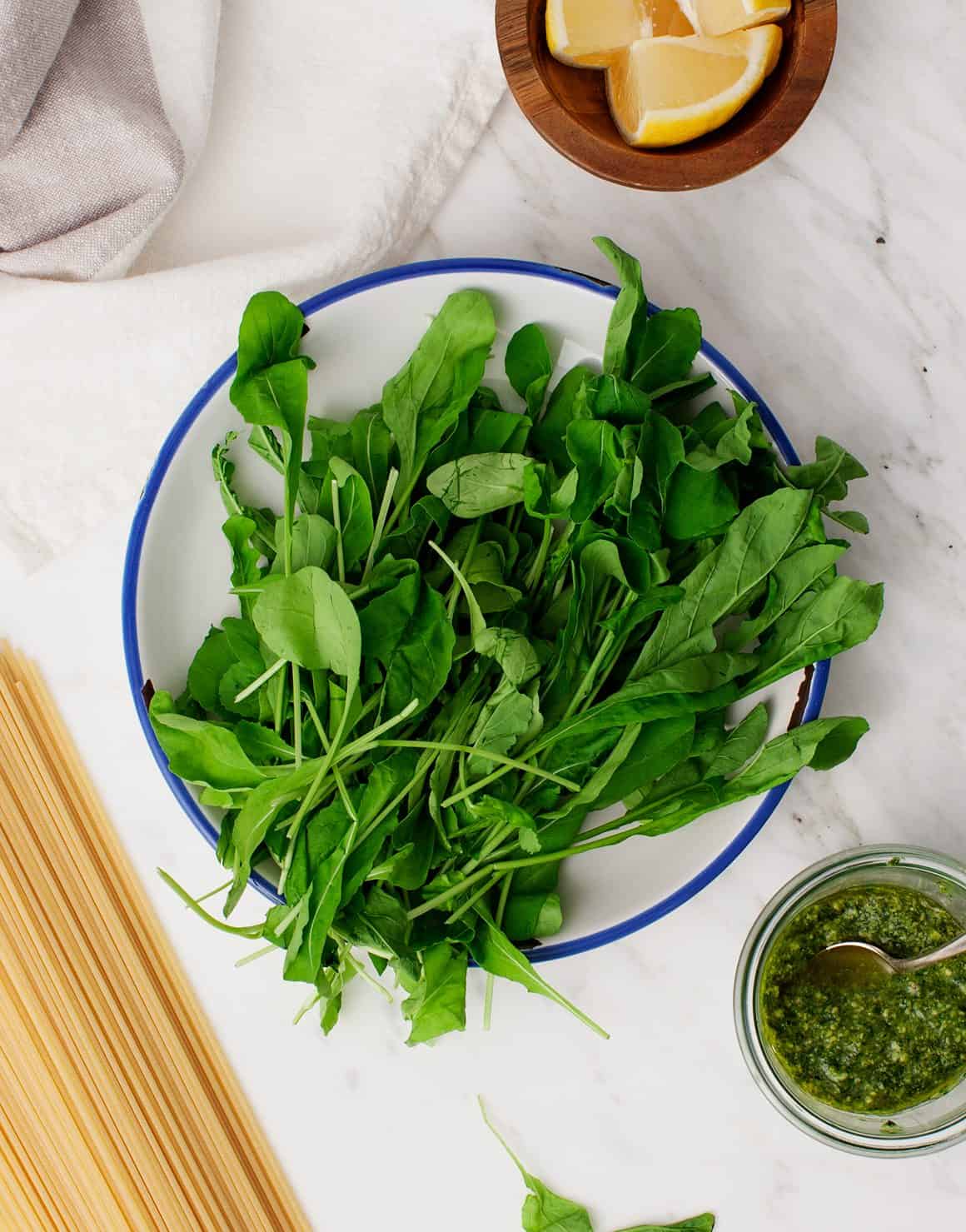 Later that night, with a fridge full of greens and a pantry full of not much else, I made this five minute arugula pesto pasta because, well, we weren't about to head out into the snow for any additional groceries. I used Gotham Greens' vegan pesto, which I love, especially when I'm too lazy to make my own. This recipe for kale pesto would also be great here (and would be delicious using their fresh basil if you wanted basil pesto instead of kale pesto). The key to pesto pasta is to reserve some of that salty, starchy pasta water to loosen the pesto enough to make it a light sauce over the pasta.