So, you want to try Swiss chard? You're in the right place! Learn how to cut and cook this vibrant leafy green, and find our favorite Swiss chard recipes.
We all go crazy over spinach and kale, but when was the last time you cooked Swiss chard? This vibrant leafy green is one of my favorite vegetables to work with. It's endlessly versatile – my go-to Swiss chard recipes range from smoky Mojo bowls to a lemony pasta – and its stems are just as edible as its dark green leaves. Because I think we could all be cooking it more often, I wanted to share a little Swiss chard 101 today. If you've never worked with chard before, I hope these tips and recipes will encourage you to try it. And if you're already a Swiss chard pro, I hope a recipe here will inspire you to prepare it in a new way. There's no limit to what Swiss chard can do!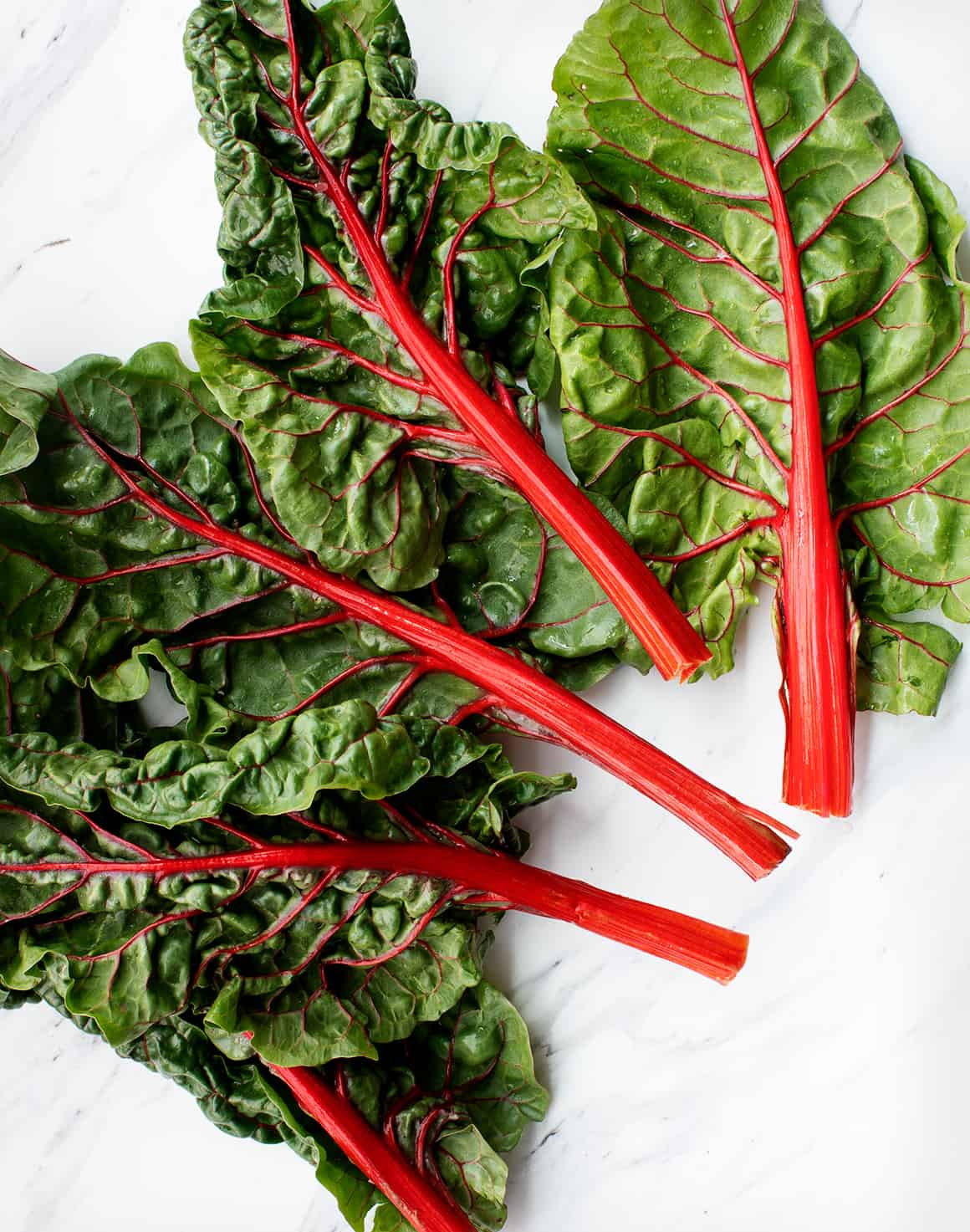 But first, what is Swiss chard?
Good question! Swiss chard is a leafy vegetable that's closely related to beets. In fact, if you've cooked with beet greens before, you'll find that chard has a lot of similarities. The mature leaves are lush and relatively coarse when they're raw, but they wilt down beautifully when they're braised or sautéed. Their earthy flavor pairs really well with garlic, nuts, dried fruits like currants and raisins, and acids like lemon juice and vinegar.
Chard stems are edible, too, so don't toss them when you're cooking the leaves! If I'm making sautéed Swiss chard, I simply add the stems to the pan a few minutes before I add the leaves so that they have a chance to soften. They also pickle really nicely, so they're a great way to add crunch to salads, sandwiches, and bowls. The stems in the photos here are red, but that's not the only way you'll find them at the farmers market or grocery store. Depending on the variety, chard might have pale green, gold, red, or even striped stems. All are delicious!
How to Cook Swiss Chard
When I buy a big bunch of green, red, or rainbow chard, I almost always cook the leaves. For me, they're a little spongy and tough to use raw in salads, though baby chard, if it's available, is a great salad base.
The simplest way to cook chard is to sauté it. Here's my easy method:
First, prep the chard. Slice the leaves off the tough stems, and cut the stems into 1/4-inch slices. Stack the leaves on top of one another and coarsely chop them.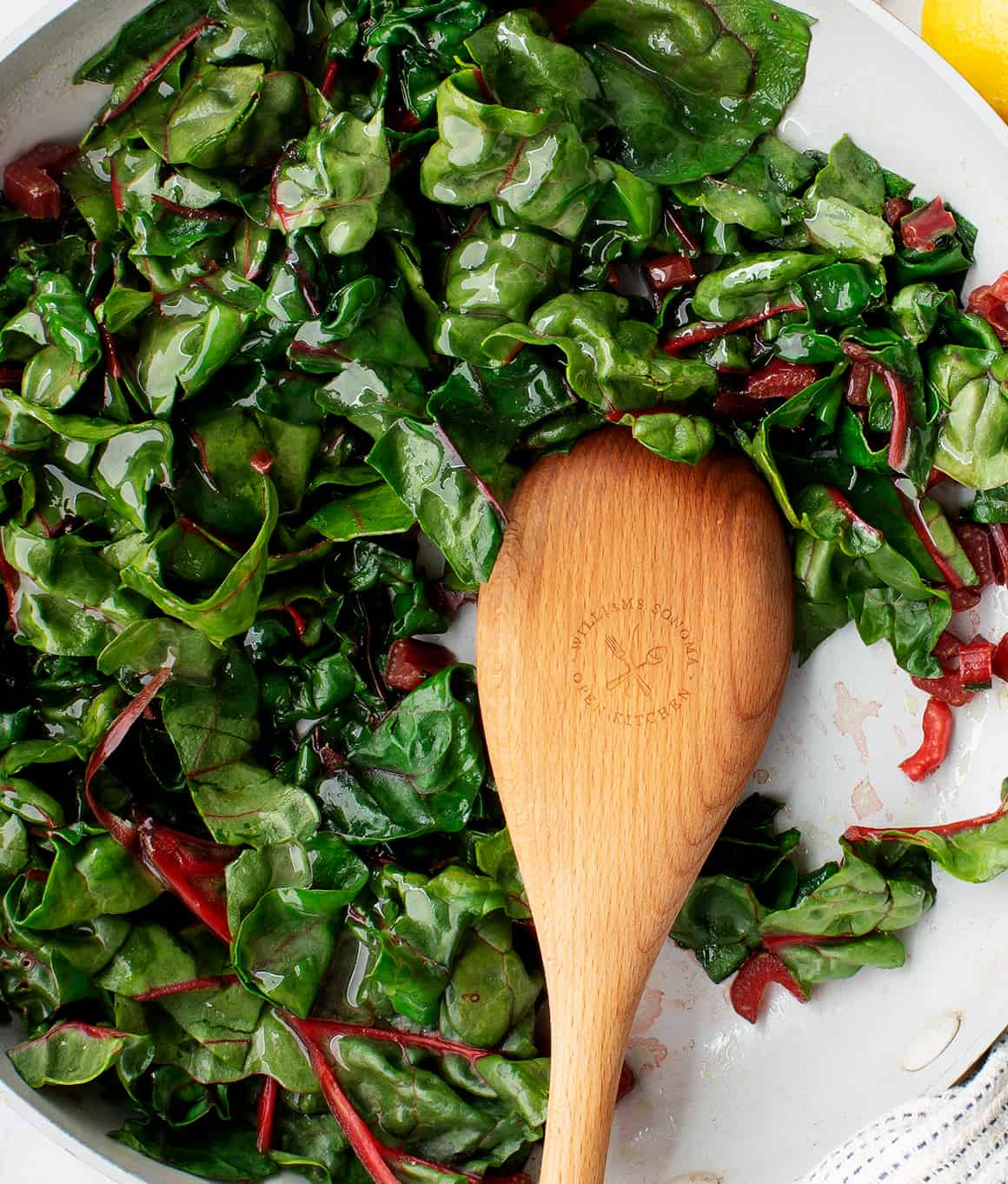 Next, cook the stems. Heat a little olive oil in a large skillet over medium heat. Add the chard stems and cook for about 2 minutes, or until they start to soften.
Then, add the leaves, some sliced garlic, salt, and pepper, and cook until the leaves wilt, about another 2 minutes.
Finally, season and serve. Squeeze the wilted chard with lemon juice and serve it as a side dish. Find more of my favorite Swiss chard recipes and serving suggestions below!
Other Favorite Swiss Chard Recipes
Simple sautéed Swiss chard is an easy, healthy, and delicious side dish, but there are plenty of other ways to serve this green. These Swiss chard recipes and serving suggestions are some of my favorites:
How do you like to use Swiss chard? Let me know in the comments!
More Vegetable Basics
If you love this simple Swiss chard recipe, try cooking one of these vegetables next:
Sautéed Swiss Chard
This simple Swiss chard recipe is an easy, healthy, and delicious side dish! You could also toss it with pasta or serve it over creamy polenta to make it a meal.
Instructions
Slice the stems off the chard leaves and chop the stems into 1/4-inch slices. Coarsely chop the leaves.

Heat the oil in a large skillet over medium heat. Add the chard stems and cook for 1 to 2 minutes, or until they begin to soften. Add the chard leaves, garlic, salt, and several grinds of pepper, and sauté for 1 to 2 minutes, or until the leaves are wilted.

Turn off the heat, squeeze a little lemon juice over the chard, and toss. Season to taste and serve.