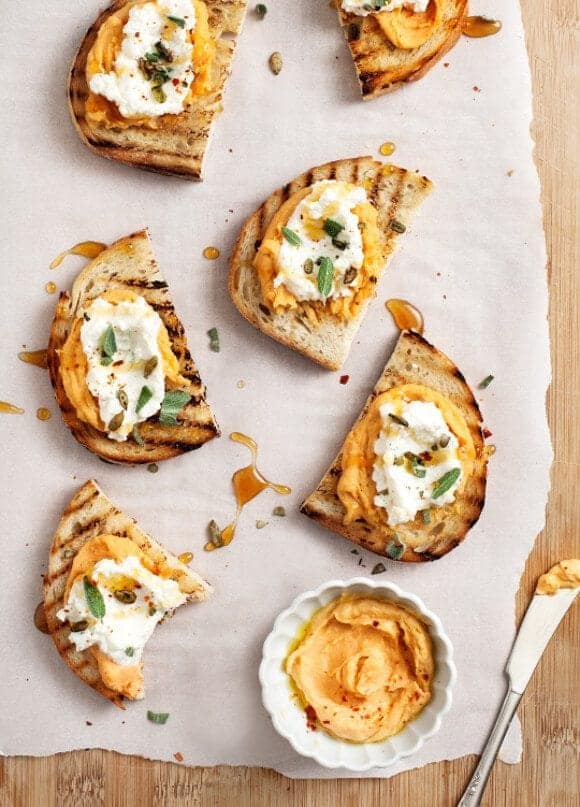 We got home last week and I immediately started thinking about post-vacation recovery foods. Kale salads, green juices… that sort of thing. That is until Jack announced that he was craving bread. Which sounded good, so bread we had. This cozy little crostini turned out to be perfect for our lazy, rainy weekend. (Kale salad, on the side).
This sweet potato spread – it's halfway to hummus. It's thicker and has a stronger tahini flavor, which was a nice contrast to the light & airy ricotta. It's also a convenient way to use up a bit of leftover baked sweet potato and a partial can of chickpeas. Which were the lazy-person ingredients I happened to have on hand.
sweet potato tahini crostini
Serves:
serves 3-4 as an appetizer
Ingredients
for the sweet potato-tahini spread:
½ cup cooked & mashed sweet potato
2-3 tablespoons tahini
2 tablespoons olive oil
¼ cup cooked chickpeas
½ clove garlic
1 tablespoon maple syrup
a squeeze of lemon
salt & pepper
for the crostini:
8 half-pieces of bread, toasted or grilled
½ cup good quality ricotta and a squeeze of lemon
a few sage leaves, chopped (optional: fry them)
coarse salt
optional toppings: handful of toasted pepitas, drizzle of honey or olive oil, sprinkle of red chile flakes
Instructions
In a small food processor, blend together the ingredients for the sweet potato spread.Taste and adjust seasonings.
Top grilled bread with a bit of the spread, a dollop of ricotta, chopped sage, a drizzle of honey, and a few pinches of coarse salt.
Notes
Feel free to play with different spice/herb variations: Cayenne, cumin, and/or dried coriander would be nice mixed into the spread. Or switch out the sage with rosemary or thyme... whatever you like. I think a bit of toasted sesame oil would pair nicely with the tahini (although I wouldn't pair that with ricotta).

vegan option: skip the ricotta and add more chickpeas to the spread to make it a bit lighter, if necessary.