Sweet Potato Pomegranate Crostini make a delicious holiday appetizer or snack! Topped with lemon sunflower spread or ricotta & herbs. Vegan, healthy & fun!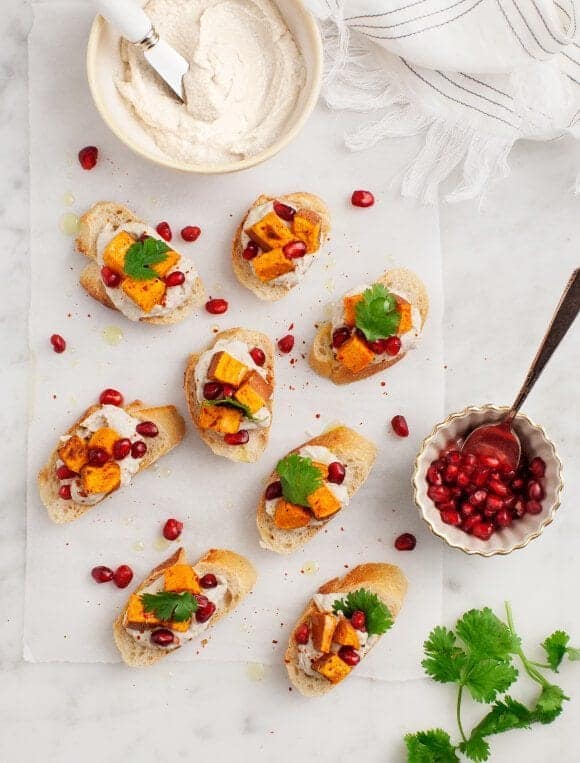 Hello, from holiday-break-land! This year, Jack and I had a quiet Christmas weekend at home. Which really means that we stayed in our pj's until at least noon every day. We finished watching the new season of Fargo and we're now onto Homeland (don't tell me what happens!).
We've made waffles and cocktails and all sorts of other soon-to-be recipes for this here blog. So far January is looking to be delicious, but before we get there here's a little festive appetizer that would be perfect for a healthier New Years Eve get-together.
This avocado pomegranate crostini is one of my favorites so I decided to make a heartier, more wintery version. Enjoy!

Sweet Potato Pomegranate Crostini
Ingredients
1 medium sweet potato, chopped into small cubes
Extra-virgin olive oil, for drizzling
Seasonings of your choice - pinches of aleppo pepper, chili powder, etc.
1 baguette, sliced
½ garlic clove
Sunflower spread or ricotta (see note)
½ cup pomegranate seeds
cilantro leaves (optional)
Sea salt and freshly ground black pepper
Sunflower spread:
1¼ cup hulled sunflower seeds, soaked for 6 to 8 hours
1 cup fresh water
2 tablespoons white wine vinegar
1 tablespoon lemon juice
½ garlic clove
½ teaspoon salt
Instructions
Make the sunflower spread: Drain and rinse the sunflower seeds. In a blender, combine the sunflower seeds, water, vinegar, lemon juice, garlic, and salt and blend until smooth. Chill until ready to use.
Preheat the oven to 400°F and line 2 baking sheets with parchment paper. Place the sweet potato cubes on one and the baguette slices on the other, and drizzle both with olive oil. Sprinkle the sweet potatoes with pinches of salt and pepper and toss. Roast the sweet potatoes for 35 minutes, or until golden. Toast the baguette for 10 to 12 minutes until crisp. Remove the baguette slices from the oven and rub them with the cut side of ½ clove of garlic while warm. Set aside.
Assemble the crostini with a slather of the sunflower spread, some sweet potato cubes, a few pomegranate seeds, and a few cilantro leaves, if desired. Season to taste and finish with a drizzle of olive oil.
Notes
Ricotta cheese seasoned with salt and lemon zest can be used in place of the sunflower spread.