Panzanella: it's your excuse to eat bread and call it salad!
I've veggie'd up the classic tomato-basil panzanella with blistered sweet peppers, tangy pickled onions, and just few torn kale leaves.
It all starts with that stale bread that's sitting on your kitchen counter. In our household of just 2 (people, that is – the dogs are paleo), we have stale bread around pretty often. These were the last bits of a rustic miche round from my favorite bread source, Easy Tiger. I just realized I labeled them as "day old," but these scraps were actually many days old. Perfect panzanella bread.
This would be a great recipe to make on the grill… you could cook the peppers and the bread (you could even grill the kale), all at the same time. For the ease of picture taking, and because it's insanely hot outside, I cooked mine in a pan. To bring out extra flavor, I finished them with a bit of sherry vinegar and a few pinches of smoked paprika.
Toss it all together and let the salad sit and get nice and juicy. Serve with whatever else you're grillin!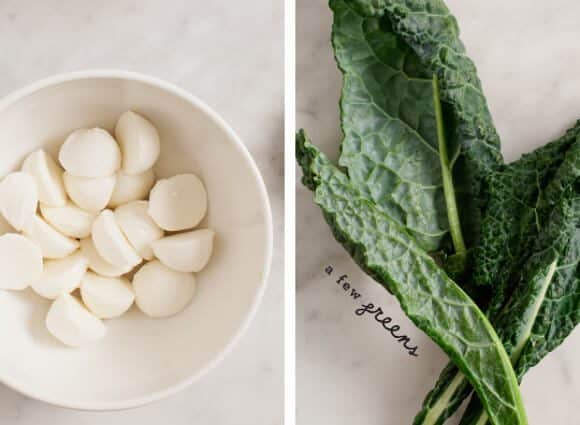 sweet pepper panzanella
Serves:
serves 3-4 as a side
Ingredients
2-3 sweet peppers (red and/or yellow)
olive oil
sherry vinegar (or balsamic or white wine vinegar)
pinch of sweet or smoked paprika
toasted stale bread, rubbed w/ olive oil & garlic
1 cup cherry tomatoes
1-2 leaves of kale, torn
½ cup little mozzarella balls
¼ cup chunky pickled onions (see below)
handful of torn basil
salt & pepper
pickled onions:
1 small red onion, sliced into thick strips
white wine vinegar (enough to fill the jar of onions)
a few pinches of cane sugar and salt
Instructions
For the pickled onions: (make in advance) pickle your onions by shaking all ingredients together in a jar. Chill until for at least an hour, or up to days (or weeks, really) in advance.
Slice cherry tomatoes and toss them with a splash of olive oil, a splash of sherry vinegar, salt, pepper.
Drizzle olive oil on your stale bread and toast (or grill) it until golden. While it's still warm, rub it with a sliced clove of garlic, then slice it into bite sized pieces.
De-seed and slice your peppers into thick strips. Sautée them in a pan with olive oil until soft and lightly blistered. (you could also do this on a grill). Remove from heat, drizzle with a little sherry vinegar and a pinch of paprika.
Toss all salad ingredients together so that the juices from the tomatoes and the peppers create a light dressing. Drizzle with a little more olive oil. Taste, and add more salt and pepper to your liking. Let it sit for at least 10 minutes or so for the bread to soak up the juices. Serve at room temp.
Notes
Instead of pickled onions, you can also cook onions with your peppers. Use a yellow onion instead of a red one.

vegan option: skip the cheese
Fry pan: Le Creuset Stainless Steel