Made with just 4 ingredients, this vegan Pumpkin Black Tea Ice Cream recipe is a simple & healthy pumpkin spice treat! Perfect for fall and winter holidays.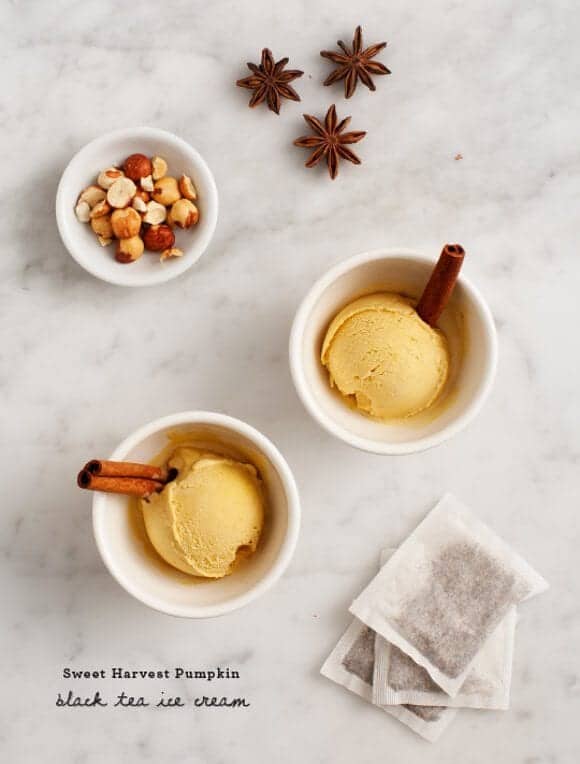 Are you all pumpkin-ed out yet? Hopefully not – but even if you are, you just have to try this one. If you've been following for long you know I have just a slight love for ice creams made with coconut milk. But this one? This one not only takes the cake but probably the pumpkin and apple pies too. It's a rich & creamy, yet healthier, take on holiday desserts.
I've had tea ice cream on my mind ever since tasting a tea-infused sorbet while visiting Celestial Seasonings last month. Their Sweet Harvest Pumpkin Black Tea is warmly spiced with cinnamon, ginger, and nutmeg – and it's so delicious with the coconut milk and pumpkin puree in this ice cream. This recipe has only 4 main ingredients and is naturally sweetened with maple syrup instead of regular sugar.
Tea is such a flavorful addition here that I'm already dreaming up other combinations to pair with Caramel Apple Dream, Cranberry Vanilla Wonderland, and Sugar Plum Spice.
Sweet Harvest Pumpkin Ice Cream
Ingredients
1 can full fat coconut milk
⅓ cup maple syrup
½ cup pumpkin puree
pinch of salt
optional topping: crushed, toasted hazelnuts
Instructions
Bring the coconut milk to a boil in a medium saucepan. Add the tea bags, then turn the heat off. Let the tea steep for 3-5 minutes, then stir in the maple syrup, pumpkin puree and a pinch of salt.
Remove tea bags and chill mixture in the fridge (the colder it is before you put it in your ice cream maker, the better).
Churn in an ice cream maker according to the manufacturers directions.
Transfer ice cream to a freezer container and let it freeze for at least an hour to firm up.
Top with toasted hazelnuts and enjoy.
I use
this ice cream maker.
This post is in partnership with Celestial Seasonings. As always, all images, words, and opinions are my own. Thank you for supporting our sponsors!