This sushi bowl recipe is the easiest way to satisfy a sushi craving at home! Flavorful fixings like sliced avocado, nori, and spicy mayo top seasoned rice.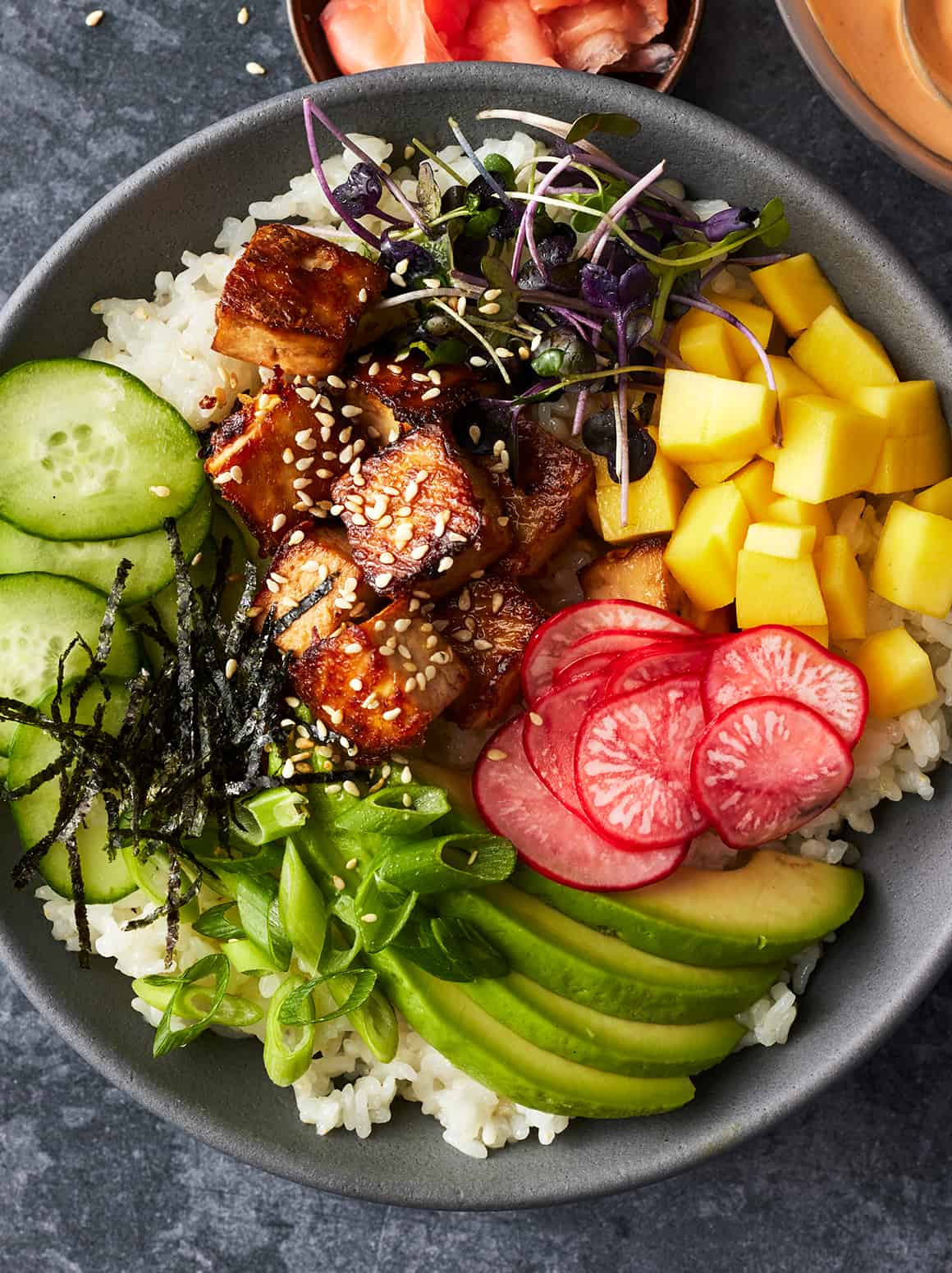 When I feel like eating sushi but I don't feel like making sushi, I make this sushi bowl recipe instead. It's easy to put together (no rolling required!), but it still captures all the tastes and textures I crave in a good veggie sushi roll. Creamy avocado plays off sticky seasoned rice, which in turn contrasts with crisp, cooling cucumbers and crackly nori. I add ripe mango for a hit of sweetness, baked tofu for protein, and big drizzles of spicy mayo for richness and heat. I like to prep the components ahead of time and enjoy this sushi bowl for a midweek lunch, but it also makes a fun, refreshing dinner.
Sushi Bowl Recipe Ingredients
This sushi bowl recipe starts with shortcut sushi rice. Why shortcut? Well, true sushi rice is made with specific varieties of Japanese short-grain rice that are carefully cooked, seasoned, and cooled. You can learn more about preparing it here. Because we're making a sushi bowl and not actual sushi, this recipe is a bit more flexible. Cook any type of rice you like (short-grain white and brown rice are my favorites!), and, while it's still warm, season it with rice vinegar, sugar, and salt to add that signature sweet and tangy sushi rice flavor.
While the rice cooks, prep the toppings:
Baked tofu – It's savory, spicy, and crisp around the edges. My air fryer tofu is great here too!
Avocado – A veggie sushi staple!
Mango – The interplay of sweet and savory flavors is one of my favorite parts of eating sushi, so I love including diced mango as a sweet, juicy component in this bowl. It contrasts perfectly with the rich avocado and spicy mayo.
Cucumber – For crunch.
Scallions – For fresh, oniony flavor.
Pickled ginger – It adds refreshing, peppery notes to this bowl. Look for it in Asian markets or the Asian section of well-stocked grocery stores.
Pickled radishes – Optional, but delicious! They add a gorgeous pop of pink to this sushi bowl recipe and enhance the sweet and tangy flavors.
Spicy mayo – Maybe the best part of this bowl?? This sauce is a simple mix of sriracha, mayonnaise, lime juice, and sesame oil, and it's SO easy to stir together. Make it vegan by using store-bought or homemade vegan mayo.
And garnishes – Microgreens, sesame seeds, and nori, of course! Can't find nori sheets? Crumble up your favorite brand of seaweed snacks!
Find the complete recipe with measurements below.
Sushi Bowl Meal Prep Tips
Many of the components of this sushi bowl keep well if you make them ahead, so it's a great dish to meal prep.
The baked tofu and sriracha mayo both keep for 4 days in an airtight container in the fridge.
The pickled radishes keep for up to 2 weeks in a jar with a tight-fitting lid in the fridge.
And you can chop fresh components like the mango, cucumbers, and green onions ahead of time and store them in the refrigerator. Just wait to slice the avocado until the last minute!
The one component that doesn't keep as well is the rice, which dries out in the fridge. You can keep it around for up to 2 days. After that, I'd consider subbing an alternate grain, such as quinoa, or freezing some of the rice and thawing it on the day you plan to eat it.
Fully assemble the bowls in meal prep containers ahead of time, or keep the components handy so that you can quickly put together a bowl at mealtime.
Recipe Variations
We love this sushi bowl recipe as written, but there are all sorts of ways to change it up! Feel free to customize it your liking. Here are a few ideas to get you started:
Swap the sauce. Instead of making spicy mayo, top off your bowl with a drizzle of tamari or soy sauce and a squirt of sriracha. Or make the tangy tamari dressing from this rice bowl recipe.
Add extra vegetables. The more the merrier, right?! A little shredded cabbage, julienned carrot, or some sautéed mushrooms would be fantastic here.
Pick another protein. Top off your bowl with baked tempeh or edamame.
Let me know what variations you try!

More Favorite Grain Bowls
If you love this sushi bowl recipe, try one of these yummy grain bowls next:
Or, make your own sushi at home! Try this maki sushi recipe or these vegan sushi rolls.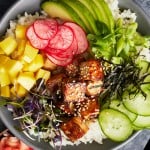 Sushi Bowl
This sushi bowl recipe features avocado, nori, seasoned rice, spicy mayo, pickled ginger, and more. It captures all the tastes and textures I crave in a good veggie sushi roll, but it's much simpler to make at home. For a vegan sushi bowl, make the spicy mayo with vegan mayonnaise.
Ingredients
3

cups

cooked brown or white rice

2

tablespoons

rice vinegar

1

tablespoon

cane sugar

1

teaspoon

sea salt

1

recipe

Baked Tofu

2

avocados

,

sliced

2

ripe mangoes

,

diced

2

Persian cucumbers

,

thinly sliced

2

scallions

,

thinly sliced

Pickled ginger

Pickled radishes,

optional

Thinly sliced nori or seaweed snacks

,

for garnish

Sesame seeds

,

for garnish

Microgreens

,

for garnish

Spicy Mayo,

for serving
Instructions
While the rice is still warm, toss it with the rice vinegar, cane sugar, and salt.

Divide among 4 bowls and top with the baked tofu, avocado, mango, cucumbers, scallions, pickled ginger, and pickled radishes, if using. Garnish with nori, sesame seeds, and microgreens and serve with spicy mayo.