Fennel, sage, and white wine are an A+ flavor combination in this sun dried tomato pasta. You'll love this hearty, comforting, and easy dish!
Happy December! Today we're celebrating with this bright red & green sun dried tomato pasta.
I have a confession to make. I'm really terrible at decorating for the holidays. Some years it happens, others it doesn't… and then some years we end up with a Valentine's Day tree because we lose track of time and the work of taking down decorations is far less fun than putting them up.
So here's my version of holiday greenery for you – sun dried tomato pasta! It's, of course, edible, and the clean up is minimal. 🙂 Aside from boiling the pasta, this recipe comes together in one large skillet (or pictured, this pretty braiser), so it's a great one to have in your back pocket when you need to get a hearty, healthy dinner on the table this winter.
Sun Dried Tomato Pasta Ingredients
This sun dried tomato pasta is full of all kinds of warming wintery goodness! It has a base of sautéed shallots, fennel, and savory, aromatic sage. Sun dried tomatoes add briny pop, kale makes it fresh & green, and (of course) lemon juice adds a bit of bright cheer. I also toss in some walnuts for crunch. Their slightly bitter flavor is delicious with the wintry vegetables, but if you don't have them on hand, pine nuts would be a great choice too.
I used a fancy pasta shape called toscani because I just love the way the kale wraps around the short curly noodles. However, if you can't find it, you can use any short cut pasta that you like.
Serve with olive oil for drizzling and (not pictured, but highly recommended) freshly grated pecorino cheese!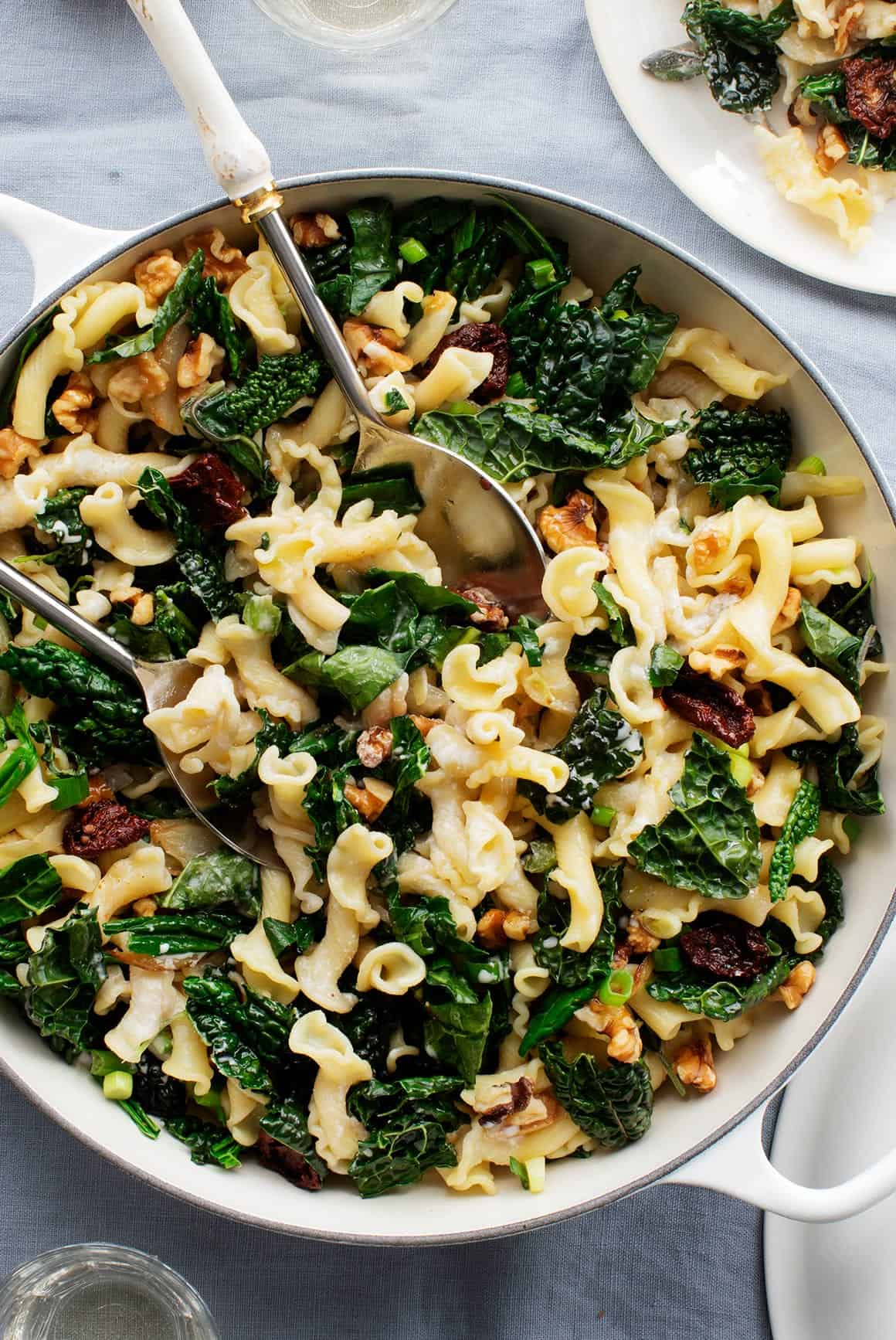 If you love this sun dried tomato pasta recipe…
Try my linguine, orecchiette, lasagna, mushroom pasta, mac and cheese, or roasted vegetable pasta next!
Sun Dried Tomato Pasta with Kale
This one-pot Sun Dried Tomato Pasta Recipe with kale and walnuts is an easy, healthy, delicious vegetarian dinner.
Ingredients
2 tablespoons extra-virgin olive oil, more for drizzling
3 shallots, thinly sliced
1 large fennel bulb, thinly sliced
3 garlic cloves, sliced
¼ teaspoon red pepper flakes
¼ cup chopped sage
12-ounces toscani pasta (or any short pasta)
¼ cup dry white wine
8 cups torn kale leaves
8 oil-packed sun-dried tomatoes, chopped
¼ cup chopped walnuts, toasted
2 tablespoons fresh lemon juice
Sea salt and freshly ground black pepper
Freshly grated pecorino cheese, for serving
Instructions
Heat the oil in a large skillet over medium heat. Add the shallots, fennel, garlic, red pepper flakes, sage, ½ teaspoon salt, and freshly ground black pepper and cook until the fennel is tender, about 8 minutes.
Meanwhile, bring a large pot of salted water to a boil and cook the pasta until al dente.
To the skillet, add the white wine and let it reduce for 30 seconds. Then, reduce the heat to low, add the kale and toss until just wilted. Use a slotted spoon to scoop the cooked pasta into the skillet. Add the sun-dried tomatoes, walnuts, and lemon juice and toss.
Finally, season to taste and serve with generous drizzles of olive oil and freshly grated pecorino cheese.
Notes
Make this gluten free by using gluten free pasta.