Last week, we spent a few short days in NYC during that hot hot heat wave. We did a bunch of walking, a bunch of sweating, and whenever we'd sit down to a meal I'd find myself ordering anything on the menu that was cold and refreshing. I had a wonderful watermelon gazpacho at ABC Kitchen… some pretty salads, and more salads. I came back craving some cool favorites that I thought I'd share here. Click directly on the photos to go to each recipe!
First up – this Watermelon Gazpacho, blended with tomatoes, cucumbers, basil and a pop of red wine vinegar. This is probably the most refreshing recipe on the blog – be sure to put it on your list before summer is over!
This Corn, Cucumber, Peach, and Avocado Salad is one of my all-time favorites. It has a great crunch from the grilled corn and a nice pop of sweetness from the peaches and the basil. A creamy chile-lime dressing takes it to the next level.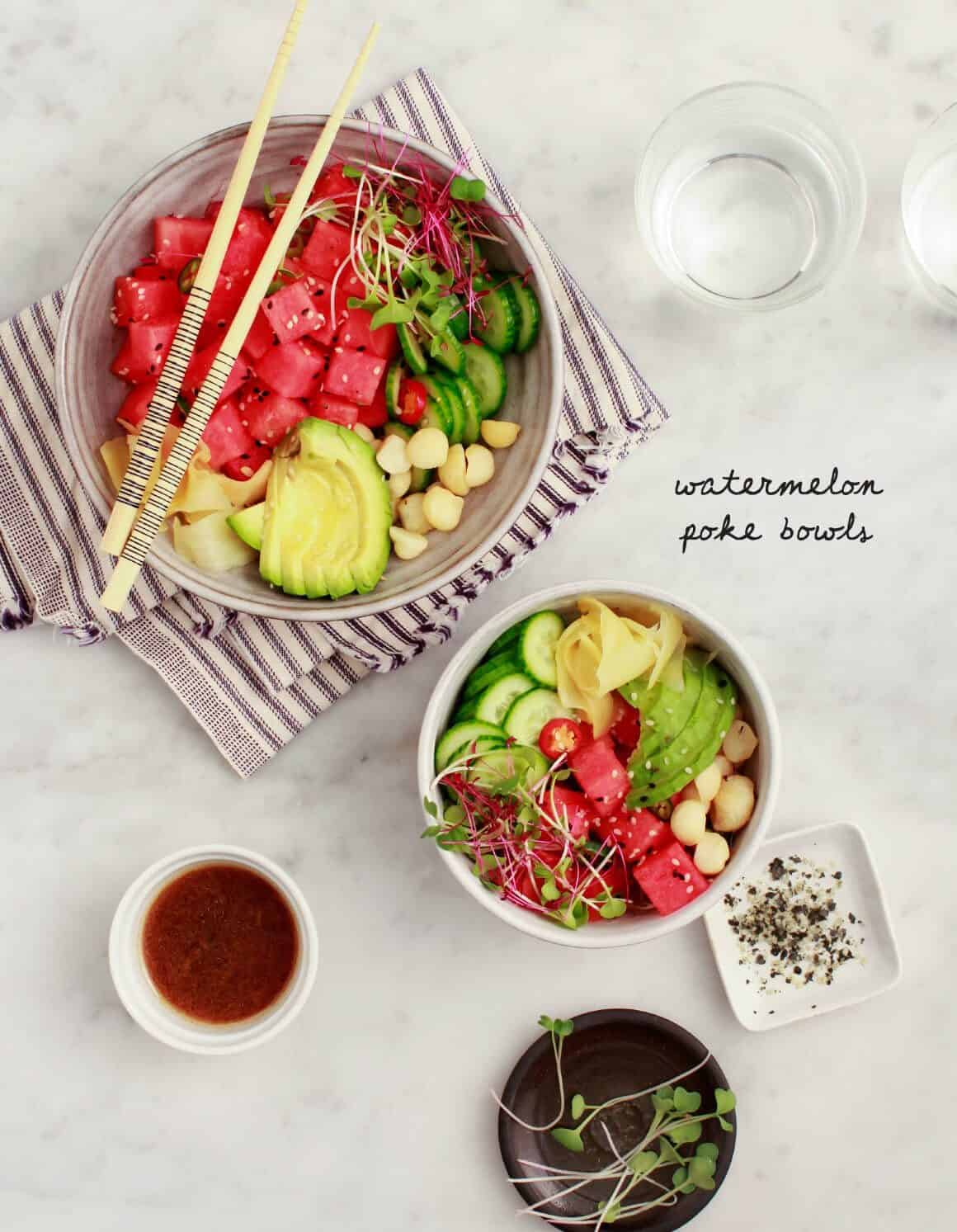 When I think of foods that are hydrating, watermelon and cucumbers are at the top of the list. This faux Watermelon "Poke" Bowl was inspired by a bowl from Poke Poke, one of our favorite lunch spots in Austin. The watermelon is dressed with a tangy tamari-lime dressing, and topped with a sprinkle of furikake (a mix of nori, sesame seeds and sea salt). I know – this concoction sounds a little weird, but it really works 🙂
I'm obviously on a watermelon kick and I just love these St. Germain Watermelon Cocktails. They're made of pureed watermelon (but you can also buy cold pressed watermelon juice), lemon juice, vodka, and St. Germain. A simple combo that's so refreshing.
Before the summer is over, go on a picnic and bring these Tomato Basil Artichoke Picnic Sandwiches. They're slathered with a delicious basil edamame spread and they travel well!
A quick no-cook appetizer – this Peach & Plum Caprese Salad is a sweet spin on a classic.
For a sweet afternoon snack – these vegan creamy Chocolate Avocado Almond Pudding Pops are a healthier version than the pudding pops I used to eat as a kid. I promise the avocado taste is undetectable (and Jack agrees!)
When you have every summer vegetable under the sun – throw it on a pizza!
More summer means more cucumbers! These Cucumber Mango Miso Noodle Bowls are great for a light dinner and perfect for lunch the next day.
Last but not least – a no-bake freezer dessert. This Raspberry Lemon Chia "Cheesecake" is a cool dairy-free treat!