This fennel salad has all my favorite ingredients: fresh herbs, crisp fennel & juicy peaches. Pistachios, pesto & feta give it tangy, rich pops of flavor.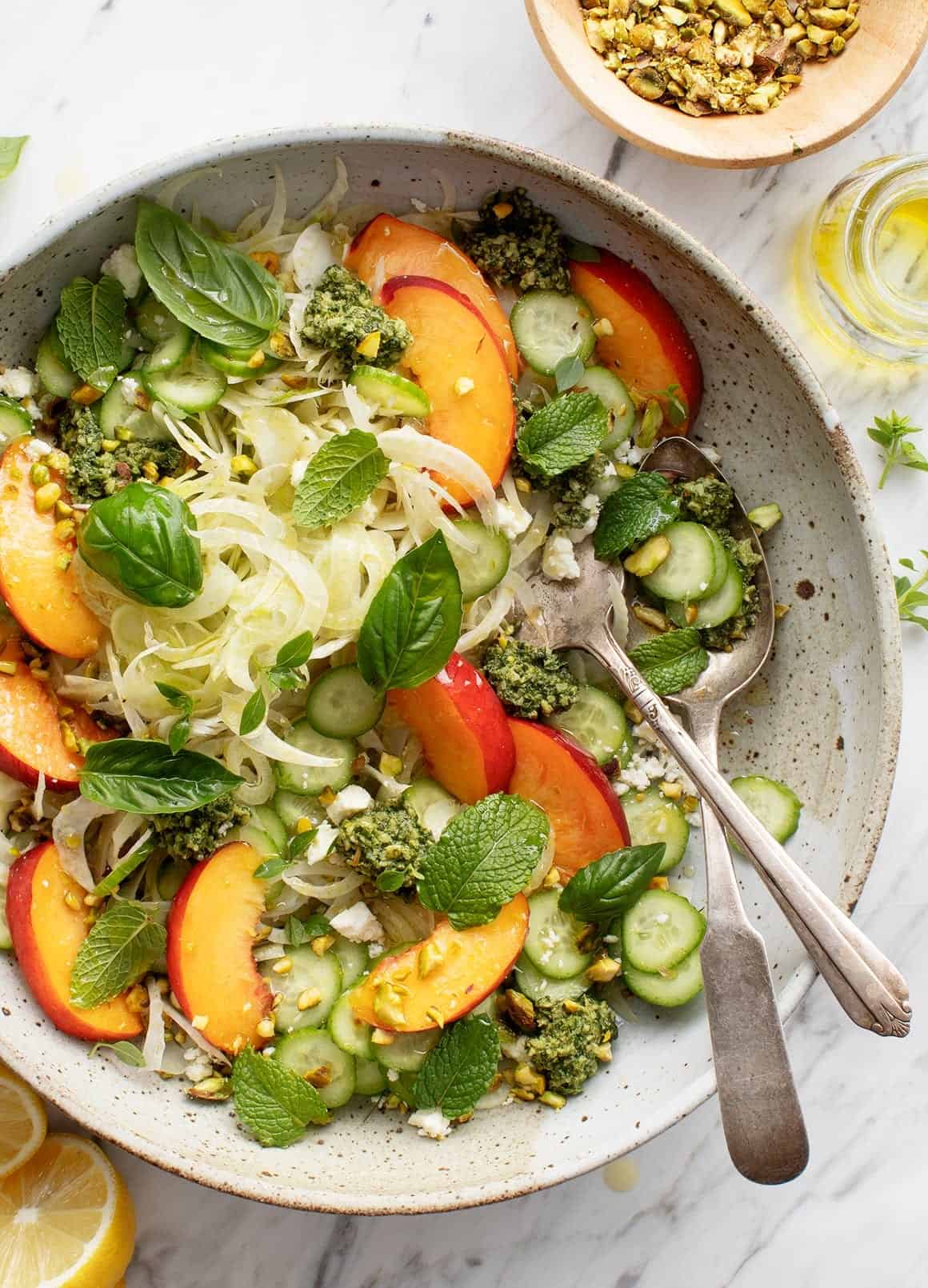 I think fennel is way too underrated. It's one of my absolute favorite vegetables and I'm just waiting for the day that it becomes "the new" kale so that everyone will love fennel salad as much as I do. The wisps of raw fennel soak up olive oil and lemon juice just enough that they wilt slightly, but still keep a tender bite. I usually pair fennel salad with something juicy (peaches!), something creamy (feta and/or pesto), and something crunchy (pistachios).
My Fennel Salad Recipe Ingredients
Here's what's in this super simple fennel salad:
Shaved fennel, for a crisp, flavorful base. If you have a mandoline, now is the time to use it. It's the perfect tool for getting uniform, paper-thin slices of fennel that will soften in the bright lemon dressing.
Lemon, to make the fennel soften & sing
Cucumbers, to match the cool crispness of the fennel
Peaches, for bites of soft, juicy sweetness
Pesto, for bright, nutty richness
Feta, for creamy texture & tangy flavor
Pistachios, for crunch!
Of course, I tossed on a handful of mint and basil for good measure.
This is a great side dish, or add some roasted chickpeas to make it more of a meal. It keeps well in the fridge for about 2 days, so I like to have it with dinner on the first night and for lunch the next day.
If you love this fennel salad recipe…
Try this roasted cherry tomato salad, this tomato basil salad, this peach panzanella, or this pasta salad next, or check out this post for my top 33 summer salad recipes!


Shaved Fennel Salad
Crisp fennel contrasts perfectly with juicy peaches & creamy pesto and feta in this late summer fennel salad. Serve it as a dinner side or pack it up for a light lunch.
Ingredients
2 medium fennel bulbs, sliced paper thin
2 Persian cucumbers, very thinly sliced
1 tablespoon extra-virgin olive oil, more for drizzling
1½ tablespoons fresh lemon juice, more for to taste
½ teaspoon sea salt
Freshly ground black pepper
2 peaches, pitted and sliced
⅓ cup mixed basil and mint
2 tablespoons toasted and crushed pistachios
¼ cup crumbled feta cheese*
Scoops of pesto (recipe below)
Instructions
In a medium bowl, toss together the fennel, cucumber, olive oil, lemon juice, salt, and several grinds of black pepper.
Arrange the fennel mixture on a platter along with the peaches, herbs, pistachios, feta, and scoops of pesto. Drizzle with olive oil and season to taste as desired.
Serves 4 as a side.
Notes
*Note: Make the salad vegan by skipping the feta and adding extra scoops of pesto.

Pesto
½ cup pepitas
1 small garlic clove
¼ teaspoon sea salt
Freshly ground black pepper
2 tablespoons fresh lemon juice
2 cups fresh basil
¼ cup extra-virgin olive oil

In a small food processor, combine the pepitas, garlic, salt, and several grinds of black pepper and pulse until combined. Add the lemon juice and basil and pulse again. With the blade running, drizzle in the olive oil.