Tired of the same old recipe rotation? Change things up with these easy summer dinner ideas! They include pastas, pizzas, tacos, salads, and more.
Once Memorial Day arrives, all I want to eat are fresh, easy summer recipes. I know, I know, summer won't officially begin until June 20, but here, the weather's warm, the days are long, and berries, tomatoes, and zucchini are popping up at the farmers market. Why wait? I'm ready to make my favorite summer dinner ideas on repeat!
No offense to winter, spring, or fall, but summer is my favorite time to cook. So much is in season now – fruits, leafy greens, herbs, peppers, tomatoes, etc., etc. The beauty of this peak-season produce is that you don't have to do much to turn it into a delicious meal. These fruits and vegetables are insanely flavorful on their own – great summer recipes just let them shine.
You'll find 45 of my best summer dinner ideas below. They all rely on seasonal produce, so they're fresh, healthy, and easy to make. Ranging from pastas to tacos to soups, salads, and more, they're the recipes I'll be making all season long. I hope you love them too.
Pasta Summer Dinner Ideas
Want something to serve on the side? You can never go wrong with a simple green salad or good crusty bread.
Linguine with Lemon and Tomatoes
Slow-roasted tomatoes are the star ingredient in this elegant recipe. They add rich, savory flavor to the simple combination of linguine, arugula, herbs, and fresh mozzarella cheese.
Creamy Sweet Corn Pappardelle, page 167 of Love & Lemons Every Day
I'm obsessed with all summer dinner ideas that use sweet corn, but this one is really something special. I blend some corn kernels into the creamy, silky sauce and leave the rest whole for crunch!
Roasted Vegetable Pasta
The summer recipes I love the most are the ones I can play with. Take this pasta – I call for summer squash, cherry tomatoes, and carrots in the recipe, but it works just as nicely with eggplant, peppers, or fennel instead. Swap in whatever sounds good to you!
Creamy Pasta Pomodoro
Pssst! That creamy pasta sauce is totally dairy-free. A simple blend of cashews, tomato paste, and marinara sauce, it's healthy, fresh, and easy to make on a weeknight.
Easy Pesto Pasta
Summer dinner ideas don't get simpler than this one! If you have an abundance of fresh basil on hand, feel free to make your own pesto, but if you don't, the store bought kind works too.
Zucchini Noodle Puttanesca, page 177 of Love & Lemons Every Day
Is it pasta? Uh…no. Is it delicious? Heck yes! Olives, capers, and sun-dried tomatoes fill these zucchini noodles with bright and briny flavor. Even pasta purists will love this dish.
Grilled Summer Dinner Ideas
'Tis the season for firing up the grill!
Grilled Vegetable Skewers
In summer, simple grilled veggies are my idea of the perfect weeknight dinner. I serve them with a hearty, flavorful sauce like tzatziki or romesco and round out the meal with fresh pita. It's so easy, healthy, and delicious!
Best Veggie Burger
Tip: Cook off a batch of these veggie burgers, and store them in the freezer. They reheat perfectly, so I love keeping them on hand for quick and easy dinners throughout the summer. Just add a side of fries or corn on the cob to make them a meal!
Easy Black Bean Burger
A veggie burger that's quick enough to make on a weeknight? Yes, please! These smoky, spicy black bean burgers come together in 30 minutes flat.
Fajita Veggies
Serve them with tortillas, guac, and pico de gallo for a fast, fresh summer dinner.
Portobello Mushroom Burger
Tamari and balsamic vinegar infuse these juicy mushroom caps with tangy, savory flavor. We love to eat them on homemade buns with lettuce, tomato, onion, and a slather of vegan mayo.
Taco Summer Dinner Ideas
When I'm in the mood for a really fun summer night, I make tacos for dinner. I serve cilantro lime rice and refried beans on the side and (of course) make margaritas to drink.
Vegan Tacos
If you're someone who loves to get ahead on dinner, this recipe is for you. You can cook the bold, spicy jackfruit filling up to 2 days in advance and store it in the fridge. When you're ready to eat, warm the filling, whip up the refreshing mango salsa, and dig in!
Roasted Cauliflower Tacos
These veggie tacos are SO simple to make, but that doesn't mean they skimp on flavor. The roasted cauliflower and cabbage filling is richly spiced with cumin and coriander, and a bright, creamy avocado sauce takes them over the top.
Swiss Chard & White Bean Tacos, page 145 of The Love & Lemons Cookbook
Feta cheese and tomatillo salsa add tangy, zesty flavor to these nourishing beans-and-greens tacos.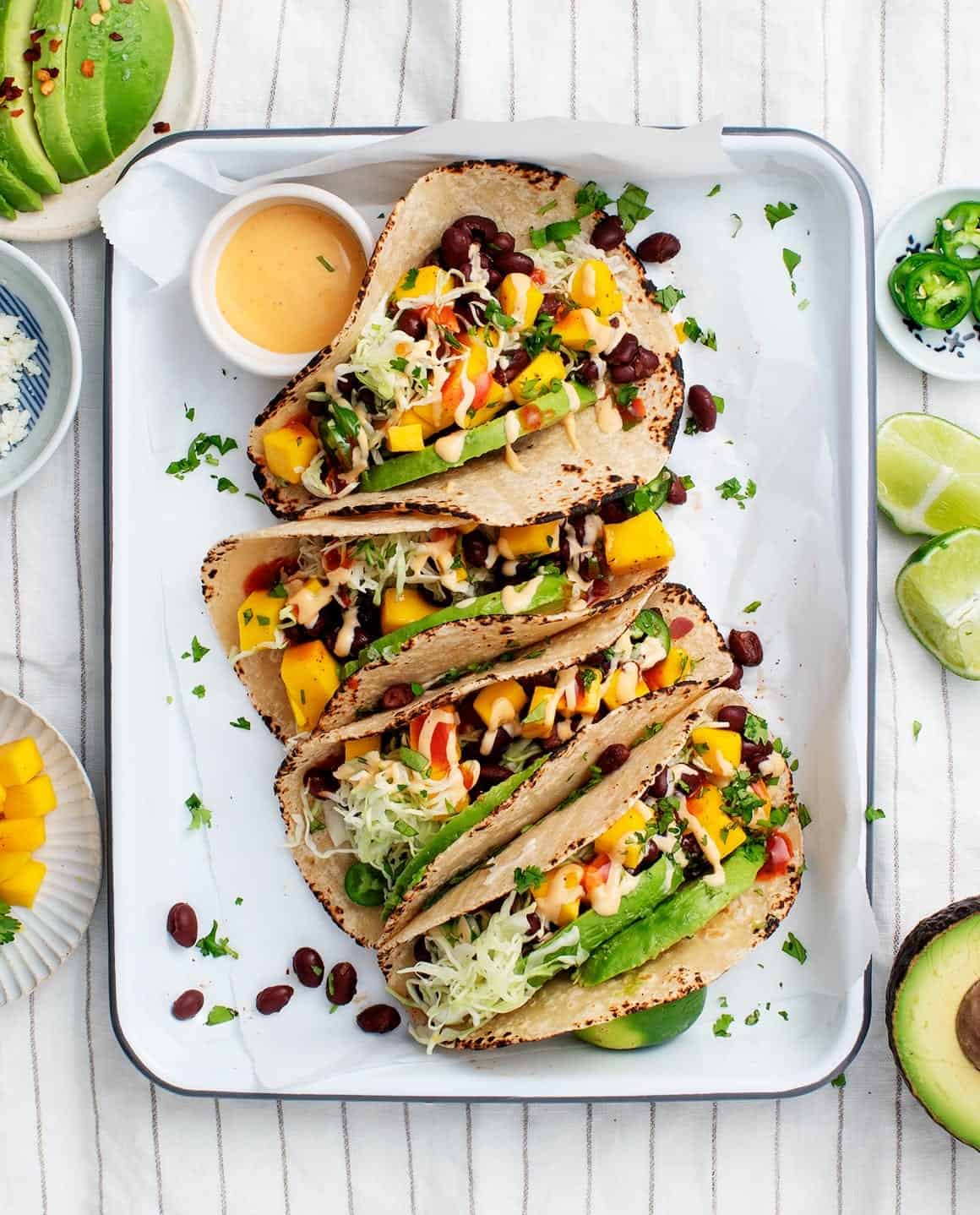 Spicy Mango, Black Bean, and Avocado Tacos
It's impossible for me to decide what I love most about these tacos. It could be the mango's surprising sweetness, the kick of heat from the sriracha mayo…or the fact that they come together in under 20 minutes. Try them once, and you'll make them for Taco Tuesdays all summer long.
Grilled Corn Tacos
I start making these tacos as soon as sweet corn shows up at the farmers market. They're so fresh and summery, filled with juicy cherry tomatoes, charred green beans, and oodles of cilantro.
Stuffed Summer Vegetables
We're all familiar with stuffed peppers, but they're not the only vegetable that you can stuff and serve for dinner. Stuffed zucchini and eggplant make delicious entrees too.
Stuffed Peppers
You can make these stuffed peppers two ways: with cheese, or without it. Jack would pick the cheese every time, but I like the vegan variation. Instead of using cheese, I top the peppers with a scoop of guac and a generous drizzle of chipotle sauce. You really can't go wrong!
Stuffed Zucchini Boats
We can never have enough summer dinner ideas for zucchini season, right? This recipe is one of my favorites. A flavorful mixture of tomatoes, bread crumbs, and Parmesan cheese fills juicy, tender zucchini boats. Dollops of pesto take it all over the top.
Mediterranean Stuffed Eggplant, page 179 of Love & Lemons Every Day
This summer dinner recipe is easy enough to make on a weeknight, but it's elegant enough for special occasions, too. Smoky grilled eggplant halves overflow with an herb-flecked bulgur and lentil salad.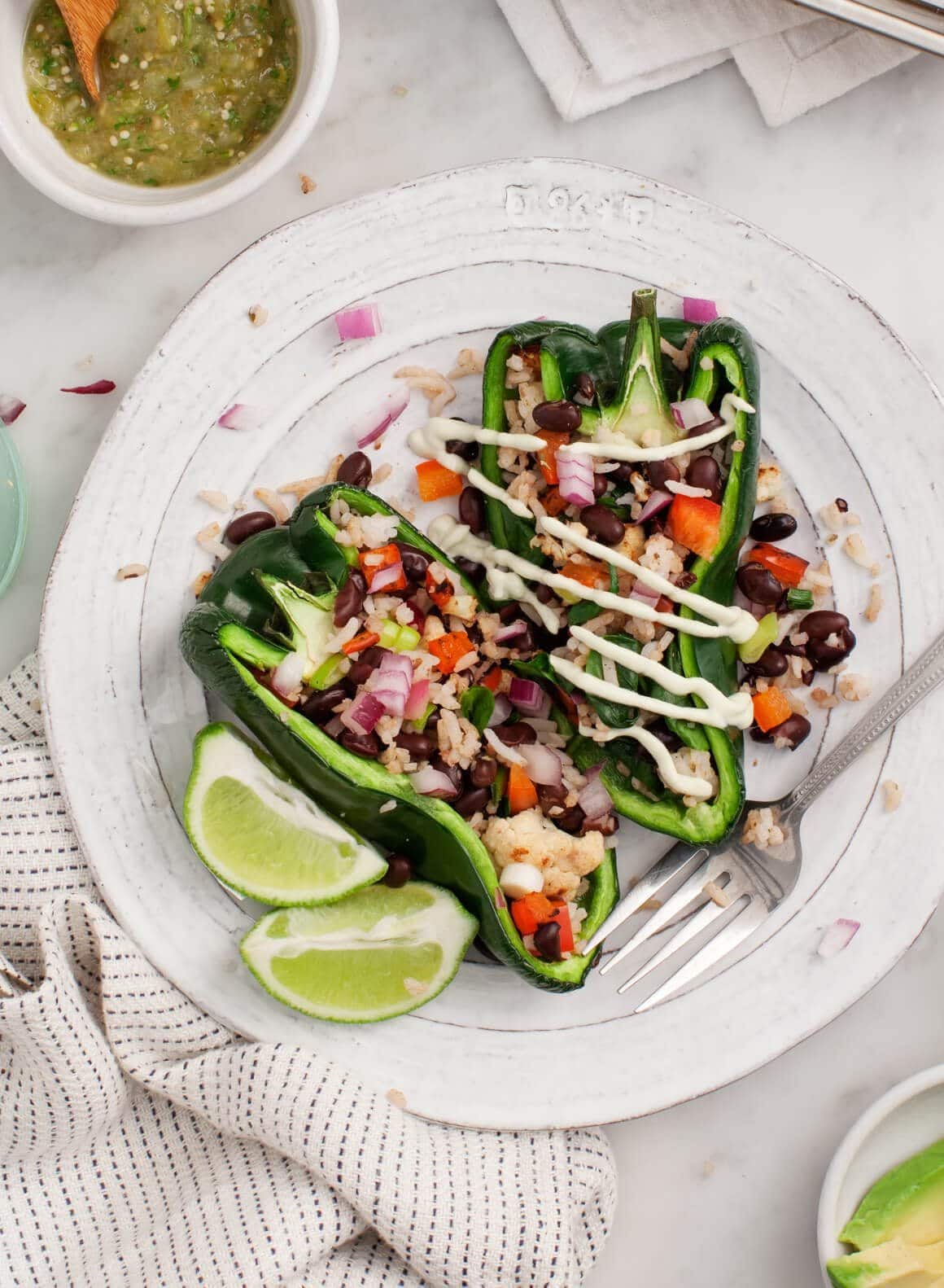 Stuffed Poblano Peppers
Spice up your rotation of summer dinner ideas with these veggie-packed peppers! I mean "spice up" literally – the poblanos fill this recipe with a delicious heat.
Dinner-Worthy Salad Recipes
On a hot summer night, nothing hits the spot like a big, refreshing salad. In addition to showcasing fresh produce, these entree-worthy recipes feature satiating ingredients like beans, homemade croutons, and hard-boiled eggs.
Niçoise Salad
Oh, how I love this Niçoise salad! It's one of those summer recipes that I'd be happy eating for dinner every night. To make it vegetarian, I use creamy white beans and briny artichoke hearts instead of fish.
Heirloom Tomato Fattoush, page 125 of Love & Lemons Every Day
Crispy chickpeas and toasted pita add delectable crunch to this medley of juicy tomatoes, creamy yogurt sauce, and fresh herbs.
Healthy Taco Salad
Shiitake walnut taco meat, black beans, and crispy tortilla strips fill this summer salad with tasty taco flavor. A creamy cilantro lime dressing ties it all together.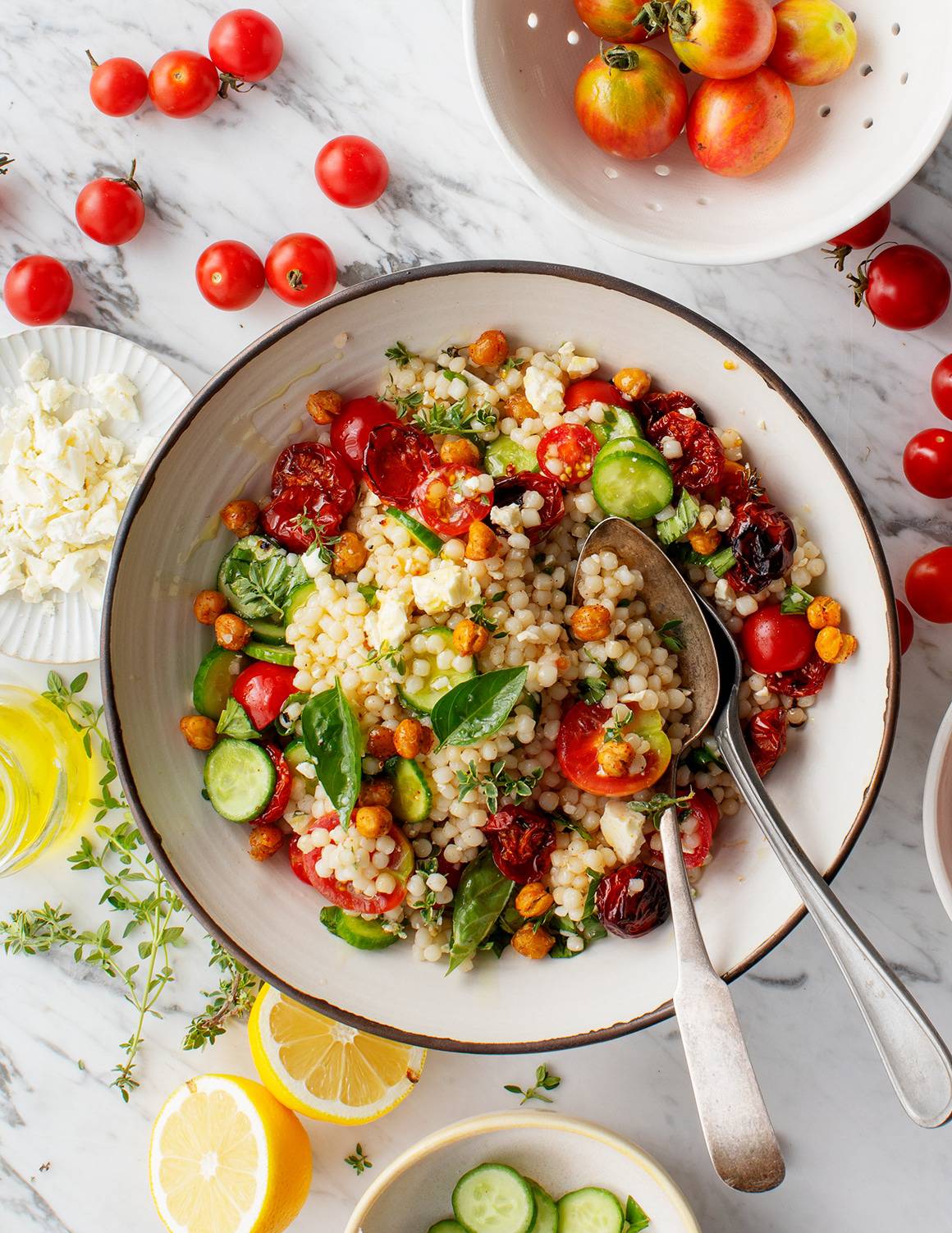 Cherry Tomato Couscous Salad
This stunning salad has a wonderful mix of textures and flavors. Tender couscous contrasts with crispy roasted chickpeas, and juicy fresh tomatoes play off chewy roasted ones. Feta cheese adds rich, tangy flavor, and a shower of fresh herbs lends the perfect finishing touch.
Panzanella Salad
Serve it with crisp white wine for a light, laid-back summer dinner.
Summer Recipes for Soups and Stews
It may not be soup season, per se, but if you ask me, gazpacho, ratatouille, and good ol' tomato soup are some of the best summer dinner ideas around.
Ratatouille
A late-summer classic. Serve it with a generous drizzle of olive oil and good crusty bread.
Tomato Chickpea Tortilla Soup, page 245 of The Love & Lemons Cookbook
Charred tomatoes on the vine create a smoky broth for this vegan tortilla soup.
Easy Gazpacho
When it's too hot to turn on the oven…or the stove…or the grill…make this gazpacho recipe! It's a breeze to make (just add the ingredients to a blender, and puree), and it's deeply cooling and refreshing.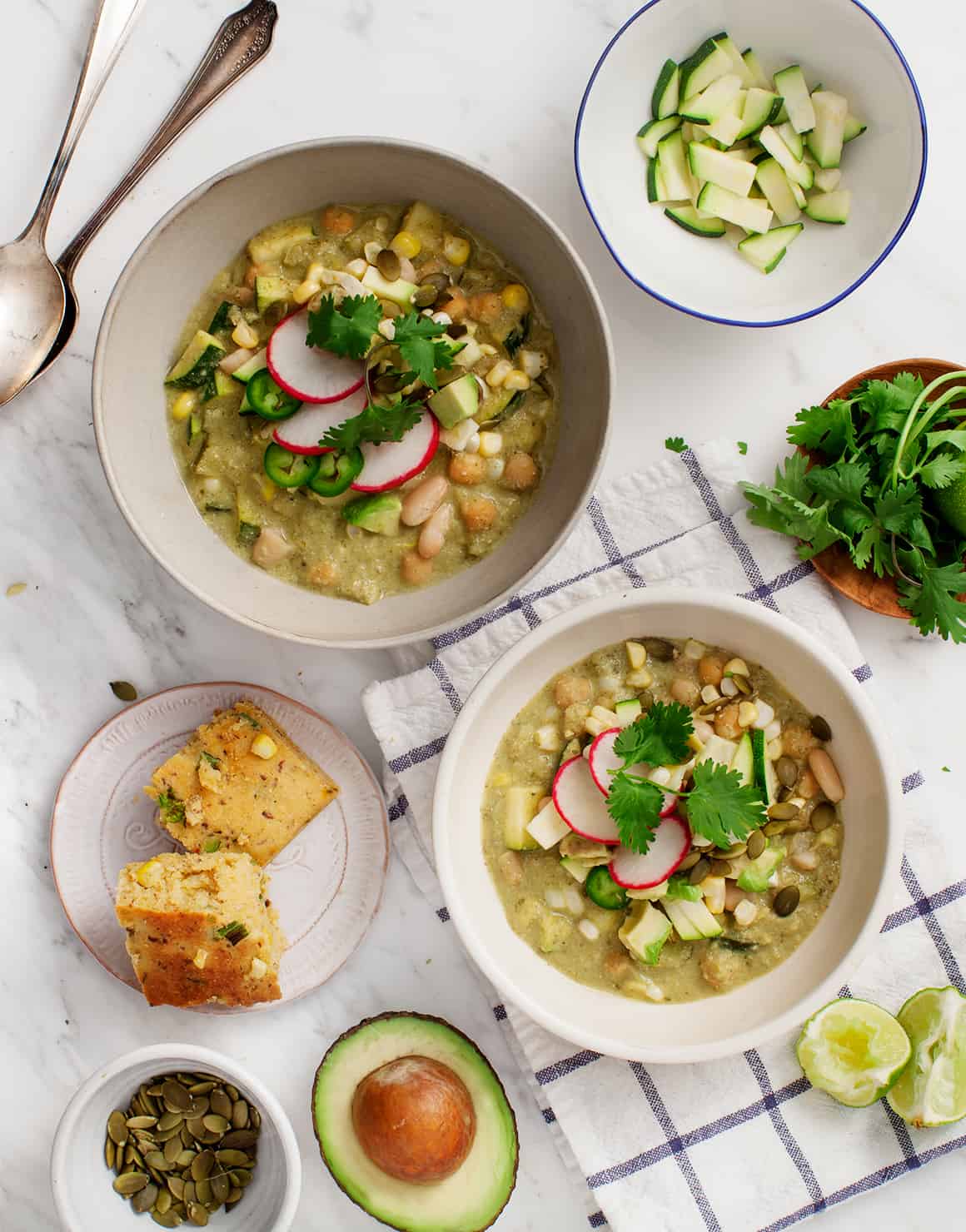 Tomatillo Zucchini White Bean Chili, page 99 of Love & Lemons Every Day
I have my Easy Vegetarian Chili on repeat in the winter, but in the summer, this lighter, brighter recipe takes its place. A zingy tomatillo broth surrounds white beans, sweet corn, and zucchini.
Tomato Basil Soup
Made with just 10 ingredients, this lightly creamy, savory soup is entirely vegan and dairy-free.
Sandwich and Wrap Summer Recipes
Eat them at home for an easy weeknight dinner, or pack a picnic, and take them on-the-go!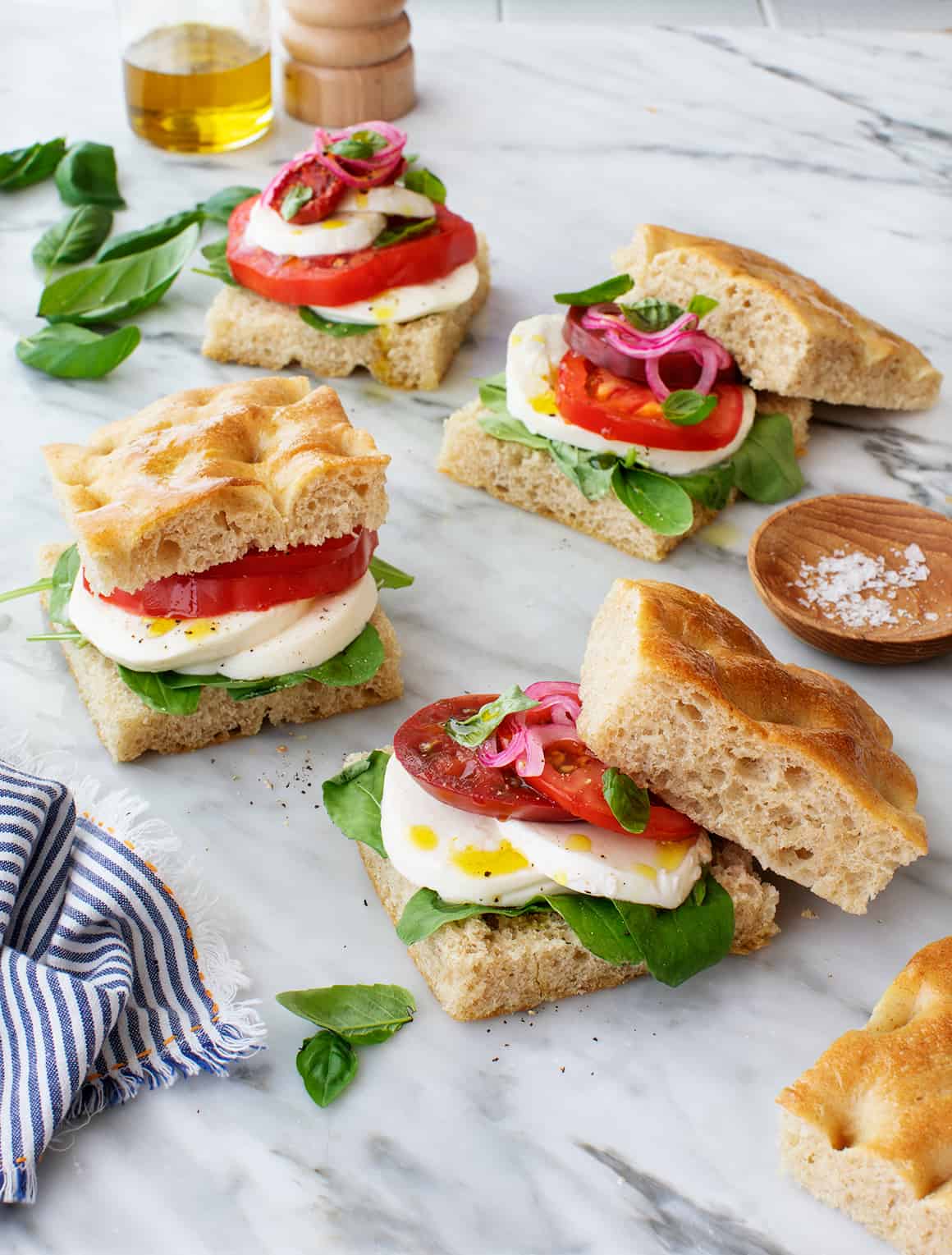 Caprese Sandwich
If Caprese sandwiches aren't already in your rotation of summer dinner ideas, then it's your lucky day! You can put them together in minutes, and they're fresh, aromatic, and satisfying. Get ready to make them on repeat.
Crispy Baked Falafel
Tuck it into pita with hummus, tahini sauce, pickled onions, and your favorite summer veggies.
Green Tomato Basil Grilled Cheese, page 247 of The Love & Lemons Cookbook
A side of tomato soup is optional, but highly recommended.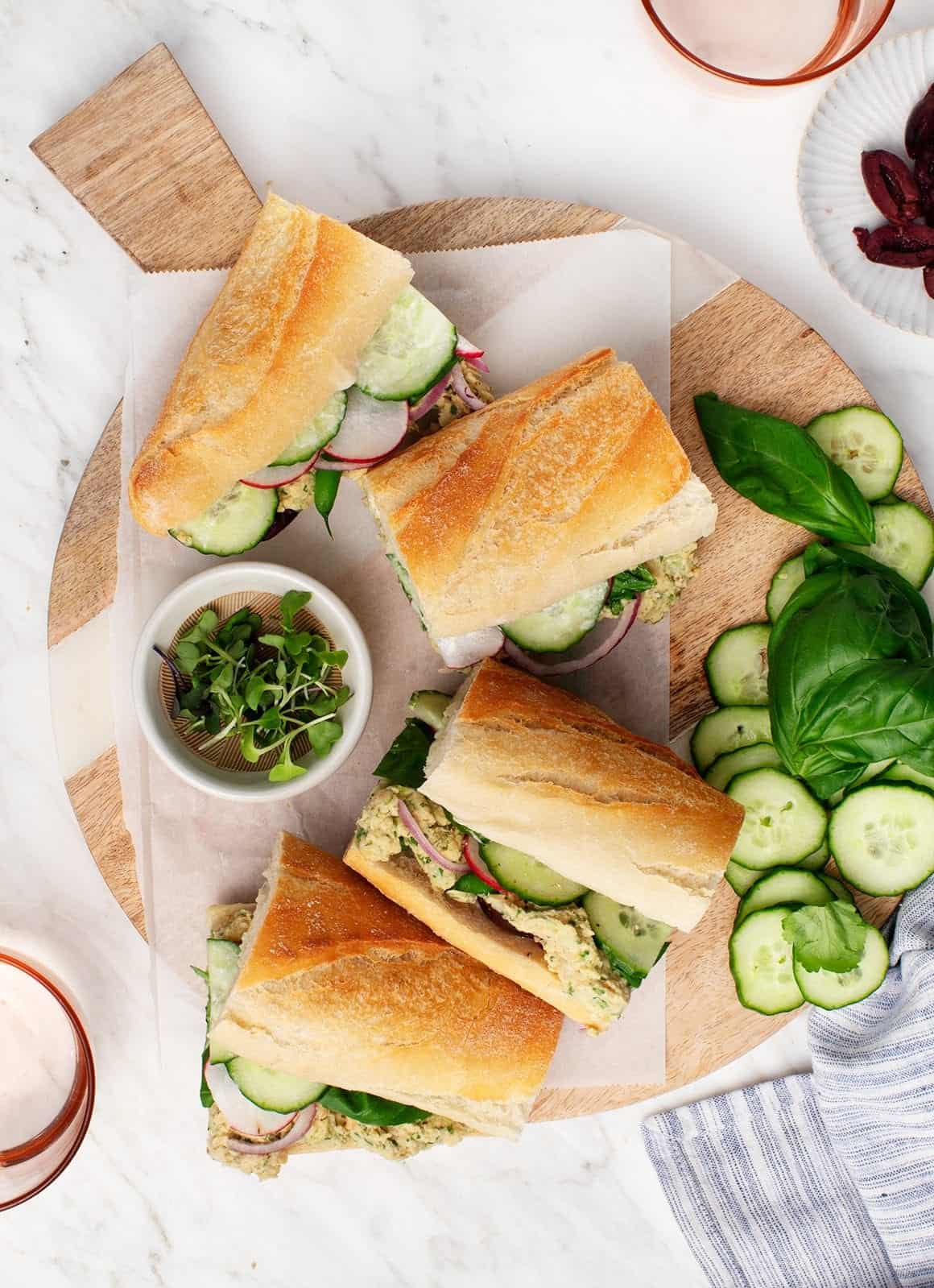 Chickpea Salad Sandwich
These picnic-perfect sandwiches are my vegan riff on a pan bagnat. I replace the traditional tuna with an herbed tahini and chickpea salad.
Mango Avocado Collard Wraps, page 151 of The Love & Lemons Cookbook
Brown rice and avocado make these wraps nice and hearty, while mango, bell pepper, and a creamy carrot-ginger sauce pack them with fresh flavor.
Summer Recipes for Casseroles
Serving a crowd? You're in the right place. These summer dinner ideas are designed to feed a group.
Best Vegetarian Lasagna
When you think of summer dinner ideas, lasagna may not be the first thing that comes to mind. This lasagna, though, is a must-try summer recipe. Between all those noodles and marinara, you'll find a fresh, flavorful medley of roasted summer veggies.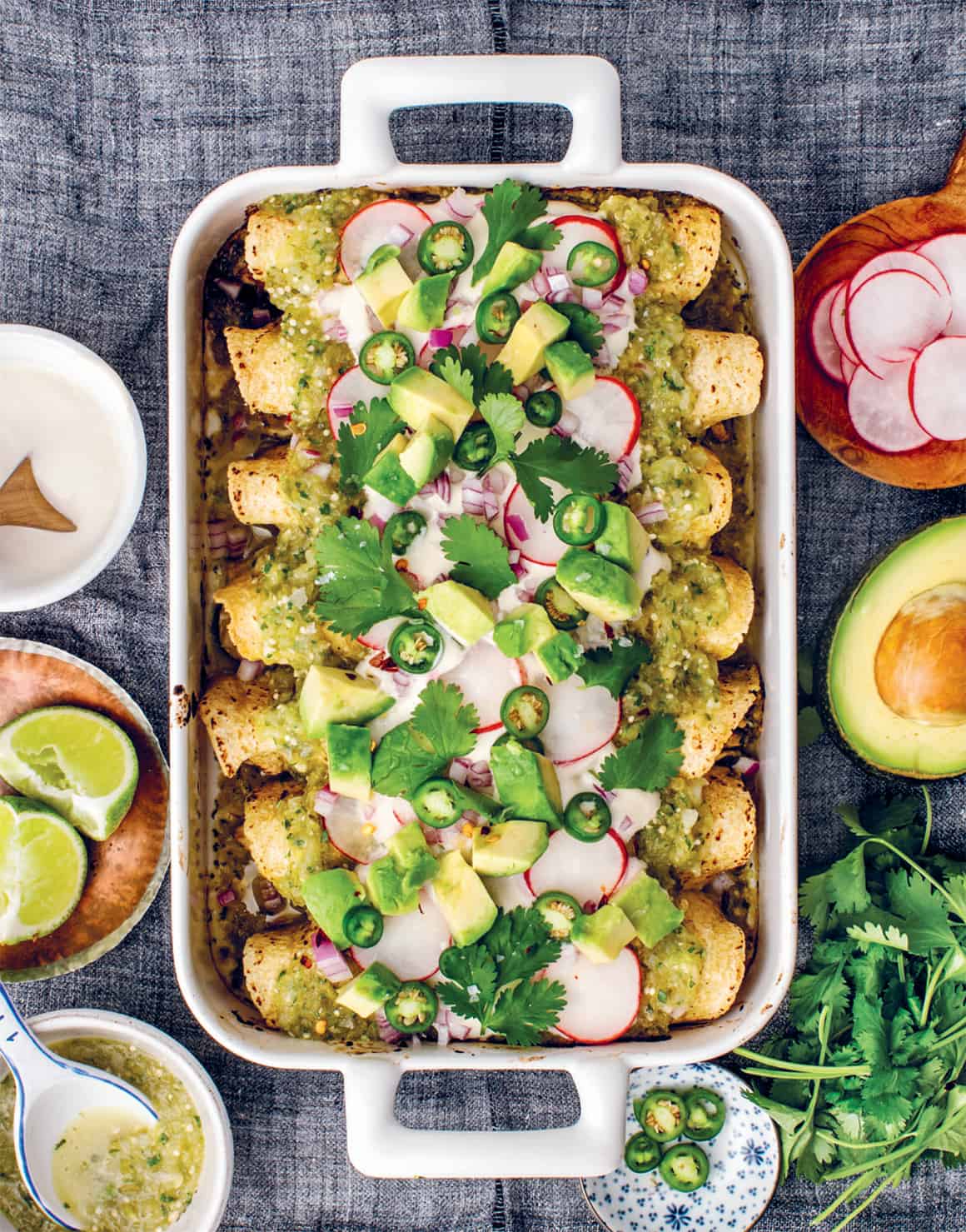 Zucchini Verde Vegan Enchiladas, page 157 of Love & Lemons Every Day
Who says you need meat or cheese to make crave-worthy enchiladas? I fill these guys with black beans, tofu, and sautéed veggies and smother them with tomatillo salsa and cashew sour cream. Even Jack, the biggest cheese lover I know, goes back for seconds.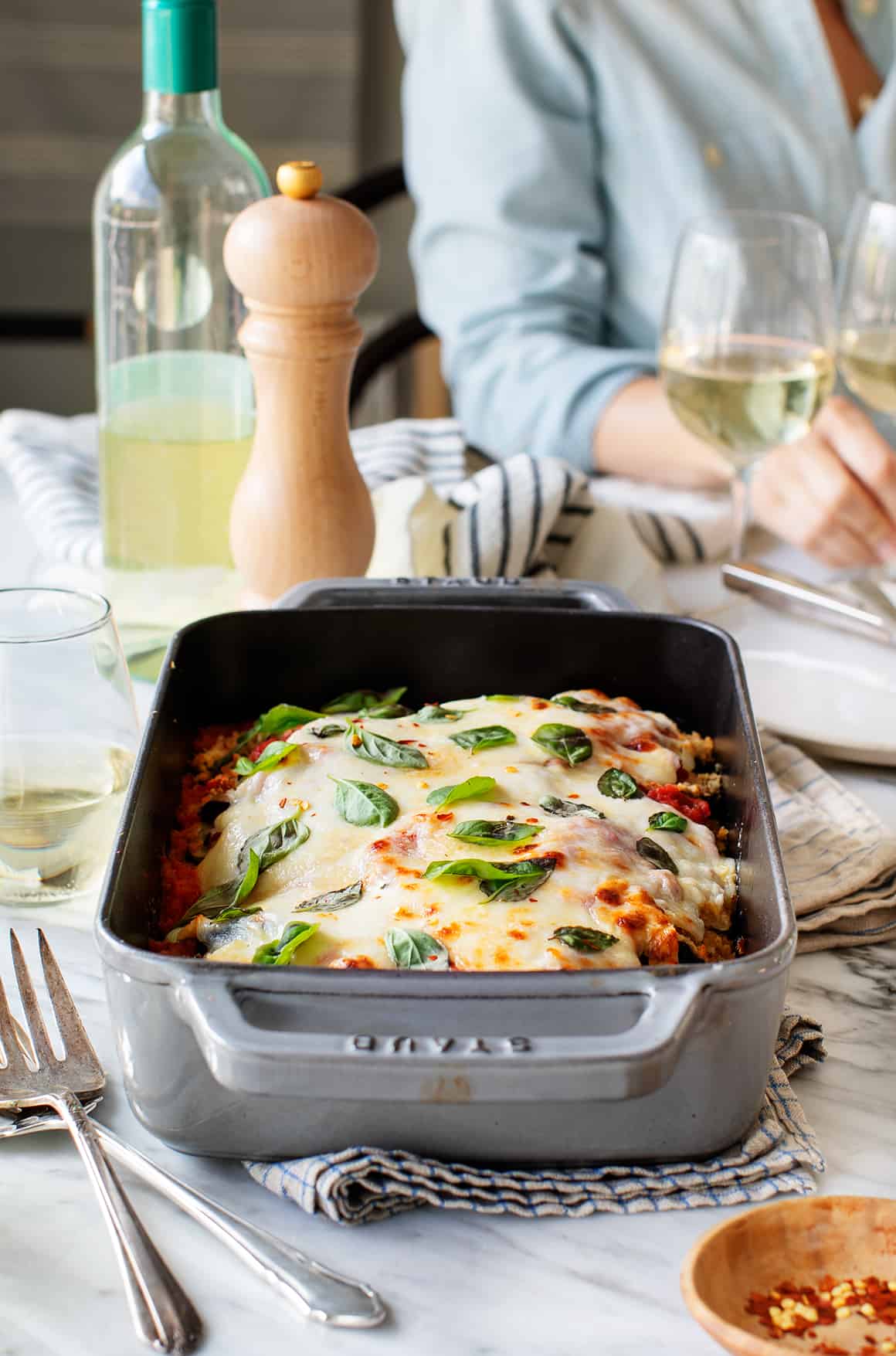 Eggplant Parmesan
In this lighter riff on my mom's classic recipe, I bake the eggplant slices instead of frying them. Don't worry, though – they're still crispy and delicious!
Zucchini Lasagna
What do you do when you've made zucchini bread, zucchini chips, grilled zucchini, and zucchini salad, and you still have zucchini left to use? Make this zucchini lasagna! I sub zucchini planks for half the lasagna noodles and blend more zucchini into the creamy filling.
Noodles and Bowls
These summer dinner ideas all keep well, so if you have leftovers, you're in luck. Pack them up for an easy lunch the next day!
Sesame Soba Noodles
Customize this recipe with whatever summer veggies look best. Julienned carrots and cucumber, sautéed mushrooms, asparagus, broccoli, and green beans would all be excellent here.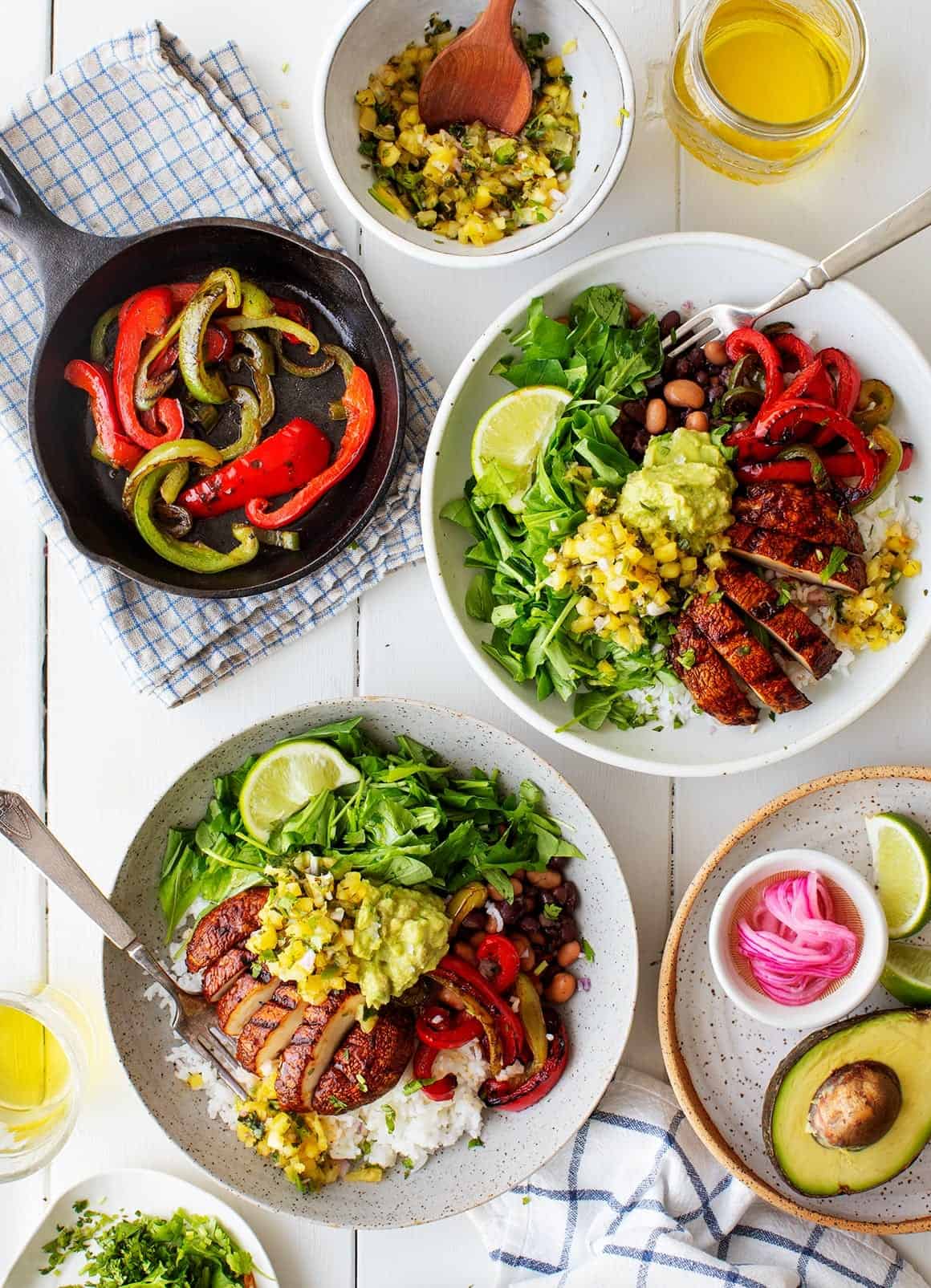 Vegan Burrito Bowl
This hearty, healthy bowl is perfect for meal prep. Grill the veggies, cook the rice, and mix up the sweet & spicy pineapple salsa ahead of time. Just add guac when you're ready to eat.
Vegan Poke Bowl
Hot days call for refreshing summer recipes like this one. A plant-based take on Hawaiian poke, it features cooling watermelon, cucumbers, and pickled ginger.
Pizza Summer Dinner Ideas
Dough? Check. Sauce? Check. Just add toppings, and you're good to go.
Cast Iron Skillet Pizza
You can (and should) make skillet pizza all year round, because the crust is thick, chewy, and extra-crisp on the bottom. I included it here, though, because I love it with summer toppings. Think roasted tomatoes, roasted red peppers, and big dollops of pesto.
Best Vegan Pizza
You won't miss the cheese on this super-veggie vegan pizza. Sun-dried tomatoes, onions, basil, and a rich cashew cream sauce pack it with plenty of flavor.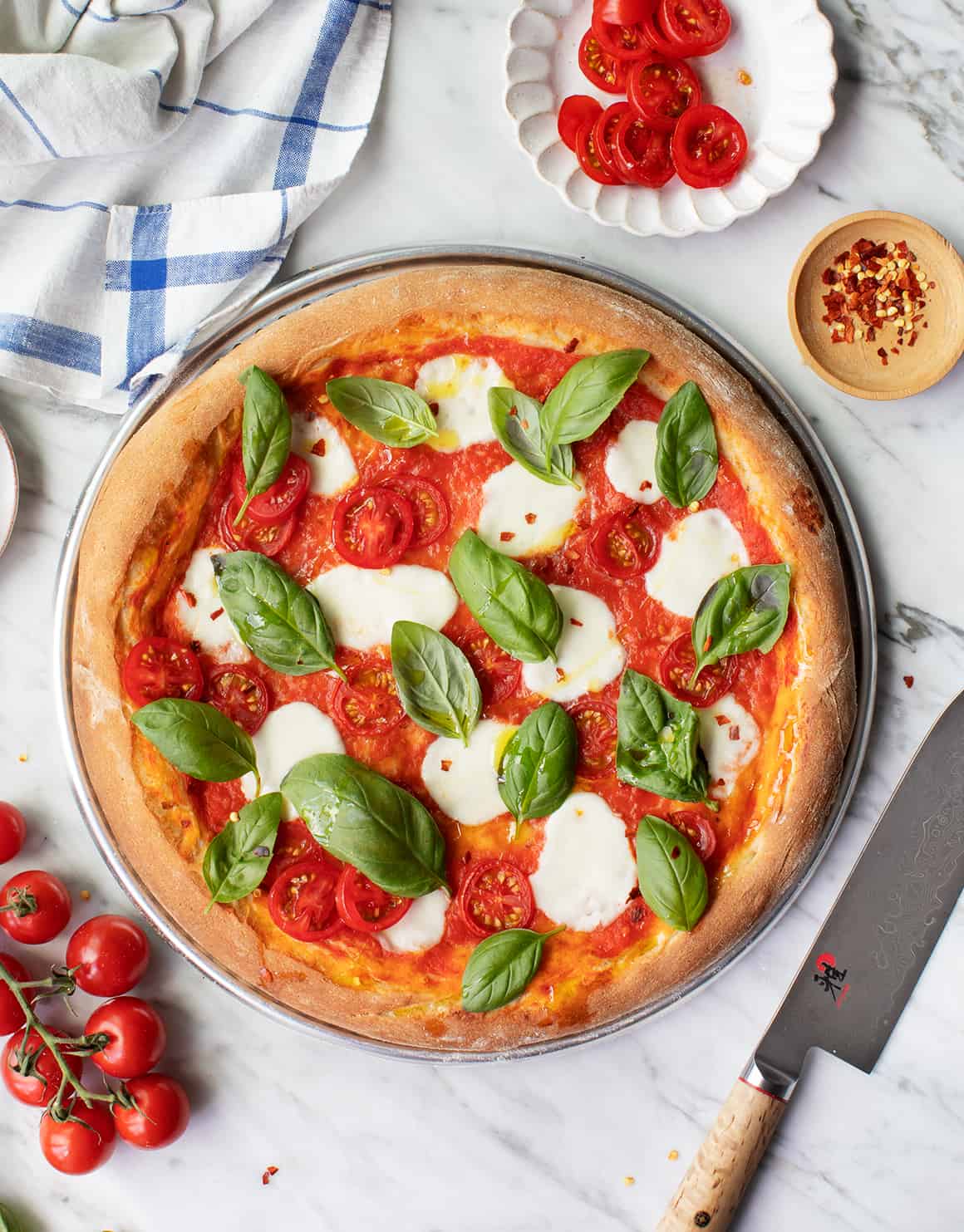 Margherita Pizza
Think of all the summer dinner ideas that revolve around tomatoes, basil, and mozzarella. This pasta, this sandwich, this salad. It's only natural that we should pile them onto pizza, too.
More Favorite Summer Recipes
If you love these summer dinner ideas, check out these favorite summer recipes next:
Summer Dinner Ideas: Stuffed Peppers
These stuffed red peppers are one of our favorite healthy summer dinner ideas!
Ingredients
4

red bell peppers

Extra-virgin olive oil,

for drizzling

1½

cups

white cheddar cheese

Avocado slices or guacamole

,

for serving

Lime wedges

,

for serving

Sea salt and freshly ground black pepper
Instructions
Preheat the oven to 450°F and line a baking sheet with parchment paper. Slice the peppers in half lengthwise, remove the seeds and membranes, and place on the baking sheet, cut side up. Drizzle with olive oil, salt, and pepper and bake 10 minutes. Tip out and discard any liquid that pools inside the peppers. Set the peppers aside.

Make the filling. In a large bowl, mix together the olive oil, garlic, jalapeños, scallions, lime zest, lime juice, cumin, coriander, cayenne, salt, and cilantro. Fold in the rice, black beans, and corn.

Scoop the filling into the pepper halves and top them with the cheese. Broil for 2 to 5 minutes or until the cheese is bubbling and browned. Alternatively, continue baking at 450°F for 10 to 15 minutes until the cheese is melted. Serve with the avocado slices, lime wedges, and extra jalapenos, if desired.
Notes
Vegan version: Skip the cheese. Don't bake the peppers the second time, and serve them with guacamole or chipotle sauce.