These easy summer appetizers will be a hit at your next cookout or BBQ! They include creative crudité platters, delicious dips, and more.
When I sat down to write this summer appetizers post, I glanced over at the calendar I have hanging on my wall. September already? How did that happen?! We might be nearing the end of the season, but I hope you still have a BBQ, cookout, or casual get-together left in store. In my book, at least, there's not much that beats catching up with family or friends on a warm afternoon or evening. And if it just so happens that there's a plate of summer appetizers nearby, well, that's even better.
These easy summer appetizers include crudité platters, dips, crostini, one-bite nibbles, and more. They're some of my favorite recipes for summer entertaining, partly because they're all so easy to make (and often make ahead!), and partly because they're delicious. They cater to a wide range of dietary restrictions and preferences, and, as much as possible, they showcase fresh produce. Have fun checking them out! I hope you find something you love.
Summer Appetizer Platters
If you love serving summer appetizers that make guests ooh and aah, these platters and boards are for you. Piled high with summer produce, they look great, and they taste great, too.
Ultimate Crudité Platter
This colorful board offers a little something for everyone: crunchy vegetables, a creamy dip, marinated feta, and tart cherry compound butter. Round it out with crackers and thinly sliced baguette.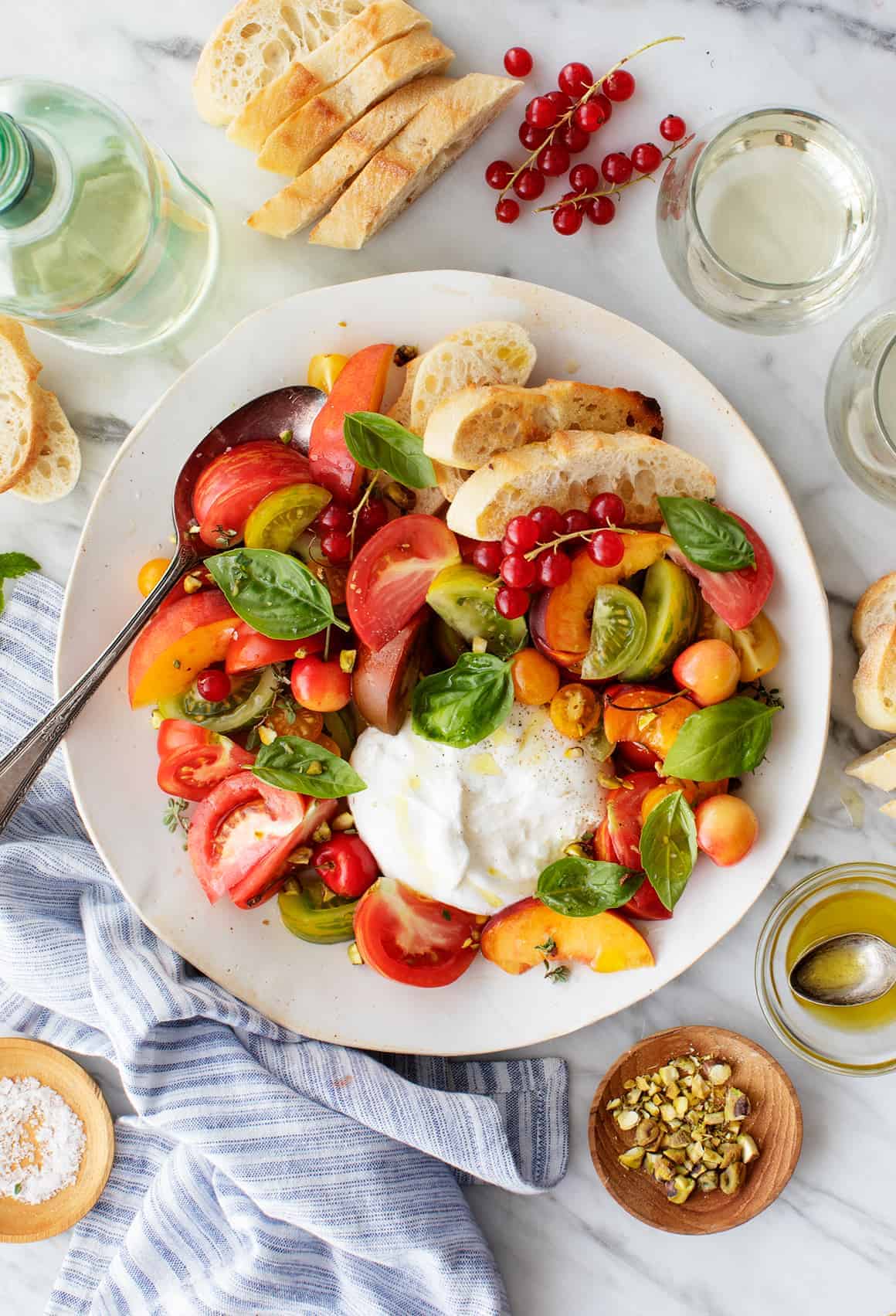 Burrata with Heirloom Tomatoes
When peaches and tomatoes are in peak season, you'll have a hard time finding a tastier (or prettier!) summer appetizer than this one. I love how the rich, creamy burrata contrasts with the juicy tomatoes and sweet summer fruit.
Sheet Pan Nachos
This mouthwatering nacho platter will get any summer gathering off to a great start! Piled with gooey vegan cheese, pico de gallo, pickled red onion, and avocado, it's totally plant-based. Still, even the biggest meat and cheese lovers will keep coming back for more.
Almond Cheese with Herbes de Provence, page 73 of Love & Lemons Every Day
This unconventional cheese board boasts a creamy, savory vegan "cheese" made from almonds, lemon juice, and nutritional yeast. Delicious on crackers or colorful veggies, it's one of my favorite summer appetizers to serve at gatherings, regardless of whether my guests are vegan or not.
One-Bite Summer Appetizers
At a BBQ or cookout, there's nothing more convenient (or more fun) than finger food! With utensils out of the picture, it'll be easy for you and your guests to mix and mingle while you eat.
Caprese Skewers
A bite-sized version of a classic Caprese salad, these adorable skewers are a summer party essential. Before serving, drizzle them in this easy balsamic reduction for a pop of tangy flavor.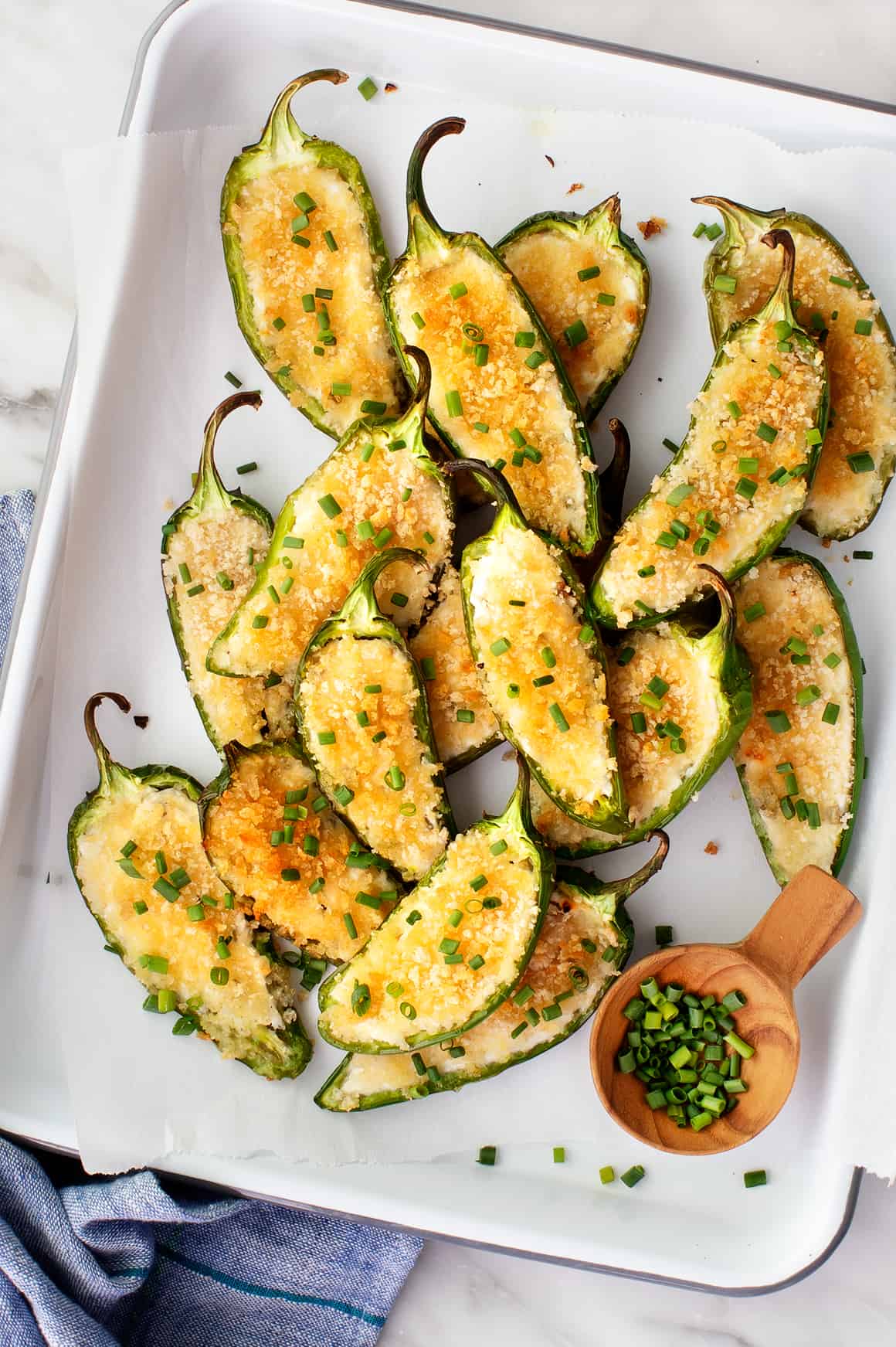 Jalapeño Poppers
Psst! These lightened-up jalapeño poppers are made with Greek yogurt instead of cream cheese, but you'd never guess it from the taste. They're crispy on top, creamy in the middle, and filled with savory, spicy flavor. You won't be able to get enough of them!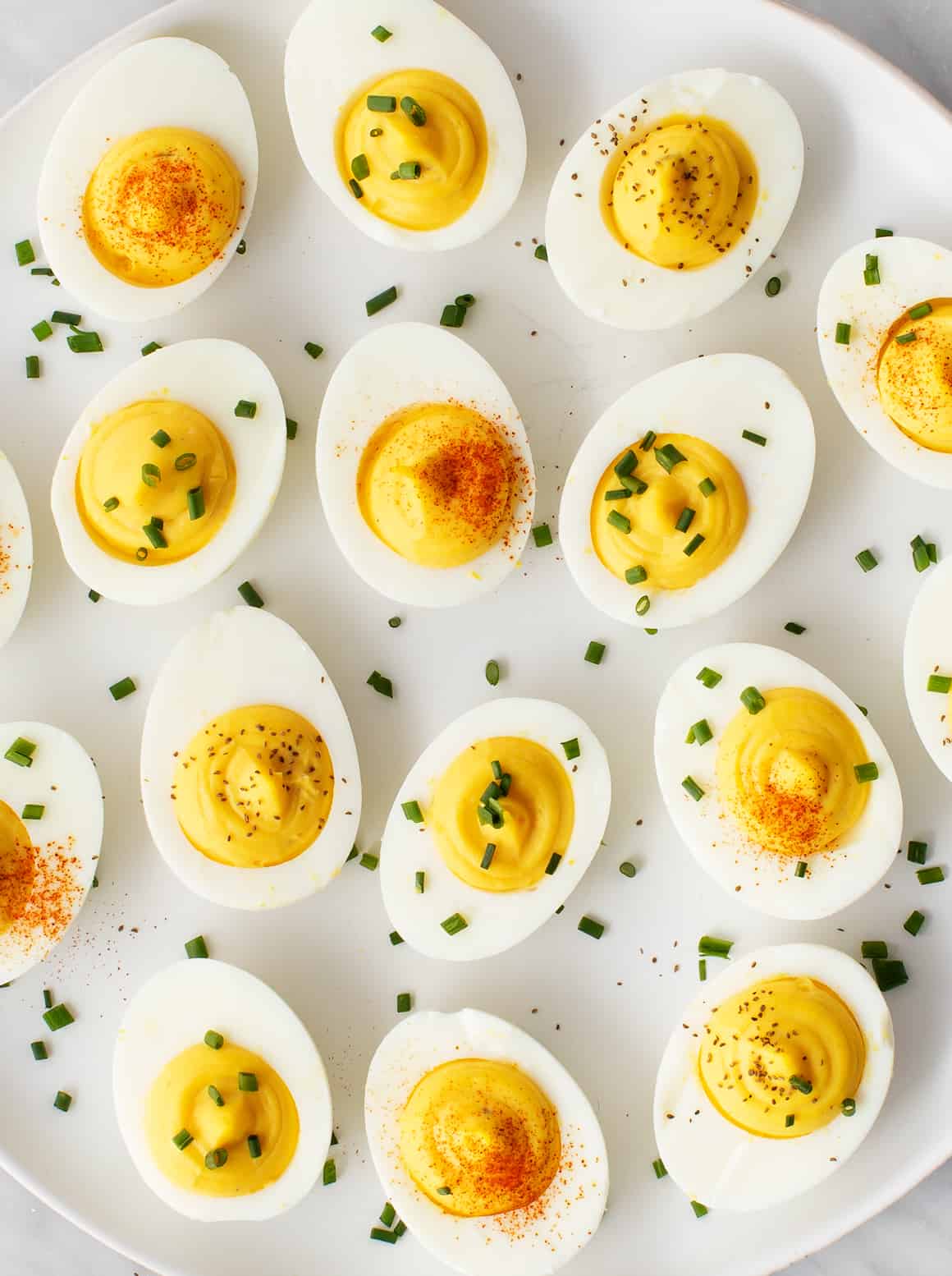 Best Deviled Eggs
What summer get-together is complete without deviled eggs?! I like to sprinkle mine with chives, celery seed, and/or smoked paprika for a super cute and flavorful finishing touch.
Blistered Shishito Peppers
These (usually) sweet peppers cook up in under 10 minutes, so they're the easiest summer appetizer around. Peanut sauce for dipping is optional, but highly recommended.
Salsa and Guac
Pass the tortilla chips! These tried-and-true summer appetizers are always a hit.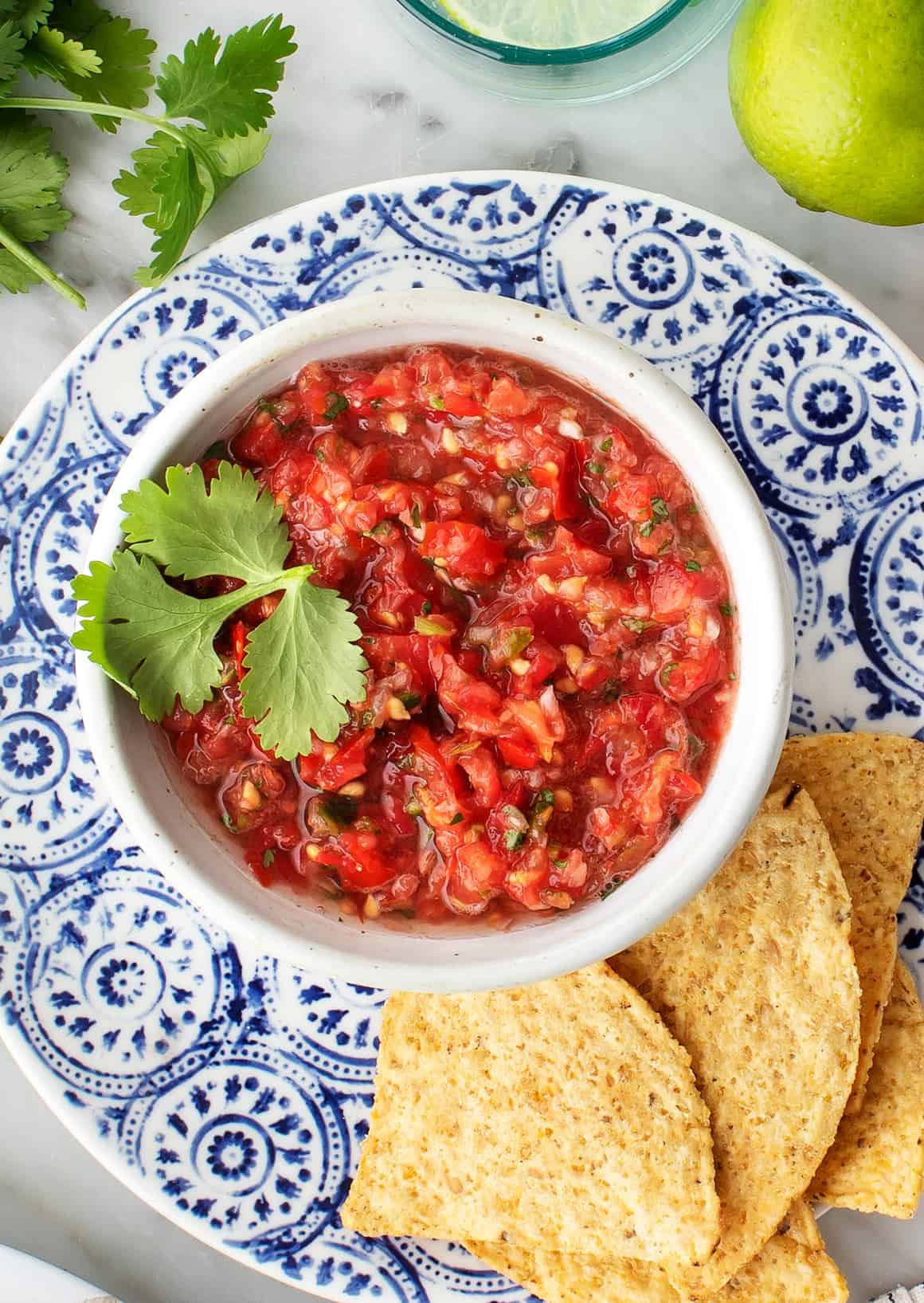 Homemade Salsa
Show off your summer tomatoes in this bright and zesty homemade salsa! Made with under 10 ingredients, it whizzes up in minutes.
Best Guacamole
Fun fact: Jack doesn't like guacamole. I'm pretty sure everyone else does, though, so you can't go wrong by making it for your next cookout or BBQ!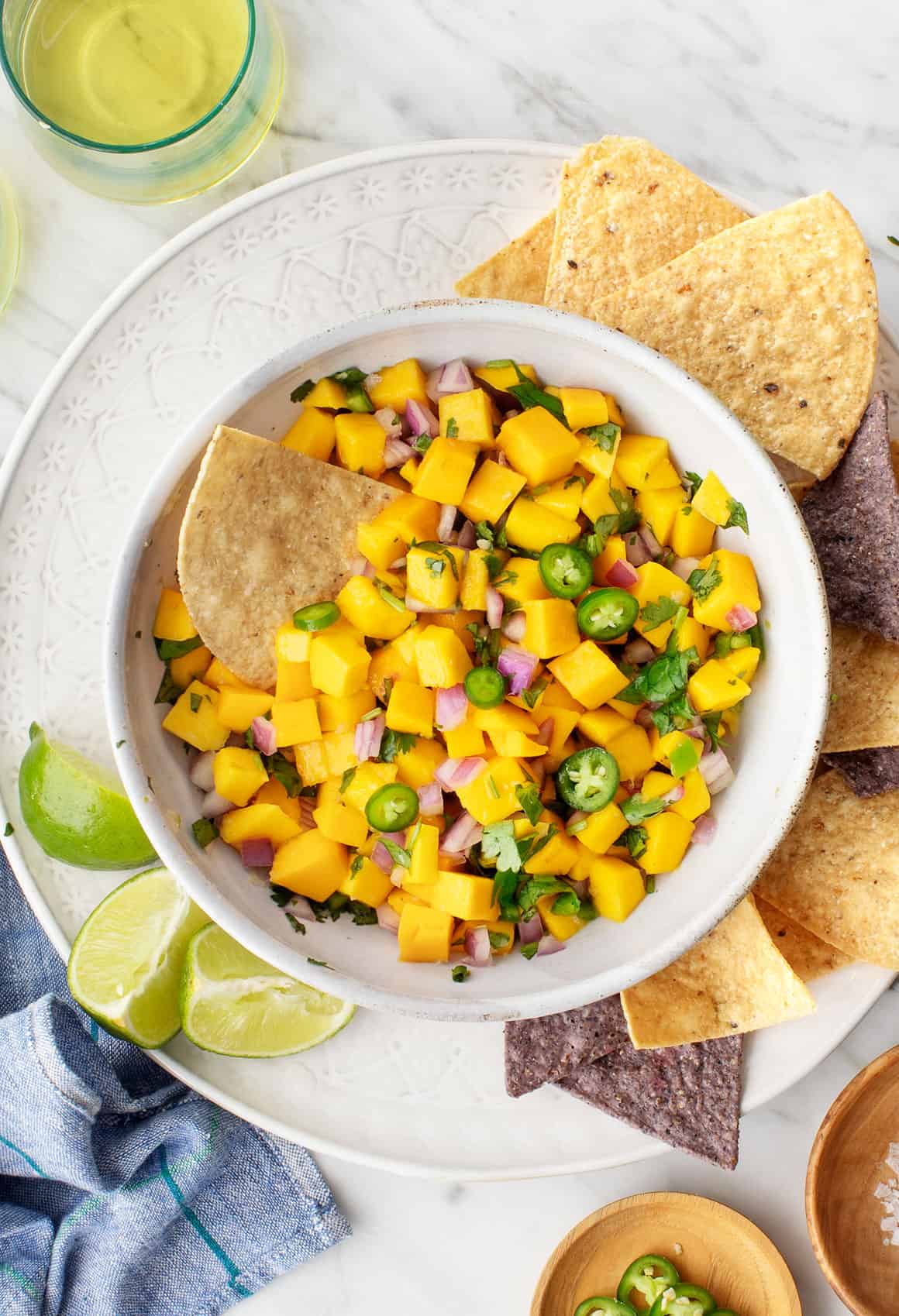 Easy Mango Salsa
Love sweet and spicy flavors together? Then this fruity salsa is for you! Light and bright, it's so refreshing on hot summer days.
Cowboy Caviar
This addictive corn and bean dip falls into my favorite category of summer appetizers: ones that are great for making ahead. Feel free to prepare it up to a day in advance. Just wait to add the avocado until the last minute!
Vegan Seven Layer Dip
A plant-based ode to my mom's famous Seven Layer Dip, this recipe features refried beans, guacamole, spiced-up quinoa, cashew cream, and all sorts of fresh veggies. You and your guests will love it!
More Easy Spreads and Dips
All of these easy summer appetizers can be made well in advance, which I always think is a win. Whether you're hosting or attending a summer shindig, it's so convenient to have something prepped and ready to share ahead of time.
Baba Ganoush
It's eggplant season! What better way to show it off than in this silky, smoky Middle Eastern dip? Set out a bowl with pita and veggies, and it'll be gone in minutes.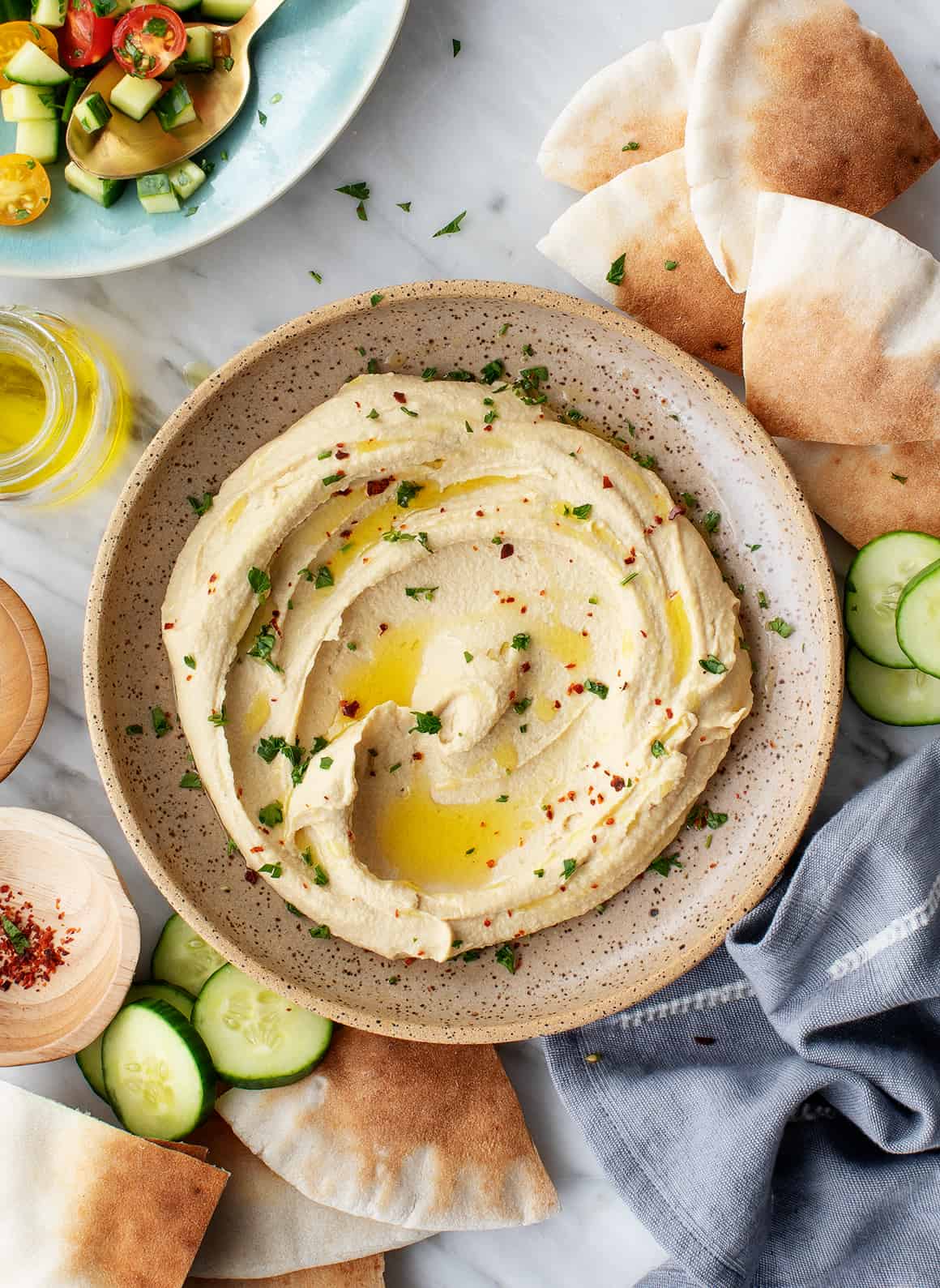 Best Hummus
If you're looking for summer appetizers that are easy to put together at the last minute, then this smooth and creamy hummus is exactly what you need. Made with 7 basic ingredients, it comes together quickly in the food processor or blender.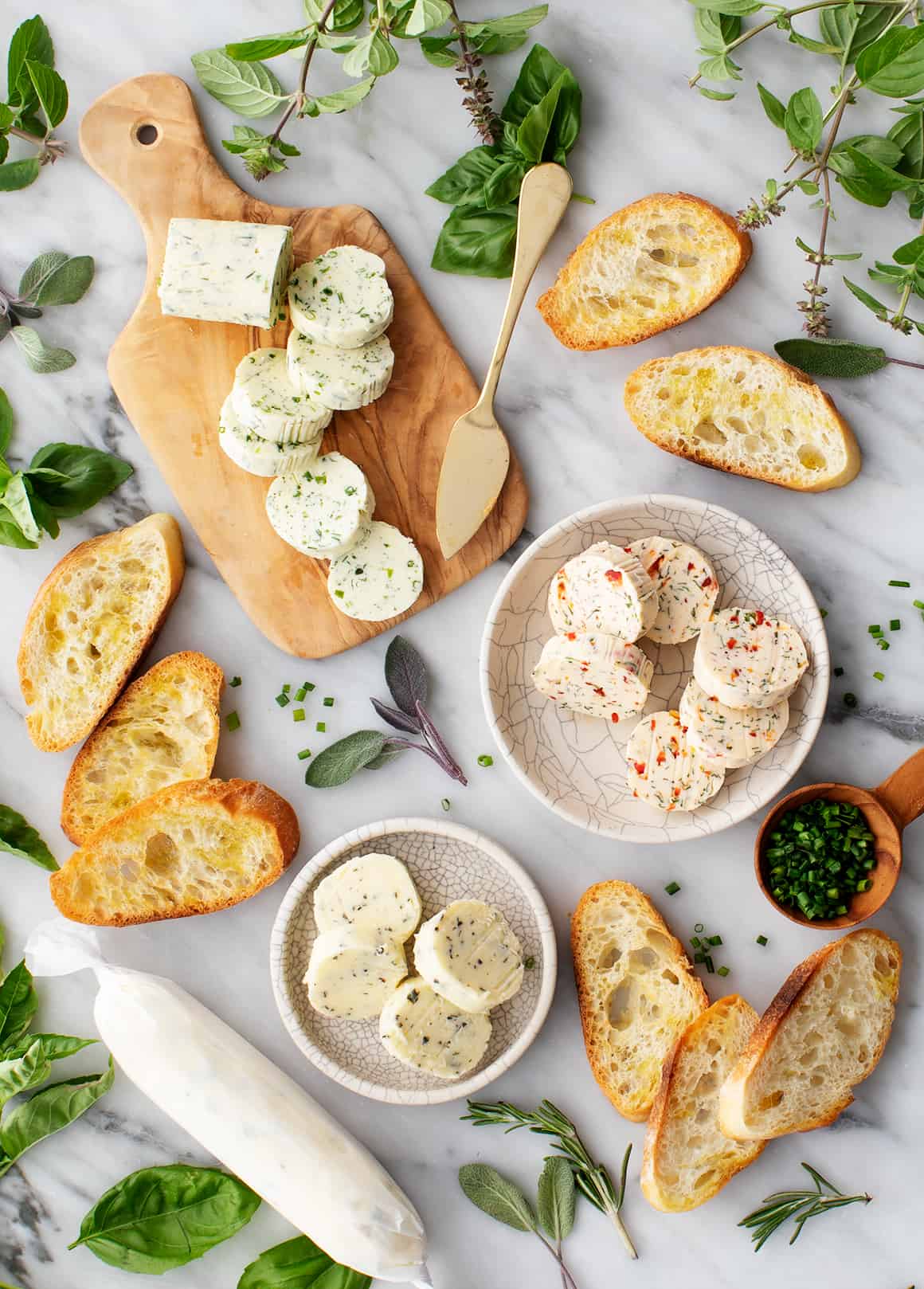 Herb Compound Butter
These compound butters look simple, but their rich flavors will wow you and your guests. Serve one or more with toasted baguette for a memorable summer appetizer.
French Onion Dip
A plant-based riff on the store bought French onion dip I loved as a kid! I mix my rich, tangy vegan sour cream with umami caramelized onions to make this irresistible party dip.
White Bean Dip
The perfect partner for fresh summer veggies! It's bright, creamy, and made with just 5 ingredients.
Wrap and Roll Summer Appetizers
These easy summer appetizers are a fantastic way to use summer herbs. Tucked into these rolls and wraps, they'll delight guests with their fresh, unexpected flavors.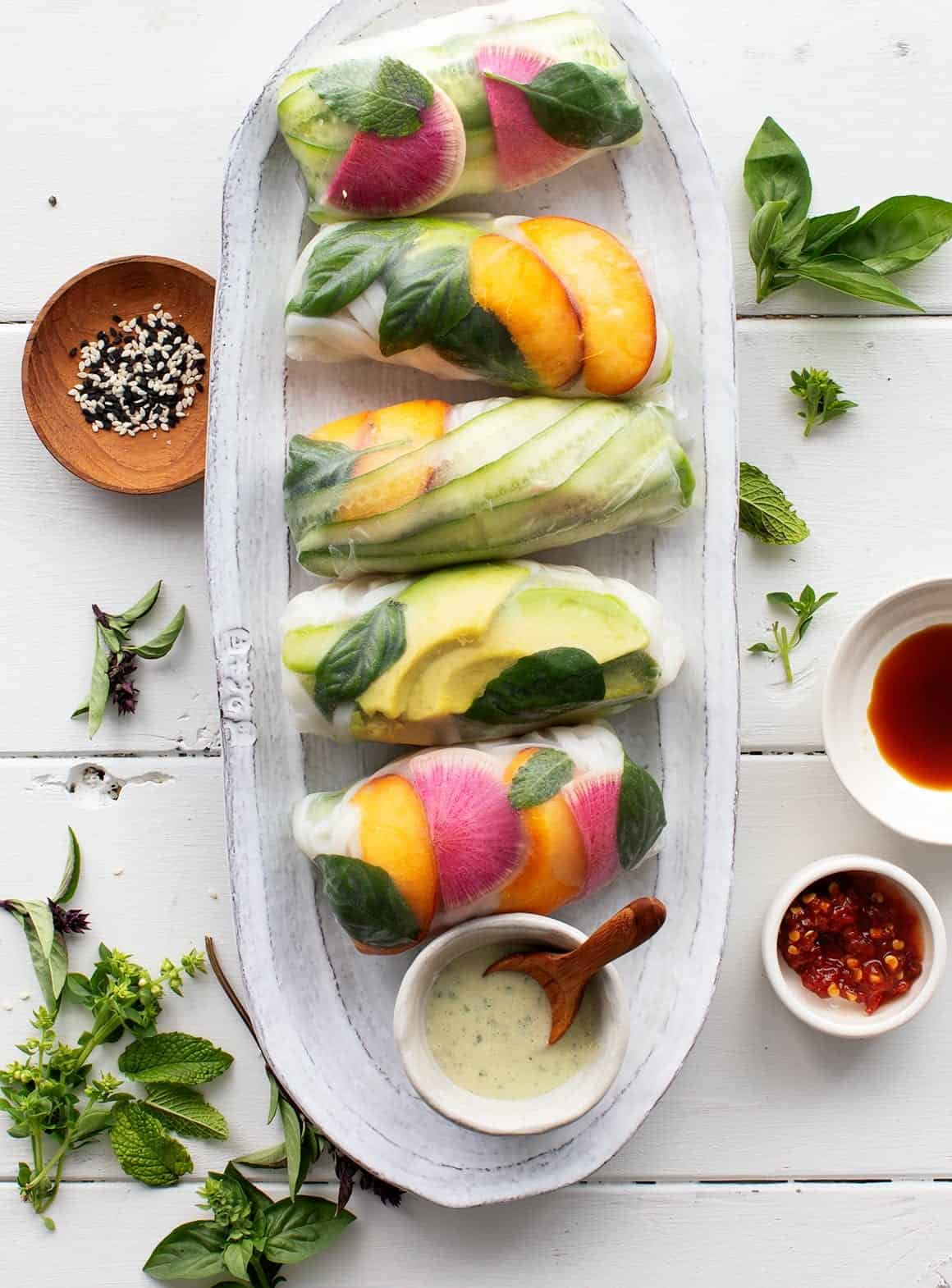 Avocado Summer Rolls
These sweet and savory summer rolls are filled with basil, mint, peaches, avocado, noodles, tofu, and more. I love to serve them with a creamy coconut-basil dipping sauce, but soy sauce or tamari is yummy too.
Fresh Spring Rolls
Love peanut sauce? You'll flip for these yummy spring rolls! I stuff them with peanut noodles, sautéed mushrooms, bell peppers, and avocado and serve them with more peanut sauce for dipping.
Nori Wraps
These cute little wraps taste like veggie sushi, but they're far easier to make. Top each square of nori with cooked rice, pickled ginger, and fresh veggies and herbs, and voila! Add you need is a squirt of sriracha mayo to take it over the top.
Bruschetta and Crostini Summer Appetizers
These classy summer appetizers are bound to impress, but they're not at all tricky to make. Fresh, seasonal ingredients give them their vibrant flavors.
Tomato Bruschetta
What would a list of summer appetizers be without a classic tomato bruschetta? I add capers and olives to the tomato topping for bold, briny flavor.
Zucchini & Radish Carpaccio Crostini, page 67 of Love & Lemons Every Day
I top these colorful crostini with a slather of labneh or soft goat cheese and fresh veggies tossed in a lemon-ginger dressing. They're the perfect light bite for a summer cocktail party or happy hour.
Blackberry Basil Bruschetta, page 43 of The Love & Lemons Cookbook
We all love tomatoes and basil together, but I'll let you in on a secret: blackberries and basil are a darn good combination too! Before I add the berries to the bruschetta, I macerate them with a little balsamic vinegar to bring out their juices.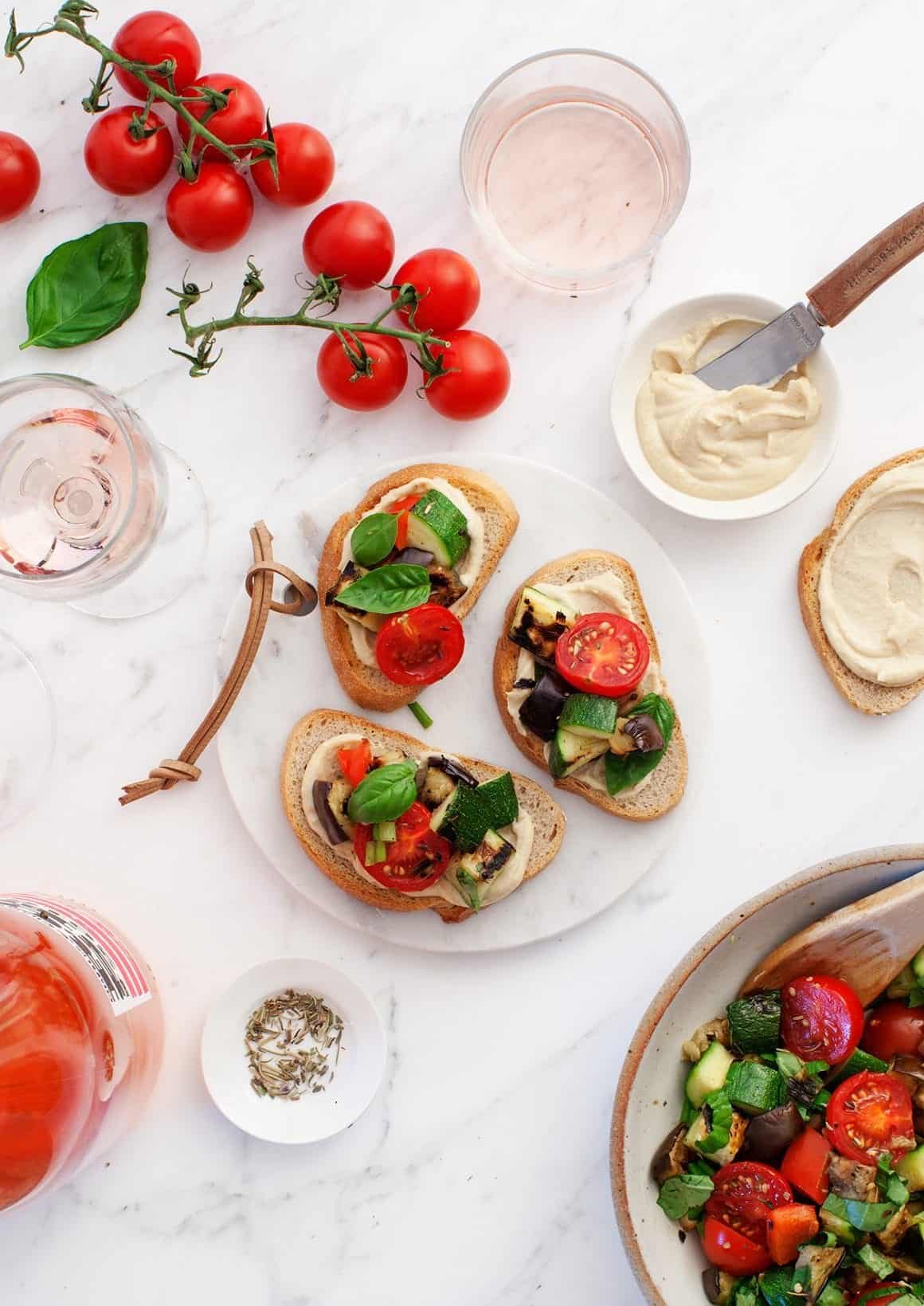 Grilled Ratatouille Tartines
These ratatouille-inspired tartines are topped with grilled summer veggies, fresh herbs, and a big slather of hummus. Serve them with your favorite rosé!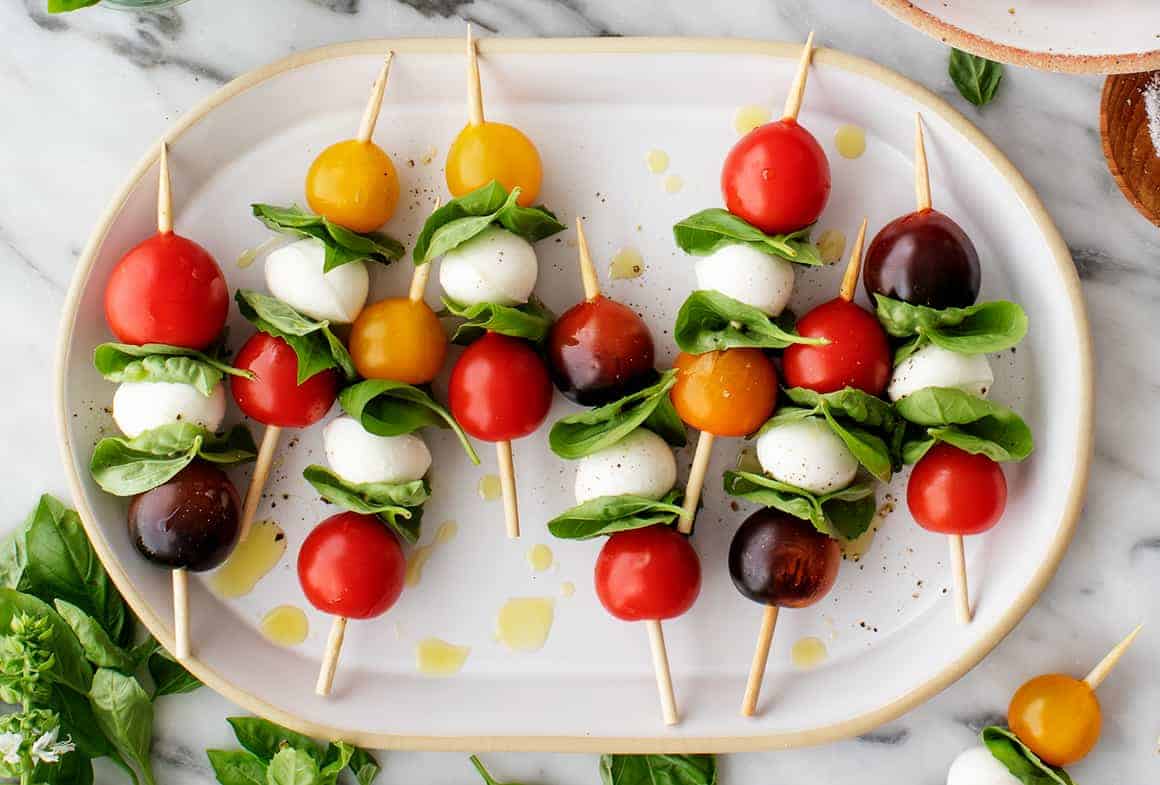 Easy Summer Appetizers: Caprese Skewers
These Caprese skewers are one of our favorite easy summer appetizers!
Instructions
Thread the tomatoes, mozzarella, and basil onto mini skewers.

Drizzle with olive oil and balsamic reduction and sprinkle with salt and pepper.