These cut-out sugar cookies are fun and easy to make. They have crisp edges and thick, soft middles. Enjoy them plain or decorate them with royal icing!
When I was a kid, my family's sugar cookie recipe was the first thing that brought us back into the kitchen after Thanksgiving. We'd spend the weekend after the holiday rolling out dough, cutting out festive shapes, and decorating the cookies once they were baked. To me, baking sugar cookies still feels like the first sign that Christmas is on its way, and this easy sugar cookie recipe is the perfect way to kick off the holiday season!
It's fun and easy to make, and best of all, it's delicious. These sugar cookies are thick and soft, with scrumptious crispy edges. Growing up, we always added almond extract to our Christmas sugar cookies, so I had to use it in this recipe, along with lemon zest (of course) and vanilla. None of these flavors is overbearing, but they combine to make the cookies taste rich, warm, and slightly tangy. Enjoy them plain, or decorate them with royal icing for an extra-festive treat.
How to Make Sugar Cookies
Want to learn how to make sugar cookies? Start with these ingredients:
Ingredients
All-purpose flour – Spoon and level it to avoid packing too much into your measuring cup.
Baking soda – It helps the cookies puff up slightly in the oven.
Cream of tartar – It's not just for snickerdoodles! Cream of tartar keeps these sugar cookies soft and gives them a slightly tangy flavor.
Unsalted butter – Let it soften at room temperature for 1 hour before you start to bake.
Powdered sugar – Have you ever eaten sugar cookies that had a grainy texture? By using powdered sugar instead of granulated sugar, you don't get any graininess in this recipe! It make these cookies soft, tender, and lightly sweet.
An egg – It adds richness and makes the cookies soft and chewy in the middle.
Vanilla and almond extract – For warm depth of flavor.
Lemon zest – For brightness.
And sea salt – To make all the flavors pop!
Find the complete recipe with measurements below.
Ready to bake?
Start by making the sugar cookie dough. In a medium bowl, mix together the dry ingredients. In the bowl of a stand mixer fitted with the paddle attachment, cream together the butter and sugar. Beat in the egg, vanilla and almond extracts, and lemon zest, and then add the flour mixture, 1/3 at a time. Mix until everything is well combined.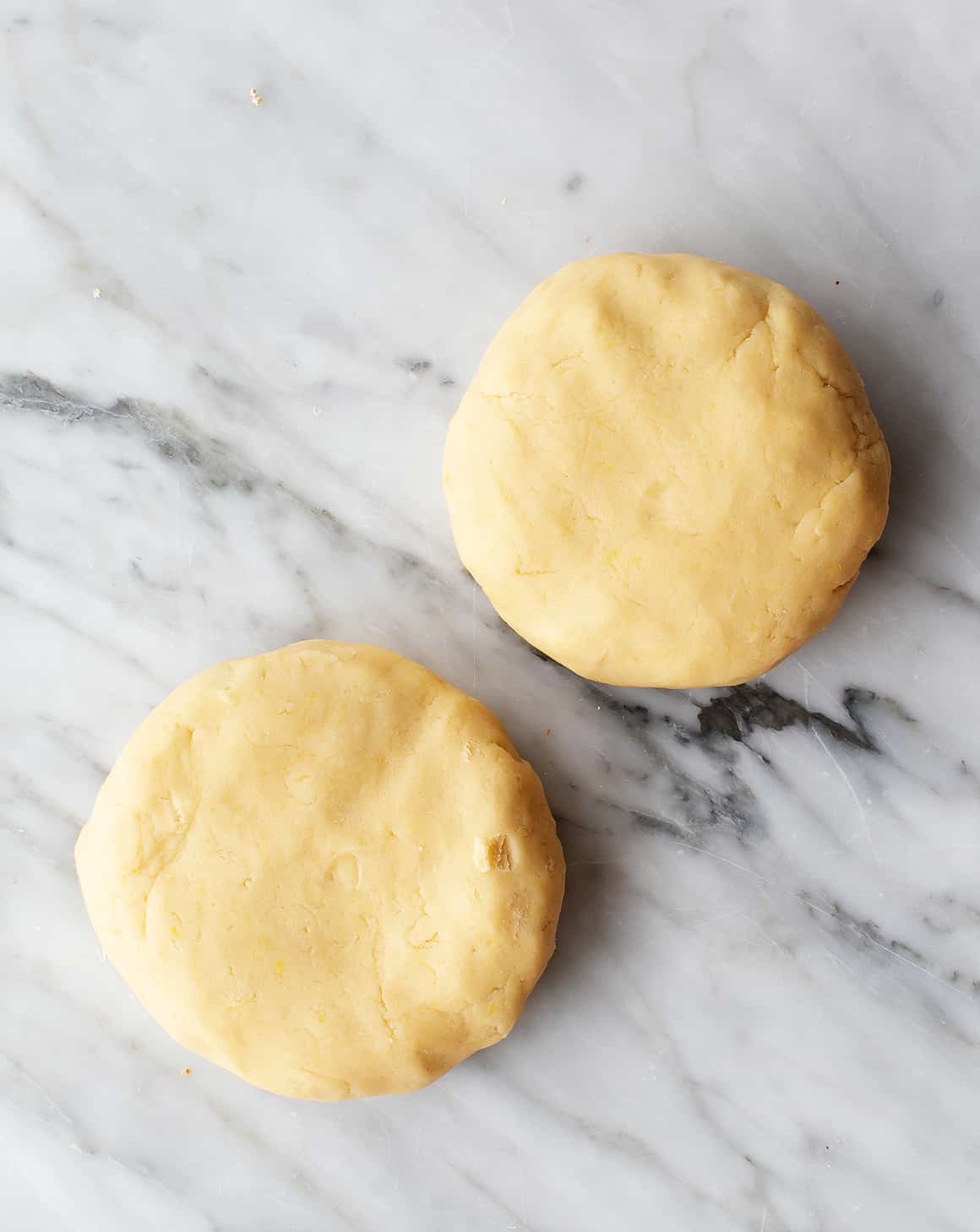 Next, chill the dough. Shape the sugar cookie dough into 2 disks, wrap both in plastic wrap, and transfer them to the fridge to chill for 2 hours.
After the dough has chilled, use a rolling pin to roll it out on a lightly floured surface. Be careful not to roll the dough too thin. To get thick, soft sugar cookies, aim for it to be about 1/4-inch thick. If it gets much thinner, the cookies will be crispy instead of soft.
Once you've rolled out the dough, use cookie cutters to cut out your desired shapes. Re-roll the dough, as needed, to get as many cut-outs as you can!
Then, it's time to bake. Transfer the cut-outs to several cookie sheets lined with parchment paper or silicone mats. Bake, one sheet at a time, for about 10 minutes, until the cookies are just beginning to brown around the edges. Let each batch rest on the baking sheet for 2 minutes before transferring to wire racks to cool completely.
Best Sugar Cookie Recipe Tips
Chill the dough for at least 2 hours. We tested baking these sugar cookies after just one hour of chilling, and here's our takeaway: don't cut the chilling time short! Their warm, tangy flavor improves exponentially when they chill for an extra hour. If the dough is too stiff to work with when it comes out of the fridge, let it rest for 5 minutes at room temperature before you start rolling it out.
Bake one sheet at a time. Because temperatures vary throughout an oven, bake one sheet at a time for the most even cooking. You don't want cookies on the bottom rack to burn before the top rack starts to brown!
Let the cookies rest on the baking sheet for 2 minutes after they come out of the oven. If you move them too early, they will crumble. Let the cookies set up for a full 2 minutes before transferring them to wire racks to cool completely.
Wait for them to cool completely before decorating. It's tempting to start decorating these guys right away, but your cookies need to be at room temperature before you decorate them. Otherwise, the frosting will melt! I like to make my cut-outs a few days in advance and then freeze the baked cookies to frost on another day.
Sugar Cookie Icing
My preferred sugar cookie icing is royal icing because it's easy to pipe into defined lines. You can also loosen it to fill in shapes as needed. You can find the recipe I use in the recipe card below!
If you prefer to decorate these cookies with a simpler glaze, whisk together 1/2 cup plus 1 tablespoon powdered sugar and 1 tablespoon milk or almond milk. Drizzle it over the cookies for a sweet pop of flavor.
Top either icing with your favorite sprinkles or colored sugar, if desired.
How to Store Sugar Cookies
Store sugar cookies in an airtight container at room temperature for up to a week.
Can you freeze sugar cookies?
Yes! These sugar cookies keep well in the freezer for up to 3 months. Let them thaw at room temperature before enjoying.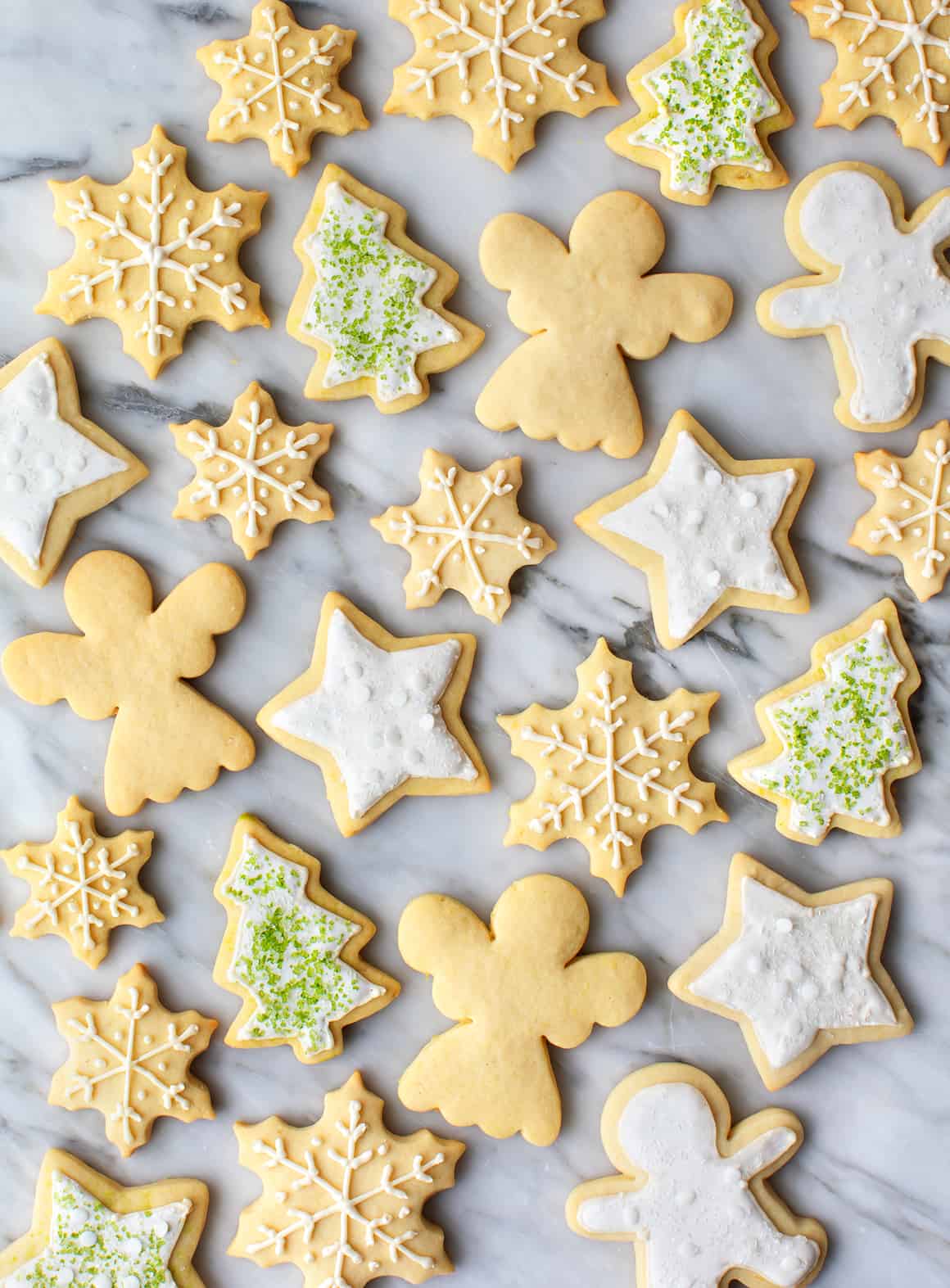 More Christmas Cookie Recipes
If you love this sugar cookie recipe, try making these Christmas cookies next:
Sugar Cookies Recipe
We love this cut-out sugar cookie recipe! These easy sugar cookies have crisp edges and thick, soft middles. They're delicious plain, but they're also perfect for decorating.
Instructions
In a medium bowl, combine the flour, baking soda, cream of tartar, and salt.

Cream the butter in the bowl of a stand mixer fitted with the paddle attachment. Add the sugar and beat until fluffy, scraping down the sides of the bowl as needed. Add the egg and beat well, then add the vanilla extract, almond extract, and lemon zest and mix again. Add the dry ingredients, one-third at a time, mixing until well combined. Divide the dough into two balls and flatten into disks. Wrap in plastic wrap and transfer to the fridge to chill for 2 hours.

Preheat the oven to 350°F and line two baking sheets with parchment paper.

Roll the dough on a lightly floured surface to ¼-inch thickness. Use cookie cutters to cut out desired shapes. Transfer to the baking sheets and bake, one sheet at a time, for 10 minutes. Let cool on the baking sheet for 2 minutes, then transfer to a wire rack to continue cooling. Cool completely before icing.
Notes
Royal Icing
4 cups powdered sugar
3 tablespoons meringue powder
5 to 6 tablespoons water, more as needed
Sift the powdered sugar into the bowl of a stand mixer. Add the meringue powder and 5 tablespoons water. Mix until smooth and glossy. Transfer half of the frosting to a piping bag with a #3 tip for piping thin lines (i.e., the snowflakes) and for outlining filled-in shapes. For flooding/filling in cookie shapes, add more water, ½ teaspoon at a time, to thin the icing to a runny consistency. There are some helpful tutorial videos here.
Recipe adapted from Disney's Family Cookbook by Deanna F. Cook. Royal icing recipe from wilton.com.