This easy stuffed peppers recipe is destined for your regular rotation! It's super simple, but the zesty rice filling makes it bold, fresh, and flavorful.
Stuffed peppers are among the handful of dishes that will always remind me of being a kid. Growing up, they were a fixture in my mom's regular recipe rotation, right alongside creamy broccoli soup, eggplant Parmesan, and mac and cheese. Back then, I'd eat the filling, made from ground beef, Italian seasoning, tomato sauce, and rice, and push aside the pepper. In hindsight, it's not hard to see why people were surprised when I became a vegetarian. 🙂
Since then, I've learned that the pepper itself is an integral part of any stuffed peppers recipe. Don't get me wrong, the filling here tastes great on its own. Inspired by my cilantro lime rice, it's a zesty mix of rice, beans, corn, cilantro, and jalapeño. Lime juice and zest brighten it up, and spices like cumin, coriander, and cayenne make it aromatic and complex. By itself, it's yummy, but the pepper adds sweetness and crunch that turns it into something more.
Like my mom's stuffed peppers recipe, this one is simple enough to make often. As the weather cools and we start to turn on our ovens again, I hope it will become part of your regular rotation. Fresh, filling, and fun, it's perfect for this time of year, when peppers are at their peak.
Stuffed Peppers Recipe Ingredients
Here's what you'll need to make these easy stuffed peppers:
Red bell peppers – Red bell peppers will always be my #1 pick. If you want to try a different color, use yellow or orange peppers, as they're sweeter than their green counterparts.
Black beans – Use canned, or cook your own.
Sweet corn – If fresh sweet corn's in season, make sure to use it here. The sweet, crispy kernels contrast perfectly with the creamy beans and tender rice. But if fresh corn isn't available, don't worry. Thawed frozen corn will work here too.
Cooked rice – I like to use white jasmine rice, but long grain brown rice would also be delicious.
Lime – I use both the juice and the zest to pack the filling with bright, zesty flavor.
Garlic and scallions – They add sharp, savory depth of flavor.
Cumin, coriander, and cayenne – This filling is super simple, but thanks to these three spices, it's still bold and complex.
Jalapeños – For heat! I like to mix diced jalapeños into the filling before baking the peppers. Later, when I'm ready to eat, I pile more jalapeño slices on top!
Cilantro – It makes these hearty stuffed peppers feel light and fresh, and it highlights the aromatic cumin, coriander, and cayenne.
White cheddar cheese – Who doesn't love brown, bubbly cheese on top of stuffed bell peppers?! If you're vegan, don't answer that. You'll find a dairy-free option in the recipe below!
Find the complete recipe with measurements below.
How to Make Stuffed Peppers
This vegetarian stuffed peppers recipe is simple to make! Here's how it goes:
First, pre-bake the peppers. Slice them in half lengthwise and remove the seeds and membranes. Place them cut-side-up in a baking dish or on a baking sheet, drizzle them with olive oil, and sprinkle them with salt. Bake for 10 minutes at 450°, until they're starting to soften. Tip out any liquid that pools inside of the peppers, and set them aside.
Meanwhile, make the filling. Combine the lime juice and zest, spices, scallions, cilantro, jalapeño, salt, and olive oil at the bottom of a large bowl. Fold in the rice, black beans, and corn, and season to taste with salt and pepper.
Then, stuff the peppers, and bake again! Pile in the filling, making sure to tuck it into the peppers' nooks and crannies. Sprinkle them with the shredded cheese, and bake for another 10-15 minutes at 450°, or broil for 2-5 minutes, until the cheese is browned and bubbling.
Allow the peppers to cool slightly, and dig in!
Stuffed Bell Peppers Serving Suggestions + Variations
When you're ready to eat, top the stuffed bell peppers with avocado slices, extra jalapeños (or pickled jalapeños!), and a big squeeze of lime juice. Enjoy them as a side dish with your favorite protein, or make them the main event! If you're serving them as an entree, pair them with a simple green salad tossed in cilantro lime dressing or any of these delicious salad recipes:
They'd also be fantastic with grilled veggie skewers, grilled eggplant, or grilled zucchini on the side.
Alternatively, make this recipe vegan! Instead of baking the peppers twice, you'll just cook them once, before you fill them. After they bake, load them up with the filling, and serve them with guacamole or chipotle sauce. Add a spoonful of mango salsa, tomatillo salsa, or pico de gallo to take them over the top!
If you have leftover filling (which you might, depending on the size of your peppers), serve it as a side dish for tacos, or use it as the base of a homemade burrito bowl. Enjoy!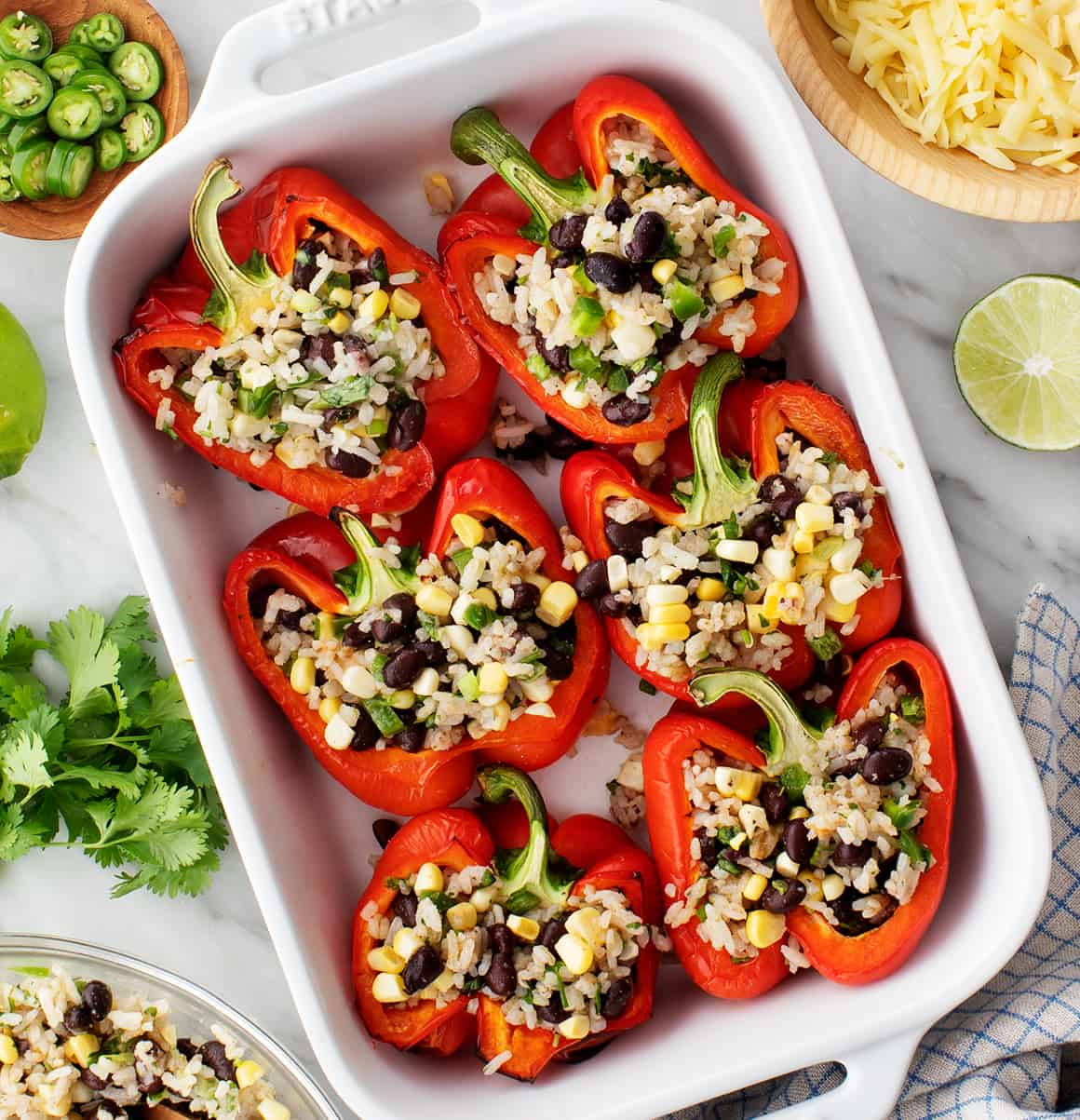 More Favorite Stuffed Veggies
If you love this stuffed peppers recipe, try stuffing one of these veggies next:
Stuffed Peppers
This easy stuffed peppers recipe is fresh, healthy, and delicious! Top the peppers with cheese, or skip it, and serve them with guacamole or chipotle sauce for a vegan variation.
Ingredients
4

red bell peppers

Extra-virgin olive oil

,

for drizzling

1½

cups

white cheddar cheese

Avocado slices or guacamole

,

for serving

Lime wedges

,

for serving

Sea salt and freshly ground black pepper
Filling
1

tablespoon

extra-virgin olive oil

2

garlic cloves

,

grated

2

jalapeños

,

diced, more for topping, if desired

2

scallions

,

chopped

1

teaspoon

lime zest

1½

tablespoons

lime juice

1

teaspoon

cumin

1

teaspoon

coriander

1

teaspoon

cayenne

1

teaspoon

sea salt

½

cup

finely chopped cilantro

3

cups

cooked white jasmine rice

1½

cups

cooked black beans,

drained and rinsed

1½

cups

corn kernels
Instructions
Preheat the oven to 450°F and line a baking sheet with parchment paper. Slice the peppers in half lengthwise, remove the seeds and membranes, and place on the baking sheet, cut side up. Drizzle with olive oil, salt, and pepper and bake 10 minutes. Tip out and discard any liquid that pools inside the peppers. Set the peppers aside.

Make the filling. In a large bowl, mix together the olive oil, garlic, jalapeños, scallions, lime zest, lime juice, cumin, coriander, cayenne, salt, and cilantro. Fold in the rice, black beans, and corn.

Scoop the filling into the pepper halves and top them with the cheese. Broil for 2 to 5 minutes or until the cheese is bubbling and browned. Alternatively, continue baking at 450°F for 10 to 15 minutes until the cheese is melted. Serve with the avocado slices, lime wedges, and extra jalapenos, if desired.
Notes
Vegan version: Skip the cheese. Don't bake the peppers the second time, and serve them with guacamole or chipotle sauce.