The best side/vegetarian main at Thanksgiving! Acorn squash is stuffed with millet, mushrooms, kale, sage, pecans & cranberries in this healthy fall dish.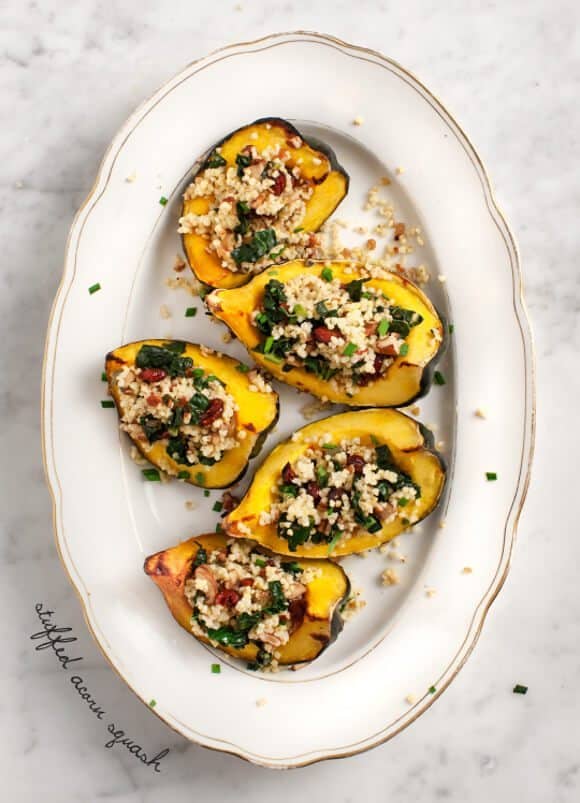 Over the years we've had more than a few untraditional Thanksgivings… the ones where we didn't make it to the family feast because flying during the holiday weekend is the biggest. hassle. ever. We've had a slew of friendsgivings, well before they were the cool hipster thing to do… One year, Jack and I spent a nice evening alone over a romantic dinner of butternut squash risotto… And I'll never forget the year I didn't fly home from college and I ate a can of tuna and frozen green beans. I know, so sad. But I had schoolwork to catch up on, and Publix frozen veggies were 10 for $1, so that was surely something to be thankful for.
Last week, as we sat down to eat this dish, I couldn't help but think – if only I knew how to make this back then. It's not expensive, it's not at all hard… and it's practically Thanksgiving on one platter (minus the turkey of course, but I'm not a turkey eater). Creamy squash, hearty mushrooms, toasty pecans, and tart cranberries…
Of course, this would be a beautiful veggie addition to your Thanksgiving table. It would also be a nice dinner for 2, or a hearty meal for 1 hungry college student + leftovers for the rest of the week. You could sub in quinoa here, but millet is my new favorite grain. It's still gluten-free, but tastes just like couscous.
stuffed acorn squash with kale & creminis
Serves:
serves 4 as a side
Ingredients
2 small acorn squashes, or 1 large one
½ cup uncooked millet
2 tablespoons olive oil
1 shallot, chopped
1 garlic clove, minced
1.5 cups cremini mushrooms, chopped
2 tablespoons sherry vinegar
2 cups chopped kale
¼ cup chopped fresh sage
⅓ cup toasted pecans
⅓ cup dried cranberries
¼ cup chopped chives
salt, pepper
optional:
sprinkling of asiago cheese
drizzle of honey on top
Instructions
Preheat oven to 425 degrees F.
Slice acorn squash in half and scoop out of the middle. You can leave them in half or slice them into wedges. Drizzle with 1 tablespoon olive oil and sprinkle with a few pinches of salt and pepper. Roast flesh side down for 20 minutes, flip them over and roast them flesh side up for another 20-30 minutes or until fork-tender and golden brown. Remove from oven and set aside.
Cook the millet: Place ½ cup millet into a small saucepan. Turn the heat on low and toast it for a few minutes, until slightly fragrant, but not burned. Add 1 cup of water, a big pinch of salt and bring to a boil. Cover, reduce heat to low and let simmer for 15 minutes (check at the last 5 to make sure it's not burning to the bottom of the pan). Turn heat off and let it sit for another 10 minutes (still covered). Fluff with a fork and set aside.
In a large skillet, heat 1 tablespoon olive oil over medium heat. Add the chopped shallot, a pinch of salt. Let that begin to soften, then add the mushrooms, garlic, another pinch of salt and a grind of pepper. Cook until the mushrooms are soft, stirring occasionally.
Add the sherry vinegar, stir, then add the kale and chopped sage. Cook until the kale wilts down, then add the cooked millet, pecans, cranberries and chives. Taste and adjust seasoning. Scoop the filling onto the roasted squash and serve.
Optional: sprinkle with cheese and place under the broiler for a minute or two to melt it. We also enjoyed this with a drizzle of honey.
Notes
Another variation we tried and loved: feta cheese & tarragon, in place of the asiago and sage. (If you try tarragon, add it in near the end since it's a softer herb).