You won't find any dairy or gluten in this delicious strawberry tart recipe! Instead, it has a bright coconut cream filling and a nutty almond crust.
This strawberry tart recipe comes from the Sweet Laurel cookbook by Laurel Gallucci and Claire Thomas. I know you will absolutely love this book – there are SO many amazing allergen-free baking recipes (many are vegan as well). In addition to this simple strawberry tart, there are cakes, cookies, bars, pies, muffins, quick breads, and pop tarts. Each recipe is more decadent than the one before it, yet they all have short ingredient lists and simple instructions.
I can't wait to try the Apple Pie Bars and Double Chocolate Muffins in the fall, but right now, I'm obsessed with this strawberry tart recipe. It's light and refreshing – the perfect dessert to welcome the start of summer. Fresh, juicy strawberries cover a rich, lemony coconut cream filling and a nutty almond crust. It's elegant enough for a celebration, but it's so simple that you can put it together on any day of the week. I first made it for my family's Mother's Day gathering (it disappeared like lightening!), but it's so easy and delicious that we'll have it on repeat all summer long.
Strawberry Tart Recipe Ingredients
What I love about this strawberry tart recipe is that, assuming you get 2 good cans of coconut milk (which I did – see tips below), it's SO darn simple to make. It's paleo, grain-free, and dairy-free, but there are no complicated ingredients, just simple, wholesome ones. Here's what's in it:
Strawberries! Choose the best ones you can find. If strawberries aren't in season, try swapping in another fruit. Blueberries, raspberries, or sliced peaches would all be great.
Coconut cream – Instead of filling the tart with a classic pastry cream or cream cheese filling, Laurel and Claire make a rich coconut whipped cream. The basic recipe is a combination of coconut milk, maple syrup, vanilla, and sea salt, but they also suggest flavor variations. I took inspiration from the lemon and lavender suggestion – I skipped the lavender, but I brightened up my coconut cream with lemon juice and zest.
An almond crust – Say goodbye to fussy pie crust! This grain-free crust comes together beautifully in the food processor and is easy to press out into the tart pan. It's made from ingredients that you likely have on hand already: almond flour, salt, coconut oil, maple syrup, and an egg!
Find the complete recipe with measurements below.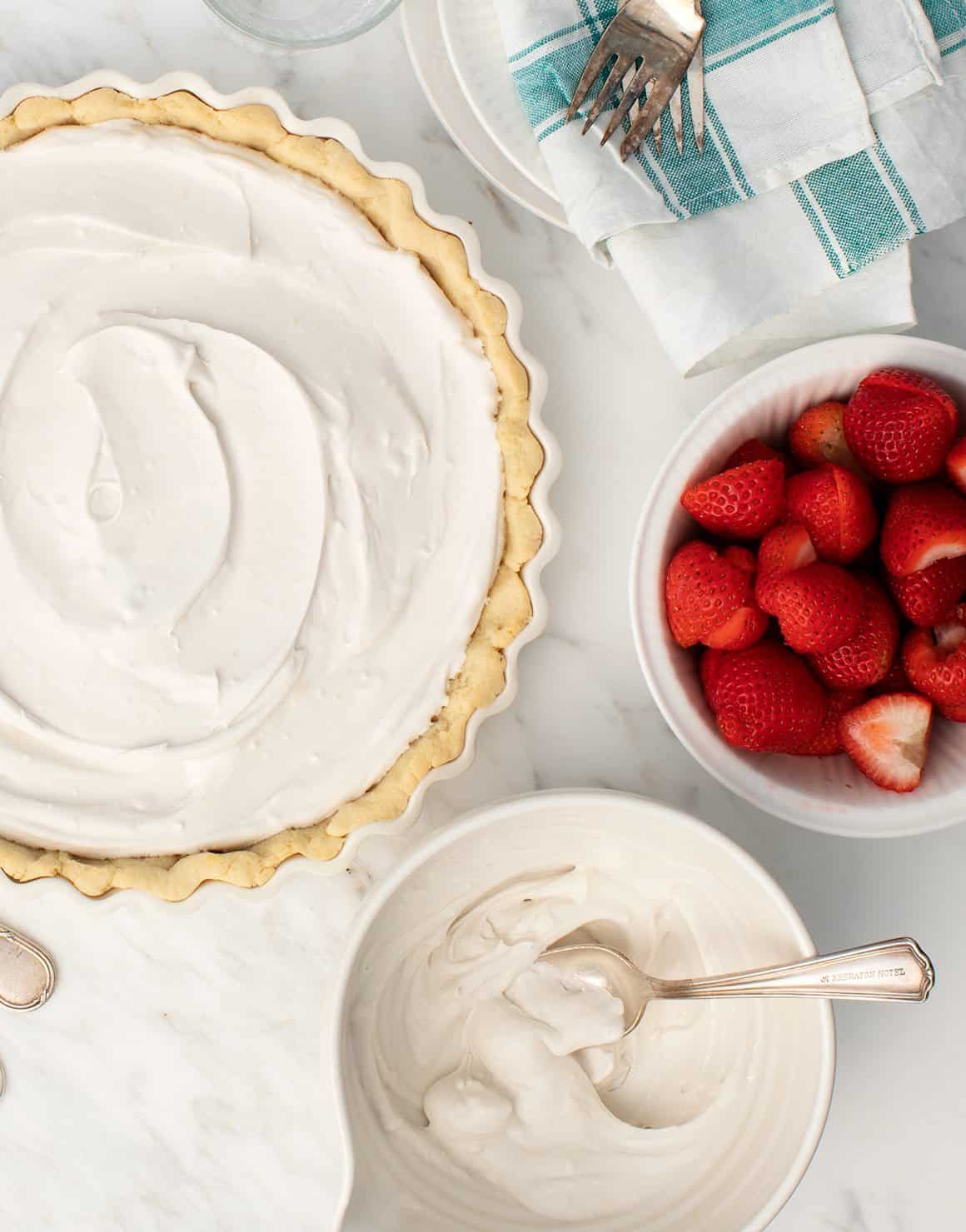 Strawberry Tart Recipe Tips
Plan ahead. If you want to try this strawberry tart recipe (which you should!), make sure to plan in advance. You'll need to chill the coconut milk in the refrigerator overnight so that the thick coconut cream separates from the water. If the water mixes with the coconut cream, it won't whip up. Instead, it will be watery, and you won't be able to add it to the tart.
Buy extra coconut milk. Through years of making coconut whipped cream, I've learned that cans of coconut milk vary. Sometimes, you get a dud where the cream won't separate from the water. Now, I always play it safe and buy a few extra cans. I usually have success with Whole Foods and Trader Joe's brand coconut milk. No matter what brand you buy, make sure your coconut milk is full-fat, not light.
Make it sweeter, if desired. My strawberries were on the tart side, so I sprinkled them with a little granulated sugar and a pinch of salt to enhance their sweetness. This step isn't necessary, but it made the tart really fresh and delicious!
More Favorite Summer Desserts
If you love this strawberry tart recipe, try one of these tasty treats next:
Strawberry Tart
This recipe is from the
Sweet Laurel
cookbook and was reprinted with permission from the publisher.
Author:
Claire Thomas and Laurel Galucci
Ingredients
Coconut Cream *(see notes below)
2 (13.5-ounce) cans full-fat coconut milk, refrigerated overnight
2½ tablespoons maple syrup
1 tablespoon pure vanilla extract
1 tablespoon lemon zest
pinch of sea salt
1-2 tablespoons lemon juice, optional, depending on thickness of your cream
Strawberry Tart:
2 tablespoons coconut oil, solid, plus more for greasing the pan
2 cups plus 2 tablespoons almond flour
heaping ¼ teaspoon sea salt
1 tablespoon maple syrup
1 large egg
2 cups coconut whipped cream (recipe above)
4 cups strawberries, halved
Instructions
Make the coconut cream. Remove the solid coconut cream that has risen to the top of the can, and spoon it into a stand mixer fitted with the whisk attachment. Beat the coconut cream on high speed until it begins to thicken and and peaks form. Don't over-mix or your cream will soften too much. Add the maple syrup, vanilla, lemon zest, and salt, and mix until combined. If your coconut cream is very thick, add 1 to 2 tablespoons lemon juice, if desired. If your cream isn't thick enough for the additional liquid, skip the lemon juice.
Preheat the oven to 350°F. Generously grease a 9-inch tart pan with coconut oil.
In a food processor, pulse the flour and salt until combined. Add the coconut oil, maple syrup, and egg and blend until the mixture forms a ball. Lightly press the dough into the tart pan and bake for 10 to 12 minutes, until light golden brown.
Remove the crust from the oven and allow to cool completely. Fill the crust with the whipped coconut cream and top with strawberries. Slice and serve. This is best the same day it is made, but the crust can be made up to a week ahead of time and stored, well wrapped, in the fridge.
Notes
*Make sure that you chill your coconut milk cans overnight or longer (without shaking them or moving them) so that the thick coconut cream completely separates from the watery coconut liquid. If the liquid mixes with the coconut cream, your final cream will be watery and will not whip well.

I've found that coconut milk cans are not always consistent - sometimes you get a dud can where the cream won't separate from the water. I usually buy an extra can just in case. For this recipe, I used Whole Foods' full-fat coconut milk, with success.

Note: My strawberries were more tart than sweet, so I sprinkled them with a little cane sugar and a pinch of salt to bring out more of their sweetness.