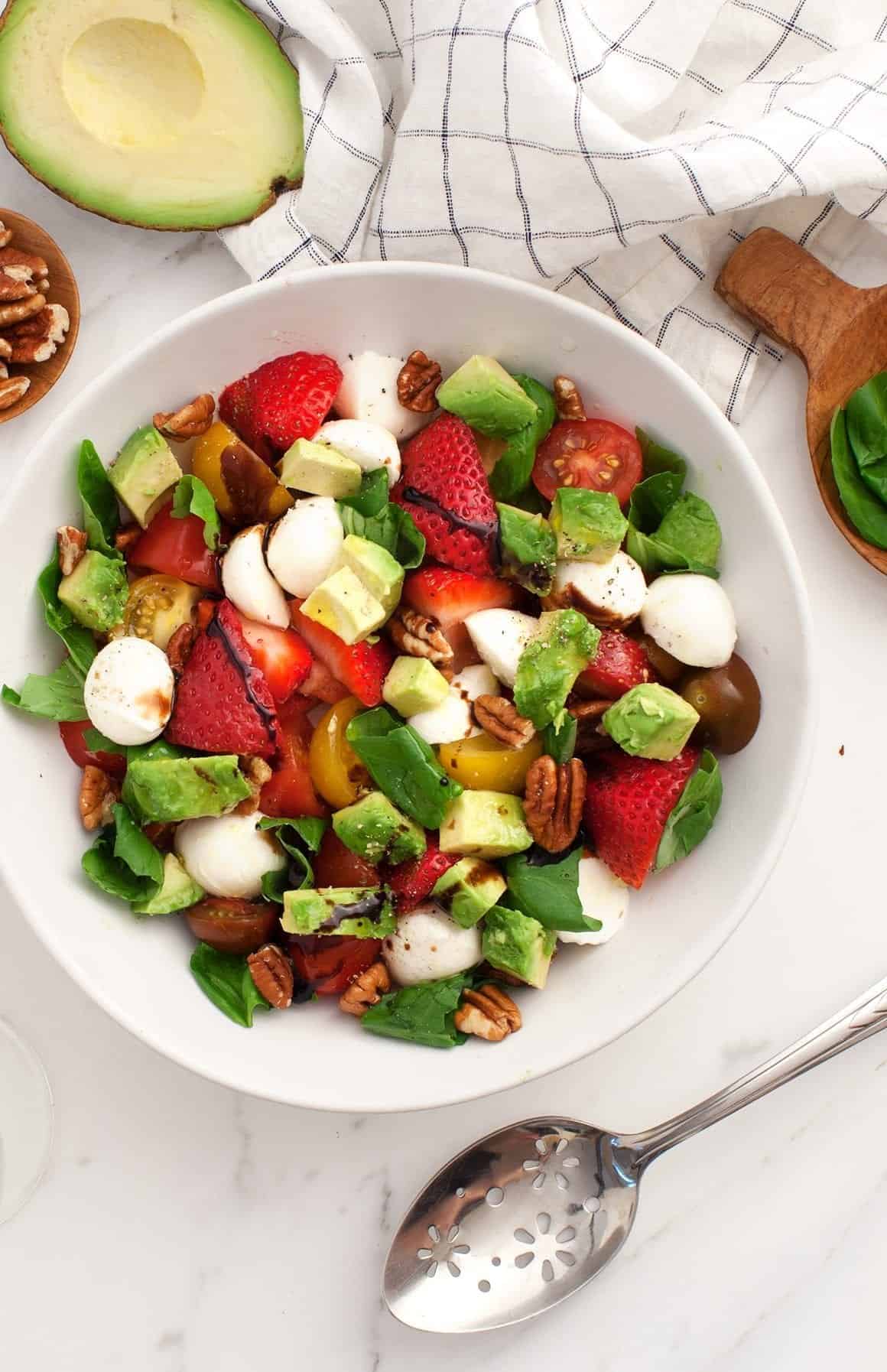 Years ago, Jack and I went on vacation to the island of Capri where we ate Caprese salads every day. We'd sit at hilltop restaurants overlooking the teal blue Mediterranean Sea. The air was warm, the wine was flowing, and the tomatoes were the sweetest I'd ever tasted. It was a few days after he had proposed and looking back it was the most blissfully happy week of our lives. Or at least that's the way I remember it. I will spare you the story about strep throat, almost getting seasick on a hydrofoil ride, and trying to find an Italian pharmacy that would sell me an antibiotic. Those memories, while stressful in the moment, seem to fade into the background over time.
So while I remember those perfect 3-ingredient Caprese salads from Italy, I'm going to also, uhh, change the details and bring you my "re-remembered" re-imagined version that includes sweet strawberries, avocado, and toasted pecans!
What's in this strawberry salad?
This strawberry salad recipe is in our first cookbook and is one of my absolute favorite salads to make throughout the spring and summer. Tomatoes and basil are, of course, a match made in heaven, but if you haven't tried strawberries and basil, you're in for a treat. Avocado and fresh mozzarella add creaminess, toasted pecans bring a sweet, nutty flavor, and the whole thing gets drizzled with a little reduced balsamic vinegar for pop.
If you're vegan, go ahead and skip the mozzarella, and this salad will be delicious just the same! The avocado adds plenty of creaminess, so you won't miss the cheese.
The best part about this recipe is that it's so quick (about 15 minutes!) that you'll want to make it again and again.

If you loved this strawberry salad recipe, try these other favorites!
Strawberry Salad with Basil and Avocado
This strawberry salad is bursting with flavor from cherry tomatoes, basil, and tangy balsamic. Mixed with creamy avocado, it's perfect for spring and summer! Skip the mozzarella to make it vegan.
Ingredients
¼ cup balsamic vinegar
1 cup sliced strawberries
1 cup halved cherry tomatoes
1 cup halved mini mozzarella balls
1 ripe avocado, pitted and diced
⅓ cup pecans, toasted
⅓ cup loosely packed basil, torn
Extra-virgin olive oil, for drizzling
Sea salt and freshly ground black pepper
Instructions
In a small saucepan, bring the balsamic vinegar to a high simmer over medium heat. Stir, then reduce the heat to low and simmer until the vinegar has thickened and reduced by half, about 8 to 10 minutes. Set aside to cool.
Place the strawberries, cherry tomatoes, mozzarella, avocado, pecans and basil in a shallow bowl or platter. Drizzle with olive oil, and season generously with salt and pepper. Gently toss. Drizzle with the reduced balsamic.
Notes
Make this vegan by omitting the cheese.