These easy strawberry rhubarb bars are an addictive summer treat! Made with almond flour & walnuts, they have a lightly sweet, nutty flavor.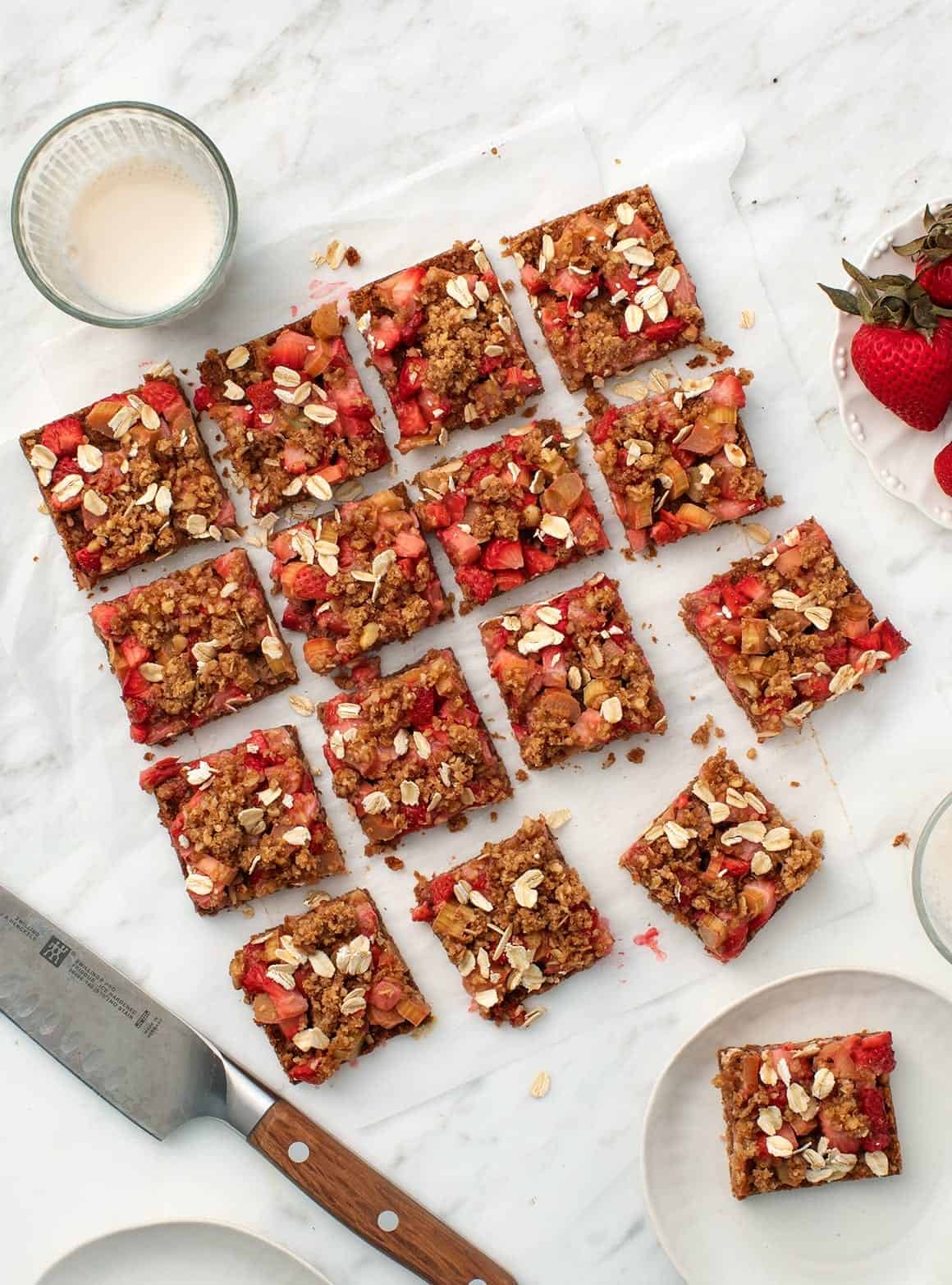 By popular request: Strawberry Rhubarb Bars! I did a poll on Instagram last week asking which strawberry rhubarb dessert I should make. If you were one of the many that voted for crumble bars – you win!
Well, actually, I win too, because these strawberry rhubarb bars are super yummy. They're nutty, oat-y, and crisp, with that irresistible sweet/tart strawberry rhubarb flavor. Of course, they're a delicious dessert, but they're also pretty healthy, so I wouldn't blame you for eating one (or more) for breakfast either.
How to Make Strawberry Rhubarb Bars
This strawberry rhubarb bars recipe is super easy because the crust and the crumb topping are one and the same. It's a gluten-free mix of oats, nuts, brown sugar, flax, and cinnamon. To make it, pulse the ingredients together in a food processor and press 2/3 of the mixture into the pan to form a crust. Save the rest to use as the crumble on top!
Once you've pressed the crust into the bottom of the pan, pop it in the oven to pre-bake for 20 minutes or so, until it's nicely golden brown.
Meanwhile, work on the filling. To make it, I mix fresh strawberries and rhubarb with lemon juice, vanilla, and just a touch of maple syrup. I skip any granulated sugar or brown sugar here, and I go light on the maple in order to let the sweetness of the fruit itself shine.
Once the pre-baked crust has cooled slightly, spoon the fruit filling on top. Scatter on the remaining crumb mixture, and bake!
Find the full recipe at the bottom of this post.
Strawberry Rhubarb Bars Tips
Chop the fruit finely. Our goal is to spread the fruit filling in an even layer across the crust and to get a good mix of strawberries and rhubarb in each bite. To achieve this, finely chopping the fruit is essential. I thinly slice the rhubarb stalks, cut small strawberries into quarters, and chop large ones into eighths.
Let the bars cool completely. On the whole, this recipe is easy, but there is one hard part: waiting for the bars to cool! Do not skip this step. The bars must cool to room temperature in order to hold their shape. If you cut them too soon, they will crumble.
Refrigerate the leftovers. If you're not serving all these bars on the same day, store the leftovers for up to 3 days in an airtight container in the fridge. Enjoy!
More Favorite Dessert Recipes
If you love these strawberry rhubarb bars, try one of these sweet treats next:
Strawberry Rhubarb Bars
These strawberry rhubarb bars are an easy, healthy summer treat. Made with oats, almond flour & coconut oil, they're vegan and gluten-free.
Recipe type:
Dessert, snack
Ingredients
Fruit filling
1 cup diced strawberries
1 cup diced rhubarb
1 teaspoon cornstarch
½ teaspoon lemon juice
½ teaspoon maple syrup
¼ teaspoon vanilla
Crumble Crust and Topping
⅔ cup whole rolled oats, plus more for garnish
⅔ cup chopped walnuts
½ cup almond flour
½ cup brown sugar
¼ cup ground flaxseed
1 teaspoon cinnamon
heaping ¼ teaspoon sea salt
2 tablespoon firm coconut oil, more for greasing
1½ tablespoons water
Instructions
Preheat the oven to 350°F and line an 8x8-inch baking pan with parchment paper. Lightly spray the exposed pan sides with nonstick cooking spray.
Make the fruit filling: In a medium bowl, mix together the strawberries, rhubarb, cornstarch, lemon juice, maple syrup, and vanilla.
Make the crumble: In a food processor, combine the oats, nuts, almond flour, brown sugar, flaxseed, cinnamon, and salt and pulse until just combined. Add the coconut oil and pulse again. Add the water and pulse again. Press ⅔ of the crumble into the baking pan to form a crust. Bake 20 to 25 minutes or until golden brown and firm. Remove from the oven and let cool for 15 minutes.
Spread the fruit filling over the crust, sprinkle with the remaining crumble, and garnish with some rolled oats. Bake for an additional 20 minutes, or until the fruit is soft and the crumble topping is lightly crisp. Let cool completely before slicing. If not serving the same day, store the bars covered in the refrigerator.