Make this watercress salad for a healthy spring meal! I love how the soft greens contrast with colorful root veggies in this refreshing, delicious dish.
Since starting this blog, I've gotten over a number of foods I didn't think I liked: radishes, carrots, and, most recently, pepper. (I know, pepper is a weird one).
I have a list going for Jack too: peas, asparagus, avocado. Check, check, check. And now – with this watercress salad – beets! (Yes, Jack, I lied. These things I told you were turnips were in fact beets).
My husband is not a picky eater by any means — there are about five foods he's adamant about not eating. I just find it a fun game to work these things in. The only thing left on the list is grapefruit, and I'll save that for another day.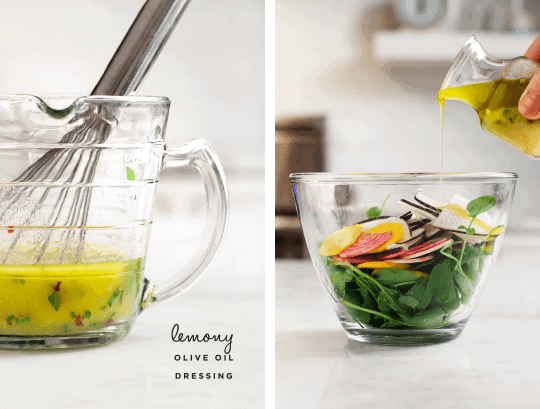 So how do you trick someone into eating beets? Like everything else, you have to prepare the beets a different way. In this salad, I roasted a few for texture and sweetness. I thinly shaved the rest, marinated them in a lemony dressing along with a shaved radish, and kept them raw.
The crisp shaved beets work nicely with the chewy wheat berries and crunchy toasted pine nuts. I added some crumbly ricotta salata on top (not pictured), which is optional but recommended. A zingy lemon dressing ties the whole thing together.
As Jack was devouring his root veggie salad, he said, "I think this is my favorite salad you've made." I kept my little secret to myself, but the cat's out of the bag now.
What to Serve with This Salad
This salad would be a delightful spring lunch on its own, but you could also serve it as a side dish with a larger meal. It would pair wonderfully with a light spring soup – try this asparagus soup, this carrot gazpacho, or this ginger miso soup.
An egg salad, avocado, or tomato sandwich would be excellent with it as well.
If you love this recipe…
Try this kale salad, this beet salad, this broccoli salad, or this pasta salad next!
Spring Watercress Salad
This spring root veggie salad is a delicious healthy lunch. Featuring beets 2 ways, it's a fun showcase of their sweetness & crunch.
Ingredients
2 small yellow beets
1 small chioggia beet
½ large black radish
½ cup cooked wheat berries
Handful of chopped spinach
Handful of watercress (or arugula or other spring green)
Toasted pine nuts
Crumbled ricotta salata
Dressing
3 tablespoons extra-virgin olive oil
Juice of 1 lemon
1 tablespoon white balsamic vinegar
1 garlic clove, minced
1 teaspoon Dijon mustard
Handful of fresh herbs: oregano and chives
Sea salt and fresh black pepper
Instructions
Preheat the oven to 425. Wrap 1 of the yellow beets in foil and roast until fork tender, about 45 minutes. Let it cool, peel it, and thinly slice it. Chill until ready to use.
Make the dressing: Whisk together the olive oil, lemon juice, balsamic, garlic, mustard, herbs, salt, and pepper, and set aside.
Using a mandoline or sharp knife, thinly slice the remaining raw yellow beet, the chioggia beet, and the black radish.
Toss together the raw beets, watercress, some of the dressing, salt & pepper. Let that sit for 20 minutes or so, tossing occasionally, until the dressing reduces the bitterness in the radish.
Warm the wheatberries slightly and toss them with the spinach and some more of the dressing. Place the roasted beet, raw beets, radish and watercress on top along with some pine nuts and ricotta salata. Taste and adjust seasonings, adding more dressing if you like.
I'm using this olive oil right now, and it's delightful.