This bright hummus wrap is layered with crisp fresh veggies, hemp seeds, and a light spinach hummus - perfect for packing for a healthy lunch!
This month, we have a ton of airplane travel coming up. Not to complain, but travel is one of those things where I LOVE the destination(s) but don't love the journey… especially the food that's available during the journey, a.k.a airport food. It's become my habit to bring my own food on the plane, and with 12+ hours to France(!) on Friday, I'm making a tasty to-go hummus wrap. These wraps would be great for school lunch boxes as well!
This recipe is inspired by the hummus wraps that I picked up at Whole Foods in Union Square when we were flying home a few months ago from NYC. They were portable and yummy, and I thought I'd enjoy recreating a version for our flight this week.
How to Make a Hummus Wrap
Obviously, a good hummus wrap starts with good hummus, so step 1 is blending up the fresh, bright "glue" that holds these together. It's a very light, very green hummus made with chickpeas, tahini, some vegetable broth (which keeps these light because you can use a little less tahini), garlic, spices, handfuls of spinach, and a bit of parsley.
Next – I spread the hummus and layer the lunch wraps! I put a layer of spinach over the hummus. Then, I fill the center of the wraps with thin strips of crisp rainbow bell peppers and cucumbers and add a sprinkle of hemp seeds for crunch. It's like layering ingredients for a sushi roll – I'm just using whole grain wraps instead.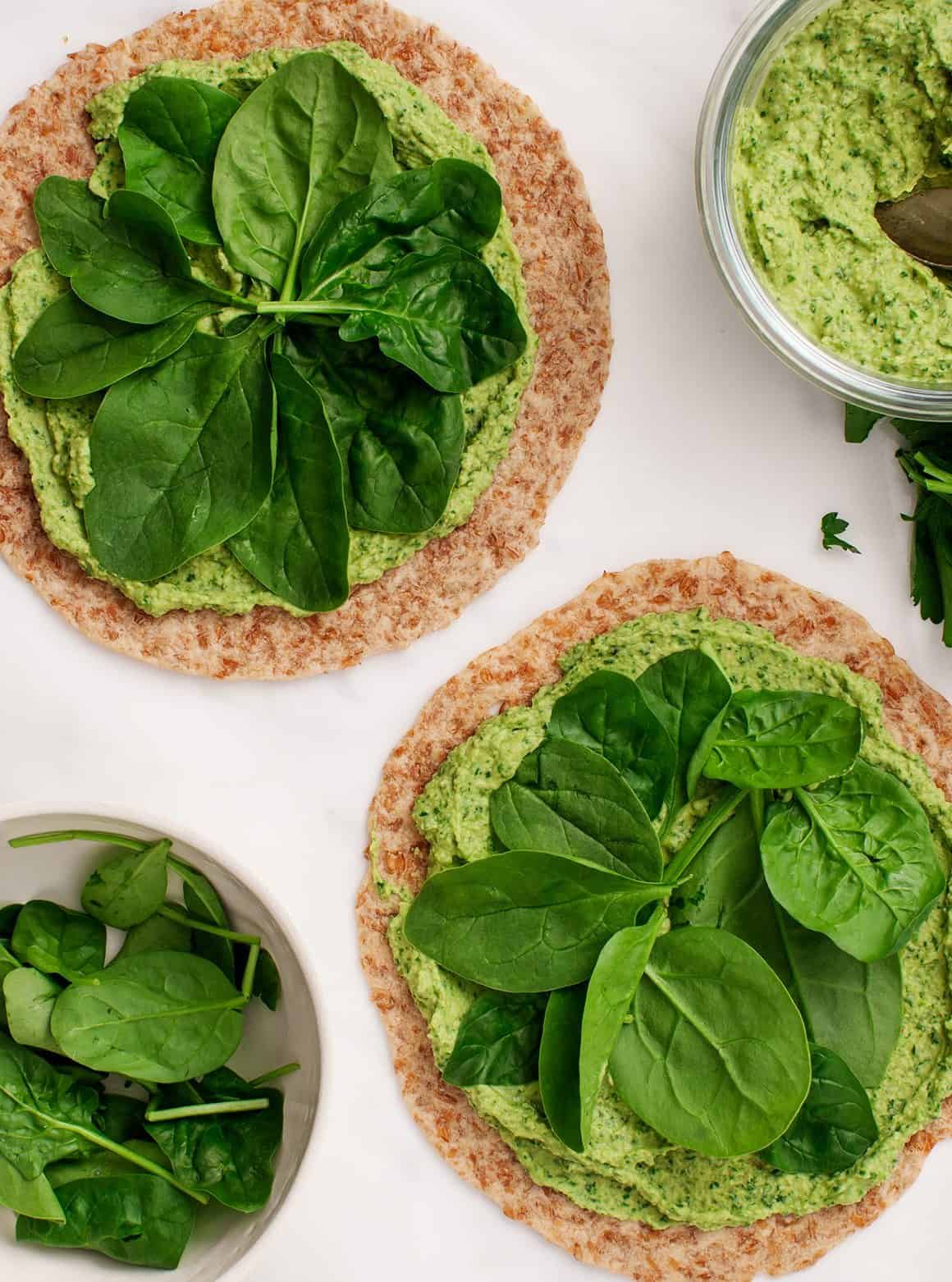 Finally, it's time to roll! Because I use small tortillas for these vegan wraps, I skip tucking in the sides and simply roll them up.
Hummus Wrap Tips
Want to make an A+ hummus wrap? Here are my best tips & tricks for rolling them up and taking them on the go:
Slice your veggies in thin strips. That way, you can get a little of each filling in every bite.
Skip the tomatoes. Unless you're going to eat your hummus wrap right away, stick to crisp veggie fillings like the ones in the recipe. Juicy ingredients like tomatoes will make the tortilla soggy, and no one likes a soggy hummus wrap!
Wrap them up in foil. This step will help keep them sealed nice & tightly if you're taking them on the go. I'm going to pack these lunch wraps in my carry-on with a small ice pack to keep them fresh. For more tips on packing healthy lunches and to see my other go-to travel recipes, check out this post!
Hummus Wrap Variations
I love making these little guys according to the recipe, but, as with all sandwiches and wraps, it's fun to vary them from time to time too. Here are some of my favorite ways to change them up:
Switch the hummus! These are just as good with my beet hummus, butternut hummus, or curried red lentil hummus.
Vary the veggies. As I said above, I avoid filling my wraps with juicy veggies like tomatoes, but crisp radishes, shredded red cabbage, shaved turnip, kohlrabi, scallions, or arugula would all be fair game.
Spice them up by tucking in some pickled jalapeños.
Make a roasted veggie wrap! Roasted red peppers, sweet potatoes, eggplant, cauliflower, or broccoli would all be delicious here.
Add an herb. Leaves of fresh mint, basil, or cilantro are my favorite way to add a nice, fresh kick to a lunch wrap.
Let me know what variations you try!

If you love this hummus wrap recipe…
Try this tempeh sandwich, this egg salad sandwich, this quinoa veggie wrap, or this avocado sandwich next!
Spinach Hummus Lunch Wraps
This Spinach Hummus Wrap is one of my go-to travel recipes. Made with a lightened up hummus spread, peppers, and cucumbers, it has a delicious flavor and packs up well for lunches.
Recipe type:
Main dish, snack
Ingredients
4 large tortillas (I used these)
Several handfuls of spinach leaves - about 8 per wrap
1 cucumber, cut into long thin slices - 2 per wrap
2-3 mixed (mild) peppers - about 6 slices per wrap
Fresh parsley sprigs, optional
Tofu or other choice of protein, optional
Sprinkle of hemp seeds, optional
Spinach Hummus (makes about 1 ½ cups)
1 (15-ounce) can chickpeas, drained and rinsed
¼ cup vegetable broth (or water)
3 tablespoons fresh lemon juice
2 tablespoons tahini
1 garlic clove
½ teaspoon sea salt
¼ cup fresh parsley
⅛ teaspoon cumin
⅛ teaspoon smoked paprika
Freshly ground black pepper, to taste
1½ cups packed fresh spinach
Instructions
Make the Spinach Hummus: In a food processor, combine the chickpeas, vegetable broth, lemon juice, tahini, garlic, salt, parsley, cumin, paprika, and black pepper and blend well. Add the spinach and blend again. Chill until ready to use.
To assemble the wraps, spread about ¼ cup of hummus on each wrap, leaving a ½-inch border around the edges. Add the spinach leaves followed by the cucumber and pepper slices. Top with the fresh parsley, protein of choice and hemp seeds, if using. Roll up the wraps and then wrap in foil. Refrigerate until until ready to use.