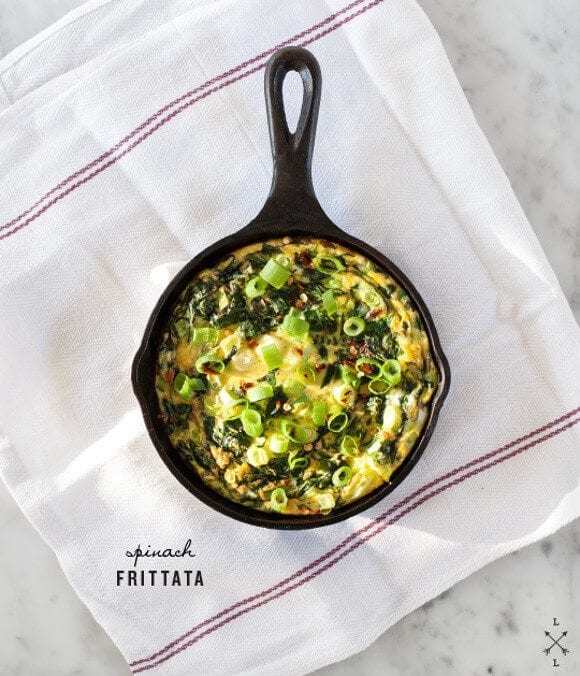 Here's another fast, simple, "non-recipe" recipe that I make pretty darn often. What I love about a frittata is that the effort required is similar to making scrambled eggs, but somehow the end result is fancier. (And yes, I make my scrambled eggs with piles of greens and things). 
Frittatas are also my go-to dish for brunch entertaining. Because, let's face it, who wants to get up on a Saturday morning and really cook. Not me.
Pop your frittata in the oven and pour the mimosas!
serves 2, scale accordingly
INGREDIENTS:
4 eggs
1/4 cup milk (any kind, I used unsweetened almond milk)
clove of garlic, minced
olive oil
2-4 cups fresh spinach
1/4 cup (or so) scallions, chopped (reserve some for garnish)
pinch of paprika or other spices you like (totally optional)
chopped sun dried tomatoes (optional)
pinch of red pepper flakes (optional)
grated parmesan or pecorino cheese (also optional)
salt & pepper (definitely not optional 🙂
METHOD:
Preheat oven to 450 degrees. (preheat a cast iron skillet in it if you like)
Crack eggs into a medium bowl and whisk them together with milk, salt, pepper, minced garlic, and any spices you want to add. Set aside.
In a medium skillet saute spinach and scallions in a bit of olive oil until spinach is mostly wilted. Add a pinch of salt. *
Place the cooked spinach into the egg bowl with the sun dried tomatoes and gently mix.
Pour the whole mixture into your cast iron skillet (add some cheese on top if you want to) and bake in the oven until it puffs up and becomes golden brown. My skillet was a 5″ mini skillet, so I cooked mine for about 20 minutes. If you have a larger skillet and a bigger batch of eggs, you will need to cook it longer. Just watch it and poke at it a bit until your eggs are firm-ish and cooked.
Remove from oven and let cool. Slice and serve.
*note, if I wasn't using this mini skillet (which was too small for my stove burner), I would have just added my eggs to the spinach pan after I was done sautéing the spinach, and then moved the whole thing to the oven. I would have dirtied one less pan that way, so I suggest doing that if you're cooking for more than 2 people.