There are no cool breezes in the air, but fall feelings are starting to happen in Austin by way of our local produce selection. This recipe was created from as many things from my Farmhouse Delivery (a local CSA-like farm share) box that I could fit into one meal. I received a sweet potato the size of my small dog Annie, and a bunch of tiny grape tomatoes – so I thought hearty tostadas with fresh, spicy salsa would be fitting for an in-between seasonal dinner.
The okra here isn't totally necessary but I had tons to use up so in it went. Feel free to sub in a veggie you might have (too much of!) on hand.
This salsa has 6 ingredients and it'll take you about 5 minutes to make. Mix it together, roast some sweet potatoes, and you're almost there. Pulse it in a food processor if you want a smoother salsa, I kept mine chunky.
Here's a new tip for spicing sweet potatoes: Try roasting them normally – with olive oil, salt, and pepper – and then wait until after they bake (while they're still hot) to toss them with your ground spices. I find them to have a bigger & better flavor this way without the chance of them burning in the oven. Here, I used McCormick Gourmet's cumin and chili powder. Make them even spicier with pinch of cayenne – but keep in mind the spice level of your salsa.
When your sweet potatoes are nearly roasted, add your tortillas and bake until they're super crispy.
Assemble tostadas with smashed avocado on the bottom so that your tostada stays cohesive when you take a bite. I should also add that refried beans, (while not pictured here) are a nice addition underneath the avocado.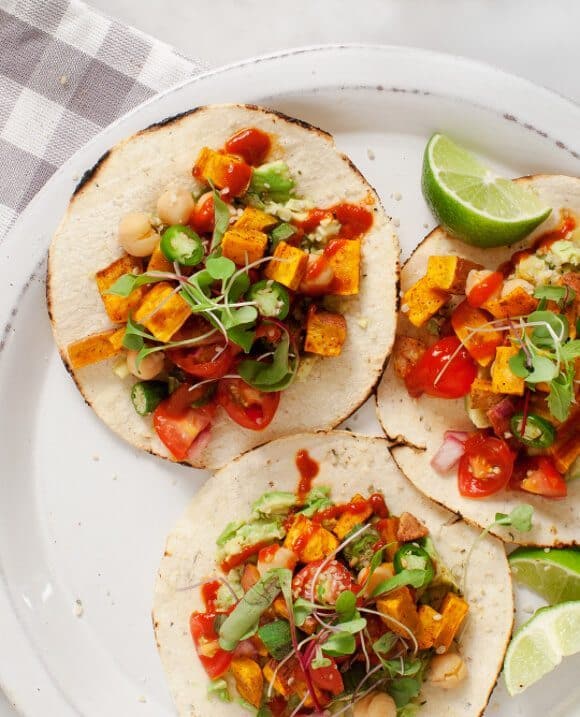 spicy sweet potato tostadas
Ingredients
for the salsa:
1 cup cherry or grape tomatoes, chopped
½ cup diced red onion
½ clove garlic
1 sliced serrano chile
juice of ½ a juicy lime
a few pinches of salt & pepper
for the tostadas:
2 cups cubed sweet potatoes
drizzle of olive oil
salt & pepper
½ teaspoon each: McCormick Gourmet cumin & chili powder
4-5 corn (or flour) tortillas
1 ripe avocado
extra lime slices, for serving
optional additions:
½ cup refried beans
a few chickpeas, black beans or another protein
roasted okra
a few sprouts
hot sauce or sriracha
Instructions
Preheat oven to 400 degrees F.
Mix together salsa ingredients and let chill for at least 20 minutes (while you prep everything else). Before serving, taste and adjust seasonings.
Toss sweet potato cubes with olive oil, salt & pepper, and spread on a baking sheet. Bake for about 20 minutes, or until golden brown. During the last 10 minutes of baking, brush tortillas with olive oil and pop those in the oven until crispy.
(Optional: if you're making okra, drizzle with olive oil, salt & pepper and roast at the same time - for about 15 minutes or until they start to brown).
Remove sweet potatoes from the oven. While they're still warm, toss them with cumin and chile powder.
Assemble tostadas with a spread of refried beans, smashed avocado (use the back of a fork to gently mash a bit onto each tortilla), a squeeze of lime, roasted sweet potatoes, a spoonful of tomato salsa, and any of the other optional toppings.
This post is sponsored by McCormick. All thoughts, words & opinions are my own. Thank you for supporting the sponsors that keep us cooking!