Learn how to make cornbread with this easy cornbread recipe! Sweet, spicy & absolutely delicious, it's meant to be served with a hot bowl of soup.
It's fall and yes, I'm still crazy about the corn BUT hear me out – this cozy cornbread recipe is the perfect accompaniment to your favorite bowl of chili (two of my favorites are here and here). Chili and cornbread are, in my humble opinion, what fall dreams are made of. It's the perfect dinner to cuddle up with on the couch.
I have a few cornbread recipes here on the blog, but this spicy chipotle version is my new favorite. To the (vegan) cornbread base, I add chopped chipotle peppers, scallions, and kernels of fresh corn (although frozen is fine too, see below). This cornbread is lightly sweet, savory, and a tad spicy. It freezes well, so I like to keep a stockpile in my freezer for whenever the cornbread craving hits 🙂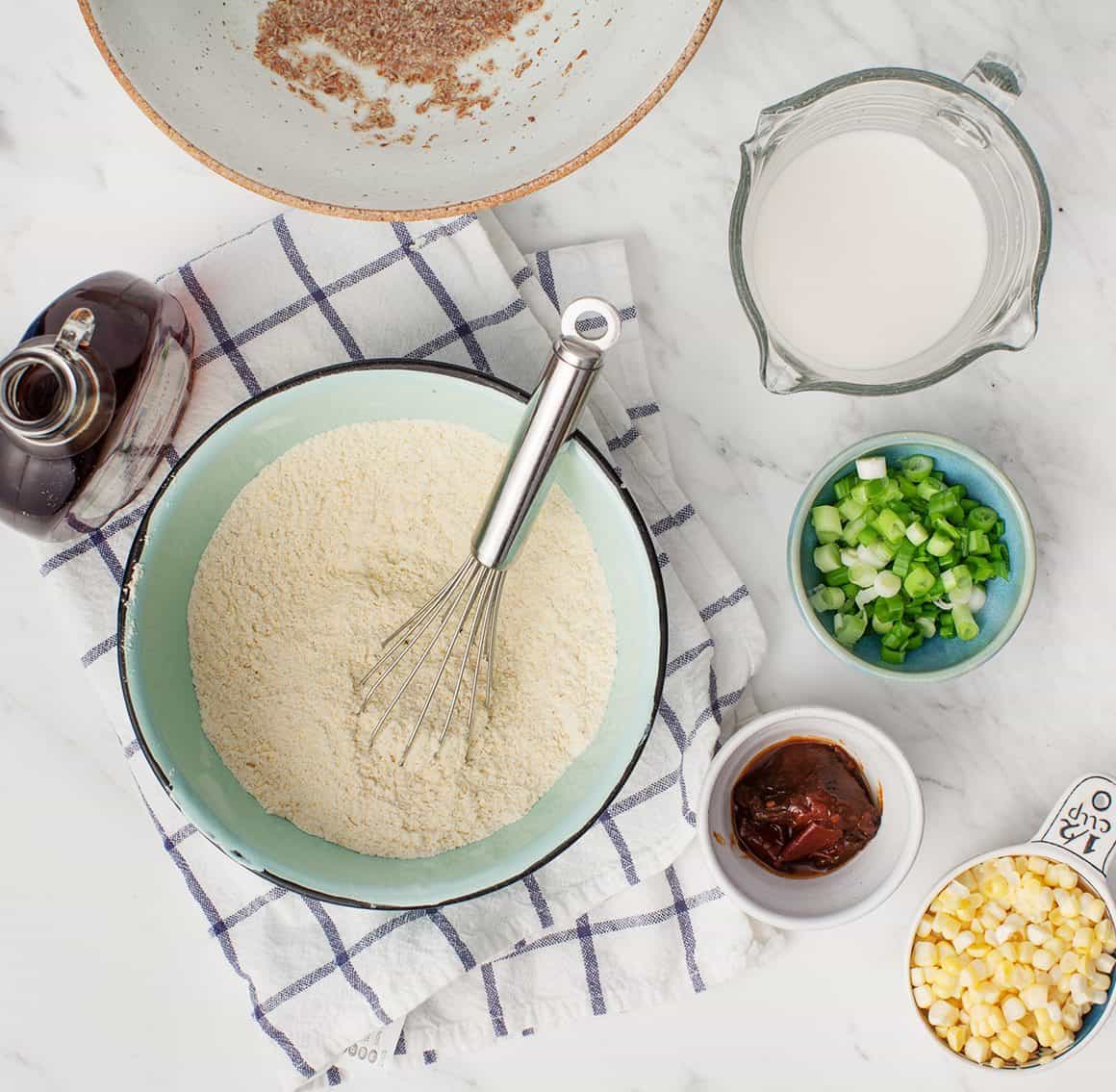 How to Make Cornbread
You'll be excited to learn that making this delicious cornbread recipe is easy. Just follow these easy steps:
Preheat the oven to 350 degrees and lightly spray an 8×8 pan with cooking spray. (You could also use parchment paper.)
Combine 1 tablespoon flaxseed with 3 tablespoons water and set the mixture aside to thicken while you stir together the dry ingredients.
To the flaxseed, add the remaining wet ingredients, and then pour the wet ingredients into the bowl of dry ingredients, stirring until just combined.
Fold in the flavor enhancers: chipotle peppers for smokiness and corn and scallions for a fresh crunch. Careful not to overmix!
Pour the batter into the prepared pan and bake for 25 minutes, or until a toothpick comes out clean.
Slice and enjoy on its own hot from the oven, or serve it with your favorite cozy soup. See some of my ideas below!
Homemade Cornbread Serving Suggestions
As I mentioned above, I love eating cornbread with chili, but it would be delicious with any cozy soup. Black bean soup or pumpkin tortilla soup would be especially good choices, as would this wild rice soup or this roasted red pepper soup.
For more ideas, check out the soup section of our recipe index!
If you love this cornbread recipe…
Head over to this post to make a poblano cornbread stuffing, or if you just love corn like me, top it onto pizza, use it in a salad, make it into chowder, or grill it straight on the cob.
Spicy Chipotle Cornbread
Our favorite cornbread recipe! It's easy to make, lightly sweet, and spicy/smoky - perfect with a hot bowl of soup. Vegan!
Ingredients
1 tablespoon ground flaxseed + 3 tablespoons water
1 cup cornmeal (I like Arrowhead Mills)
1 cup flour (all-purpose or white/wheat mix)
2 teaspoons baking powder
¼ teaspoon baking soda
½ teaspoon sea salt
1 cup unsweetened almond milk, at room temperature
¼ cup maple syrup
¼ cup coconut oil, melted
1 teaspoon apple cider vinegar
½ cup fresh or frozen corn kernels*
1 chipotle from canned chipotles in adobo sauce, chopped
¼ cup chopped scallions
Instructions
Preheat the oven to 350°F. Line an 8x8-inch baking pan with parchment paper, allowing 3 inches of overhang on two sides, or lightly spray with cooking spray.
In a medium bowl, combine the flaxseed and water. Set aside to thicken for about 5 minutes.
In a large bowl, combine the cornmeal, flour, baking powder, baking soda, and salt.
Stir the flaxseed mixture, then add the almond milk, maple syrup, coconut oil, and apple cider vinegar.
Pour the wet ingredients into the dry ingredients and stir until just combined. Fold in the corn kernels, chipotle, and scallions. Don't overmix. Pour the batter into the pan and bake for 25 minutes or until a toothpick comes out clean. Let cool for at least 10 minutes before slicing.
Notes
*if using frozen corn, let thaw at room temperature on kitchen towels to remove excess moisture.