Swiss chard brings two textures to this yummy 20-minute pasta. The stems add crunch, while the leaves gently wilt into the white bean & tomato sauce.
It doesn't get much easier than this one. I'll admit, I often get very veggie-happy. While I don't mind chopping up a rainbow of vegetables – sometimes it's more than ok to keep it simple and let just one ingredient be the star. Last night, I chopped up this beautiful red chard and tossed it with a few simple pantry ingredients. Dinner was done in less than 20 minutes, and Jack and I were able to get right back to our House of Cards marathon. (Don't tell me what happens, we're only a few episodes in).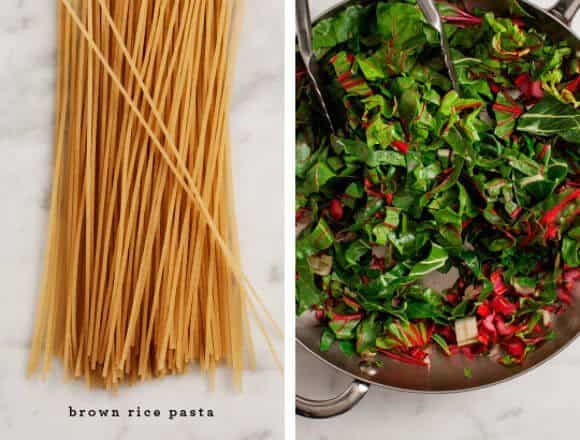 Chard works especially well in a 1-vegetable meal because you get two textures in one. The stems lend a nice crunch and the greens softly wilt. I sautéed the chard with canned tomatoes and some white beans that I happened to have left over in my fridge. I topped it all with a few pine nuts (although chopped walnuts would be equally delicious), and a few generous shavings of pecorino. Super simple.
Simple Swiss Chard Pasta
This easy pasta dish comes together in just 20 minutes. Skip the cheese to make it vegan, and use gluten-free pasta to make it gluten-free.
Ingredients
6 ounces pasta (I used Tinkyada Brown Rice Spaghetti)
1 teaspoon extra-virgin olive oil
4-5 chard leaves, stems diced, leaves coarsely chopped
½ teaspoon balsamic vinegar
1 cup canned fire roasted diced tomatoes
2 garlic cloves, minced
½ cup cooked white beans, drained and rinsed
Shaved pecorino cheese
¼ cup pine nuts (optional)
Sea salt & fresh black pepper
Instructions
In a large pot of salted boiling water, cook pasta until al dente.
Meanwhile, in a large skillet, heat oil over medium heat. Add chard stems and a pinch of salt. Give them a stir, then add the chard leaves and gently toss until they begin to wilt. Add the balsamic, tomatoes, garlic, white beans, freshly ground pepper, and toss. Once the chard is cooked down, add pasta and remove from heat. Serve with shaved pecorino cheese and pine nuts on top.